Created on
June 15, 2022
| Updated on
September 14, 2023
How to Create Top-Performing Content for Your Niche
Content Marketing
Do you pay enough attention to content creation? We sincerely hope you say "yes." In fact, content has become an indivisible part of every modern business.
Thus, 43% of B2B and 47% of B2C marketers plan to increase their content marketing budgets in 2023. Moreover, companies that blog are 13x more likely to get higher ROI.
That leads us to the conclusion that you need to create and improve content for your business. But not all content is equal. On top of that, there is no one solution for every industry. So, you need to understand what content will be the most effective for your company.
Today, we will share how to master top-performing content for your niche.
Contents
Top traffic sources for blogs in different niches
68% of online experiences begin with a search engine. That's why the majority of companies invest in SEO.
Statistics prove that regardless of the niche, companies receive the most users from organic searches.
An unbeatable leader here is the Internet and Telecom niche which gets 86.31% of organic search traffic. Nevertheless, all other industries show that they become clients from SERPs too.
These statistics prove the absolute importance of SEO once again. When you develop a blog, you need to keep lots of things in mind.
Technical part. If you only start a company's website, you need to find hosting, buy a domain name, and an SSL certificate. If you run a site, ensure you create an easily accessible blog page under your domain name.
Blog hosting platform. Most probably, you will build on the platform you already have. In this case, your blog's main page is clear, with an up-to-date design, and user-friendly.
Content. Of course, your content will heavily influence your performance on search engine result pages. Make sure your articles are easy-to-read, helpful, relevant, and unique.
SEO. Without optimization, you will hardly achieve any results. That said, remember about technical, on-page & on-site, and off-site SEO.
Promote your blog. Make sure as many people as possible hear about your blog. That said, engage in other ways of getting traffic. As you can see from the graphs, many companies receive direct and referral traffic.
SEO copywriting for more organic traffic
We've slightly mentioned that you always need to keep in mind SEO. That's because SEO drives 1000%+ more traffic than other channels.
We suggest using the best SEO writing practices to be on top of the organic results on Google or other search engines. To achieve strong results:
1. Optimize keywords.
2. Get creative with a title tag.
3. Mind meta descriptions.
4. Don't forget about headers.
5. Concentrate on content quality.
6. Use visual content.
7. Employ internal links.
That's how you can ensure your blog ranks higher than the competitor ones. Being the first one in your niche might be a challenging task. Yet, everything becomes not so difficult when you have a solid plan and know what actions to take.
What is the best article type for your niche?
By now, you know that there are various article types. They are guides, how-to articles, lists, and so on.
The main point is that each article type will work differently for each industry. That's why it's essential to take into account niche-specific statistics.
That will allow you to create content that satisfies your audience's needs and provides the most value to them. Considering the variety of niches, users, goals, and customer journey stages, you have to choose the best fit.
Thus, there are some top cross-niche performers. Articles with titles including the words "list," "how-to," and a question tend to perform better. Yet, once again, some can show stronger results in a specific niche.
Yet, it's not only the article's type that makes it successful. You need to keep different things in mind when creating the blog post. This way, you have to consider content quality and length, work on an engaging headline, and, last but not least, know your audience perfectly.
How to optimize a headline for your article
The anatomy of a top-performing article consists of many elements, be it a "how-to" post or a list. Nevertheless, the first thing a user sees is the headline. 80% of online readers check the headline.
So, keep in mind some helpful tips for catchy headlines:
50% more articles open get companies that use numbers in titles,
20% higher CTR gets companies that use odd numbers in titles ("15 Best…"),
Utilize "rationale" titles - "rationales" can offer strategies, tested approaches, or tips (for instance, "15 Reasons to Run an Online Store"),
Keep the main keyword close or at the beginning.
That said, you can not only prepare a content type your readers love the most. You will also master an engaging headline and give them a reason to check your blog post.
What word count is optimal for your niche?
Word count is another part of your content merit. That said, you need to understand how long your article should be to rank high and meet customer needs.
Nowadays, the average content length is 1,447 words. This way, we can see that long reads are the highest-performing type of blog post. Anyway, does it mean that all your articles should be that long?
In fact, no, they shouldn't. You need to base it on some statistics and research, and common sense.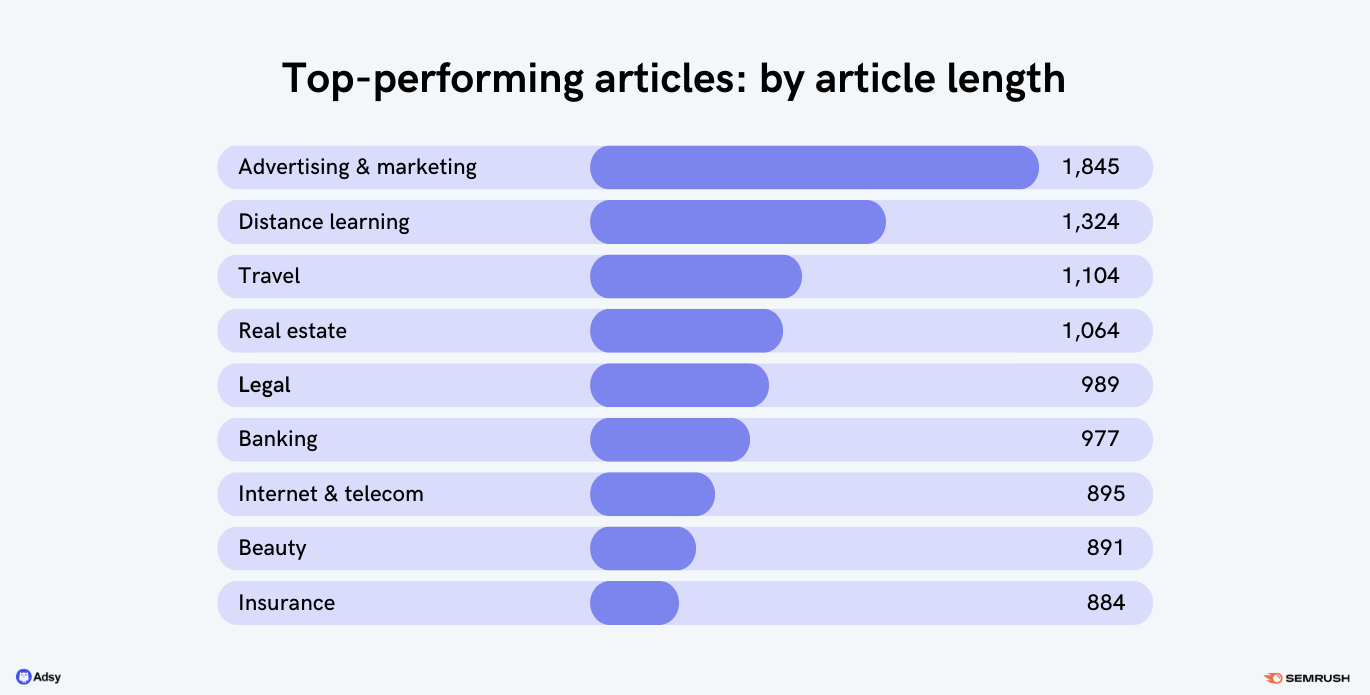 As you can see, the gap between the biggest and lowest number of word of highest-performing content among different industries amount to 961 words!
Why is it so? Well, firstly, the competition within niches is different. The keyword density and competition are also very various.
Moreover, some niches require more word count to explain certain topics.
How to define the best article length for your company
Of course, take a look at the data above once more. It will show you the direction you can move to. Also, we recommend you check our research about the optimal content length in 2023.
This way, you'll get a starting point and can work out the best fitting length for your blog posts.
Also, we suggest spying on your competitor's content. Check some of the most trusted and popular blogs in your niche. Look through at least ten articles from each site and see how long the posts usually are.
Sure thing, don't forget about common sense, as we've mentioned before. If you need 1,000 words to create a well-written, relevant, and helpful article - let it be so. Don't extend it to 1,500 words artificially.
What number of images do you need?
70% of businesses invest in content marketing, which includes visual marketing strategies. Yet, you can see that visuals are a must-have nowadays by yourself. If you check any kind of blog, you will most probably notice it includes at least one image.
Of course, it's clear that some industries require more visual elements than others. Pictures are able to support the text and extent their meaningfulness.
We need to add that the data shows an average number of pictures for every industry. It's logical to see that the travel industry adds the most significant number of images. To engage users, they need to use high-quality and stunning shots.
Nevertheless, even for us, it was a surprise that other niches use not that many pictures. That's why we recommend using more visuals (pictures, videos, gifs, etc.) to complement your content.
Benefits of visuals for your blog
After all, there are thirteen really important reasons to use visuals in your articles:
1. More appealing posts.
2. Clearer structuring.
3. Better ranking on SERP.
4. Visually longer posts.
5. Explanation of complex information.
6. Wider exposure on social media.
7. Another way to stand out.
8. Illustrations for your statements.
9. Better way of storytelling.
10. More professional look of your content.
11. Image search engine traffic.
12. Better for user experience.
13. Longer time on page.
That's why you should spend some time creating beautiful images for your blog content. In any case, a text with relevant images always outperforms the same quality article but without pictures.
Conclusion
As you can see, search remains the most important channel for customer acquisition. This way, your main goal is to rank high on search engines.
One of the success elements that will help you reach this goal is definitely content.
Nevertheless, it's vital to understand what article types, word count, and other features make your blog posts top-performing. This article gives you a clue about which formats to use to create content with merit.
Tell us, what article types do you use for your niche? How well are they performing? Share your experience in a comment below!
*based on "State Of Content Marketing 2022" by Semrush

More Like This