Created on
February 15, 2023
| Updated on
September 12, 2023
5 Key Outtakes for More Effective B2B and B2C Content Marketing
Content Marketing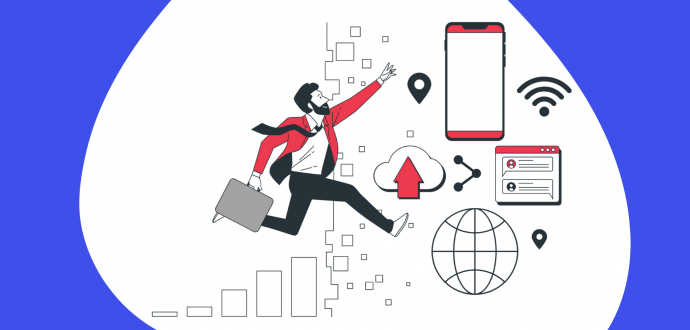 Content marketing stays an inseparable part of a business's growth and success. It helps companies' owners reach various goals - from brand promotion to user acquisition. In fact, 97% of companies have a content marketing strategy.
Almost half of the companies plan to increase their content marketing budgets. That can lead us to the conclusion - content marketing stays a highly effective tool.
So, it's essential to understand what trends and changes you need to be prepared for. But we don't want to make a broad statement. We want to share some incredible data from Statista's "The Content Marketing Trends Study 2022." We've studied the report and are ready to share some of the most important statistics with our comments.
Contents
B2B and B2C companies desire to publish more content

Content is king. We are familiar with this statement well. We also know that more B2B and B2C companies published more content on daily basis in 2022 compared to 2021. But that's not all.
According to the report, three out of four B2B firms want to produce even more content. Let's break this down in more detail.
How did the companies' representatives answer the question "Would you like to publish content more frequently?"
Yes
71% of B2B firms,
61% of B2C firms.
No
29% of B2B firms,
39% of B2C firms.
Yet, there are certain burdens that keep firms from producing more content. Two main reasons are the lack of time and expert resources.
Nevertheless, we believe that 2023 can change this situation for good. With the rapid growth of AI-based services, marketing departments can be more productive. Special services massively cut the composition and delivery time of content. Moreover, content types created via AI-driven services range from articles to ads or social media posts.
You can find the best-fitting service by checking this article about the top AI writing tools.
Companies want to increase their content marketing budgets
As we stated at the beginning, firms tend to grow content marketing spending. General statistics show that 42% of companies increase their budgets. Thus, creators, agencies, and content management tools are expected to draw the largest shares of investments.
But let's take a closer look at these financial changes. So far, we know that 47% of B2C and 43% of B2B companies increase their budgets.
Moreover, some firms are planning a significant increase in budgets. Well, and it's not surprising. Statista shares that 2022 content marketing revenue was $66 billion. And by 2026 the content market industry is set to double its revenues.
That leads us to the conclusion that content marketing is an efficient tool and brings positive ROI. Yet, to reach goals and grow conversions companies need to know their target audiences (e.g., by building buyer personas). Without this, equality will fail, and no budget increase will help your companies progress.
B2C and B2B prefer to distribute content via owned media
First of all, let's revise what types of media you have at your elbow. There are three of them:
Own media,
Earned (or shared) media,
Paid media.
As the report says the preferred channel is owned media. Here are some examples of it: your blog, your social media networks, your email broadcasts, or your downloadable content. Each company has the fullest control exactly over the owned media.
It's mind-blowing but 77% of B2B firms and 70% of B2C firms like to deal with their own sources of content distribution.
Surely, you shouldn't skip other opportunities for content promotion. Influencer marketing is still going strong, and smartly set paid ads can bring lots of traffic.
Yet, the development of your own sources of content distribution can benefit you in so many ways. Publishing in a blog helps search engines learn your site much better. This way, you are more likely to be shown for user requests on SERP.
There are 4.67 billion active social media users. Running your social media accounts helps you reach your target audience in the most effective and natural way. Keeping and growing your email address base allows you to send helpful broadcasts to your audience and build closer relations. Also, social media and email marketing let you get instant feedback from your audience.
Well, if we dig a little deeper, you'll see that blogs, social media, and newsletters are the most popular types of owned media.
The most popular content formats among B2B and B2C companies
As we know how companies prefer to distribute their content, let's talk more about its format. Statista has highlighted the 11 most popular content formats marketers prefer to use. Thus, the most beloved types differ for B2C and B2B companies.
We'd say everything is logical when it comes to picking the format.
The B2B sector is more official and data-driven. No wonder, the top three content types are videos, text-based formats, and whitepapers. The B2C sector is targeted at users whose attention it should quickly grab. So, the preferred types are videos, image-based formats, and text-based formats.
As we multiply mentioned in our articles about content, text formats stay highly anticipated and used. Lond form content allows one to fully explore the topic.
Albeit we cannot ignore the latest trends - videos become a huge part of the deal. 86% of marketing professionals reported that they used video as a marketing tool. Moreover, we can name short-form video content like TikToks or Instagram Reels as the most effective type of social media content.
But all those formats are something we got used to. And to be the best one you need to use the latest approaches and technologies. That's why keep an eye on IoT, immersive commerce, and the metaverse. They seem to be a huge trend, so don't miss an opportunity to jump in.
How companies measure content marketing success
Keeping track of your performance allows you to set your content marketing campaigns better. As we all know, content marketing is all about creating and distributing relevant online content for a clearly defined target audience.
Moreover, often this strategy involves brand awareness growth, audience education, and revenue generation.
And the only way to learn if you are doing it right is to measure your success. Gladly, most companies understand the importance of campaign evaluation. Indicatively, 51% of B2B and 47% of B2C firms use a specific approach to measuring the success of their content marketing activities.
But what achievements do the companies measure? We briefly mentioned what goals companies try to achieve with content marketing. Yet, let's break this down more specifically on the example of B2C companies.
The leading goals of B2C companies are:
84% create brand awareness,
78% educate the audience,
73% build credibility and trust,
60% generate leads,
60% build loyalty with existing customers.
B2B firms have similar interests with 91% of companies aiming to create brand awareness, and 44% to build loyalty among existing customers.
Of course, pursuing these goals is possible via various channels - from own sites to social media or email marketing. So, what tools do marketers prefer to evaluate content marketing efforts?
The majority of professionals put trust in web analytics tools and social media monitoring and measuring.
Of course, except for the set of tools, marketers have certain KPIs to confirm campaign success. Turns out, most B2B and B2C marketers still use website traffic as their main KPI (72% and 73%, respectively). The wast number also uses social media analytics to track progress - 71% of B2B and 77% of B2C companies. The third most popular index is the website engagement KPI used by 63% of B2B and 63% of B2C firms.
Conclusion

24% of B2B and 29% of B2C companies connect their commerce conversions with the content marketing effort. We thought the percentage would be higher. At least, in last year's report 71% of professionals stated they used content marketing for customer acquisition. Of course, the next step is the conversion of customers into buyers.
Anyways, "The Content Marketing Trends Study 2022" clearly shows that both B2B and B2C benefit from employing content marketing.
Content marketing revenue will reach 137 billion in 2026 according to Statista predictions. So, the potential of this marketing direction is strong and influential. Even if you don't have huge budgets and time you still can find ways to engage in content marketing.
You can use guest posting to grow brand awareness, run social media for your company, and send email newsletters. The key is to know your audience and give it what it wants.
Do you have a content marketing strategy? How successful is it?
* Statics without links and pictures used in the article base on "The Content Marketing Trends Study 2022" by Statista.

More Like This