Created on
April 6, 2022
| Updated on
September 15, 2023
13 Reasons to Add Images to Your Blog Content
Content Marketing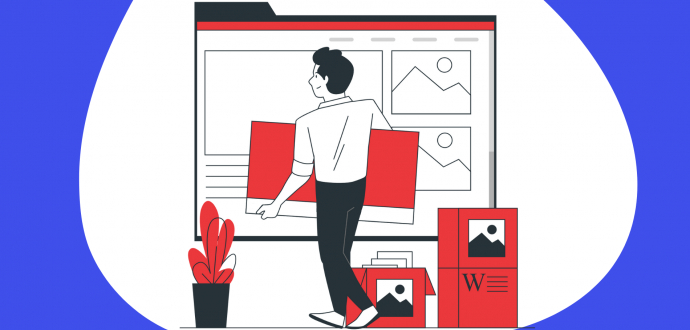 Let's go back to our childhood years. Will you agree that the more images the book had, the better we liked it?
But then we grew up and ended up reading lots of professional literature that wasn't that entertaining. Yet, can it be different?
Well, we are happy that today we don't have to choose between informative and easy-to-understand content. As it all can coexist perfectly.
And statistics prove this. According to Hubspot, 70% of firms invest in content marketing, which could include visual marketing strategies.
Adsy is also within this percentage as we actively use imaginary in our content. And we highly recommend you create visual content to support your articles. Be it a picture, graph, table, or infographic, you can palpably increase the quality of your posts.
Today we are sharing 13 reasons to add images to your blog content.
Contents
1. More appealing posts
Competition is incredibly tough nowadays. There are over 600 million blogs to the current date. And you need to ensure that your posts stand out from others.
Moreover, the attention span is getting shorter. So, your goal is to create appealing posts that grab readers' attention at first glance. And images can help you reach this goal.
Creative and quality visual content allows for establishing a closer connection with your audience. This way, they can not only stay on the page reading your content but also share it with friends.
For instance, the use of visuals is highly recommended for travel blogs. Even more, the main focus there can be exactly on photos!
2. Clearer structuring
In the modern world of copywriting, composing a great text is not always enough. If it loads slowly, is hard to read, or the site's design is off-putting, no one will read your masterpiece.
That's why among other things, we suggest keeping the article's structure in mind too. So, in addition to headings, numbered or bulleted lists, employ visuals.
They will help you divide your texts into logical sections. As a result, readers will see a clearer picture of what you'd like to show them.
3. Better rankings on SERP
Perhaps, countless times we've mentioned that backlinks and content quality influence your positions on SERP. And while this statement stays true, more factors can be positive for your SEO.
Firstly, engines are really smart and always put customers first. And users prefer to check the content with illustrations. So, among articles with similar content, the one with images, infographics, etc., has more chances to rank higher.
Also, another great perk of photos is an opportunity to add alt text, title tags, and descriptions that have a positive impact on SEO.
Moreover, Google has put up a helpful guide on how you can treat your images to improve your SEO. So, we recommend you check and align to it.
4. Visually longer posts
Many studies have shown that long-form content ranks better. So, content marketers will eagerly advise you to write circa 1,500-word articles. But is it always a must-follow rule?
Of course, it's not. Sometimes you can clearly share your idea in the 600 words posts. In this case, artificial prolongation of an article that doesn't feel natural can only harm you.
Yet, your content will look visually shorter than other articles in this situation. That may mislead readers, and they can think that your content is too short to be expert.
So, that's when images come in handy. Thanks to them, your posts will look visually longer, more full, and professional.
5. Explanation of complex information
Did we mention kids' books with pictures at the beginning? Well, we did. Can some complex information for grown-ups be that entertaining? Probably not.
Nevertheless, that doesn't necessarily mean there is no way to explain complex topics. Images can be the way out for you.
You can illustrate data by building up graphs, creating tables, or drawing schemes. Thus, images can make it more understandable whether you write technically difficult content or an article full of numbers.
Readers who are only entering your branch or operating in some others will appreciate this approach the most. This way, you can make your posts more understandable for your readers and attract and retain new ones.
6. Wider exposure on social media
Buzzsumo shares some mind-blowing statistics. Firstly, articles with a picture once per 75-100 words got 2x more social media shares than articles with fewer visuals. Secondly, Facebook posts with visuals receive 2.3x more engagement than those without pictures.
That's why take care of not only creating the cover image for the article but also placing pictures within the text.
Appealing pictures will provide a better experience for your readers and encourage them to share your content. And your cover picture will help your posts stand out on social media.
A social post with a picture is more noticeable and has more chances of getting a higher engagement rate.
7. Another way to stand out
Often, with your articles, you show not only your writing but, in general, creative skills. Considering an increasing number of blogs, it'd be great to add some spice to yours.
Exactly that's why creating custom images is an effective strategy. Some blogs have a recognizable style when it comes to pictures. One of the examples is Semrush - an SEO SaaS. You can easily detect the company's unique style across its blog, ebooks, and social accounts.
If you reach the same level, that can palpably increase your brand awareness. You can master your skills with the help of services like Canva or Vistacreate (ex-Crello). These services have loads of helpful guides, so you can start even with a zero design level.
8. Illustrations for your statements
Earlier, we've said that images help to explain complex topics. But in a wider sense, they can illustrate your statements or outline main ideas. Also, you can use pictures to highlight some interesting quotes you use in your articles.
More importantly, you can strengthen the signals and messages you want to communicate with your article.
For instance, if you encourage people to eat more healthily, find pictures showing how a healthy lifestyle has changed a person. If you promote traveling within your region, take some stunning photos to motivate people to get acquainted with your area.
9. Better way of storytelling
Whether you run a business or a personal blog, visuals can take your stories to a new level. Generally, storytelling is a more memorable type of content. And images can make everything even more eye-catching.
You can show your company's story and support it with some library pictures. Have your brand participated in a socially important event? Create a story and insert pictures showing your impact.
Even if you need to share some complex technical information, images can offer an easier approach to your content. Also, we assure you that readers will remember more if you add pictures, tables, etc., to your technical-related story.
10. More professional look of your content
There is a saying, "dress to impress." Let's convert it for content marketing by writing something like "add visuals to show that you are a professional."
Undoubtedly, a bare text can also be top-tier and expert. Yet, if you look at most respected industry online publications or blogs, you will see that most of them include media content.
When you publish not only text, you show that you put extra effort. Especially if you add custom graphics, tables, or infographics. This way, you can give extra value to your existing customers. Additionally, it will be easier for you to grab the attention of new visitors.
11. Image search engine traffic
Visuals can help you rank higher on SERP. That's true. But there is also another great hint to adding pictures to content.
You can rank in the image search engines too. And that's a valuable advantage. Let's be honest many of us use image search pretty often. An opportunity to reach more customers can never be odd.
To get yourself in that part of the search, you need to arrange your pictures correctly. So, go back to the Google guide we've shared in point three.
Remember to give descriptive names to your visuals.
465645536564.png - is not a good name,
Best SEO tools.png - is a good name.
Don't forget to write down an alt text.
Best SEO tools SEO tools tools for SEO - is not a good option as it might be considered keyword stuffing,
Best SEO tools for 2023 - is a good example of an alt text.
12. Better for user experience
We've slightly mentioned that images can make your content more appealing. And overall growth of user experience can give you plenty of benefits.
Firstly, content with visuals is more valuable for users. They perceive your articles easier, no matter how sophisticated your texts are. They can remember the material longer. According to Brain Rules, by pairing relevant images with the same written data, people retain 65% of the information three days later.
Also, search engines will consider UX improvements. Normally people stay longer on the pages with visual content, which signals to Google that your content is relevant and useful.
13. Longer time on page
Following the previous section, we have to repeat that the presence of images increases time on page. Though it's not the top signal Google counts, it's still important to keep readers long enough on the page.
If the user stays on the chosen page approximately as long as your article reading time is, that's a good result. Images will help you balance this metric.
If your article is shorter than usual, you will keep readers longer on the page by adding infographics or tables. If your topics are complicated, you will explain some points with visuals. So, hopefully, readers won't close the page after a few seconds.
Conclusion
Last year between 51% to 80% of companies heavily relied on visual content, according to 40% of marketers.
And it was easy to foresee this. Only in this article, you've learned about 13 reasons to use images in your blog content. We won't be surprised if you find more reasons to employ visuals in your articles.
Sometimes, even two quality pictures can improve your blog post. Yet, if you decide to take a step forward and create custom visuals, it can be even more beneficial for you. Higher ranking on search engines, more visitors and social shares, better brand awareness - that's what you can get.
Do you use images for your blog content? What visuals do you prefer? Share your experience in the comments below!
More Like This