Created on
January 12, 2022
| Updated on
September 20, 2023
How to Start a Blog in 2023 and Make Money
Blogging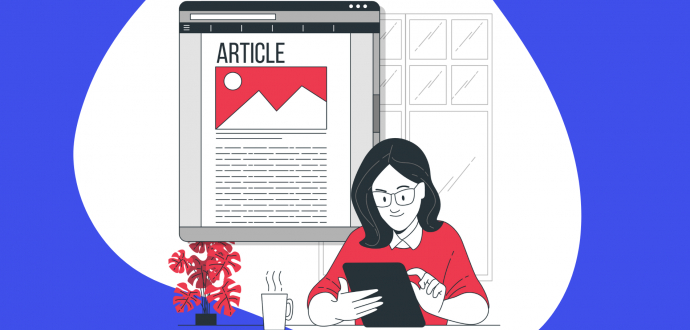 Online activities have never been so intense. There are 4.88 billion internet users to the current date, and some of them earn exceptionally online.
We are not going to lie - lots of people want to join their forces. That's why many Internet users start thinking of how to start a blog and make money.
Blogging has long been a perfect option when it comes to pursuing a well-paid online career.
Judge for yourself; there are over 600 million blogs. Of course, not all of them grant income to their owners. But you still have chances to be among the lucky ones who earn with a blog.
Starting a blog in 2023 is not much different than in the last couple of years. You will still have to perform a certain amount of actions to get it up and running.
In this guide, we will tell you more about steps you need to take, helpful sources you can use, and, last but not least, how to make money blogging.
Contents
What is a blog?
Let's start with the main definitions.
So, what is a blog? Here's how a good old Wikipedia describes it:
---
A blog is a website that provides information or discussion and is published on the World Wide Web. It consists of separate, often informal, text posts in a style of a diary. These entries are usually displayed in reverse chronological order. Accordingly, the most recent post shows up first, at the top of the web page. Until 2009, blogs were typically an activity of a single person, rarely - of a small group. Besides, blogs often cover one subject or topic. The situation changed in the 2010s. The notion of "multi-author blogs" (MABs) appeared with the rising popularity of multiple authors' writing. A growing quantity of blog traffic accounts for MABs from newspapers, media outlets or periodicals, universities, advocacy groups, and so on.
---
That is quite a complicated notion and somewhat outdated, in our opinion.
The blog has been much more than a personal online diary for a long time now. That's a powerful marketing tool that makes money.
Moreover, modern blogs often cover more than a single topic. Sure thing, it won't be a combination of themes like yoga training and auto parts. Yet, contemporary blogs include various directions within one topic.
For instance, at Adsy's blog, we cover SEO, content marketing, guest posting, and blogging. All these themes are interrelated, so we still blog within a certain niche.
Anyway, we'd like to show you an easier and more up-to-date definition of the word "blog" Hubspot provides:
A blog is a regularly updated site or web page and can either be used for personal use or to fulfill business needs.
This way, it's a website where you can publish posts on a regular basis to cover a certain topic. With this in mind, let's see how you can get started.
How to start a blog and make money
And now, let's see what steps you have to take to launch your own blog and earn with its help.
1. Pick a niche
Before you dive deep into establishing your blog, you need to think about what topics you'd like to cover.
If you want to run a personal blog, the best way is to think about your passion or field of expertise. This way, you can provide highly-valuable information to readers. In turn, that can be a solid foundation for a huge readership.
Nevertheless, there are no strict rules in blogging. Do you want to start your journey in a completely new sphere? Great, do it and share your journey on your blog.
Are you working for a company and have to launch a blog? Then gather information about your firm's clients to know what topics to cover.
For instance, if you run a payment processing company, most probably, you'll write about payments, budgeting apps, etc. If you work for a toy store, you can tell customers about toys, their history and production, and so on.
Of course, if this is especially a personal blog, you would like to run it and earn money. Then you can check the top profitable blog niches for 2023:
Digital marketing,
Personal finance and investing,
Health and fitness,
Fashion,
Food and recipes.
Various periodicals can name a few more directions. Thus, we believe that these five directions are on the top of the list.
Remember, no matter what niche you pick, it will require true dedication and work. Keep in mind there are a hundred million blogs nowadays, and you have to stand out.
And now, after you know what topics to cover, let's see how to start your blog!
2. Do the tech part
And now we continue with the technical part of the process.
Before publishing articles and getting paid, you need to do some vital actions. They are:
Getting a domain name,
Finding a hosting,
Purchasing an SSL certificate.
It only may sound complicated. Yet, nowadays, there are a lot of online services that let you buy all the elements in one place.
Companies like Bluehost, GoDaddy, Namecheap, and so on allow you to launch your blog hassle-free.
We will show you how you can establish everything. Let's do it on the GoDaddy example.
As soon as you land on the site, you see various options, including those we need.
Start with the domain name.
It should be clear to understand and related to your niche. For instance, if you run an interior design blog, you can call it All Things Home Design.
Type this phrase in one word and press the "Buy it" button. Hopefully, the domain name you created will be vacant.
If so, you can then pick the TLD you like. TLD is an extension that comes after your domain name. It can be .com, .net, .shop, etc. Choose any you wish but go too creative with it. Remember that readers should be able to find you easily.
Add the domain name to your cart.
Now, let's move on to web hosting.
Usually, companies like GoDaddy offer a variety of hosting plans. Choose one depending on your goals.
The more you expect from your blog - traffic, number of pages, etc. - the more sophisticated plan you need. Add the desired plan to your cart.
Also, don't forget to buy an SSL certificate.
It's a must-have attribute as Google will rank your blog lower without it.
So, don't forget to purchase this certificate. If you only create your site for blogging, a basic certificate will be enough. If you plan to sell some products via your site later - buy a more powerful SSL certificate.
GoDaddy sells quite pricey certs. Yet, we are here to show you that you can buy all you need for the site launch on one site. Of course, you can find much cheaper samples.
After you do these actions, you have three positions in your cart.
Check this short video showing you how to create a blog after you have everything you need.
Note that Greg (the author of this video) shows everything on the WordPress example. That's because this blogging platform is included in all web hosting packages.
3. Choose the blog hosting platform
In the previous section, we've mentioned WordPress, which is a blog hosting platform. Nonetheless, this is not the only option you have.
You have a huge variety of blogging platforms at your elbow.
Each of them has its unique features that can match and support your goals. Earlier in our blog, we've talked 7 best blogging platforms for beginners & pros.
We highly recommend checking it to know more about the main options.
Yet, most site owners use WordPress (in fact, as many as 455 million websites are WordPress-based). And it's a perfect platform if you are only starting a blog.
So, fine-tuning your WordPress website will look like this.
1. That's the view of your dashboard. To pick a design for your blog, go to "Appearance."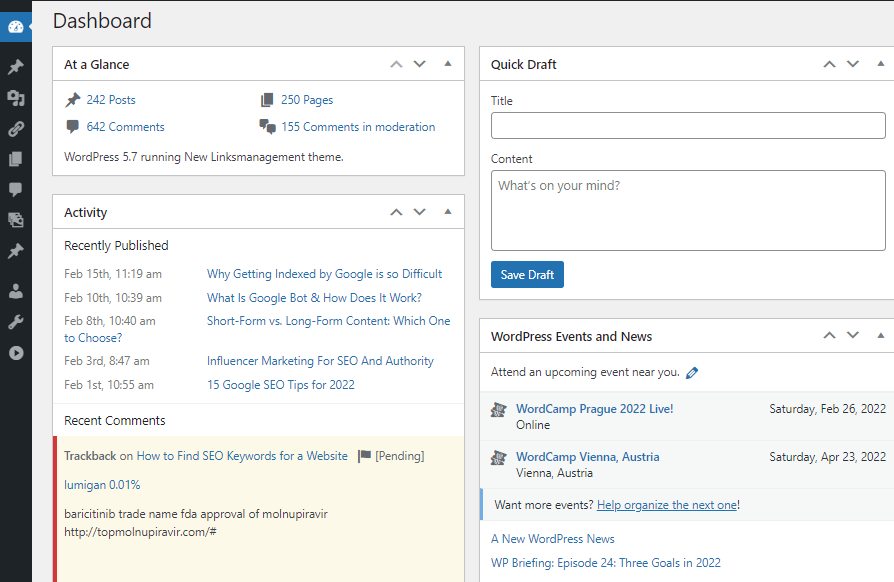 2. Then choose "Themes" and pick a new one. You can select from the hundreds of available designs or upload your theme.
3. You will get the default view of your blog's theme. But no worries, you can personalize by clicking the "Customize" button.
4. The new menu will open, allowing you to make the design your own - from fonts to available blocks or menus.
5. After you have fine-tuned your theme, get some helpful plugins. Most of them are free. Use the ones that will help you with writing and SEO (e.g., Grammarly, Yoast SEO, and so on).
Undoubtedly, you can pick any other available blogging platform - Wix, Joomla, etc. There are a lot of guides you can find online that will help you build your site. So, you will never be left alone.
4. Take care of your content
Google takes into account different signals when ranking sites. Though we cannot define its contributing weight precisely, content is 100% among ranking factors.
There are good reasons why Google has so many guides on how your content should look. For instance, that's what you can find in the "SEO starter guide":
Creating compelling and useful content will likely influence your website more than any of the other factors discussed here. Users know good content when they see it and will likely want to direct other users to it.
Also, you get some practical content-related pieces of advice.
Your texts should be easy-to-read,
You should organize your topics understandably,
Your content should be up-to-date and unique,
You should develop your content for users in the first place, not search engines.
So, we highly recommend you keep up with these recommendations to create quality content. That will grant you better chances for higher positions of SERP.
Besides, check the article where we've shared how to write captivating blog posts. And don't forget to produce your content consistently. Our other article about content planning will assist you in this.
In 2023, remember to create articles that will be helpful for your reader. They should educate them, answer questions, or provide valuable information.
Although Google recommends putting readers first, you must not forget about search engines. This way, your site should have all technical and off- and on-site components to make your blog visible.
Of course, you shouldn't get overboard in either of these partials. Keep a balance between readers' and search engines' sides.
5. Make sure your blog is visible
There's another vital part that makes your blog successful - SEO.
Thanks to it, your site becomes visible for search engines. And that's extremely essential. The higher you appear on the search engine, the more readers can discover your blog.
And the wider readers' network can make your blog profitable.
SEO is not the easiest topic; we won't lie. For instance, 41% of professionals call link building (which is a part of SEO) one of the hardest activities to do.
Moreover, it's tough to cover all the search engine optimization peculiarities in one section. But no worries, we share some helpful articles right here:
Check these helpful sources to help your blog shine.
As soon as you arrange all SEO activities for your website, you see amazing results. Among them are traffic growth, better positions on SERP, other sites linking to you, and so on.
6. Promote your blog
To make your blog even more visible, you need to promote it.
As we've mentioned before, one of the keys to success is content. This way, if you create shareable content, you can get more exposure.
How does it fall under the "shareable content" notion? Well, often, it is in-depth content with a pretty big word count (2,500+ words), infographics, or expert articles.
You can create this type of content on your own or hire a blog writing service that can help you do it professionally.
And here are a few tactics you can employ:
Repurpose your content;
Use social media;
Participate in communities/groups;
Optimize content for Google;
Reach out to the relevant audience.
Let's take a little bit deeper look at these methods.
Content repurposing. According to statistics, 59% of marketers repurpose content occasionally. You can create more content pieces for other platforms when you take your top-performing articles or evergreen content. That's an excellent opportunity to let more people know about you and drive them to your blog.
Social media usage. Social media networks are the perfect place to support and promote your blog. Share your latest articles on your social account and write posts that encourage your followers to read them.
Communities/groups employment. Q&A platforms and forums can still be a way to promote your blog. Of course, usually, sites like this do not allow direct promotions. So, try giving valuable information on these platforms and direct only to articles that offer helpful info for participants.
Content optimization for Google. We offer this information in sections four and five. Thus, in short, content optimization means unique, quality, and valuable content creation. Also, it's taking care of your SEO and minding outbound and inbound links.
Reaching to the relevant audience. This tactic refers to mentioning industry experts in your articles. Then, when you promote an article on social media, you can tag professionals with the goal of getting your post reshared by them.
These effective and totally free tactics can help make your blog even more visible among potential readers. We also encourage you to read about promotional strategies in full in this article.
7. Monetize your blog
In this article, we promised to tell you about how to start a blog and make money.
After you know the basics of blog creation, it's time to learn how to ensure you run a profitable blog.
Gladly, nowadays, authors have various monetization opportunities. We'd like to outline the 11 most popular options:
Guest posting;
Affiliate marketing;
Email marketing;
Ebooks selling;
Courses selling;
Consulting;
Sponsored posts;
Paid membership;
Display advertising;
Freelance blogging;
Donations.
Each of the tactics is working. Yet, our recommendation is to combine some of the options. That will guarantee a stable money flow.
We've talked about each strategy more fully in our article 11 Blog Monetization Strategies You Should Try in 2023.
Specifically, we advise you to pay close attention to guest posting.
This option will not only help to make money but also positively influence other aspects of blogging.
For instance, you will fill your blog with more quality content for free. And as you remember, blogs that publish helpful and unique content can rank higher on SERP, attract a wider audience, and build a better readership.
Becoming a part of a guest blogging process is easy with guest posting services like Adsy. You only need to do some easy steps.
1. Register as a publisher.
2. Add your site or sites to our inventory. There are a couple of convenient ways of doing it. Choose from two options - adding one site or a list of sites. Note that if you want to add multiple sites, you can do it by adding each URL in a special box or by uploading a CSV, xls, or xlsx file.
3. Wait until your blog is approved and active. Fill in all the required information about your site.

After this, your blog will appear in Adsy's inventory and become available for buyers. This way, you will get requests for guest article posting and earn money by placing content on your site.
Conclusion
So, here's how to start a blog and make money.
This step-by-step guide will help you understand what actions you should take. Follow it to start your journey into the blogging world.
Remember that if you want to make your blog profitable, you should take its development seriously. Constantly work on content's quality, build backlinks to make your blog visible on SERP, and ensure you match the audience's needs.
We hope your blog will find its loyal readers. 2023 is a great year to start a new endeavor and earn money with its help!

More Like This