Created on
November 24, 2021
| Updated on
September 20, 2023
How Long Should a Blog Post Be in 2023?
Content Marketing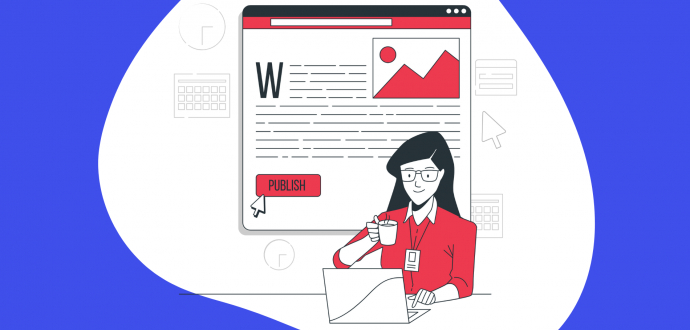 So, you run a blog or site. How long should a blog post be to help your site or blog grow? That's a truly essential thing to consider as it influences your success.
You already know a lot of elements that impact your site's rank and traffic. We've talked about backlinks, content quality, blog promotions, and other partials so many times.
Yet, there is one more thing you need to consider. And that's a content length.
The number of words you use to compose your text also plays its role in ranking, interaction with readers, and other stuff. There's a fine line between writing not enough and writing too much.
So, how many words should a blog post be to bring the most results? Today will try to figure this out.
Contents
Content length for top results
We are not gonna lie - it's pretty hard to define the exact blog post length.
So, whoever says you need only 2,000 words and no more or fewer words is probably lying. Or they might not have studied this topic deeply enough.
The only thing we can say for sure is that your minimum post length should not be less than 300.
That's the number most SEO specialists agree on and Yoast, a well-known SEO service, recommends. Yet, we are here to find the most optimal length for better ranking, so let's get started.
Back in 2012, SerpIQ conducted research where its team discovered that the blog post should be 2,450+ words. And that's the word count to rank number one on SERP. In general, posts between 2,000+ to 2,400+ words will rank among the top ten results on the search page.
Perhaps, this data is quite outdated, yet many SEO and content marketing bloggers use it to show the content's length.
In 2013, Google stated that it tooled its search algorithms to "help users find in-depth articles."
Nevertheless, studies of recent years showed that the number of words required for the first page tends to decrease.
Let's refer to Hubspot's study next. The team researched the company's 50 most popular blog posts of 2019.
The outcome was as follows:
an average blog post length of the most-read articles was 2,330 words,
an average length of posts that generated the most leads was 2,529 words,
16 out of the 50 most read articles were under 1,500 words.
Yet, in the most current study, Brian Dean shares other numbers. Before updating the data, he stated that content with 1,890 words tends to rank better. Thus, in the updated version of the research, he claims the number to be 1,447 words.
So, you can see the tendency that allows writing smaller-size articles but still getting high positions.
At the same time, Semrush also conducted research last year. And it states that texts with 3,000+ words generate the most organic traffic.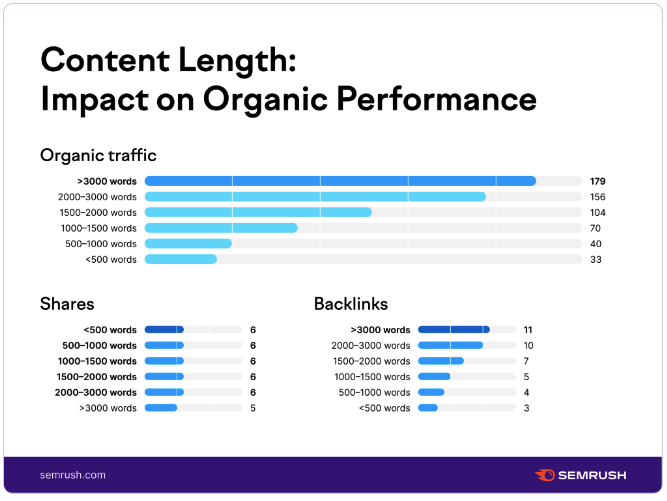 UPD: The latest Semrush State of Content Marketing 2023 reports that content's ability is more valuable. That said, your content length should correlate with your customers' needs. Also, according to report 1,152-word articles tend to perform the best.

Anyway, this topic is really interesting yet somewhat controversial. To work out the optimal number of words for your blog posts, you need to write a lot of them. After this, we recommend you analyze your top-read and ranking articles. This way, you'll learn what ranks better for you.
In any case, you have to remember that according to Brian Dean's study, there is no direct correlation between word count and ranks.
Does it mean you need to forget everything we've written about the number of words?
Of course, no! That only means that there are satellite elements that should support your articles' length.
Accordingly, to make your article rank high, you need to take into account:
word count,
keywords (for H1 and H2, and within the text),
number of backlinks for your article,
content quality.
That said, you have to work on multiple elements to reach Google's top ten.
Content length for different industries
Sure thing, different industries will have different lengths of top-performing content.
The information we've shared in the previous point is general and should only set out a direction for you. To achieve better results, be more specific based on the industry you operate in.
Marketing and SEO
So, how long should a blog post be in the marketing or SEO niche? In this case, we should probably refer back to Hubspot's experience. As its blog is from this industry, you can go for 2,000+ words.
Moreover, top bloggers and publications also have long-form content:
Neil Patel ~2,350 words,
Brian Dean ~3,900 words,
Ahrefs ~3,215 words.
Based on this data, you can aim for around 2,000-3,000+ words per article.
FinTech
This is a fastly growing industry that 100% requires some blogging job to do. Why is it so? Well, let's agree that's not the easiest industry to operate in.
This way, readers will need in-depth texts to understand various aspects of payment processing and all-thing finance.
Normally, a great blog post length is between 2,000 to 2,500 words.
Retail
Perhaps, this is one of the highest industries nowadays. And, in virtue of this, it's highly competitive, with big names normally ranking on the first result page.
This industry also gravitates towards long-form content. Yet, the average word count is slightly lower compared to other industries.
Aim at around 1,500 words when creating content for your blog.
This is enough to describe your products (from probably any sub-industry) in detail.
Travel
Though real-life traveling is somewhat restricted now, it's still great to read about distant lands. Or even how to correctly and safely travel during the pandemic.
To provide truly informative and helpful guides, we advise you to write your texts between 1,500 to 2,000 words.
Real estate
Real estate is a highly competitive industry. We cannot deny this. So, what will work better here?
After analyzing some top real estate blogs, we've come to the conclusion that the word count dispersion is quite strong in this industry.
In fact, some blogs used to have ~500-word posts, while some published ~2,500-word articles. Yet, the average length for real estate is 1,200 words.
To outperform your competitors aim at 1,500-1,800 words articles. Don't forget to optimize your posts with keywords and backlinks. Of course, local SEO is essential.
Health
Another highly competitive industry that comes to mind is healthcare. Not only is it worth trillions of dollars, but it also has 5,340,000,000 results when you search for "health blogs."
And among these results, you will find really expert research works or articles from top online publications.
Based on this, we recommend you stick to 2,000-2,500 words per blog post.
In this section, we've tried to figure out the best blog post length per industry. Once again, there are no super strict rules.
Keep in mind that your main goal is to provide in-depth information about a certain topic. If 1,000 words are enough, then stop on this number. If you can't extend your article without harming the article's quality and meaningfulness, don't push yourself. Remember that quality prevails over quantity.
Content length for more shares
When you create your content, you want others not only to read it but also share.
The process of sharing is essential for all site owners and bloggers. Active distribution via social channels can drive more traffic to your content, create more engagement, and, in the end, conversions.
We think it's pretty obvious that long-form content can ensure more shares. Various pieces of research support this statement.
According to Moz's study, people tend to share long reads the most. That's because this content is usually in-depth and highly informative.
The average content length that users like to repost to their social accounts is 3,000 to 10,000 words.
Neil Patel didn't stand aside and did his own research. He analyzed his 327 blog posts published on QuickSprout. Those that were over 1,500 words had 119 Twitter shares, and 16 Facebook likes more compared to those under 1,500 words.
John Lincoln, the CEO of Ignite Visibility, conducted his research as well. So, 16 out of the 20 most shared articles in his agency's blog were 1,000+ words. Those over 800+ showed fewer shares.
Another study from NewsWhip discovered that its most shared article was 3,535-word long. People shared this content piece mind-blowing 220,000+ times!
So, you can clearly see that long-form articles get the most shares.
Still, you have to remember that you need to put quality first. Think about how to capture readers' minds with outstanding content. If you build up the correct article's structure and fully cover each point, we are sure you can get a longread.
Of course, ensure that you have social share buttons on your site. Also, don't forget to encourage your readers to share your articles.
Conclusion
Well, how long should a blog post be?
As you might have noticed, there is no specific word count we can recommend. Yet, to be the most effective for SEO, visits, conversions, and share, stick to long-form content.
Each industry has its own blog posts length. So, you can base on the data we've provided in the second section.
Nevertheless, you have to remember that your content shouldn't be artificially long. If you can cover some topics using 1,000, it's okay. The main thing is to ensure it's qualitative and has enough keywords and backlinks.
At the same time, if you have enough time, knowledge, and expertise to write 2,000+ articles, go for it.
This is the average length that can give you more chances of ranking high in 2023. Moreover, informative content with a word count like this will supply you with backlinks, comments, social shares, and conversions.
Tell us, how long are your articles? How well do they perform? Leave your comments below, and let's talk.

More Like This