Created on
July 7, 2021
| Updated on
September 25, 2023
Increase Your Blog Post CTR - the Do's and Don'ts
Content Marketing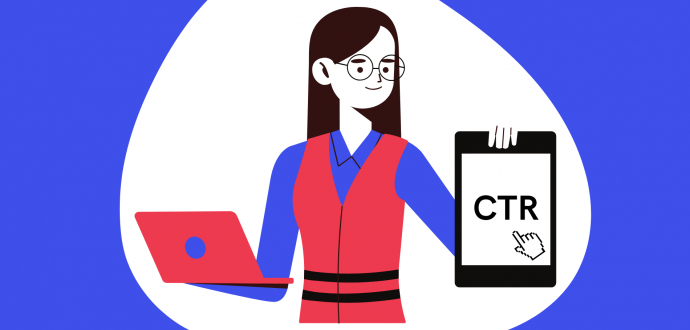 How do you create a blog post that gets a high click-through rate?
Well, you have to spend some time, effort, and creative thinking to reach this goal. Why? Because around seven million posts are published daily. There are also 31.7 million bloggers who work on their articles. And you have to beat this.
This task seems hard, if not impossible.
Yet, don't you worry as we have some information to help you. Of course, before you start working on your article's CTR, you have to ensure it ranks high on SERP. Here are several helpful sources:
After this, it's time to ensure people click on your link and check your article. In the next two sections, we'll tell you about the best practices to grow your CTR and the ones to avoid.
So, let's bring some more traffic to your blog!
Contents
What is CTR?
Before jumping straight to the strategies, let's figure out some basic definitions. Therefore, what is the click-through rate?
Primary, CTR refers to paid ads. Google offers the following click-through rate formula:
---
CTR = Clicks ÷ Impressions
---
For instance, your ad may have 100 impressions and ten clicks. Accordingly, your CTR rate is 10%.
Yet, the click-through rate notion applies to email or blog posts open as well. This way, content marketers and bloggers do their best to grow this metric.
According to statistics, the #1 result on Google's SERP has an average click-through rate of 31.7%. But we've already mentioned that pages that rank high on organic search get more clicks.
Nevertheless, aim at doing everything you can to engage people and make them click on your link.
Do's of the blog post
In this section, we tell you how to write a blog post that attracts users. We'll go mainly about the post's title, meta description, and special tools you can use.
Get creative with a title tag
Are you writing your first blog post or the 100th? Start from the headline.
Did you know that 80% of users will read a headline? So, if you fail to create an engaging headline, forget about high CTR.
Let's start from the basics.
Your title should be 50–60 characters long. It's better to keep it under 60 characters for proper display;
Avoid ALL CAPS titles;
Mind that some letters require more space. Due to this, your title may collapse;
Don't overstuff with keywords.
As we know some basic guidelines, let's see how you can strengthen your title.
1. Harpsocial reports that numbers in titles result in 50% more opens. Moreover, Content Marketing Institute shares that using odd numbers increases CTR by 20%. So, try using something like "7 Top…", "15 Best…", and so on.

2. Use so-called "rationale" titles. Therefore, you explain why some things should be done or how they can be done. Your "rationales" can provide strategies, tested approaches, tips, etc. You can also add numbers to this type of title. For instance, "15 Reasons to Run an Online Store," "7 Lessons I've Learned from Running a Blog," and so on.
3. Use the main keyword close or at the beginning. That may impact your article's ranking. And as we remember, sites on top get more clicks. Also, the readers will know what they are getting from the very beginning.
4. Use powerful and emotional words. They make your title more appealing. As you target humans (not only search engines) may sure your theme strikes a chord. Here you can find the best words to use.
Sure thing, don't forget that your title should be clear and easy to read and understand. You can also use special headline formulas (like S-H-I-N-E).
Some may use blog post title generators. But we recommend another option. Try writing a couple of titles and choose the best one.
Optimize meta description
Another part of writing a blog post with great CTR is a meta description.
A meta description is a small text that shows up right under the title. It's a perfect duo that can positively influence your click-through rate.
Meta description gives a deeper idea of what will be inside the article. So, you can use it as additional tools of users' conviction. Firstly, here are some basics.
Keep meta description between 50 to 160 symbols.
The meta description for each page should be unique.
Ensure it's truly descriptive.
Above some musts, you can add something more to engage customers. This way, here are some tips:
Add a call to action to your meta description,
Use a target keyword in your meta description,
Ensure the meta description corresponds to the article's content.
Also, you can use special tools like Yoast SEO to help you write better meta descriptions. It's a particular plugin you can install if you use WordPress.
It'll help you with the description length, tell you if you've used the keyword in it, and show you the title and description preview.
Write relevant content
When you are starting a new blog post, remember about its relevancy.
Sometimes, no matter how you try, the article may not bring the results you've expected. That's because the topic you've chosen is not of immediate interest.
Ensure you know your audience well enough to offer them what they are looking for. At the same time, the chosen theme should be interesting for potential readers.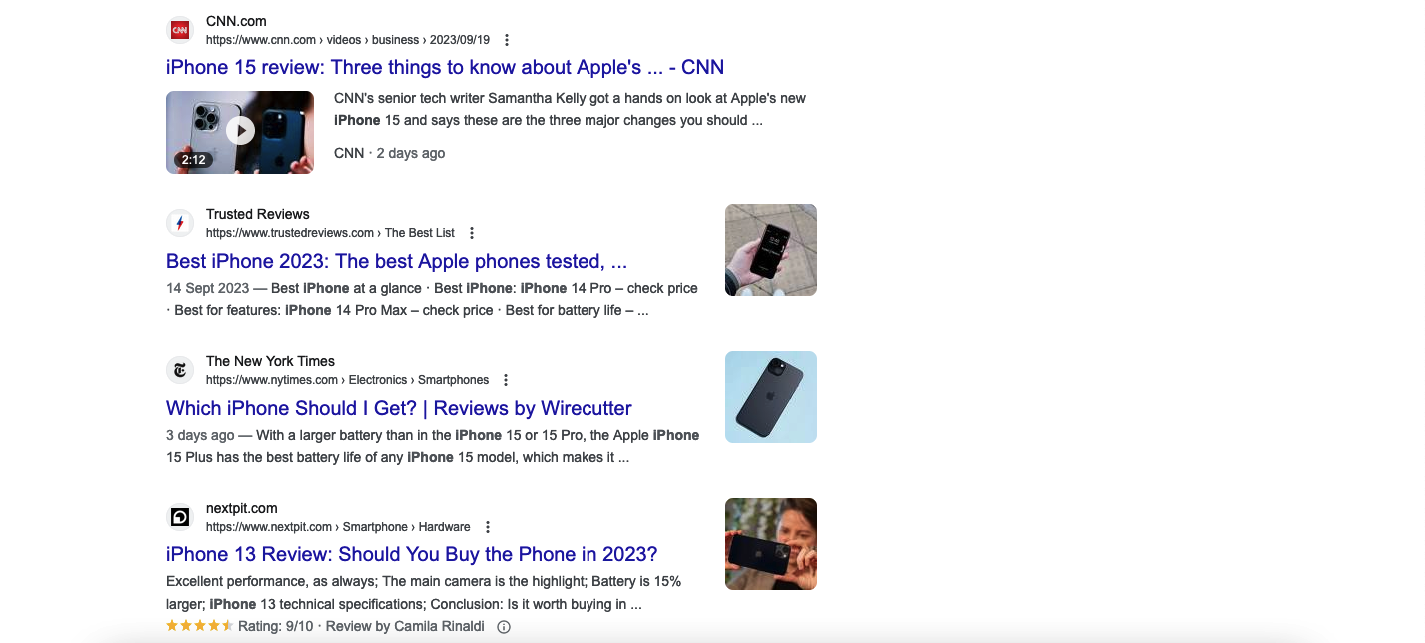 To be in line with the latest news, try these options:
Check popular topics in the industry by utilizing Google Trends;
Spy on your competitors and re-work the title to make it even more engaging;
Check "Related searches" or "People also ask" to create appealing titles.
To underline the freshness of your content, you can add a year and/or month in the headline. For instance, "Top 11 SEO tools in 2023," "5 Main Updates Google in June 2023."
Use clear URLs
Some bloggers underestimate the power of URLs. So, it's your chance to use them to attract more clicks and visitors to your site.
URL gives readers and search engines information about the page. Respectively, your goal is to create a descriptive URL to provide more data about the destination page.
Even if your title clips (yet, it shouldn't if you use our tips), people still can get an idea of your blog post. This way, correct URLs can drastically improve the user experience.

Your URL should be:
simple,
relevant,
compelling,
accurate as possible.
That's the prerequisite for better user experience, ranking, and higher CTR.
Utilize special tools
Of course, you don't need to do everything on your own. You may use some extra help to achieve a good click-through rate.
For instance, you can install special SEO plugins if you are using WordPress. We've already named Yoast. Yet, you can choose from All-In-One SEO, WP Rocket, Semrush Writing Assistant, and so on.
You will also need to use keywords in your title and meta description. To find them, you can utilize Ahrefs, Ubersuggest, Google AdWords, and recommendations from Google.
To make your titles catchy, you can start a query like "powerful words for headlines" or use a link we've shared earlier in this article.
All these can ease the process for you and help you create compelling, appealing, and accurate titles, URLs, and descriptions.
Don'ts of the blog post
Sometimes even if your article's content is awesome, it may fail. And that's because people don't simply open your link. Why may this happen?
Write a horrible title
Some blog post titles may simply ruin the first impression.
If you think that click-bait works nowadays as perfectly as ten years ago, you are wrong. Readers get smarter and can detect those headlines. So, be careful with them.
Also, don't play pretend in your title. Don't try to make your look more attractive or expert when writing a headline. Even if someone clicks on your link, they will read the post and see that you are lying. That may result in a massively increased bounce rate.
Don't write long and complicated sentences. The title should be informative yet short and catchy. Readers should understand the main idea at first glance.
And, of course, re-read the titles you've written. Does it look awkward? Is it confusing? It's a signal to re-write or create an entirely new headline.
Make grammar mistakes
Well, this point is pretty obvious. But if you are dealing with a huge amount of content, everything may happen.
Sure thing, the title or meta description with grammar mistakes or misspelled words will turn people away.
Luckily, there is a special software like Grammarly that can help you fix the slips of pen. Use it or any other tool to perfect your grammar.
Use random URLs
Some may think this element is inconsiderable.
Nevertheless, earlier, we've mentioned that the right URLs can improve user experience. Above this, they send positive signals to search engines.
Vice versa, if your URL is a string of random numbers or letters, it can leave a bad impression. So, ensure you work on your URL structure. This way, readers will know exactly what they are getting.
Don't forget that your URL should be descriptive enough. So, delete repetitive words or any unrelated information.
Conclusion
There are around 1.7 billion websites. And every site owner wants to get users' attention.
We assume you have the same goal.
With these tips, you can get readers curious. You can send the right message to ensure your blog post receives enough opens.
Though this click-through rate thing may be tricky, you now have the idea of do's and don'ts. Still, if you run out of ideas and need quality content with appealing titles, Adsy is here to help. Easily order top-class content to amuse your readers.
Tell us what strategies you use to create engaging articles? What thing do you try to avoid? Share your thoughts in the comments!
More Like This