Created on
June 8, 2022
| Updated on
June 21, 2022
Why SMBs Should Use Digital Tools
Content Marketing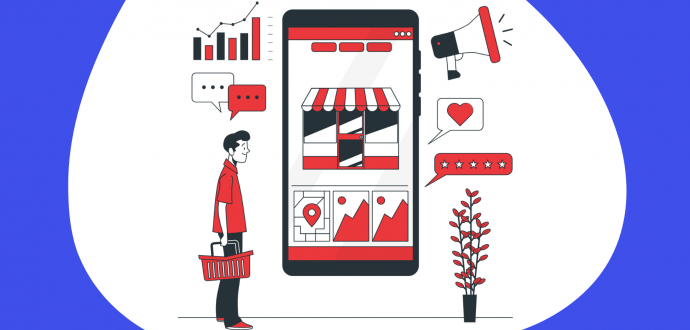 The world changes fast. And companies have to keep up with those changes to stay successful and profitable.
For instance, digital transformation processes were essential for 55% of B2B and 41% of B2C companies. According to Statista Content Marketing Trend Study, this was the top goal due to the pandemic.
Moreover, as Deloitte puts it, 85% of SMBs have utilized at least one digital tool and reported them to enhance their business performance.
Indeed, running social media for your business or having a well-established site can stand your company out.
Check what digital tools you can use and how they can help your business.
Contents
What digital tools can you use?
Firstly, we should understand that digital tools are programs, sites, or online resources that can make tasks easier to complete.
And, of course, it's up to you to decide what tasks or goals you want to achieve.
Thus, Deloitte shares the most used digital tools by small- and medium-sized businesses:
78% of firms utilize emails,
63% of firms use the company's sites,
52% of firms utilize social media,
40% of firms prefer CRMs,
34% of firms find SEO useful,
30% of firms use mobile apps.
All of these tools can help you acquire more customers. Almost half of the companies that took part in the questionnaire claimed to grow the number of clients
Digital tools are an inseparable part of every modern business. To get better results with preferred channels, you can read some of our helpful articles:
You can also get further information in the content marketing and SEO sections of our blog.
Grow the number of your clients
Customers are vital for every business. Without them, your business cannot function properly and grow.
Digital tools are here to help you with customer acquisition. In fact, companies that use:
website promotion,
social media,
CRMs,
SEO,
online directories,
third-party site promotion,
tend to have 35% more customers compared to competitors that do not use digital help.
Moreover, digital tools let you attract not only local customers but also international ones. This way, in the first stage, you can fine-tune local SEO to get online traffic from your area. Afterwards, you can engage with social media to reach an international audience.
That said, if you use the omni-digital approach, your business can receive much stronger results. Sure thing, don't forget to personalize your content. 42% of B2B and 38% of B2C companies find customizing messages throughout the customer journey highly important, according to Statista.
Grow your revenue
The usage of digital tools allows you to optimize and connect various aspects of your business. In the previous points, we've described that you can increase the number of your customers.
Sure, the more customers you attract to your site, the more you can convert into buying clients. In fact, 70% of all SMBs have experienced revenue growth thanks to the use of various digital tools.
Moreover, if you digitalize your company, you have 3x higher chances of improving your sales. Some numbers show that
80% of companies get more sales by virtue of the increased number of new clients,
61% of businesses sell more thanks to existing customers who spend more.
Both outcomes are beneficial for SMBs. You can reach these results by employing tools like:
emails,
social media,
ads,
blogging.
Overall, companies that employ digital tools are more profitable (85% of all SMBs have improved their profitability).
That also happens because such tools help you cut or optimize costs. Thankfully many digital programs are free or affordable. This way, you can allocate uncommitted resources for another activity and future growth.
Hire more people
Human capital is truly important right now. Your employees are often the main force behind your company's development and flourishing.
60% of digitalized SMBs reported growth in employment volumes.
Overall, the use of digital programs helps companies create job offerings easier and faster. Earlier, we've written that you can hire staff via social media. For instance, LinkedIn has all you need to create job ads hassle-free.
Moreover, taking into account the international nature of such networks, you can find skilled and fitting employees from any part of the world.
Bring innovations to business
No matter how fast and efficiently you can develop your business, you can get stuck at some point in time. Digital tools, in turn, will help you not to be in that state too long.
A whopping 90% of SMBs report that digital programs have helped implement innovations in their business. That's what these tools were able to improve:
Around 50% of these small- and medium-sized companies say that digital tools have assisted in the introduction of their goods and services in new markets.
Around 50% also state that these tools have helped with more effective communication with their clients.
Over 30% claim that digital tools have let businesses be more effective operationally.
Almost 30% suggest that digital programs have enabled the development of new goods and services, which have contributed to SMBs' financial performance.
Over 20% of SMBs also share that helping to develop new products is one of the top three benefits of using digital tools.
As you can see, digital tools are very handy when it comes to scaling your business. If you want to live through the pressure of modern technology and competition, you need to use digital programs.
Conclusion
All-in-all, many SMBs see a strong correlation between using digital tools and company improvements. More often use of these tools leads to higher performance.
You can amend many aspects of your business by incorporating digital programs. Some can see a positive impact on revenue, customer base growth, or more effective communication.
Do you use digital tools to make your business more effective? What channels you'd like to try to see changes in? Leave your comments down below and share your thoughts.
*data presented in this article is from Deloitte's "The performance of small- and medium-sized businesses in a digital world" report.
More Like This