Created on
February 2, 2022
| Updated on
September 12, 2023
SEO vs. SEM. What to choose?
SEO Articles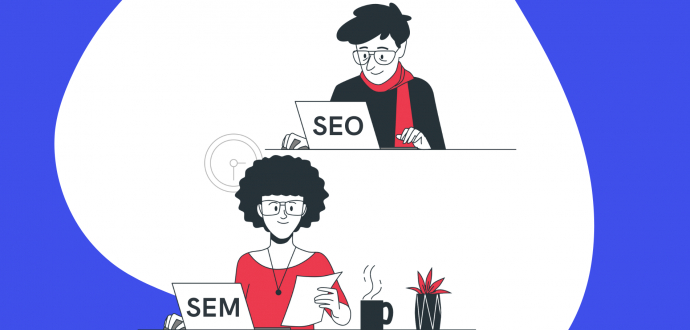 If you run a business or blog online, you probably thought about what SEM and SEO are.
Both act as keys to your site's visibility on search engines. Yet, these notions are not equal.
Search engine optimization or SEO focuses on delivering traffic to your website from organic search results. Search engine marketing or SEM helps you receive traffic from organic as well as paid traffic.
As we all know, search engine results divide into two main types: organic and paid.
For instance, nowadays, you can see up to four paid results marked with "Ad" on SERP. All other results you see are organic.
We know for sure that SEO is responsible for that organic part. But what is SEM responsible for? While we know that paid results are called PPC or pay per click.
Well, SEM works with both SEO and PPC. So, search marketing has two components to it.
Anyway, that's a really brief introduction or these two definitions. Today, we will compare SEO vs. SEM, describe every technique in more detail, and tell why they are important.
Contents
What is SEO?
To tell the difference between SEO and SEM, we have to understand what every technique really does. So, let's start with SEO.
We can describe SEO as a set of actions we have to take to improve the position of the website on the organic search results.
Google itself says that search engine optimization is various improvements we make to part of our websites. Though, at first sight, these modifications might seem not so essential, together with other optimizations we make, they can lead to significant positive changes in search results.
Of course, as SEO influences a site's position on SERP, it must be an integral part of every company's growth strategy.
Obviously, search engine optimization consists of specific parts itself.
Perhaps, Rand Fishkin of Moz has created the best compilation of SEO's components. So, we'll take Moz's hierarchy as the basis.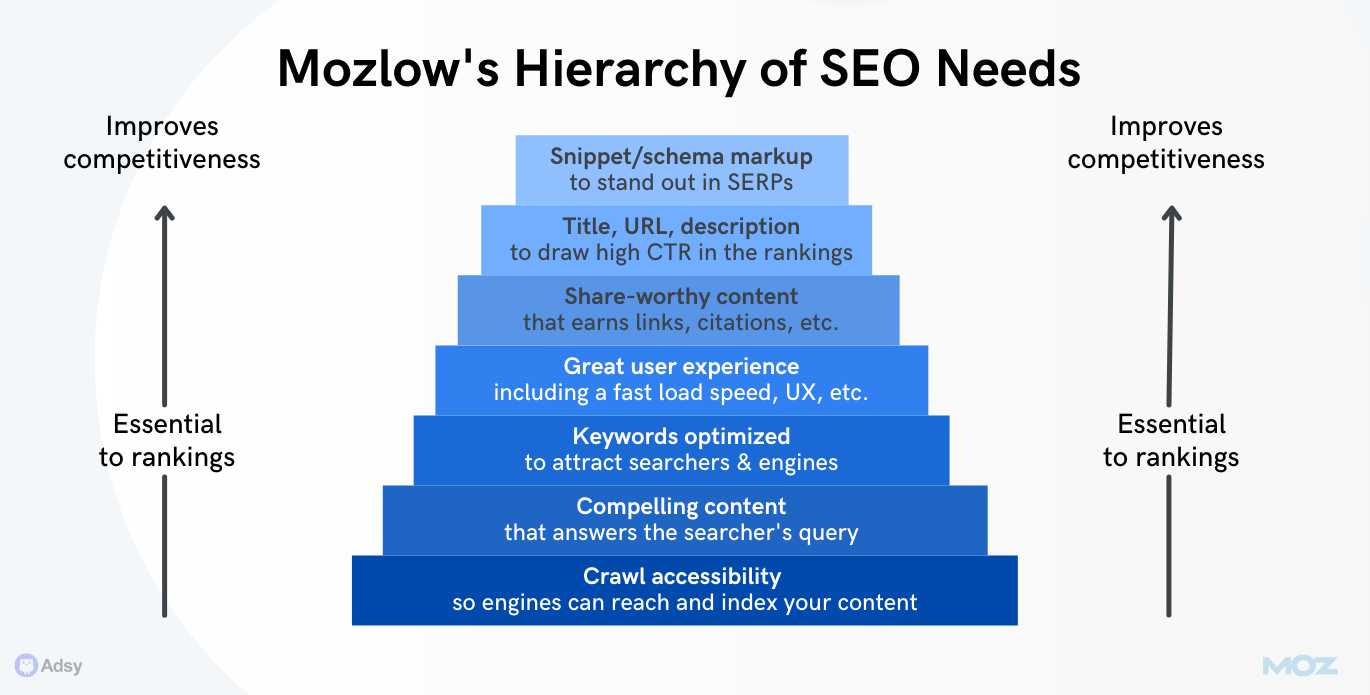 As you can see, it consists of seven major elements. Let's take a closer look at each of them.
1. Crawling
Search engines exist to understand, organize, and give users the most relevant information. Before any kind of information becomes available to a user, it should become visible to a search engine.
Basically, the whole search engine's work stands on the main three elements:
Crawling,
Indexing,
Ranking.
Simply put, crawling is the process of finding new or updated content. To do this, a search engine sends robots; you might know them as spiders or crawlers. What's important is that content stands not only for articles. It can be pictures, PDFs, videos, and so on.
The main point is that crawlers find everything thanks to links.
Also, it's always a good idea to tell Google how to crawl your site. For this, website owners or SEO specialists use robot.txt files that are situated in the root directory of sites.
Moz shares how Googlebot works with robot.txt files.
2. Content
The countless number of times you've heard that content is king.
This quote stays actual nowadays. Content is one of the most influential factors when it comes to search engine optimization.
As Mozlow's hierarchy puts it, content should "answer the Internet user's query." That said, you should take into account your target audience when creating content.
Sometimes even within one niche, you may use a different set of keywords and lexis to meet the readers' needs.
Understanding what your readers want to find after putting a query on Google will help you compose compelling content.
Google shares some great pieces of advice about content:
Compose clear texts,
Organize topics distinctly,
Write unique and novel content,
Optimize content for your readers, not search engines.
3. Keywords
By digging deeper into SEO, you will understand that amazing content written for readers is great but is not enough.
Your content should also include keywords to show up for specific users' queries. The thing is to satisfy both readers and search engines with the keywords you choose.
That is why you have to conduct keywords research.
To ensure it's successful, ask correct questions. It so happens that words you'd like to rank for and something your audience wants does not always concur.
You can build an effective keyword strategy after you really understand what answers your audience wants to hear. Also, consider whether you provide products, services, or information.
4. User experience
There are more than 1.7 billion sites. Of course, users will expect nothing but exceptional quality from your website.
There are a couple of things you need to consider. Firstly, it's a website's load speed. It's a special parameter called LCP that is responsible for the loading of all the site's elements. An ideal loading time should be under or equal to two seconds.
Also, consider your site's design. It should be modern, with a clear structure. It's better to avoid flashy colors and hard-to-read fonts.
Don't forget that your site should provide a clear and similar design across all devices. Keep in mind that Google uses mobile-first principles when ranking sites. So, your mobile UI has to be flawless.
5. Share-worthy content
Creating high-quality content is great. Yet, composing one that readers will gladly share is even better.
The fact that users link to your content is vital. Backlinks show search engines that your content is relevant and interesting for readers. You can rank higher for certain queries thanks to the quality links you earn.
Normally, long-form content is shared more often. So, to get more chances to receive shares from your audience, create 2,500+ words of in-depth articles.
According to Neil Patel, when people see long-reads, they appreciate the work an author put in the post and more willingly share it.
Also, there are certain content types that are more share-worthy. They are infographics, case studies, and guides.
6. Title tag, meta description, and URL
Certain recommendations can help you increase your click-through rate. And all thanks to the title tag, description, and URL. They are the magic instruments and essential part of on-page SEO that can supply you with more visitors.
Title tags should include your target keyword and be around 50-60 characters long.
The meta description should contain a target keyword, be up to 160 symbols, and be descriptive.
URL should include a keyword and be relevant, clear, and also compelling.
Also, try making your meta descriptions really engaging. You can add a call to action to make readers click exactly your link.
7. Snippet/schema markup
So, you create various content. How can search engines understand it?
That's when you need a little help from schema markup. Schema is often described as "structured data." That's because schema assists in labeling and organizing specific elements on your web pages. Thanks to this, search engines can understand these elements better.
And the markup is basically the process of data structuring. That's because you mark up those elements with original code.
Of course, there are lots of schema markup types. You can learn more about them by visiting Schema.org, or Google's Advanced SEO. Understand structured data.
Yet, schema not only helps search engines learn more about your content but also lets to show special features on SERP. You've heard of them as "rich snippets."
They might be:
Rating stars,
Top stories carousels,
Pictures,
Recipes.
These were some of the essential elements of SEO. As you can see, their unity palpably influences your site's positioning on SERP.
However, remember that we are talking about organic results here. In the next chapter, we will learn more about SEM and its approaches.
What is SEM?
Now it's time to define SEM.
Search engine marketing or SEM is a set of actions that uses paid strategies to improve a website's visibility on search engines.
Earlier, we also mentioned that SEM unites both paid and organic approaches. While this assumption is still correct, we need to understand that nowadays, SEM is mostly applied to paid techniques.
This way, companies or blog owners buy ads to appear on SERP when a user types a query that includes specific keywords. A brand has to pay only if a user clicks on the ad.
You've seen paid ads countless times. They appear above the organic results and are marked with the "Ad" sign.
You can ask, "Isn't it PPC then?" Well, not completely.
Sure thing, PPC is a strategy of paid marketing when a company makes and adds and pays each time user clicks it. Yet, pay-per-click campaigns are widespread, not on search engines.
You can also notice paid posts on social media. Or it can be a paid advertisement on the website.
Only when paid ads appear on the search results we can consider PPC as SEM. Nevertheless, you have to understand them PPC is just an SEM tactic.
Just like SEO SEM uses keywords to reach its target audience. Here are some examples:
Broad match keywords. That means that your ad will show up even for similar phrases, misspells, or synonyms of target keywords.
Phrase match keywords. It's clear from the name that users will see your ad when they type exactly the phrase you've indicated. Also, the phrase can include words before or after the target phrase.
Exact match keywords. In this case, users will see your ad if they type singular or plural forms of your target word as well we misspell or even rephrases or reorders.
Negative keywords. These words or phrases you don't target. So, here you add variations of previous keywords you'd like to exclude.
Then you can create your ad copy. It is a look-alike to the organic results internet users see.
The slight change is that your ad copy will have two headlines and also can contain site or callout extensions. In all other respects, your ads will be similar to an organic result. It'll have a meta description and URL.
Successful SEM campaigns will also require a lot of research, dedication, and work. In the end, SEM can help you attract more customers to your site.
Why SEO is important
Site owners or SEO specialists use SEO with certain goals in mind.
It's quite clear that SEO is an undisputable part of your brand's or blog's success. Here are some reasons why SEO is important for your site.
Visibility. Search optimization helps more users see your site when they search for something on the web.
Ranking. The more efficient your SEO strategy, the higher your ranking is. Fitting in the top 10 results guarantees your site a multiplied number of visitors.
Traffic. When you grow the site's visibility and ranks, you can receive boosted traffic. In fact, 71.33% of all clicks go to the first search result.
UX. Thanks to on-page optimizations, SEO includes you providing your customer with a better experience. That stands you out among other sites.
All in all, SEO is a prerequisite for your business's success online. If you handle SEO strategy correctly, you end up with lots of visitors, loyal customers, and a well-established brand.
Why SEM is important
Of course, SEM holds a special place in the company's establishment.
Like SEO, it has numerous advantages you might enjoy. So, here is why SEM is important for your business.
Conversions. Paid ads often lead to special landing pages, the main goal of which is to convert prospects into customers. That allows converting users faster.
Brand awareness. According to Google, SEM can increase awareness of your company by up to 80%. Even if users don't click on your ad, they still see your brand's name on top of SERP, and it becomes more aware to people.
Local reach. It's a great option if you want to reach the local community and increase sales. Also, paid ads can help you outperform your local competitors.
Qualitative leads. With organic results, anyone can see them. When starting a paid campaign, you decide who will see it. So, you get more targeted traffic.
As you can see, SEM is more about conversions and making sales. Nevertheless, it's an amazing strategy for growing your brand name as well.
Conclusion
So, what can we say after the SEO vs. SEM comparison? Firstly, both are essential for business and its growth.
Anyway, unlike SEM, SEO is an inseparable part of your site's development. Without it, you can't optimize your source to fit users' and search engines' needs. It is essential to ensure you are visible on search engines and climb higher and higher on SERP.
At the same time, SEM is still a very important tactic, yet it's not a must-have.
The point is if you optimize your site well enough, you will rank on the first page. Accordingly, you won't need additional tools to reach your audience.
Yet, the combination of SEO and SEM will definitely bring the best results possible.
Tell us, do you use SEM to support SEO and give your site a boost?

More Like This