Created on
February 9, 2022
| Updated on
September 20, 2023
Types of Links for Rank Growth in 2023
SEO Articles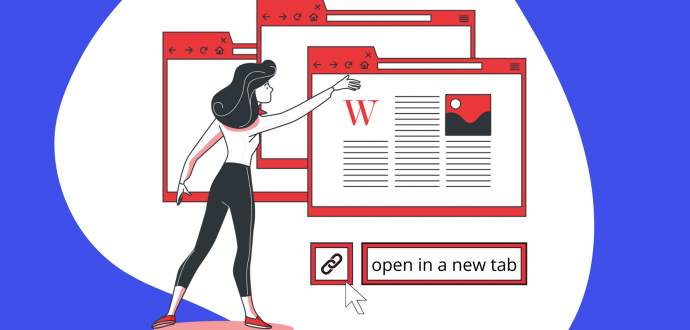 Link building strategies have long been an important part of an effective SEO.
According to uSERP, 56.2% of SEO professionals believe that link quality and quantity influence rankings. And we cannot agree more!
We've talked about various link building tactics on our blog, gathered some crucial statistics, and even interviewed our Head of SEO to give you valuable information about link acquisition.
But, of course, the topic of link building is so broad and evolving. That's why we always have something to say.
Today, we'd like to talk about the most important types of link building that can influence your ranking.
See what links your site should have and why it's important.
Contents
What is link building?
The link building definition is not too complicated, to be honest.
Basically, link building is the process of getting backlinks for your website with the goal of improving its position on the search engine results page.
Yet, 85% of SEO specialists believe that link building is also impactful when it comes to brand authority and brand building growth.
Despite its clear and simplistic notion, link building is a complicated process that involves various techniques.
Many industry professionals state link building to be one of the hardest SEO elements. Nevertheless, you must not avoid it by any chance.
Importance of link building
65% of marketers agree that link building is the most difficult SEO technique.
And that's not groundless.
Lots of sources name backlinks among the top three factors that influence SERP positions. This way, companies that find the best link building approaches can outperform competitors and rank higher.
In turn, that grants more visibility to a site and a larger amount of traffic.
Though these link building perks are the most well-known, there are some more. Links also help users learn more about your company. That's because, with the help of inner links, visitors can discover new pages of your site.
That results in a brand awareness increase.
Besides, smart linking can positively influence your online reputation and build relations with other companies.
Types of links for better positions on SERP
Usually, we mention backlinks solely when talking about SERP rankings. Yet, the final success depends on a variety of factors.
So, here are the types of links that ensure you achieve better results and make your business more visible.
Internal links
So, what is an internal link?
An internal link is a link that points to another web page within your website.
There might be different usage for these links. You can use them for navigation, as links in widgets or banners, or CTA links.
Why should you use internal links?
There are three main factors that urge you to use internal links.
SEO. Of course, inner links help you optimize a site's SEO. They let search engines learn and understand your site better. That facilitates faster page indexing and authority assignment.
UX. Search engines put users first. So, if you make your site comfortable for the online audience by allowing easy navigation and linking to relevant content, it can also positively influence your ranks.
Conversion. This feature is especially important for sites that sell goods or services. By placing CTA or banner links, you can drive traffic to your landing pages that can convert prospects into buyers.
Nevertheless, we are talking about internal links' correlation with rankings.
There were lots of studies. Some show no correlation, some share that there is a connection between internal links and better positions of SERP.
Moreover, the majority of SEO professionals and site owners will tell you about internal links' optimization importance when asked. That's because it helped them to acquire better positions.
Here are some tips for high-quality link building within your site.
Link to relevant content that will provide value to your visitors.
For instance, if you have an article called Efficient 5-Step Guest Posting Strategy for 2023, you can link it to How Guest Posting Boosts Your SEO (Experts' Tips). It can provide more information about SEO matters.
Use clear and related anchor text.
Google considers anchor text use as a big deal. So, choose it wisely. It should look natural and give a clue to what content you are linking. For example, there's a hyperlink "order high-quality content" that links to a page with a content order on our site.
Link to three or four of your older articles.
This strategy is important as it helps you boost older pages' likelihood of growing positions in the search engine results.
Add links to new content within your older articles.
Google will crawl your content once again when it notices new links. That can improve the ranking value of older pages.
Outbound links
When working with a site, you need to use different types of links. Accordingly, you have to use not only internal but also outbound links.
Simply put, the outbound link is a link that points to another domain than yours.
Professionals recommend using relevant anchor text containing a keyword the page you are linking to tries to target. Yet, remember to be careful with keywords. Don't use the same ones multiply on your page, Google might consider this as spam.
But do outbound links give any value to SEO?
Specialists have been discussing this for many years. Well, the main point we should take into account is that by linking to authoritative sources, you give more context to your content.
Moreover, according to some studies, outbound links continue to be a ranking factor and successful SEO best practice.
Why should you use outbound links?
Add more context to your content and strengthen topical signals.
When you link to relevant and authoritative sources, you help Google understand your site better. Also, outbound links show the depth of your content and allow users to study the topic further and in more detail.
That's really vital. Some topics are rather complex, and linking to well-established sites helps you create better content.
Add value.
This point comes out logically from the previous one. By linking to external sources, you can broaden the topic and help users learn even more details. Thanks to third-party relevant content, you can cover all questions your readers might have.
Build trust.
Readers are your source of traffic. So, make everything to show yourself as a trusted site. This way, when you use data, make citations, etc., don't forget to link to original sources. That's how visitors understand you are a reliable source.
If they want to re-check the information you provide themselves, users can easily do this by clicking the outbound link.
Show expertise.
Of course, the quality of the content you create shows your expertise. Yet, sources you link to can also prove your credibility. So, cite and get information from publications or blogs that are valued in your industry.
Backlinks
And last but not least link type is a backlink.
A backlink is a link that comes from a third-party source to your site.
In the world of SEO, backlinks are the most impactful. All the more strange that 66.31% of pages have no backlinks at all.
Industry most respectful sites like Ahrefs report that the more backlinks a page has, the more traffic it can get. (Thanks to higher positions on SERP.)
Why are backlinks so essential?
Many times in our articles, we've told our readers that backlinks represent a "vote of confidence." And that's the key to better rankings your site can get.
By linking to your site, other sources show their trust in your content. That's how search engines understand that others value your content. This way, if other sites show that your site is worth linking to, search engines also get that they can rank your pages on SERP.
Of course, not all backlinks are equal. So, don't aim at getting as many links as possible without learning more about the donor.
Backlinks from:
High domain authority,
Relevant,
Trustworthy,
Well-established
sites are considered the most weighty ones.
How do you earn backlinks?
Most professionals and blogs suggest creating long-form content that provides in-depth information about the chosen topic.
Some types of content like infographics or case studies can also get more links.
But you cannot control those potential links you get. So, always remember to check the quality of linking domains. You can do this easily with special services. Previously, we've described some great backlink checking tools.
There are a couple more options when it comes to building links. You can check the best tactics by reading How to Create Backlinks for My Website - 7 Strategies.
Anyway, one of the most efficient ways to acquire links is guest posting. It's safe, and you fully control what links you get.
You might think that this process is too time-consuming. Yet, manual link building is long gone. In 2023, there are a lot of opportunities to get backlinks with the help of guest posting services. But, sure thing, you should check a guest blogging platform to ensure it offers high-class services.
With Adsy, you can get links from 34,000+ hand-picked sites with the best metrics in 50 categories.
Of course, regardless of what link building program you choose, you should mind some moments. As we've mentioned a couple of abstracts earlier, the site that links to you has to be relevant and qualitative.
Moreover, your link portfolio should be diverse. That said, it's much better to build links from 50 different sources than 150 links from one.
On top of that, don't forget to disavow certain links. Remember that links from low-quality sites can harm your ranks.
Conclusion
These are the main types of links that can positively affect your ranking.
Though backlinks are the most influential ones, you should not forget about inbound and outbound links.
If you keep in mind all those links and take care of them, you can achieve outstanding results. It will happen thanks to the all-round benefits each link type can provide.
As always, trust link acquisition only to reliable link building services. That will save you from penalties and position decrease.
Tell us what link types you consider as the most important. How do you take care of your links?
More Like This