Created on
January 26, 2022
| Updated on
May 17, 2022
41 Link Building Statistics to Know in 2022
SEO Articles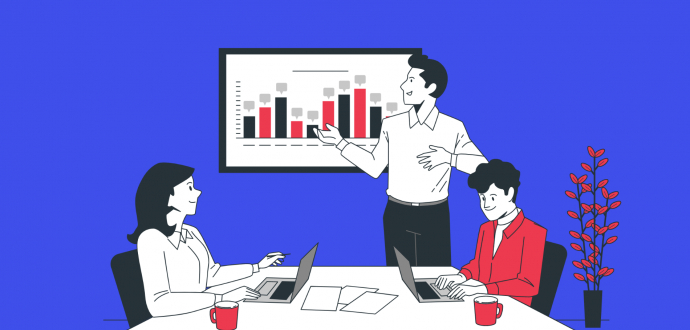 Link building stays one of the most important activities to grow one's site positions on SERP.
That's because links are one of the most influential ranking factors for search engines. In fact, links act as a "vote of confidence." That said, if authoritative sources link back to your sites, you look more trustworthy in the search engine's eyes.
That takes us to the conclusion that link building is a must-have SEO technique. That's what industry most respected professionals say.
So, if Search Advocate at Google John Mueller says backlinks are still a thing, who are we to deny this?
If we continue talking about the preferableness of SEO techniques, Brian Dean - a Backlinko founder - names exactly link building.
Yet, we shouldn't forget it's not always the easiest tactic to use. And Ahref's VP Marketing, Sam Oh, acknowledges that.
But let's go in our research a little bit further. Today, we will share link building statistics to help you learn more about this process.
Contents
General link building statistics
1. 95% of sites have zero external links. (Backlinko)
2. Only 2.2% of online content gets multiple backlinks. (Backlinko)
3. The page that ranks #1 on Google usually has 3.8x more backlinks compared to pages with positions two to ten. (uSERP)
4. 65% of companies agree that link building is the most difficult SEO technique. (uSERP)
5. 13% of SEO professionals claim that link building delivers the most value compared to other SEO tactics. (Conductor)
6. 75% of the examined 100,000 random blogs had no links pointing to them. (Moz)
7. 36% of businesses outsource link building to experts, according to SocialMediaToday, while uSERP says that there are 60% of such companies.
8. 42% of SEO professionals spend equal time while building external and internal links. (SocialMediaToday)
9. 90% of content marketers employ content pieces as their primary strategy to gain backlinks. (uSERP)
According to these statistics, we clearly see that link building is an essential tactic lots of companies use. Moreover, it's really important to be among those sites that have gained backlinks to be successful in 2022.
Backlinks' importance
10. According to FirstPageSage, backlinks are among the top three ranking factors.
11. uSERP claims backlinks to be the most influential ranking factor, while MonsterInsights put them in second place.
12. Eternal link is the third most essential factor for search optimization. (SocialMediaToday)
13. 58.1% of SEO professionals believe that backlinks have a big impact on search engine rankings. (uSERP)
14. 92% of marketers believe that links will continue to be a ranking factor in five years. (SocialMediaToday)
15. 59% of industry professionals claim that backlinks will have more impact on ranking in the next few years. (uSERP)
16. 13% of SEO professionals name link building the most vital SEO strategy. (SocialMediaToday)
As you can see, there is a lot of proof that gaining links is one of the most important SEO tasks. This is the process you can't skip when building your way to the SERP's top.
How marketers measure link quality
17. 65% of marketers say that domain authority is the most critical metric when determining a backlink's quality. (uSERP)
19. 48% of marketers use domain ratings to measure link quality. (SocialMediaToday)
20. 36% of marketers employ page authority to define link quality. (SocialMediaToday)
21. 34% of marketers agreed to use domain authority to identify link quality if they had to choose only one measurement metric. (SocialMediaToday)
22. Backlinks from older domains may be more powerful compared to ones from newer domains. (Backlinko)
23. Links from other pages ranking in the same SERP may be more valuable to a page's ranking for that particular keyword (due to the fact that they're highly relevant pages). (Backlinko)
24. Links placed inside a page's content are more qualitative than links on an empty page or embedded elsewhere on the page. (Backlinko)
Of course, there are a lot of helpful online tools that will help you track and evaluate your links. Some of them are Google Search Console, Ahrefs, Screaming Frog, Semrush, Moz, etc.
Effective content types for link building
25. 90% of content marketers employ content pieces as their primary strategy to gain backlinks. (uSERP)
26. Blog posts with 3,000+ words get more backlinks on average than blog posts under 3,000 words. (Moz)
27. Listicles can generate the highest number of unique backlinks than any other content type. (Moz)
28. Long-form articles get 77.2% more backlinks compared to short blog posts. (SocialMediaToday)
29. 53% of SEO specialists create infographics for link building purposes. (Content Marketing Institute)
30. "Why," "what" articles or infographics obtain 25% more links compared to "how-to" posts. (SocialMediaToday)
Anyway, the main rules stay the same. First and foremost, ensure you create unique, qualitative, and useful content. Use it as the basis.
To increase the chances of attracting more links to your content, use these statistics.
Best link building tactics
31. The most efficient link building tactics that lead to the best results are: content marketing, guest posting, link exchanges. (uSERP)
32. 69% of SEO specialists think that buying links can improve a website's search rankings (Aira)
33. Guest posting is known to be one of the most effective link building approaches. Statistics reveal that 60% of blog owners write approximately one to five guest posts per month. (Spiralytics)
34. Broken link building is quite popular, too and if you are getting a 5-10% conversion rate with this technique, it's great. (Ahrefs)
Of course, there are a lot of link building strategies. Yet, according to these statistics and our SEO expert, guest blogging is a top approach right now.
Link building cost
35. Low-authority backlinks typically cost from $150 to $300 for one link. (Siege)
36. High-authority, contextual backlinks typically cost from $700 to $1,000+ per one link (uSERP)
37. Approximately 50% of all SEO professionals spend $10,000 or more on link building yearly. (Aira)
38. 41% of SEO specialists think that the cost of new backlinks acquisition will continue to grow in the future as competition becomes more challenging. (uSERP)
39. 61% of marketers say that they use 0-10% of their total marketing budget on link building. (SocialMediaToday)
40. A lifetime link value varies in the $12,000+ range. (Siegemedia)
41. Backlinks built with guest posts can range from $14.29 to $28,572 per content placement. (Adsy)
As you can see prices for link building can be really different. So, you need to clearly understand how you are going to build your links to save enough budget for this.
Our advice is to partner with reliable guest posting services. There are a couple of reasons for this.
Firstly, links built with guest posting are completely safe and qualitative to positively influence your positions on SERP.
Secondly, you choose every link you build yourself. Unlike many link building service that sells backlinks in packages, guest blogging services allow you to thoroughly pick sites where you'd like to place your links.
Thirdly, you save both time and money. You can save up to 85% of your time compared to manual outreach. Also, there are links for every budget.
Conclusion
These link building statistics prove the importance of backlinks once again. In 2022, links will continue to be one of the most influential ranking factors.
That is why you need to be really picky and consistent when working on your link building strategy.
Combine various link building approaches to get the best results. Use the help of SEO services to investigate your links' donors.
Also, remember that link acquisition requires time and dedication. So, don't expect your positions to boost the next day you've built your first backlink. Yet, if you keep on working and building links from related high-authority sites, you can bring your site to the top.
More Like This