Created on
January 19, 2022
| Updated on
September 20, 2023
How Guest Posting Boosts Your SEO (Experts' Tips)
SEO Articles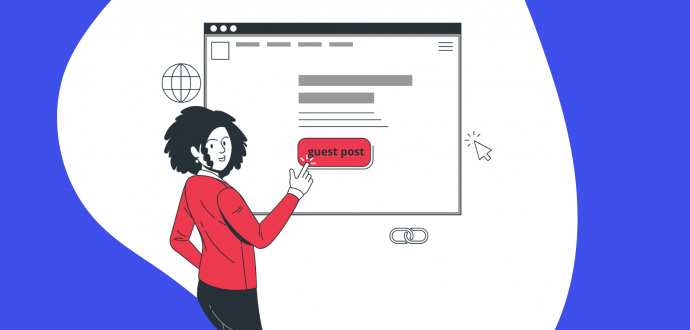 Billions of sites surround Internet users. No wonder website owners want their sources to stand out.
And if you are among those who run a blog or site, you definitely wish to rank high on SERP. Most probably, you know that SEO is a key to this. But how can you give your SEO a boost?
Well, today, we will talk about the benefits of guest blogging for SEO.
That's an effective tactic that can strengthen your effort in various directions. That means you can not only make your site more well-known and visible but also optimize your costs.
And trust us, guest posting is a highly effective strategy and has helped a lot of site owners. We can state this confidently as we have been working in this industry for over a decade and have seen lots of success stories.
So, let's see what benefits just guest posting can give you.
Contents
What is SEO?
Before jumping straight to the benefits, let's discuss what search engine optimization or SEO really stands for.
Many mean link building when saying SEO. Yet, that's a false notion.
SEO stands for much more than building links. It has many directions that together form search optimization.
Basically, SEO is a set of activities, a goal of which is to enhance the appearance and positioning of web pages in organic search results.
And to reach this goal, you have to employ various techniques. This way, SEO will include:
Gaining links from sites with high domain authority.
Creating quality content.
Minding your site's technical health.
Taking care of off- and on-site SEO as well as local SEO.
Using guest posting for SEO boost is undeniably beneficial. Hundreds if not thousands of site owners have experienced how guest blogging helps to grow positions on search engines.
What is guest blogging?
So, now we know that guest posting is an outstanding tactic. But what is it, after all?
Guest blogging or guest posting is writing and posting content on a third-party site rather than on your own.
Everything is pretty straightforward, just like the definition says. All you have to do is create a post and find a site that will accept it.
In fact, 60% of companies write one to five guest posts per month. So, this method is quite common. Moreover, earlier, we described the guest posting process in detail.
However, what is guest posting in SEO?
Well, it's a real treasure. Just think for yourself - you build links, grow brand awareness, get more traffic, and lots more.
Yet, let us tell you about some of the major benefits more precisely.
1. Builds backlinks
Guest posting is a perfect instrument for building links. And here are a couple of reasons for this.
Firstly, backlinks show the "vote of confidence" for your site. This way, search engines can see that others value your content and find it informative or helpful.
Moreover, according to FirstPageSage, backlinks are among the top three most important ranking factors.
Anyway, what backlinks does Google want you to have?
Of course, it's always a worthy idea to get links from relevant sites. That means if you write about startups, gain links from the sites from the same niche and from publications that cover business.
Another thing is to get links from high-domain authority sites. That means well-established and popular websites trust your site. That will also make your link more weighty.
Ensure your link is in-content. In this case, the anchor text with your link should be surrounded by content.
Also, another piece of advice is to pick sites with real traffic.
And you know what? Guest posting helps you fulfill all these points! In fact, guest blogging can boost your rankings thanks to 5x more weighty backlinks.
Usually, link building is one of the toughest SEO jobs. Gladly, it has become much easier thanks to guest blogging.
All you have to do is register as a buyer and choose fitting sites.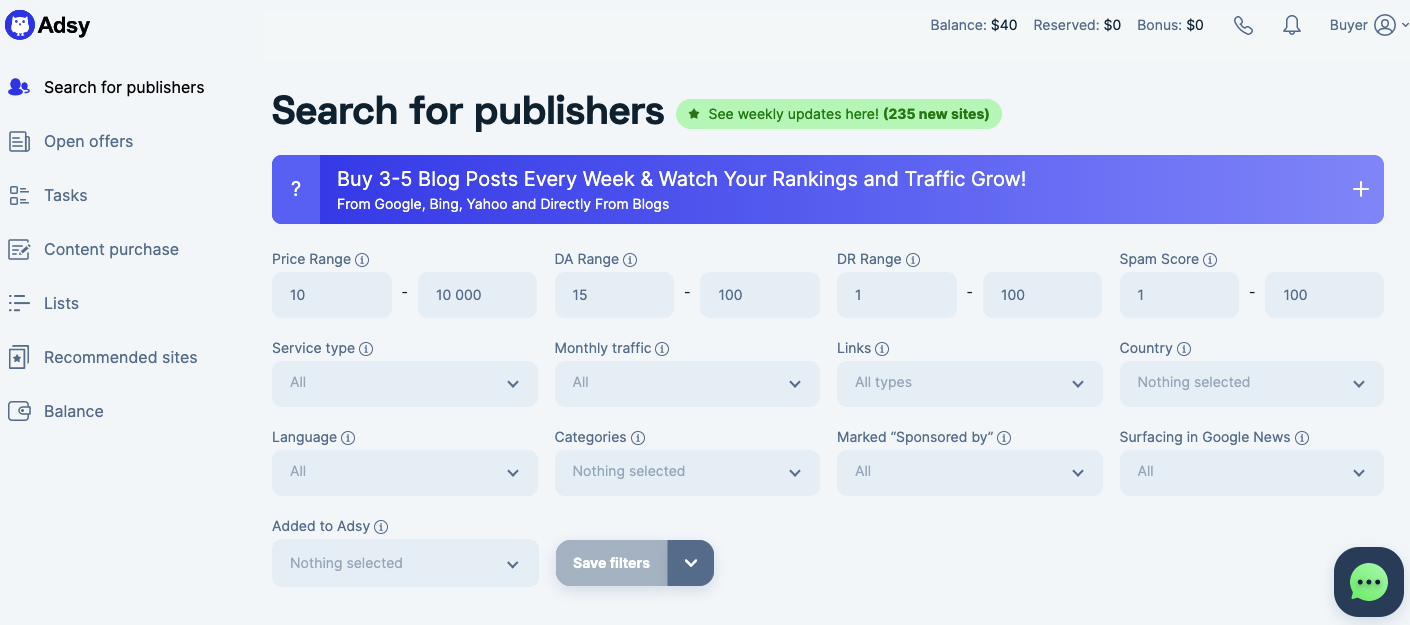 Thanks to 13 filters, you can fastly choose quality guest blogging sites. Then you only need to state the link you'd like to add and write an anchor text for it.
2. Builds authority
If you only started your blog or site, you don't have that much authority. Even though your blog is highly professional and provides genuinely helpful information.
To grow your authority, build brand awareness, and introduce people to your site, use guest blogging.
But how does it exactly work?
Previously, we've explained that guest posting is publishing content on third-party sites. So, this is exactly what helps you build authority.
In addition to choosing relevant sites, pick ones holding trust and expertise in your niche. Google what publications or websites are the most popular and credible and find them in the guest posting site's inventory.
When people see your content on well-established sources, they automatically will see you as a professional.
3. Brings quality traffic
What else does happen when you publish quality guest posts?
Other people love them! Moreover, they head to your site as an original source of information. And this is how you get traffic.
But why do we call this traffic qualitative?
Firstly, as you remember, you need to place your guest posts on relevant sites from your niche. That means people are already interested in topics you cover.
Also, if readers use a site where you've published your content as a source of information, they trust it. So, your site will look rather trustworthy as well.
And if you provide truly unique information seasoned with your knowledge and expertise, you can attract new visitors to your site!
Here's how much referral traffic sites that engage in guest posting get (source):
15% of guest publications have over 100 visits.
35% of guest articles have 10 visits or fewer.
50% of guest posts have from 50 to 100 visits.
You might think that it's not too much. But remember that traffic is targeted and brings visitors who are interested in your services or products.
4. Enlarges social media presence
Social media also play an essential role in your site's establishment and growth.
Readers tend to trust content with a large number of shares. And you can get lots of shares it only will benefit you.
Your site won't receive so many retweets and reposts at the very beginning of your journey. But guest posting will help you.
If your goal is to enlarge your social media presence, also check how well-shared the accepting site is. Look through some articles on the site where you want to publish your guest post. Do its readers willingly share its content?
If the answer to your question is 'yes,' then choose this site as your destination for guest publication.
The more mentions your site, brand, or company gets on social networks, the better.
5. Grows positions on SERP
This, perhaps, is the most important benefit guest posting has to offer. In a world with over one billion sites, you definitely want to stand out.
And overall perks that this tactic offers you allow you to rank higher on SERP.
Firstly, you build quality links from relevant and authority sites from your niche. You enhance your presence on social media. You get more people talking about your content.
That's how search engines understand you are a trustworthy source. Also, you show that readers are interested in your content. So, Google starts to show exactly your site for specific users' queries.
Conclusion
That's how you can use guest blogging for an SEO boost.
There are a variety of directions where you can grow your rates. You can use the guest posting and target one goal. For example, you can use it to build brand awareness.
Or you can build a long-term strategy to impressively grow your positions of SERP.
Guest posting services, in turn, will help you keep everything automated and save time and money for you.
This way, don't waste your time and start developing your site right now.
More Like This