Created on
November 10, 2021
| Updated on
September 20, 2023
Efficient 5-Step Guest Posting Strategy for 2023
Guest Posting Tips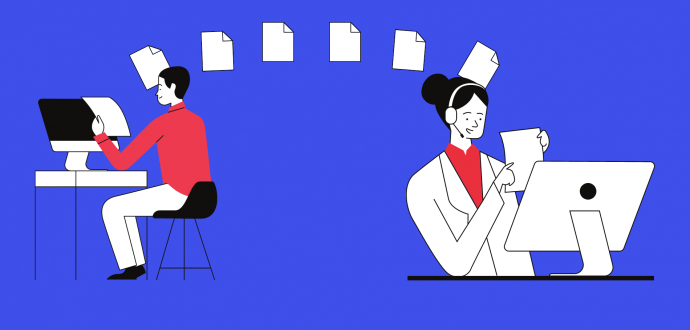 Every company is fighting to win customers' attention. And every year, it becomes harder and harder to succeed in this game.
Guest posting, indeed, can become a way through for you.
You may see various growth strategies. Yet, guest posting confidently leads when it comes to SERP positions and brand awareness increase.
In fact, 60% of businesses write one to five guest posts per month. So, if you don't want to be left behind, it's time to think about your guest posting strategy for 2023.
Today, we'll remind you what guest posting is and share five steps you need to take to create a solid strategy to develop your company.
Contents
What is guest posting?
So, what is guest posting? Well, it's not that hard to describe the notion.
Guest posting is a process of placing your content on a third-party site with a primary goal to get backlinks.
Sure thing, the posting goals might be different. Everything depends on the final purpose of your strategy.
But what is guest posting in SEO?
In sum, it's a powerful tool that helps your site grow and acquire a better rank on search engines. Moreover, it's a white hat backlink building technique. Accordingly, you guaranteedly get no penalties from Google.
1. Set your guest posting goals
Let's agree that we need to concentrate on quality guest posting. That ensures you get better results and in a shorter time.
Accordingly, you need to set your guest posting goals first. That will allow you to plan every following step correctly. So, what goals may you have?
Rank growth. Perhaps, this is the most widespread and essential aim every site owner has. Thanks to quality link acquisition, you show search engines that your site is worth trusting. Also, you state that you provide relevant and useful information in your industry.
Rankings boost with 5x more weighty backlinks.
Brand awareness boost. By placing your content on third-party sites, you extend your audience, and accordingly, tell more people about your brand.
Expertise showcase. Post your articles on sites from the same industry to show your knowledge in certain areas. Let people know how you can help or educate them.
174% audience extension and brand awareness growth.
Traffic increase. You can grow your organic and referral traffic when you publish guest posts.
50% of guest posts have from 50 to 100 visits.
80% increase in organic and referral traffic.
Sales growth. As you post your content on sites from related industries, customers are well aware of the topic and can find your solutions or services helpful. So, they are closer to becoming customers of your business.
3x more leads close to conversions growth.
75% increase in direct sales thanks to the hot leads.
Now you know your goal. And probably, you want to look for fitting sites straight away.
Yet, to learn how to do guest posting more effectively, take into account the next step.
2. Think of what sources your TA can use
Now it is the time to combine your understanding of what goals you have with places where your target audience is looking for answers. That will allow you to make the most accurate choice of guest posting sites.
Firstly, look for authority and trusted publications in your industry. Check where their traffic comes from.
Also, see what other sites share the same audience with the source you've chosen. You can do this analysis with the help of Alexa.
Secondly, check articles from what sources your audience shares. You can do it by looking through LinkedIn or Twitter accounts.
Thirdly, check popular online media that covers topics related to your company.
Based on the goals you have - ranking higher or growing brand awareness - pick sites that fit you the most.
3. Select fitting guest posting sites
Today we will talk about how to pick fitting sites thanks to guest posting services. Though you might not be aware of this method, it's more effective than manual search.
In fact, a guest posting service saves up 85% of your time.
So, your goal, for now, is to find and register at the guest blogging platform. We at Adsy, are ready to provide you with top-class service and advanced features. Thanks to this, the whole process won't take too long.
Here's how you can find proper guest posting sites.
1. Register at Adsy by email or one of the available social networks.
2. Go to the "Balance" menu and make a minimum top-up of $25. That will open an inventory for you. You will be able to use this sum for your future purchases.
3. Now go to the "Verified publishers" menu. Start setting the filters. There are 20+ of them. Try to adjust each metric. That guarantees a more accurate result.
4. After this, you will get a list of the fitting sites. To start cooperating with them, press the "Buy post" button.
5. On the next window, choose one of the options, "Content creation and placement" or "Content placement." The first variant fits you if you have no ready post or have no time or opportunity to write it.
7. After you place your order, you can track its progress in the "Tasks" menu. Check the results and after you are happy with the outcome, send the task to the "Completed" status.
8. And finally, enjoy the results you've got. Now your articles are on the high DA sites, have a link back to you, and attract attention to your company.
Of course, guest posting is not a one-time activity. And our service does everything you make your future interactions easy and fast. This way, the next time you decide to place more guest articles, you can use the following features:
Weekly updates. This is a list of newly added sites that we update each Monday. It allows you to search for new publication opportunities.
Also, you can pick from publishers or sites you've already worked with.
On the other hand, you can exclude publishers and sites you've partnered with if you are looking for new collaborations.
Moreover, you can send sites to "Allowlist" to save them for future work (if you weren't ready to make an order when you found them).
To ensure you reach your goals with guest blogging and do it without a fuss, we've added some more parameters. So, metrics like:
Completion rate,
Avg lifetime of links,
Tasks with Initial Domain & Price,
Publisher's rating,
will help you choose the top performers only. As a result, you will get more weighty backlinks and more quality traffic.

To learn more about each metric, hover over its sign to see the help card.
4. Get your content ready
So, you finally have the list of guest posting sites. In one of the points, we've mentioned that you can pick from two available opportunities:
Content placement,
Content creation and placement.
If you choose the "Content placement" option, you have to provide your own content. All you have to do is place it in the special field.
Also, add the link(s) and anchor text(s) for them so that publisher can include that information in your text.
You can also provide special requirements, if any.
In case you choose the second option - Content creation and placement, we will automate all the processes. You only need to choose who will write content for you - the publisher or Adsy's writer, pick the content length, leave the requirements for your article and paste the URL you want to promote.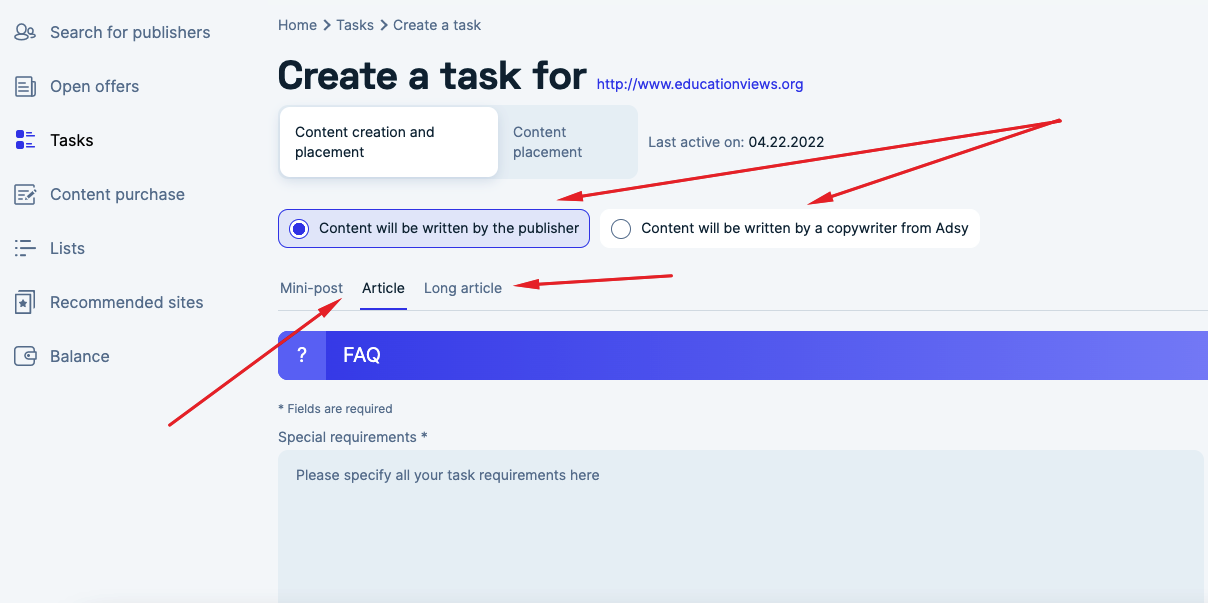 After you complete and send the order for either of the options, you can track it in the "Tasks" menu.
On top of this, we have another option you might enjoy. And it's an article writing service. Thanks to it you can order an article and use it wherever you want. You can place it on one of the third-party sources or save it for your own blog.
5. Promote your post
To finalize the process, we recommend you promote your posts. It's an essential part of the guest posting strategy.
There are various channels you can use to tell about your posts. You can use owned media and mention your collaborations on your site or via email.
Also, you can employ earned media and use your social media account. So, spread the word about your articles and encourage people to read them.
Generally speaking, your guest post promotion may be similar to your regular blog post promotion.
Conclusion
Many industry professionals praise guest posting for impressive results in different directions. Some increase their blog's readership, some grow email subscribers' number, or boost the number of leads.
Of course, for many site owners, the main role of guest blogging is traffic, positions, and brand awareness growth.
With a solid and thought-out guest posting strategy, you can achieve these results easily.
We believe that Adsy is the best guest posting service to fulfill this goal. We constantly develop and upgrade our services to help clients reach any heights. So, wait no longer, register now, and grow your business!
More Like This