Created on
July 28, 2021
| Updated on
September 22, 2023
How to Create Backlinks for My Website - 7 Strategies
SEO Articles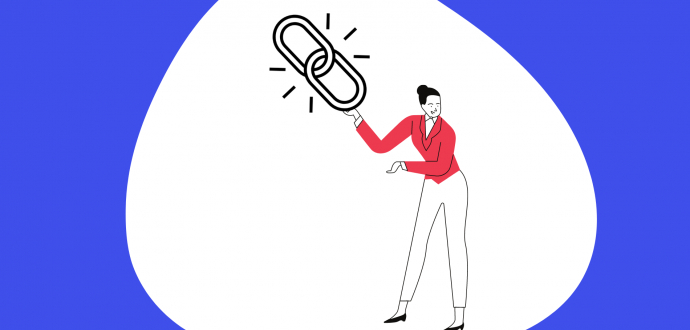 Are you thinking about how to create a backlink to your site?
Well, that's the right thing to do. Why is it so? Because 55% of sites don't possess a single backlink. That's heartbreaking.
And we don't like to have you heartbroken. But, as you already know, backlinks are one of the most important ranking factors.
They show a vote of confidence to your site and notify a search engine your pages are worth showing for a certain user's query.
As you can see, you have to work on your backlink profile. Yet, 65% of SEO professionals agree that link building is the hardest part of SEO.
This article will show you how to acquire quality backlinks without extra complications.
Contents
1. Use guest posting
Perhaps, that's our favorite strategy.
Would you like to know how to get backlinks stress-free? Then choose guest posting. It's a 100% opportunity to build backlinks from authority sites and grow your ranks.
You may say - but sometimes it's really hard to pitch your article to a site owner. Yes, it is. But that happens in case you choose to do everything manually.
Luckily, there are guest posting services that help to make the whole process much easier! So, getting a link comes down to a few simple steps. Let us show you this in Adsy's example.
Register as a buyer.
Then you'll access 35K+ sites ready to publish your content.
When giving your content for placement or ordering one from a publisher, you will be able to add 1+ links to your site.
Follow the post's progress, check the quality, and get a link back to your site!
That's all you need to do. At Adsy, you'll find sites from 50+ industries and with high DA. Thanks to 20+ handy filters, you can find the best match for you.
Also, guest posting is an awesome way to create backlinks because you get them qualitative, in content, and from related sites. All that will positively influence your SERP positions.
You might also like: How to Build Backlinks Using Guest Posting [2023 Guide]
2. Know what people are looking for
You might have heard about content importance a million times.
Well, we have the same beliefs. It's true that 65% of marketers find it challenging to produce engaging content. Yet, you have to do your best to create top-class content.
Why is it so?
Content is not only an essential ranking factor for Google. It's also a reason to generate backlinks to your site. Or not - if you have poor-quality content.
And trust us, the article's length is not always the point. Even if you read that 2,500+ posts perform the best compared to others, it's not always the case. More importantly, it is what you write and to whom you appeal.
This way, there are several things to keep in mind:
know your audience perfectly,
keep an eye on the trends in your industry,
try to solve users' problems.
Thanks to these points, you'll be able to create content that is engaging and appealing. This way, people will gladly put links back to your articles as they provide solutions. Tell about novelties in niche - readers will consider them helpful and will be glad to share them.
3. Become a HARO
Are you still asking about "how to create backlinks for my website"?
Catch another approach - a HARO technique. The abbreviation stands for Help a Reporter Out. So, what's the deal?
HARO is a special website that connects journalists and site owners. Basically, this platform lets you add backlinks from online media. That's also a great benefit for your SEO.
Google does value links coming from authoritative magazines and blogs.
Anyway, how do you start using this tactic?
Go to the HARO website.
You need to register as a source.
Three times per day, Monday through Friday, you'll receive letters - check source requests.
Pitch your idea to a journalist.
In the end, you may end up with a link from a trustworthy source. The site provides clients' Success Stories, so you can see how beneficial this link acquisition tactic may be.
4. Mind the content you are creating
Not all content is equal.
Of course, we still praise high-quality content. Yet, sometimes you need to add some spice to it to win links.
Thus, what can help you get more backlinks?
Infographics. 40% of marketers claim this type of content drives the most engagements. Also, if someone shares your infographic, he/she will link back to you.
Images. Original images can have the same effect. Not only do they increase a readership, but also they could be the reasons users link back to your post.
But is this all? No! Buzzsumo has conducted a study to discover the top six content types for gathering links. (Yes, infographics are on the list).
| Types of content | Referring domains |
| --- | --- |
| List posts | 6.19 |
| Why posts | 5.66 |
| How-to posts | 4.41 |
| Videos | 4.13 |
| Infographics | 3.67 |
| Quizzes | 1.6 |
Accordingly, you can choose one of these content types to increase your chances of getting a backlink.
5. Work on guides
And backlink building doesn't stop at the previous four strategies. We have something more to offer.
We'd like to take a deeper look at one specific content type. And its name is a guide.
You've heard it right. Ultimate guides can magnetize backlinks. Moreover, if you pick an evergreen topic actual for your niche, it can collect backlinks through ages.
Why do guides perform so awesome?
Firstly, they are great for SEO. Long-term content tends to perform better on SERP. And if you rank higher, you can attract more users. Accordingly, you get more chances to get backlinks.
Secondly, an ultimate guide lets you cover the whole topic at once. That means you can offer structured, in-depth, and helpful content for readers.
Brian Dean of Backlinko, who is a true pro in creating this content type, tells how to make an outstanding guide:
find a topic - it should be popular, yet have some uncovered aspects,
create informative subtopics for a guide - they should become wholesome sections,
write your guide - don't be shy and cover all sides of the topic you've chosen.
Once again, guides are stunning because they tend to rank higher, attract more readers, and generate more backlinks compared to other content types.
6. Write reviews or testimonials for other sites
This strategy might seem pointless for someone. Yet don't dismiss this approach.
As 2022 is all about a customer-centric approach, companies will appreciate your testimonials. They are beneficial for them as 93% of people read reviews before buying a product.
So, your steps are here pretty straightforward. Have you used some services or goods? Do you find them genuinely helpful? Then create an informative review and logically place it on your site or offer to the company.
This way, the company may post your testimonial on their site with a link back to you. Or, in another case, it can simply direct people to your page with a review.
In either way, you are getting a link from the brand you truly like. Sure thing, do some research beforehand.
Check that this company is somewhat related to your niche, and has traffic with not too low DA.
7. Work with brand mentions
So, you write some posts on your blog or other helpful information. Think about how often you are mentioning other companies.
We believe that you say if not too often, but at least regularly.
Now, as you understand this, it's time to check this link acquisition strategy. This way, you can monitor brand mentions for your company and work with them.
Firstly, pick brand monitoring tool(s) you'll work with. It can be Brandwatch, Hootsuite, BuzzSumo, or any other service you like.
Check the mentions you get.
Form a list of sites you like to get links from.
Reach out to site owners or bloggers.
If someone mentions you, most probably he or she likes what you do. Thus, asking to add a link won't be a big deal.
Just remember to write a friendly pitch and give a compliment to the content you've checked. That's how you can earn more backlinks in 2022.
Conclusion
We don't know if there is the best way to build backlinks.
Yet, we've gathered seven link building strategies we personally enjoy a lot. Some tactics require more resources and time, some are easier to implement.
Our top approach (that's already working for thousands of people) is guest posting. Its attractiveness lies in its multi-functionality. So, you build quality links as well as improve brand awareness, grow ranks, show your expertise, and much more.
What does come into your mind when you hear a request about how to create a backlink? Share your favorite approaches in the comments below!

More Like This