Created on
October 12, 2022
| Updated on
September 13, 2023
Top 25 SEO Statistics for 2023 Picked by Our Founder
SEO Articles
The world is highly digitilized nowadays. No wonder search engines continue to show that they are the most powerful tools on the Internet.
In fact, search utilization generates 30% of global web traffic. This way, search engines help to sort and direct a massive user flow between websites.
Google continues to be the top user choice, with an 83% market share (via Statista). Also, Bing holds 9% of the market, and Yahoo - 2.55%.
Search optimization now has so many particularities that it might be hard to keep everything in mind. Our founder has checked some of the 2023 SEO statistics and picked the most interesting ones.
Contents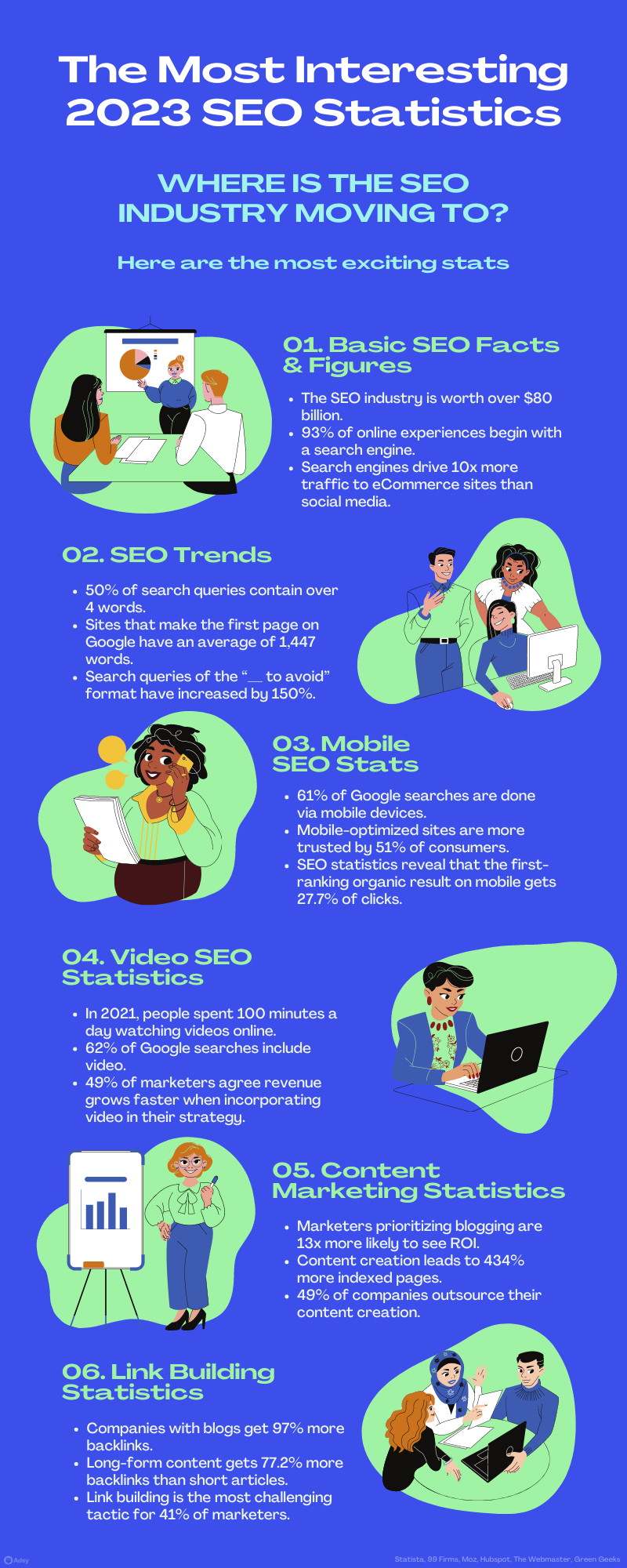 Basic SEO facts and figures
High rankings are one of the top digital priorities for companies globally. That's because search engines rank search results according to their relevancy. This way, search engines will place the most fitting links for users' queries higher on SERP.
1. The SEO industry is worth over $80 billion.
2. If done right, SEO can drive a 14.6% conversion rate.
3. 93% of online experiences begin with a search engine.
4. The number of US search engine users is estimated at over 239 million.
5. Search engines drive 10x more traffic to eCommerce sites than social media.
As search engines are now the first touch point of customers with businesses, you need to know how to rank high on the result page.
SEO trends
Google has 81 billion monthly visits at its peak. So, what awaits you when you hop on the search engine?
6. 50% of search queries contain over four words.
7. Google makes around 500 to 600 changes to search algorithms yearly.
8. Sites that make the first page on Google have an average of 1,447 words.
9. Organic Google results with 3-4 words in the title drive higher CTR.
10. Search queries of the "__ to avoid" format have increased by 150%.
Though Google tends o change, add, and improve its algorithms, one component stays the same. And it is content quality. Learn how long your content should be to stay on top of the trends.
Mobile SEO statistics
Overall, the share of organic search engine visits from 2013 to 2021 has increased by about 2.33 times, from 27% in 2013 to 63% in 2021.
11. 63% of Google searches are done via mobile devices.
12. Mobile-optimized sites are more trusted by 51% of consumers.
13. Mobile will dominate online sales, driving 54% of them.
14. SEO statistics reveal that the first-ranking organic result on mobile gets 27.7% of clicks, compared to 19.3% of clicks on desktop.
15. Smartphones account for 56.45% of the market share globally.
Taking into account that mobile search will continue to grow, you need to perfect your site's mobile SEO. We save some mobile optimization tips here.
Video SEO statistics
Engaging in online videos stays the main activity for over 4.5 billion internet users worldwide. That proves that the modern online population is highly involved in visual content.
16. In 2021, people will spend 100 minutes a day watching videos online.
17. 62% of Google searches include video.
18. 49% of marketers agree revenue grows faster when incorporating video in their strategy.
In fact, videos provide seven benefits for SEO. Thanks to them, you can increase users' time on page, improve UX, grow conversion, and so on.
Content marketing statistics
Content marketing revenue reached nearly $66 billion dollars in 2022. Moreover, 40% of marketing professionals plan to increase content marketing budgets.
19. Marketers prioritizing blogging are 13x more likely to see ROI.
20. Content creation leads to 434% more indexed pages.
21. 49% of companies outsource their content creation.
22. 72% of marketers consider relevancy the most critical factor for improving SEO.
Content marketing stays one of the most contributing factors in SEO growth. Earlier, we shared 31 content marketing statistics you better know to boost your business.
Link building statistics
Top industry experts like Brian Dean and Sam Oh describe link building as one of the essential SEO strategies. Yet, they agree that building quality backlinks can be quite challenging.
23. Companies with blogs get 97% more backlinks.
24. Long-form content gets 77.2% more backlinks than short articles.
25. Link building is the most challenging tactic for 41% of marketers.
Undoubtedly, link building greatly influences your site's online success. Check more link building statistics and learn more about their quality, cost, and much more.
Conclusion
As you can see, search engine optimization involves lots of aspects. You should take into account lots of things - from the content, you share to sites that will provide links back to you.
Thanks to these helpful statistics you can understand where the industry is moving to and what strategies are better to apply.
Based on data from Statista, 99 Firms, Moz, Hubspot, The Webmaster, Green Geeks.
More Like This