Created on
May 26, 2021
| Updated on
September 22, 2023
7 Reasons Why Videos Are Beneficial for SEO
Content Marketing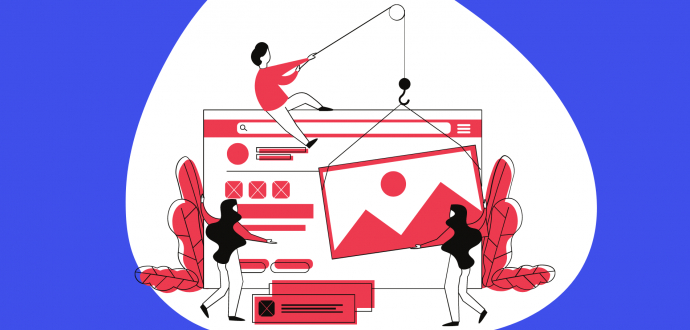 Videos are beneficial for SEO. That's the truth modern bloggers or site owners should understand. So, if you are not using videos in your articles, you'd better start.
But really, why is it so?
Nowadays, videos are not only a dynamic visual element. It's a powerful tool that should be an integral part of your marketing strategy. Well, at least 86% of marketers think so, according to Wyzowl.
Moreover, the same number of professionals (86%) stated that videos helped them grow traffic to their sites.
But that's only a part of the benefits you can expect from using videos.
Today, we are giving seven reasons to incorporate videos into your content and overall strategy.
Contents
Improves quality
You've probably heard thousands of times that Google, overall, values high-quality content and pages.
Nowadays, it's pointless to satisfy only users' or search engines' demands. It always should be a combination of both to achieve better results.
Videos may become your magic wand.
They help you make your content much richer and more diverse. Thanks to them, you can offer more value and information to your audience. And that's what Google appreciates according to its quality guidelines.
And the better content you have (in combination with some other elements), the higher your can rank on SERP.
Increases users' time on page
One of the elements that lead to better ranks is dwell time.
Simply put, that's the time users spend after clicking on the link on the result page until they go back to SERP.
Many content marketers measure their success by time on page. But what's more important is that Google uses this signal when ranking pages.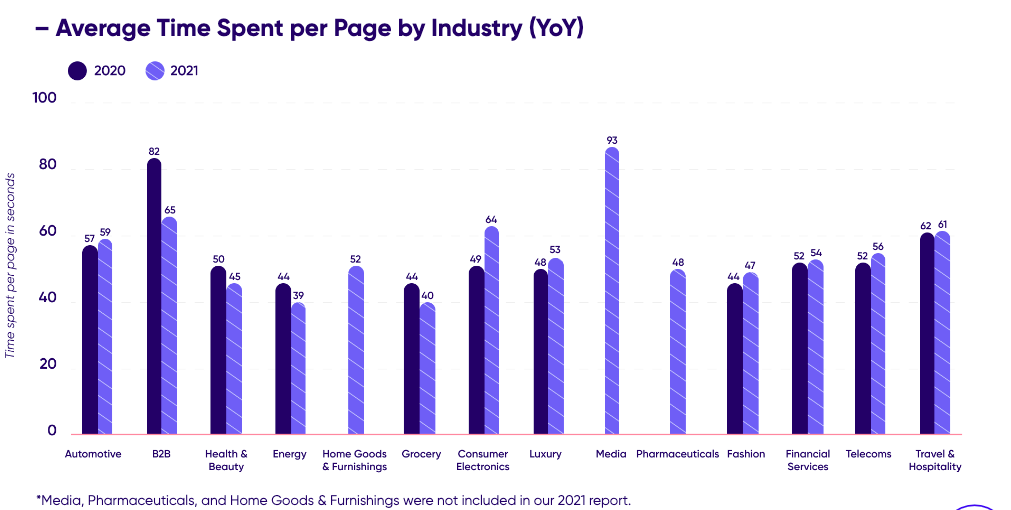 As you can see, users' time on a page varies based on industry. Yet, regardless of it, your goal is to propagate this time.
One way is to write larger content. But that's not always the option. Sometimes it's much better to add a video that relates to your article and provides some further information.
Supplies with backlinks
Statistics say that 90% of marketers use content pieces as their primary source of generating more backlinks.
And videos are what make your content more worthful.
So, ensure your articles include quality videos that give a deeper understanding of the topic. This way, you can supply your site with more backlinks.
It'll be really awesome if you add your own videos. They can become an extension of your written content. On top of that, you will be the first source, so readers will be more likely to link back to you.
Also, if you produce your own videos, you post them on video hosting platforms like Youtube or Vimeo. That means you can link back to your own articles when creating video descriptions.
Valued by Google
You increase your chances to appear first on SERP when adding videos to your content. But how does it work?
As we stated many times, Google puts users' queries first. So, it does its best to return the most relevant information.
Over the years, you might notice that Google's result page looks a bit different. Nowadays, the first organic result may look like a list, picture, or video to serve user's needs better.
Accordingly, if you utilize videos and smartly use them within your content, you increase your chances to rank higher.
Sometimes, thanks to this hack, you can even outrank some well-known sources.
Improves UX
User experience plays an exceptional role.
It's one of the signals Google uses when considering your site's ranking. So, you have to optimize your pages technically- and people-wise.
On the one hand, you need to be careful with some of the Core Web Vitals like LCP, FID, and CLS.
But on the other hand, videos will make your article more informative and less boring. Just compare how these two pages look. And now think of which one you are more likely to read.
Except for the visual part, videos positively influences users' time on page. (Which we've mentioned earlier).
Grows conversions
Videos have not only entertainment purposes but also act as a powerful conversion center.
Videos may start a mechanism that leads to sales and income growth. Let us show you how it can work. Plus, see some jaw-dropping statistics from Wyzowl.
Videos help your site rank higher, which results in more visits.
94% of video marketers share that videos help to increase clients' understanding of their goods or services.
After clients see how valuable your products are, they are more likely to give them a try.
In fact, 84% of video marketers claim videos help to generate more leads.
Thanks to this, marketers are able to grow sales, - according to 78% of respondents.
87% of video marketers state that videos give them a good ROI.
That's a wrap.
Generates more traffic
You can drive traffic to your site when using video hosting platforms.
Of course, this requires a video production of your own. But if you caught users' attention, you can direct them to your site.
Prepare the page where video hosting users will lend. It should be relevant to the video and provide value to people.
This way, you can get more visitors who stay on the page. Thanks to more visits and increased dwell time, you show Google that the page is helpful and deserves to rank better on SERP.
But besides the SEO part, you can try to convert the new prospect straight through this landing page.
Conclusion
As you can see, videos are impactful.
It's not only an effective way to tell customers about your product or service. It's a tool that can help you upgrade your pages, make content more useful, and show Google you are the right choice to rank #1 for the users' queries.
Also, the videos are rather convincing. People state that it's videos that make them buy goods.
So, we hope you take advantage of this strategy to optimize your site for search engines.
Yet, if you don't have enough capacity for video production, you can improve your SEO by building quality backlinks or adding more top-class content to your site.

More Like This