Created on
September 7, 2022
| Updated on
September 13, 2023
How to Rank Higher Than Your Competitors in 5 Steps
SEO Articles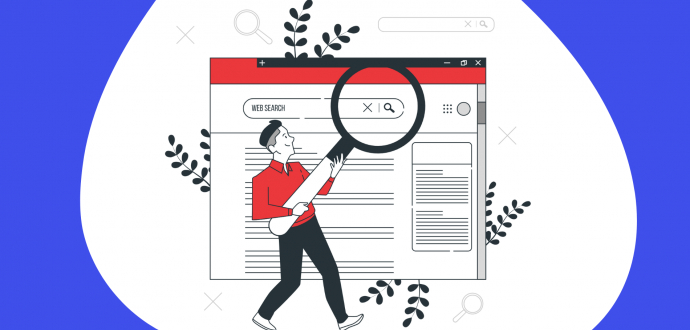 There are 1.88 billion sites. Sounds mad. Still, even this number will continue to grow.
Yet, we believe you're thinking about how to rank higher on SERP as a site owner. Because if you don't, you risk getting lost among hundreds of thousands of other web sources.
Yes, competition in every single industry is tough. But there are no dead-end situations.
In this article, we will tell you about five approaches you can use to rank higher than your competitors. Use them as your basis for strong online positions and visibility on search engines.
Contents
1. Do the technical part
The success of your site is impossible without fine-tuning technical SEO. Though not all parts of technical SEO influence the ranking yet, if you don't work on it, your positions won't be high.
In fact, technical SEO answers for proper indexing and crawling of your site by search engines. If you don't give this opportunity to the engine robots, they won't know what your site stands for. So, the engines won't rank your site and show it as a source for certain queries or keywords.
Let's talk about three main elements you should consider when working on your technical SEO.
XML Sitemap
Basically, a sitemap is your site's handbook. An XML sitemap tells search engines the essential information about your website. That includes the number of pages, the site's structure, pages of higher priority, the latest changes, etc.
Here are a couple of options that will help you build a sitemap:
Create it manually with the help of Google,
Use the Google XML Sitemap plugin,
Employ the Yoast SEO WordPress plugin.
Google gives in-depth instructions on how to create and upload the sitemap, so check them here.
Robot.txt
You need to give another set of commands to crawlers with the help of the robot.txt. Normally, crawlers index all pages of your site. So, if you want to prevent some pages from crawling, you can apply special instructions (like "Disallow," for instance).
Google also provides extensive information about robot.txt that you can check here.
Mobile
Google introduced mobile-first indexing in 2019. That said, the search engine primarily uses the mobile version of content to check and rank sites.
This shift was caused by most online users accessing the Internet via smartphones.
So, first of all, your site should have a mobile version of a site. Secondly, it should be improved to provide a flawless user experience.
You can make a Mobile Friendly Test on Google to check if everything works smoothly. Moreover, you can find a helpful guide by Google here.
2. Take care of content
Content is king. You've heard it countless times. But what does it really mean?
Well, it implies that your content should be high-quality, unique, relevant, and helpful. Everything that you create content-wise has to be with your audience in mind. For instance, if you write an awesome text about how to bake an apple pie, it won't work great if your TA is people looking for the keto diet.
With that being said, you need to compose content that is precise, engaging, and various. By saying "various," we mean fitting for its placements. Content for landing pages, blogs, user guides, etc., should be different.
Besides, you should monitor the latest trends in content writing. We can outline the main five of them:
Prioritize your users. Once again, you should write what your consumers want to hear. Make sure your content is helpful for them and it can solve their pains.
Employ SEO content writing best practices. Of course, you should create your content with users in mind. Yet, if you don't take care of SEO, your pages won't rank high.
Personalize content. Many industry experts call personalization a trend that continues to be really strong. 55% of professionals stated that personalization increases conversion rates and promotes growth.
Diversify your content. Your content shouldn't stay in one form only. Turn articles into social media posts, podcasts, etc., to grow your reach and make people talk about you.
Written content still rocks. Though there are lots of different content types, written content not only offers your customers value but also positively influences your SEO as it can include anchor text with backlinks and keywords.
As such, the content that you have on your site can be a palpable driver of your success. You can push your sites and outperform your competitors with quality and well-thought content.
3. Build quality backlinks
Backlinks are a "vote of confidence." In fact, when you get backlinks from multiple relevant and reliable sources, it signals to Google that your site is worth trusting.
So, if you want your site to rank for the right keywords, you have to ensure you have a strong list of links from high DA sites that operate in your niche. But how do you get those links?
Well, there are a vast number of techniques you can use to get yourself backlinks. Let's highlight the nine most effective:
Guest posting,
Broken link building,
"Skyscraper" content creation,
HARO,
Listicle link building,
Resource page link building,
Testimonials,
Roundup posts link building,
Unlinked brand mentions.
In fact, we've made a deep dive into every technique in one of our link building articles. Yet, there is one specific technique that requires extra attention.
And this technique is guest posting. We definitely recommend using it because it's an entirely white hat approach, meaning you won't get under search engine penalties. Besides, the quality of backlinks built via guest blogging usually is higher than those acquired differently.
The whole process won't take too long, thus will give you strong results.
Register with a guest posting service.
Make a top-up of a minimum of $25 and access 20k+ hand-picked sites that accept guest posts.
Use 16 filters to choose the most fitting sources to ensure maximum position growth.
Look at helpful metrics to choose the most reliable publishers.
Enjoy backlinks from top-tier sources & grow your SERP ranks.
Moreover, don't forget that in this case, backlinks will serve not only as a technical part (e.g., for search engines only). Besides, you can get referral traffic that will also positively influence your positions.
4. Go social
Social media might not directly influence SEO. Yet, it's an impactful factor. To get links, you need to build connections.
And social media is an excellent tool for this.
Earlier, we mentioned why your company should run social media. Some of the reasons were growing your company's brand awareness and being more human. Basically, you can reach more people, establish strong connections with them, and even make some users your business's ambassadors.
That said, the most loyal part of your audience can share your company on their social media or other online platforms. This way, more people will know about your company. In the best outcome, you can get more visitors to your website.
Also, to give your company a boost, you can partner with influencers. That will help you reach a new audience momentarily.
This type of promotion wouldn't necessarily cost a fortune. Stick to micro-influencers (1,000 to 100,000 followers) to tell about your company and attract users to your account.
5. Mind Core Web Vitals
Really essential ranking signals you should take into account are Core Web Vitals. With them, Google can tell more about page experience.
There are three main Web Vitals you should take into consideration. They are LCP, FID, and CLS. Don't get scared of these abbreviations. We are giving more information about each of them.
LCP (largest contentful paint)
This metric mainly goes around the loading speed. The following elements may fall under this category:
images,
videos,
elements with a background picture,
block-level elements.
Your goal is to ensure they load fast and properly. Remember that users don't want to wait or look at half-loaded images. (Just answer honestly what you would do if you wait longer than three seconds for a site to load.)
FID (first input delay)
Simply put, this metric control the responsiveness of your site. All-in-all, FID tells engines how comfortable your site is to use.
Aim at ensuring that clicks, taps, and key presses work flawlessly.
CLS (cumulative layout shift)
In this case, Google will inspect any unexpected shifts or changes on your pages during users' interactions. As you understand, this element is also connected with the customer experience.
Your goal is to avoid those unexpected shifts of page elements.
These three metrics are unquestionably essential when it comes to your site's ranking. Search engines put customers first. So, the way your site act will palpably define at what SERP position your site ends.
You can read more about Core Web Vitals in our previous article.
Conclusion
The competition online is tough. We won't deny this.
Yet, there are techniques you can use to outperform your competitors and rank higher on SERP. Use these five approaches to grow your positions. Be consistent and allow some time to make your effort work.
Tell us if these pieces of advice were helpful. Leave your comments down below!

More Like This