Created on
October 5, 2022
| Updated on
September 12, 2023
How to Increase Engagement on Your Website in 7 Steps
Content Marketing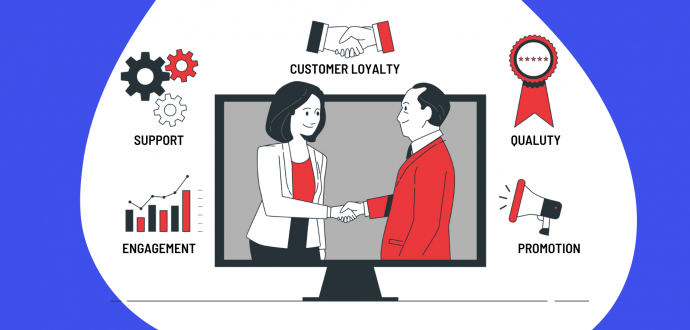 Around 63.1% of the global population uses the internet, according to DataReportal. And some of them can come across your site. But how do you ensure they stay there and engage with it?
Well, users say that price (81%), quality (80%), and convenience (55%) influence their engagement.
Of course, we are here not to tell you what price to establish. Yet, we gladly talk about your site's quality and convenience.
We've gathered seven main elements that will improve your customer interaction and help you get more engagement.
(But before we start, we sincerely hope that you know your audience perfectly. That's the basis we can't move forward without. Remember that making a buyer persona will help you know your customers better.)
Contents
1. Improve load speed
Users' attention span is eight seconds. And it's getting lesser and lesser. Anyway, if the mobile site load speed is over three seconds, 53% of users will probably leave it.
That leads us to a very important conclusion. If you don't want to lose customers at the very first stage, ensure your site loads fastly! (Moreover, it will positively influence your ranking.)
How can you measure your site's page speed?
You can use two helpful options from Google. It can either be PageSpeed Insights or the Page load time extension. After you figure out your load time, you will have two variants - 1) be happy about the load speed; 2) think about how to optimize your speed.
If option two is your case, you can do a couple of things. Firstly, you can refer to Google as your main source by typing "Make the Web faster."
Or you can use the following load speed optimization tips:
Attentively choose your hosting provider. Free hosts usually have low-speed performance.
Optimize your images. Pictures provide better UX but can make your website load slower. So, don't forget to compress them.
Don't forget to cache your web pages. As you have copies of your site's files, the server will have lesser work to generate and serve a web page to a user's browser.
Allow browser caching. Thanks to this, a browser can store various information, from stylesheets and images to JavaScript files.
Minify CSS, JavaScript, and HTML. Simply put, get rid of unnecessary spaces, characters, comments, and other odd elements to reduce the size of the files.
2. Optimize for mobile
TheWebMaster reports that around 60% of online searches are carried out via mobile devices. So no wonder Google shifted to mobile-first indexing back in 2019.
Optimizing your site for mobile is undoubtedly essential for search and overall ranking on SERP. Yet, it is no less critical for users' interactions.
Of course, firstly, refer to Google's mobile indexing guidelines. Many things you do for technical improvements will also positively impact user experience.
Start by ensuring that your site looks the same on desktop and mobile. You need to offer the same experience on smartphones to users. It should be easy to access anything they wish (just like they do on the desktop version).
So, think about your tabs, buttons, and links structure. Ensure there are no shifts or elements' movements within your mobile version.
To provide a solid experience and guarantee customer engagement with your mobile site, you need to have a mobile version of your online shop/blog/forum/etc. Most companies use responsive design to ensure a smooth cross-platform experience.
3. Fine-tune navigation
We'd say that in 95% of cases, users will leave a site if it's hard to navigate through it. There are so many web sources out there that people won't waste their time on a poorly built website.
We sincerely advise you to forget about the complicated multi-tab menu with ill-conceived structure. Instead, make sure everything on your site is simple, clear, and also easy to reach.
Steve Jobs once said, "Simplicity is the ultimate sophistication."
You've probably heard about the one-button concept that became Apple's brand identity. We don't ask you to limit your site to one button only.
Yet, we urge you to take your time to make thought-out navigation. The best case is to make everything intuitive. Though many users are tech-savvy, that might not always be the case. So, you need to help your customers.
Ensure they can easily find any product or service you offer. Knowledge base or FAQ should also be under their elbows. Make the "Contact us" button or menu tab easily accessible.
As you involve people deeper into your site, don't forget to provide users with further helpful information. You can do it in the form of recommendations, 'see more links, etc.
4. Think out interlinking
Did you know that 67% of customers prefer self-service over speaking to a company representative?
And you can satisfy this need by providing smart interlinking for your site. Of course, to do it pitch perfectly, you need to know your audience in general. Yet, taking into account the personal preferences of every client is also vital.
What can be a good example of interlinking?
Linking to other helpful articles of yours if you run a blog. (Don't forget that the articles you send readers to, should relate to the original article or its chapters).
Recommending more goods. By studying and tracking your users' shopping behavior, you can suggest to them a personalized choice of items.
Well-thought interlinking can also help users to reach any good/service/article/etc. on your site in a few clicks only.
When interlinking, remember that you should use clear anchor text.
(By the way, another perk of interlinking is a positive influence on your ranks.)
5. Add the search option
How can you improve interaction with your site? By adding a search box.
Don't think that having everything on a menu will be enough. Sometimes people are not willing to click numerous tabs to find what they are looking for. In this case, you risk losing your customers.
Instead, add a search option on the visible spot on your site to grant easy access. If users come to find a specific product, you provide them with a perfect customer experience.
To grow users' engagement, you can save some tips regarding the search box. Mostly, search fields are in the top right corner of the website. So, people will intuitively look for the search magnifying glass there.
Also, to speed up the search, you can suggest certain goods based on the customer's preferences.
6. Collect emails
Email marketing will help you take your customer engagement to the next level. You increase your engagement points and get more chances to build stronger relationships with customers.
Moreover, 64% of the users expect tailored engagements that are based on past interactions. And email marketing allows you to serve customers' needs without a fuss.
Create a pop-up window encouraging customers to subscribe to your email newsletter. Also, you can add a special subscription option when a customer creates an account. The best solution is to offer some perks for the subscription (e.g., bonus, discount, etc.).
Thanks to this, you can send personalized emails offering goods or services your customer will definitely like. That will palpably increase engagement with the existing customers.
Besides, email marketing helps build engagement and relationships with new customers. This way, you can turn new visitors into returning customers. And that's an important goal for any business.
7. Host special offers
Here comes another fact for you. 61% of people think that surprise gifts and offers are the best way to engage customers. So, why not give customers what they want?
In fact, making giveaways, providing discounts, etc., improves any kind of customer interaction. You can get more returning users, increase engagement and customer loyalty, and sell more.
Don't think that this strategy works for eCommerce stores only. Or for a SaaS development company for instance. You can still benefit from it even if you run a blog.
In this case, you can offer access to private articles, helpful eBooks, or even some courses (if you have any).
So, the presence of special offers depends only on your wish and creativity.
Conclusion
As you can see, there's a variety of approaches that will help you grow customer engagement.
Of course, the very first step to success is knowing your audience. That will help you provide an experience that will serve their expectations and needs.
Also, don't forget to take care of your site's technical improvements. That ensures every user feels comfortable using your site and wants to visit it in the future.
Tell us what engagement hacks you use. Were these tips helpful? Leave your thoughts in the special comments section below.
More Like This