Created on
September 8, 2021
| Updated on
September 21, 2023
31 Content Marketing Statistics You Need to Know to Grow Your Business
Content Marketing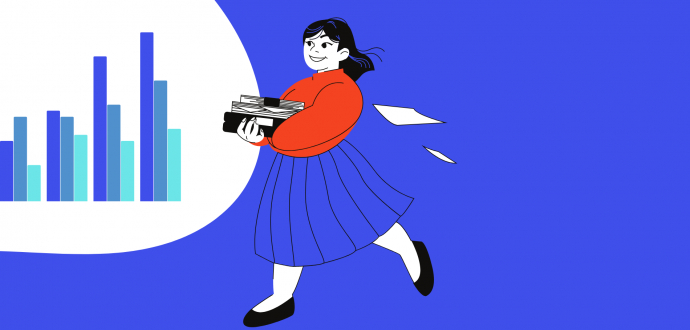 We've dug through the main content marketing numbers and reports provided by Statista.
Why did we do that?
As you remember, content marketing is aimed at creating valuable and helpful content and distributing it to the right audience.
This way, when you know the trends of the past years, you can predict the new ones. Also, numbers help you analyze what types of content work better in which area.
Let's see how B2C and B2B companies operate to achieve their goals.
Contents
Who is in charge of content creation?
B2B content marketing creators in North America as of July 2019

As you might notice, normally a really small team produces content for a company. This way, the field of its responsibilities is rather broad - from writing blog posts to creating social media campaigns or writing white papers.
Things are not too different in B2C firms. Yet, 23% of respondents said their B2C content marketing was handled by a centralized content marketing group (compared to 15% in B2B companies).
Also, normally, more B2C companies build a separate content marketing department. Check these numbers:
41% of B2C companies have a separate department for content marketing,
30% of B2B companies have a separate department for content marketing.
But despite your business model, you are up to doing whatever works better for you. You can hire a department or outsource content creation to save your time & resources for other activities.
What content types are the leading ones?
Content is a powerful tool for attracting customers and making them loyal to your brand.
Yet, some continue to be widely used, and some stay not that popular. So, what should you expect to glow in 2021 and 2022?
Based on the last, you'd better count on:
Video content,
Text formats,
Images,
Infographics.
They were leading their way in 2020, with B2B companies leading in using texts and infographics and B2C firms using more videos and images.
Nevertheless, the freshest data from Statista* shows that the B2C sector will use more text content.
83% of respondents said they used blog posts or short articles as part of their content marketing activities.
Also, the video content has incredible potential. We advise you to use such formats of videos like:
How-tos,
Explainers,
Training.
As usual, we recommend you using those content types that fit better with your goals.
What are communication channels for content marketing used?
Once, we've written about how you can distribute your content.
There we've described ways of content delivery. And today, we'd like to share the most popular channels based on the Statista* survey.
According to it, social media hold the leading position with 93% of B2C and 91% of B2B companies using them.
Yet, blogs are going strong, with 42% of B2C and 58% of B2B firms using them.
Yet, you have to understand that blog shouldn't exist as a text piece only. Follow the best industry practices. For instance,
93% of respondents included images in their articles,
26% of respondents included video content in their posts.
Also, a great strategy is to add audio to your blog posts. It can be a podcast of yours and relate to the article's context. Or it can be your written post in the form of audio.
In fact, 32% of US citizens listen to podcasts monthly. So, you can provide a valuable experience for those kinds of users.
How do approaches to content creation change?
Well, in the past years, we've been talking more and more about personalization. Pandemic only has strengthened the personalized approach.
81% of B2C companies engage in creating personalized content,
84% of B2B companies engage in creating personalized content.
Also, influencer marketing continues to be in demand among marketers.
71% of B2C companies use influencer marketing,
62% of B2B companies use influencer marketing.
Of course, this way of communicating with your customers requires certain knowledge. Lately, we've shared how to build an effective influencer marketing strategy. Check proven approaches to use this method to their fullest.
On the other hand, you shouldn't forget about the rise of technologies. This way, study the cases from other companies that employ chatbots, voice assistance, and other tech stuff on their sites.
Content marketing budgets
Content marketing has become an indivisible part of every company nowadays. One way or another, firms use it, be it social media or blog posting.
That's why it's quite predictable that B2C and B2B are planning to keep or even increase their content marketing budgets.
34% of B2B marketers are planning to grow content marketing budgets by 1% to 9%,
42% of B2C marketers are planning to grow content marketing budgets by 1% to 9%.
If you want to grow your online presence, you might want to enlarge your spendings.
Still remember that running a content marketing campaign shouldn't cost a fortune. Lately, we've shared how to build a content marketing strategy without breaking the bank. So, check this guide as well.
Content marketing efforts measurement
If it doesn't work, professionals from various industries won't keep the same high interest in content marketing.
Though it's hard to share the definite content marketing ROI, top companies like Twitter share the following data:
66% of users have discovered a new business on Twitter,
69% of users have purchased something because of a tweet,
94% of users plan to make a purchase from a business they follow.
And these are quite impressive results. Moreover, they prove the data shared by Statista.
89% of B2C content marketers measure success via customer acquisition,
84% of B2B content marketers measure success via customer acquisition,
72% of B2C content marketers measure success via growing brand's image,
65% of B2B content marketers measure success via growing brand's image,
79% of B2C content marketers measure success via customers' retention increase,
69% of B2B content marketers measure success via customers' retention increase.
Sure thing, you might have other or more metrics when counting your content marketing strategy ROI. You can count on time on page, bounce rate, number of leads, etc. Everything depends on your business type and industry.
Conclusion
As you can see, content marketing continues to grow.
Marketers understand the importance of a personal approach and communicate their messages via different channels. Some are more popular among B2C companies - like social media, and others among B2B companies - like blogs.
When building a content marketing strategy, pay attention to your business type and the numbers we've shared.
Yet, remember to stay flexible and be ready to change approaches based on the latest trends.
Tell us what data you find the most unexpected. Leave your thoughts in the comments.
*Data used from Statista official site and marketing report.
More Like This