Created on
August 11, 2021
| Updated on
September 22, 2023
Should You Buy Blog Posts? 5 Benefits You Can Get
Content Marketing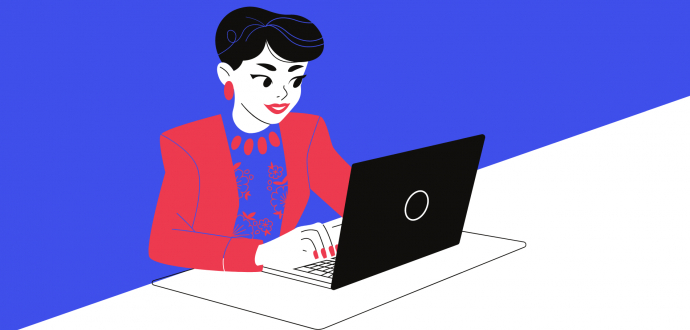 Should you buy blog posts? Is it even that important?
Well, what if we say that the query "buy blog content" has about 5,120,000,000 results? Or that that "blog post writing" has 5,370,000,000 results? That's an impressive number to show that people are interested in this question.
Besides, blog creation is an integral part of content marketing strategy. For instance, CMI shared some interesting statistics about the content marketing state. So,
89% of B2B content marketers employ blog posts as a part of their strategy,
50% of B2B marketers outsource at least one content marketing activity,
84% of marketers outsource content creation.
The point is that marketers actively use content creation as well as taking this activity outside a company.
In fact, not all companies can afford content writers to cover blogs' needs. And that's totally fine. Many startups or SMEs have really tight budgets. Moreover, startup owners should use them smartly in order not to fail in the first operation year.
But what if you have a team to write articles for your blog? Well, some help from niche writers can never be odd! You can redistribute your inner resources to try new marketing strategies.
This way, today, we'll talk about why running a blog is essential for modern business. And, of course, we'll share why the content purchase is beneficial for your company.
Contents
Why are content and blog important?
Perhaps, you've heard that content is king a thousand times.
And we won't deny that. Content surrounds us. It has a variety of forms - from articles to videos or ads. Yet, today we are talking specifically about blogs. But why will we concentrate specifically on them?
People make 5.6 billion searches per day and can receive information from over one billion sites. And your blog can be among those sites!
Even more, you need to do your best to ensure the search engine shows exactly your article to answer a user's question. Your site should be the one to solve people's problems or provide helpful information.
Wait. You can say that you sell auto parts online and don't need any blog.
But what if we say that 60% of people buy a good after reading a blog post about it first? Will it change your mind?
Moreover, a mind-boggling 77% of Internet users regularly read blog posts. That means you can engage people, tell them about your products or services, and turn them into buyers. And all this is possible with your original content!
Content is what accompanies people during their journey. That's what makes it vital. This way, your blog will help you:
Rank for your target keywords. Every query a person makes includes a keyword phrase. A blog allows you to use them within your articles.
Show your business is active. Freshly added and updated content notifies people that your company is currently working and ready to provide its services.
Educate users. Often people are looking for answers or solutions. Your blog should help your target audience solve any arising problems.
Involve people in the sales funnel. Blog lets you guide people from being a reader to a prospect and then a lead and a buyer. More qualitative and unique content can even make a one-time buyer a loyal customer.
Link to more pages. By linking to the correct pages within your site or blog, you help users get further information. Plus, you show search engines your expertise in a certain topic.
So, do you need to buy blog content or find a worthy web content writer or a blog post writing service? Sure thing, yes.
Why should you buy blog posts?
In the following section, we will share five reasons why you should buy blog content. When running a business, you have plenty of things to keep in mind.
Accordingly, if there is a chance to outsource content writing without losing quality - do this. Find a reliable blog post writing service that will supply you with unique content. (Moreover, if this service can do this for a relatively cheap price yet with quality - that's awesome!)
Now, let's move to the very best results extra content can offer you. Here are some benefits you will get.
Provide quality and helpful content
Nowadays, content has to be useful. Its utilization goes far beyond promoting your brand.
As we've mentioned earlier, content has to:
provide value,
offer solutions,
give answers,
educate about goods or services,
entertain (if applicable).
All this allows to engage users into the sales funnel and only then sell something. Yet, only top-class and original content can do this. So, it's logical that you may worry if bloggers for hire can provide quality.
Nevertheless, top content writing services are very particular when it comes to working with copywriters. That said, writers have enough qualifications to master outstanding content for your site.
Moreover, most services allow leaving notes with special requirements. This way, you can set a certain direction and notify a writer of what information your article has to contain.
Besides, there is always a chance to track the article's progress, revise the material, and send it for follow-up revision.
This way, you get the most of the content you buy. Writers are aware of many peculiarities, your articles should have.
Besides the points mentioned above, copywriters know what tone of voice to use to fit your target audience. Also, they ensure to provide the best content length to help you rank higher. That said, you will be proud of the content you publish on your blog or site.
Save your time thanks to the blog post writing service
Semrush reports that bloggers spend around six hours on a single article. Those who spend more time can await 31% better results.
Yet, if you are not a blogger, website content writing might not be your priority. And we can understand this.
Even if you have a marketing department, your specialists may have a lot of other tasks to do. So, you save their time when you buy a blog post. Or, you might even save your own time - because sometimes CEOs or founders are forced to engage in content marketing.
There's nothing bad in outsourcing content writing. Remember that a professional writer already knows how to create an engaging and informative article.
Respectively, you don't need to spend days learning how to write a post, what approaches to use, what tone of voice to choose, and so on. So, outsourcing content creation could be the best option for you.
Buying blog content allows you to concentrate on things from your expertise field. That'll bring more profit to your business trust us.
Cut production costs
If you need articles, let's say, twice per month and some supporting content from time to time, you don't need to have an in-house writer.
Remember that hiring a writer doesn't end up in setting a salary. Add taxes and bonuses, working space arrangement, technological support, etc. Altogether, having an in-house writer might be crushingly expensive.
It's much more cost-effective to buy content from special services. Of course, prices there may vary as well. Yet, you can always find value for the price.
For instance, at Adsy, we offer the following price range:
500 words - $25
1,000 words - $50
1,500 words - $75
2,000 words - $100
As a matter of fact, you'll be able to specify your requirements and choose a category. That guarantees you get the most fitting copywriter to work on your article.
Build relationships with customers
When you publish articles or any content in general, don't make it too promotional. At least at the very first touchpoint with your customers.
Of course, you may find this hard. We believe you know your product or service really well. But content creation requires much more than describing characteristics or selling.
It's the right sign to pay bloggers to write about you. Professional copywriters know what words to use to engage customers. They will guide consumers through the whole process by offering correct posts.
This way, you'll create a logical chain that helps to build relationships with your customers. You will:
educate people about an issue they are interested in,
provide the solution or give advice if they need it,
show how your product can "ease the pain,"
ask your customers about their experience,
offer further information and help.
And all this is possible thanks to correctly written content. So, buy content that will cover these stages.
Grow your positions on SERP
Did you know that companies that run a blog have 434% more indexed pages? And that's great. In fact, more indexed pages mean that the search engine knows you better.
This way, there are more chances for the users to see your site when typing a specific query. But besides this, let's not forget that content is one of the most influential ranking factors.
Accordingly, high-quality, helpful, and unique content ensures you appear on the first result page.
When you outsource writing, you get content prepared by professionals. It will align with the best SEO content writing practices and include correct keywords.
How can a blog post writing service help?
Of course, there are a lot of sites where you can hire copywriters to create content for you. But is it really a way out?
Sometimes it could be really stressful. You will need to ensure that the writer specializes in your niche, produces high-quality articles, offers a truly fair price, and so on.
In this case, we really recommend continuing with a blog post writing service. It will help you automate all the processes. In the outcome, you will only enjoy the content that helps your site grow.
Well, how is everything usually going on?
You register at the article writing service.
Choose the article length you need.
Pick the required category.
State the keywords.
Leave your requirements for the article.
Also, you can provide a title suggestion, a content goal, and your target audience, and add sample content.
This way, you can fully express your requirements for the text. Moreover, you get access to the control tools that will help you ensure your content is of the highest class.
Articles that you order from the article writing service won't be too expensive. Sure thing, they are not cheap, yet you get the perfect combination of quality and price. For instance, the cost starts only from $25.
On top of that, the writing service will help you fix any issues you might have. In fact, if you have any kind of misunderstanding with the writer, you can refer to the support team to solve the problem.
Accordingly, an article writing service is your top destination when it comes to blog content purchase.
Conclusion
So, should you buy blog posts? We hope this article has given you an answer.
Outsourcing blog content writing can be a nice alternative to an in-house content team. Specifically, it's beneficial for startups and SMEs as it lets cut costs. And that is truly essential as a lot of startups fail due to a lack of capital.
But as you might notice, buying content has even more benefits.
That said, you get the same quality, grow your blog, and improve ranks, yet don't need to spend your time on this. Thanks to the technologies many content writing services use, the whole process is really simple.
Communication with writers is easy and fast. You just need to state the main points regarding your article and let professionals do their job. After this, you can relax and track your article's creation progress. Moreover, you get prompt help in case you have any problems.

We at Adsy also strive to help businesses develop their blogs. That's why we provide article writing services. You need less than half an hour to register and order an article!
Share how the content creation process looks like in your company? Do you have an in-house team or outsource content writing? Leave your comments, and let's chat.
More Like This