Created on
June 23, 2021
| Updated on
September 22, 2023
5 Blog Ranking Tips for New Blogs
SEO Articles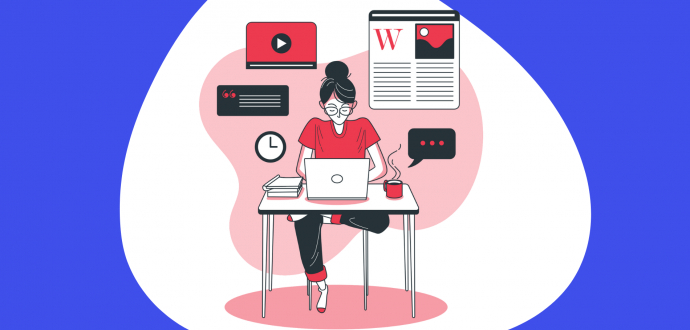 Are you concerned about the blog ranking for your new blog?
Well, it's a logical desire as there are 600+ million blogs nowadays. Sure thing, it'll be a lesser number of sites in your niche. Still, we don't think there are only a few of them.
Then you may ask yourself: "What should I do? Is it a sign to give up?"
And we say "no" to this! You may still rank your new blog and find readers. The point is to keep some things in mind. Do this, and you'll see your pages ranking on SERP for certain users' queries.
Today, we'll tell you how to rank on the first page. It's truly essential as normally, content from the top 10 results gets the most click-through and traffic. So, let's see how to launch your blog correctly.
Contents
1. Comply with Core Web Vitals for blog ranking
Google's Core Web Vitals became ranking signals in May 2021. Here's why you can't avoid them. We advise paying close attention to them to succeed. There are three main parts of Core Web Vitals you should keep in mind when creating and optimizing your blog.
LCP (largest contentful paint)
As Google puts it, "LCP is the amount of time to render the largest content element visible in the viewport, from when the user requests the URL."
Does it sound a little bit complicated? No worries, basically, this element deals with the loading speed of a page's main elements. Usually, it refers to the most "heave-weighted" elements like videos or images.
This way, the correct way of this metric measurement is checking when the biggest element of your page renders (becomes fully visible).
Typical LCP elements are:
images,
videos,
elements with a background picture,
block-level elements.
How fast should your site be?
Good: equal or fewer than two seconds.
Needs improvement: equal or fewer than four seconds.
Poor: over four seconds.
You can read more about LCP here.
FID (first input delay)
According to Google: "FID is the time from when a user first interacts with your page (when they clicked a link, tapped on a button, and so on) to the time when the browser responds to that interaction."
As well as LCP, FID goes all around users' experience. After measuring how fast your blog's elements load, it's time to see how responsive they are. In fact, the site's responsiveness shows how comfortable for usage your blog is.
If users see nothing when opening your blog, they will leave it and have a bad impression. So, the goal is to put emphasis on input events from discrete actions like taps, clicks, and key presses.
How fast should your site be?
Good: equal or fewer than 100 milliseconds.
Needs improvement: equal or fewer than 300 milliseconds.
Poor: over 300 milliseconds.
You can read more about LCP here.
CLS (Cumulative Layout Shift)
As Google specifies, "CLS measures the sum total of all individual layout shift scores for every unexpected layout shift that occurs during the entire lifespan of the page."
It's another vital signal that deals with users' experience. It has to do with any unexpected shifts or changes that might happen on the page with which you interact. Imagine you want to click the button, and it unexpectedly moves to another location. That leads to bad UX.
Your goal is to get rid of those unpredictable page element moves. CLS as a metric helps to understand how frequently your customers may experience this problem.
What score should your site have?
Good: equal or fewer than 0.1.
Needs improvement: equal or fewer than 0.25.
Poor: over 0.25.
You can read more about LCP here.
Remember, you can always run a special Core Web Vitals report to ensure your blog fits the requirements. Start the report.
2. Check what's ranking for your target keywords
After the technical part, it's time for the SEO for blogger.
Regardless of you are starting a personal or company blog, you can't skip your keyword work. The logic is pretty straightforward. Want to be in the top 10 results - check the best results for the keywords you'd like to rank for.
A quick note: getting to the top results is crucial. According to statistics, 71.33% of all clicks go to the first SERP, and 67.60% of them refer to the first five results.
Don't forget to concentrate on your main topic(s). This way, do not try to cover totally unrelated topics like fishing and investment banking. You won't probably get ranked high for either. Instead, pay close attention to one theme and build content around it.
To compose a list of your desired keywords, use services like Ahrefs, Ubersuggest, and so on. First, type the primary keyword and see what accompanying words or phrases to use. For instance, we stick to "investment banking." Here is what Ahrefs returns.
After you create a table with your target keywords, it's time to do research. Type them into Google to see what content ranks for this query.
Then analyze:
how long the top articles are,
how many times the target keyword is used,
what other keywords an author adds,
what domain (.com, .edu, etc.) the top-performing sites have,
what title and meta description the source has.
Of course, Google's algorithms are elaborate enough to say exactly what content will be on top for 100%. Yet, gathering keywords and checking already well-ranked content will give you powerful insight. This way, you'll know what articles to right to outperform your competitors.
3. Optimize on-page SEO
Continue sending the right signals to Google by fine-tuning your on-site SEO. As Google mostly uses robots to crawl your content, give them a reason to rank you high.
This way, we'd like to share some blog SEO tips. First of all, Google algorithms get smarter each year. So, you can't trick them by just stuffing your keyword. Instead, you can do the following.
Let's start with the title and meta description as it's the first touchpoint. Try using the keyword you'd like to rank for at the very beginning.
Also, on the page itself, cover the title in the H1 tag.
On your page, write the keyword within the first 100 words. Nevertheless, it'd be much better to use it right in the first or second sentence.
Sure thing, do not forget about H2 and H3 tags. It's highly essential to include a keyword in one of those tags.
Moreover, if you are really concerned about blog ranking, use your target keyword within content multiple times. Once again, we do not urge you to stuff keywords. Vice versa, mentioning your main keyword a couple of times throughout the text will show Google you cover this topic.
Of course, don't get too crazy, as even three to four primary keyword mentions in the 3,000+ article will be enough.
Besides, don't forget to link to external authority or trustworthy sources. The sources you link to should be related to the topic you cover and offer useful information. This way, Google sees you provide value to readers.
Don't forget about SEO writing. That ensures you count in both Google's and users' interests.
4. Earn backlinks
Every blogger thinks about how to rank higher on Google. Especially this task is highly important for new bloggers.
Well, another must-have element of your success is backlinks. Basically, backlinks show a vote of confidence for your site.
This way, if Google sees that multiple sources link back to your article, it's worth ranking higher on SERP. Sure thing, not all links are equally good.
So, what backlinks to earn to improve your positions? Google puts it as follows:
The backlink should come from an authority site,
The backlink has your target keyword in the anchor text of the backlink,
The backlink that points to your site is from your industry/niche site.
Also, aim at getting links that are in the content. Therefore, such a link will look naturally and not suspicious to Google.
To earn links, you can work on the outreach campaign to partner with fellow bloggers, online publications, or sites from your industry. Yet, one of the best ways to get quality links is to register at the guest posting service.
With its help, you can easily find sources from your industry that have high DA and guaranteedly get a link from them.
Nevertheless, you have to understand that there are link building techniques to avoid. They may bring no results at all but also harm your rankings. Check ten link building techniques to avoid.
5. Create useful content
Of course, generic content, even with backlinks, won't get much attention from Google. This way, your content should be valuable.
In other words, it should educate readers, solve problems, offer insights, entertain, and so on.
Thus, you need to know your target audience. Who are they? What do they like? What style of narration do they prefer? Write content that captures readers' minds.
Sure thing, the content of your article should relate to its title. If you offer thin, poor-quality content and use clickbait titles - you risk turning users away. So instead, make sure to include the following elements:
Unique content: Supply your readers with original content and share your own point of view.
Get creative with headlines: Ensure your headlines catchy, clear, and draw people's attention.
Lead to action: Share the information with your readers that makes them actionable.
Give answers: Offer answers or solutions for people's queries that make search engines show your article on SERP.
Choose authority sources: Provide data from reputable sources and always check the information you offer.
Encourage people to learn more: Provide in-depth information and make people eager to research for more.
Offer more than just text: Complement your article with pictures and videos to engage more people.
Get to the point: Avoid generic phrases and offer helpful information.
Content quality and its usefulness ensure you have more chances to rank high on Google. Plan your content by composing topics that include your target keywords. That ensures you create precisely what your audience wants.
Conclusion
Today we tried to share the main elements you need to count when ranking your blog.
Of course, it's not the easiest thing to do. You may think about how to rank a website fast. Unfortunately, it's not a deal of one week. Yet, if you stay consistent and persistent, you can achieve great results!
Use this checklist to ensure your blog aligns with Core Web Vitals. Provide top-class content that has backlinks. Work on your SEO and form a list of keywords.
We are sure your blog will find its readers!
How do you promote your blog? What tips do you find useful? Share your thoughts in the comments.

More Like This