Created on
March 2, 2022
| Updated on
September 20, 2023
5 Reasons for Content Outsourcing for Your Company
Content Marketing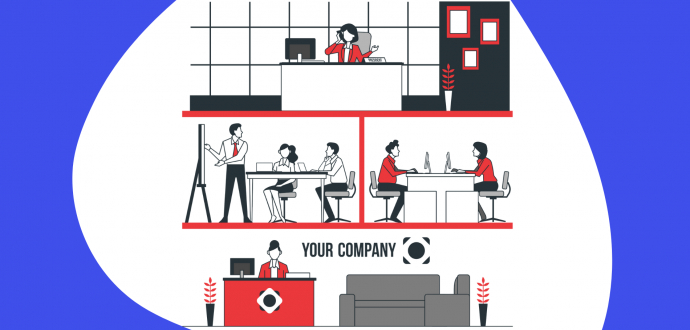 Do you outsource your content creation?
According to Semrush State of Content Marketing 2023, 48% of companies outsource content creation*.
That's a relatively huge number, to be honest.
And if these many firms do this, then content outsourcing has enough perks as a strategy. So, if you don't have enough time, budget, or knowledge to execute content marketing personally, let professionals do this for you.
In today's article, we will tell you about five main reasons why outsourcing content creation can be beneficial for your business.
Contents
What are outsourcing content writing companies?
Firstly, let's understand what outsourcing is.
Outsourcing is a process when a company handles some business process for third-party companies. Such a company will be responsible for planning and creating certain activities that could have been done by the inner team of the ordering customer.
Hereby, an outsourcing content company is the one that creates content according to the terms of reference.
1. Content creation outsourcing is cheaper
79% of companies that spend 10% of marketing budgets on content creation find it very successful*. And 82% of marketers invest in content marketing actively.
Also, 42% of companies report that their content marketing team consists of one to three people.
And now imagine what you need to offer comfortable working conditions for the team.
Firstly, you need to have a space to work for them. Of course, you need to provide the team with a material and technical base.
Moreover, let's not forget about salaries and social package. According to Glassdoor, the basic salary of a copywriter is $58,658 per year. Lead copywriters earn $71,110 per year, and seniors get $92,105 per year.
And for some companies, especially startups and SMEs, these numbers can be overwhelming. That's why outsourcing content is the right decision, and 37% of companies* order content creation from third-party agencies.
Ordering content from agencies and freelancers can palpably decrease your budget spending for content marketing.
You can find copywriters on services like Upwork or Fiverr. Or, it's better to partner with companies that have long-time experience in writing services.
Sure thing, the prices will vary. Some agencies even share their prices only after asking for a quote.
We, at Adsy, provide article writing services from $25 per 500 words. And that is one of the fairest prices on the market.
2. You can publish more content
Some sources say that writers spend around three to four hours writing a 1,000 words article.
Yet, many themes require much more time for research. Moreover, many content writers find supporting images and videos for their posts too. So, the actual time might be longer.
Nevertheless, the content team may be involved not only in blog content creation. They also maintain needs for landing pages, social media content, inner documentation, printed materials, and so on.
And as the current trend is to publish content several times a week (up to 46% of companies do this), they simply might not have enough time to fulfill this task!
This way, content writing outsourcing is a perfect solution. It allows you to publish content in quantity to cover your content marketing needs.
When you order article creation, you don't have to limit yourself in the content length choice.
To ensure you get quality content that gets more shares and backlinks, go for more lengthy content.
Ordering content lets you create a worthy content plan too. You will know when the writer finishes the article for you and can schedule its publications.
This way, you can share posts with your audience as many times per week as you need.
3. Save your time for other activities
As you can see from the previous data, content creation is time-consuming. So, it's always a nice idea to free some time for other activities. Especially if they are preferred for you.
Yes, data clearly shows that content creation and research take time. It's a separate job that requires a lot of effort. Add to this other content marketing activities - and you'll understand that you require even more time.
At the same time, you need to:
Take care of your business strategy,
Brainstorm new ideas,
Create new products or services or update existing,
Ensure financial results accomplishment,
Provide support to clients,
Revise and update your business strategies.
And now imagine how much time and effort these activities require. So, it might be essential for you to mind your business interests.
Nevertheless, content marketing especially running a blog, is also vital. So, outsourcing content writing seems to be a very logical idea.
4. Get articles from experts
Writing articles is not an easy task. And many copywriters prove this.
Thus, you should remember that blog is a vital part of content marketing and business strategy. A whopping 77% of Internet users read blogs. This means you can use blogs not only to educate your audience but also to turn them into buyers.
And what can help you make this? Expert content!
If your articles are professional, solve users' problems and clearly explain various questions within your niche - you will get stunning results.
As many agencies work with writers who are experts in specific topics, you can benefit from this. As you order content, you state your industry. That ensures your order gets to the right copywriter.
In the end, you receive high-quality content that can benefit your business.
5. More flexibility in content creation
Another reason to hire content outsourcing companies is to get more flexibility.
We've mentioned that most companies publish content several times a week. But it's clear that the situation can vary.
Some of you may need to publish content once per two weeks and some four times a week. In this case, content outsourcing can help you greatly.
You will order content only when you require it and pay for the job done.
Also, you can partner with different writers. That will help you make your content more diverse. Moreover, you can have more points of view on one topic.
How to outsource content creation wisely
To get the most from content creation outsourcing, you need to choose such agencies wisely.
If you prefer to work with freelance writers, check their ratings and comments from fellow users. Also, choose the exact type of service you require.
Yet, it's better to work with agencies that double-check the writers they work with. Moreover, such companies often have editors too. So, you have better chances of getting top-class content.
In this case, you should also check the agency's rating on Google, social media, or special review platforms like TrustPilot.
Another key to worthy content is clear terms of requirements. The better you describe what you need, the more qualitative article you get.
Conclusion
97% of companies state that content marketing is a part of their marketing strategy*.
That means you should not skip content creation if you want to be successful online. Yet, sometimes you don't have enough capacity, budget, or time to hire an in-house content team.
That's when outsourcing content writing companies come in handy.
You can regulate the quantity of content, plan your budget, and dates when you will publish articles.
Choose reliable content writing services to provide the best possible content for our audience.
* Semrush State of Content Marketing 2023

More Like This