Created on
December 2, 2020
| Updated on
May 12, 2023
How to Create a Content Marketing Strategy for Startups Affordably
Content Marketing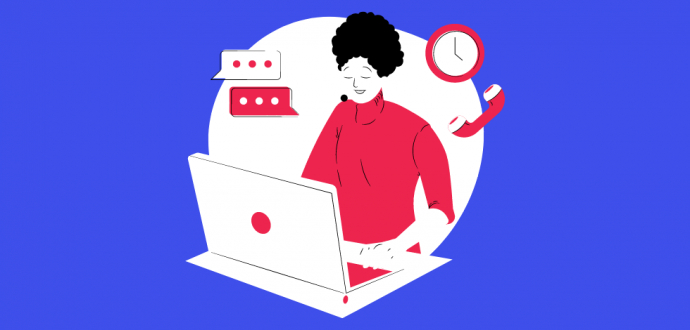 Sooner or later, every startup owner thinks about how to create a content marketing strategy. Well, you may call this in question. You've only founded a business. You have a limited budget and time. Firstly, you want to gather tech and operation teams. And the question about how to create a content strategy is minor for you.
Yet we want to convince you that content marketing should be an inseparable part even of the newest company. Right after you've launched your firm, gathered the team, and created an MVP or a full-scale product, it's time to think about content marketing.
Why is it important?
Let us share some persuasive data to support our point of view. First and foremost, 80% of users learn about business through custom content. 96% of content marketers agree that content marketing is sufficient for their brands. Moreover, businesses with a content marketing strategy show 27.1% higher win rates than companies without it.
We assume this data is a worthy reason to work on a content marketing strategy for your startup. Today will share how to do this effectively. So, buckle up to learn where to start, what steps to make, and how to do it without breaking the bank.
Contents
Know your audience
Whatever your startup produces - goods or services - it should interest your customers. The same rule applies to content marketing. That's why you need to know your audience perfectly.
Most probably, before launching your product, you've studied your potential customers. So, you might have a buyer persona. Accordingly, this may serve as a starting point in your content marketing strategy journey.
Yet, no worries if you don't have one. Or if you can't transform your research into the content marketing field. In this abstract, we will give you a helpful template you can use to learn about your audience better.
The very first step is gathering initial information about your customers.
What is their GEO?
What's their age?
What's their income range?
What is their occupation?
That is pretty general information. Yet, it will help you form your company's tone of voice, vocabulary, and terminology you use, and see the whole direction of content strategy.
How can you get a more in-depth knowledge of your target audience?
It's possible thanks to direct interaction with users. Firstly, gather their email addresses. This way, your website should have a sign-up form where customers can show their willingness to receive newsletters. After this, do a mass-sending with a questionnaire. Ask your users about their main struggle, their expectations, their suggestions.
Another example that assists in getting acquainted with your customers is Google Forms. It's a free tool that'll help you master a quick form and then share a link to it with your users.
After gathering these insights, you'll know what themes to cover and what content type to choose.
Find free or inexpensive content marketing tools
Another vital question that arises during digital content creation is its cost. Maybe, it's the main question for you as a startup owner. You've already spent a lot of money to launch a company. So, you don't have any free assets.
We understand that. For this reason, we are sharing free (or almost free) tools to create a perfect content marketing strategy.
Gladly, unlike offline marketing, content marketing requires much less financing. Yet, in most cases, it gives better ROI. Think for yourself - there is no charge to post on social media. Nevertheless, the number of potential customers who can see it is enormous.
So, what free content marketing tools should you use to fine-tune marketing activities?
Google Docs. A perfect tool for your whole team. It lets all the members work on any issue together and in real-time. Create folders in your Google Drive to sort your docs and keep everything structured.
Google Sheets. Like Docs, it also allows collective work. It's a great way to form an editorial calendar for your blog and social media. Moreover, it's no less helpful when it comes to the evaluation of your content marketing results, thanks to numerous formulas.
Google Analytics. Use this tool to study your target audience. It will also be the base for your further content audit as it gives information about the number of users, time on page, bounce rate, main landing pages, etc.
Google Keyword Planner. It won't give as deep information about keywords as its paid analogs. Anyway, it still provides an excellent insight into the chosen keyword competition and more alike keywords. So, you can form a list of keywords for your content.
Grammarly. This service provides a free tool to excel one's writing. It marks the main failures, punctuation errors, and suggests a better word choice. What's great is that Grammarly is compatible with Docs and major online sources (Gmail, Facebook, etc.)
MailChimp. This email software will help you send awesome newsletters to your audience. It's a top choice if your subscription base is under 2,000 contacts. It offers a drag-and-drop feature for email creation that eases the content marketer's work.
Canva/Vistacreate. Both sources provide free accounts. They help you create picturesque banners/pictures/videos for your site, blog, or social media. Also, these sites offer educational articles and ready-made templates to make the content look professional.
As you can see, nowadays, it's not that tough to get started with the content marketing strategy with zero budget. So, you can save money and allocate resources to other startup's activities.
Plan on your content
Your SEO and content strategy is often pointless without documenting and planning. Unfortunately, only 43% of content marketers possess a documented content marketing strategy.
In one of our previous articles, we've shared how a content plan helps you achieve your marketing goals. We highly recommend to check it to learn all the nuances of the process. But now, let's review what content is highly valuable for a startup and how to plan it efficiently.
See what content type to create
There is a wide variety of content types out there. According to Semrush, both B2B and B2C companies may use the following types.
As you can see, blog posts, infographics, case studies, and ebooks are among the most widely used types of content. And it's excellent as you can build every kind on to your audience's needs. Moreover, you can place all of them into your blog and make special marks to differentiate every content type.
Mark these words - blogging should become an inseparable part of your content marketing strategy. After you've started your startup's blog, think of the article type.
According to Neil Patel, there are four most effective articles forms for startups:
Lists. By far, it's one of the most widespread content types. Lists give a feeling of structuredness, preciseness, and completeness. This way, your readers know what they get inside the article.
How-tos. This article type is booming right now. This form is a problem-solver. Respectively, you can describe and suggest solutions for the main customers' fear or frustrations. Often, these articles provide detailed instructions and guidelines.
Case studies. As you can see, Semrush outlines this content type as a separate one, while Neil puts it as a part of the company's blog. Anyway, it's an ideal possibility for you to show how your company has helped people - practically and with data.
Resources. Another name we'd like to give to this point is inspiration articles. As such, you can gather great examples from your industry to provide a development vector for the reader. Or you can share free templates, tools, informative websites, and so on to help your audience.
As you can see, there are plenty of content types you can use. Yet, never forget to base them on your customer profile (buyer persona) to ensure your content is helpful and actual.
Make an editorial calendar
After you've picked the content type for your blog and social media, it's time to arrange and systemize it all. How can you do this? It's when an editorial calendar comes into the spotlight.
It's pretty easy to form one. All you need is your ideas and Google Sheets. Create separate documents for every activity you are going to engage in.
Thereby, you may have sheets for your blog, let's say, LinkedIn and Instagram, and email newsletters. Each table's components will vary, yet your main goal is to state the publication dates. That'll ensure you post consistently.
We also recommend adding the main metrics you'd like to track to every sheet. That'll make the further evaluation process easier and faster.
Apparently, this process is not too complicated. Anyway, you can choose the publications' frequency. Unfortunately, there's no perfect formula for how often to post. The golden rule is not to over-spam. There's no need to post articles every day and make Insta posts three times per day. That said, posting once per month won't be enough. So, you have to work out your own publishing formula.
Evaluate results
We've recommended adding metrics in every editorial calendar in the previous point. We hope you've guessed why. That ensures you start gathering data from day one. And when you need to measure your monthly, quarterly, or yearly results, you'll have all the data you require.
Depending on the content type you audit, you can use the following metrics:
page visits,
number of unique visitors,
number of returned customers,
time on page,
number of shares/likes,
conversion rate,
open rate,
click-through rate (CTR),
bounce rate.
Of course, this list goes on and may differ based on what content type you are employing. Measure at least these metrics to understand if you've chosen the right direction. If you see poor results, it's the right signal to re-work your content marketing strategy.
Also, the audit will depict the best-performing content type/posts/themes. Accordingly, in the future, you can create more similar content and reuse the top pieces.
We encourage you to check our in-depth guide on content marketing audits. Co-opt it and know exactly what and how to measure it.
Conclusion
When you are creating content for web promotion, it's vital to do it effectively. Remember, content for content's sake is not the option. You have to reach precise goals with your content.
So, an online content strategy should mirror your startup's aspirations.
We've shown how to create a content marketing strategy without spending a fortune and hiring a separate department. Nowadays, you have multiple free tools to control, publish, distribute, and track your content. And we did our best to structure it all for you.
Creating a strategy might seem scary, especially for a new company. But with a guide at call, all the fears will fade away.
Tell us about your experience. Does your startup have a content marketing strategy? If yes, how effective is it? If not, are you planning to have one? Comment down below and let us know!

More Like This