Created on
August 30, 2023
| Updated on
September 5, 2023
9 Main Elements of Content Writing & How to Master Them
Content Marketing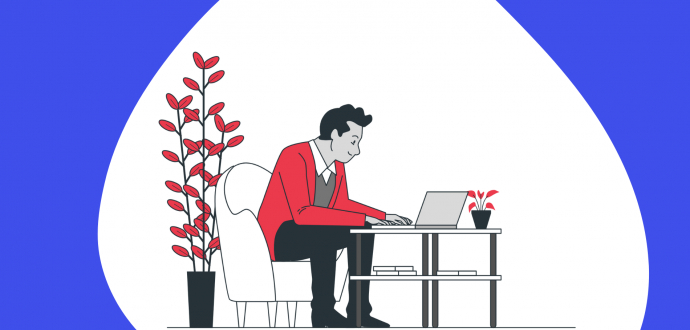 Did you know that 77% of Fortune 500 companies run a dedicated blog (according to Demand Sage)? Or that whopping 81% of businesses find their blogs "useful," "important," or "critical?"
But we really need to understand what makes these blogs successful.
We think you'd agree that now all content gets popular and read by companies' customers or just Internet users. That's why we want to share what elements can take your content to the next level.
Moreover, we will share helpful sources that are a pure treasure for mastering your content writing.
So, buckle up, and let's start our journey!
Contents
You can't produce content for everyone. The online audience is so diverse and variegated.
That's why you need to know who your audience is. That will allow you to create curated articles that support your clients during their customer journey.
Having a persona lets your content be more precise, solve customers' pain points, offer solutions, and make them more loyal.
But how do you get started with it?
Firstly, you can check our article, where we talk about how to build a solid buyer persona.
You can also employ a special tool from respected Hubspot. As you land on the dedicated page, you can start by reading more about what a persona is. Then, you can build a buyer persona for your company by answering a few questions. Hubspot will also provide a free template if you wish.
You can also use the Nielsen Norman Group site as a source of helpful insights, research, and data. This way, you can learn more about UX, what users think about different designs, how to build corporate websites, and lots more.
With this information under your elbow, you can specify your target audience and write better content.
2. Content strategy
So, now you know for whom to write your content. But will it work as planned if you post it from time to time without a strategy? Well, that's unlikely.
That means you need to have a clearly established content strategy.
Unfortunately, even now, not all companies have a documented strategy. We recommend documenting your steps. It will help you to have everything under your elbow, track what topics you already have, and make future analysis easier.
We recommend studying "How to Create a Content Marketing Strategy for Startups Affordably." The steps described in this guide will suit your SME or blog. You will understand what actions to take to create a worthy content strategy.
Of course, the Content Marketing Institute is an undoubtful source of information. We suggest checking it to get ideas and insights about all-thing strategy and other content-related topics.
3. Writing for the web
Let's be honest - you might have been perfect in writing school papers, but that doesn't mean this copy will fit the web.
Writing for the web has its own rules.
In fact, online content has unique characteristics, including scannability, readability, and engagement. That's why you need to understand how to structure your articles, how to build sentences, and so on.
Your steps to successful online writing can include:
Writing an engaging headline,
Minding the word count,
Using formulas,
Employing editing and visuals,
Adding call-to-action.
You can read more about creating a successful blog post here.
You can also refer to the respected Semrush blog, especially the Content block.
4. SEO writing
Another feature that defines online content writing is its SEO element. Everything that happens on the web starts from the search engine.
That means you need to learn how to balance your content.
Yes, you've heard it right. We won't tell you to put as many keywords as possible. Now, optimizing for search engines only doesn't work. Moreover, it can even harm you.
Current reality has new rules - you need to create people-first content and cleverly integrate SEO pieces into it.
We already prepared an in-depth guide telling you about the best SEO writing practices. Read it thoroughly to get better results on SERP.
Also, check reputable sources like Moz and Neil Patel's blog that often cover this topic.
5. Storytelling
As MarketSmiths reports,
55% of online users are more likely to purchase the product in the future if they love your brand's story,
44% of them will share your story, and
15% of users will purchase the goods immediately.
So, content writing nowadays is very often about creating stories. They help people to relate to your company, share your journey, be more human, all-in-all.
You can tell about your values, mission, and what you stand for. Storytelling helps you deepen the connection with your audience.
There are some main approaches to narrative storytelling and what should be included in it. Also, there are some main parts of storytelling you should keep in mind.
Gladly, we've gathered all this information in our handy storytelling guide.
You can also check Contently to learn how to craft compelling narratives in your content to engage readers.
6. Grammar and style guides
Even if you are an amazing writer who engages and "wows" readers, grammar can let you down. Well, if you misspell a lot or don't put any punctuation marks.
What should you do to improve your grammar?
Of course, we advise you to read more. It can be any classical literature as well as professional publications. (By the way, we gathered 37 awesome books about content writing you can check.)
Besides, modern tools make our lives easier. So, do install the Grammarly plugin to receive real-time edits to your texts. Moreover, read the Grammarly blog to get more helpful tips.
Also, refer to the iconic The Chicago Manual of Style. It'll guide you through punctuation, spelling, terms, and lots more.
7. Content tools and software
Even if you are an excellent writer, it's never odd to get a little bit of help. Gladly, numerous content writing tools exist nowadays.
Of course, their number can be overwhelming sometimes.
But no worries, as we've already made some lists mentioning cool tools for content writing and content marketing. You can check them at:
We recommend checking them, and reading more information about each tool on the official websites. Many tools have trial versions so that you can test the service and see if it fits you.
Please note that we only make a list of existing tools. We do not urge you to buy anything.
Yet, if you need other lists of helpful tools, you can refer to blogs from trusted websites like Hubspot or Grammarly.
8. Content promotion
Search engine optimization plays an essential role in your content visibility. But it's vital to boost it via promotion across various channels.
If you think that you can share your content only via social media, you limit yourself.
In fact, you have a variety of free and paid options when it comes to content promotion. Remember that there are three types of content distribution:
Owned media,
Earned or shared media,
Paid media.
These options allow you to show your content via diverse channels. That means you can reach your target audience and possibly attract new users.
We have also prepared eight working methods of content promotion. They will help you make your articles more share-worthy, suggest promotional platforms, and more.
If you are looking for more content promotion tips and hacks, refer to Ahrefs or Outbrain.
9. Content analytics
Without a doubt, you need to evaluate your content writing results.
This way, you'll know if you've chosen the right strategy and defined your TA correctly. You can start with free tools like GA4 (updated Google Analytics) or all-in content marketing tools like Semrush.
They will allow you to collect more data about your customers, their journey, interaction with your pages and content, etc.
After gathering and analyzing all these data, you can update or adjust your content strategy.
If you need more helpful content regarding analytics, you can refer to Google's knowledge base itself. Also, the Kissmetrics blog is an awesome source of useful information.
Conclusion
As you can see, creating worthy, readable, and successful content requires effort. Yet, everything seems not so twisted if you have a clear algorithm.
Consequently, you know where to start and what things to consider.
We also use such logic to work with content - from learning who our audience is to using special tools like Grammarly and distributing our articles.
While content stays one of the most important elements of any site or online company, you can't scratch it. So, lots of luck using these tips. (Or we can help you write content specifically for your needs.)
More Like This