Created on
June 28, 2023
| Updated on
June 28, 2023
15 AI-Based Tools for Effective Content Marketing
Content Marketing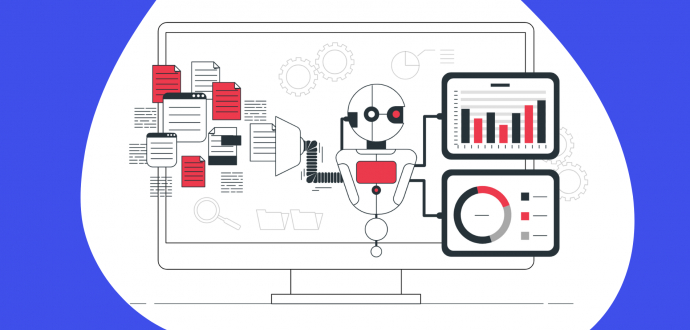 AI adoption rates grew significantly from 2019. Adoption rates were 2.5 times bigger in 2022 compared to 2017. In fact, 50% of Statista's respondents shared they implement AI technology in their operations.
And this outcome is pretty obvious. Professionals from various industries and departments start to understand how to use AI-based tools and services. It became clear that those technologies can optimize and speed up many business processes.
While the AI market continues to grow, the majority of marketers and content marketers share that AI tools help them diversly. Turns out, they help to save time, do repetitive tasks, enhance customer experience, and lots more.
But what tools do your colleagues use to fine-tune all those procedures?
In this article, we share 15 AI-powered tools that will help you be more effective, consistent, and creative.
Contents
1. Grammarly
Grammarly is a world-renowned cloud-based typing assistant. We bet you've heard of it. Well, at least 30 million users and over 50,000 teams employ this tool.
This text and plagiarism checker received high reviews for its user-friendliness, ease of use, and handy suggestions.
But "Where's artificial intelligence?" you can ask us.
As a matter of fact, the company presented a beta version of GrammarlyGO in April 2023. It's a service's new product based on generative AI and built on GPT-3 large language models.
GrammarlyGO will be in charge of more complicated writing tasks. They include writing texts based on prompts, rewriting content, creating content in your style, and more.
There's a free plan to test GrammarlyGO that will give you 100 prompts per month.
2. MarketMuse
MarketMuse is an AI planning and optimization software. Taking into account, how much content is produced daily, this tool comes in handy.
With it, you can automate audits for your content and find what's working for you and what you are missing. This way, you can eliminate time-resourceful keyword and topic research. MasketMuse takes you straight to finding what's best for you.
What's great is that the tool help to get rid of subjectivity. This way, you get exactly what works more effectively on SERP. Moreover, you can save 11 (or more hours) when automating the process.
There's a free plan to test the tool out. You can make basic page research and get ten queries monthly.
3. BuzzSumo
It's vital to track how your brand is doing online. BuzzSumo's main priority is to help you find out more about brand mentions. Yet, there are more options available.
You can easily detect the most popular topics within your industry. Also, it'll help you generate ideas and make briefs. Additionally, you can learn trending topics for social media and pick the optimal directions for you.
BuzzSumo includes in-depth use cases to show you how to use the tool the best way. Respectively, you can optimize the time spend on audit, analysis, and research. In the end, BuzzSumo will return to you the most competitive ideas to improve your content strategy.
There is a free 30-day plan thanks to which you can make unlimited searches. Yet, then the basic plan will cost you $119 monthly.
4. Clearscope
The goal of SEO specialists and content marketers is to take the site to the top of the search. Clearscope is exactly the tool to help you do this.
This AI-powered powered platform assists with SEO content optimization. You can easily find what content performs better online. Your content can become highly relevant thanks to this tool.
Clearscope will evaluate your content, show its readability score, and show how often to use keywords. But on top of this, you get suggestions about your headings and what words or phrases they should include.
You can utilize Clearscope as an add-on for your Google Docs or as a WordPress plugin.
The basic plan called Essentials will cost you $117 per month allowing you to do 10 content reports.
5. Acrolinx
Content creation for medium to huge-sized companies can be challenging. That's when Acrolinx comes to the rescue. It's an AI-powered software that fine-tunes the quality, adequacy, and impact of enterprise content.
There are three main directions the software works for. And, of course, there is one marketers can enjoy.
Acrolinx will assist with content improvement to show better results and performance. Moreover, you get access to a diverse knowledge base from eBooks to webinars to learn how to use the tool at its max. As a result, you master your brand voice, follow user journeys correctly, and do lots more.
There are no prices stated on the site. We assume everyone gets personalized conditions after talking to the sales representative.
6. Frase
AI tools are about optimizing content marketers' work. And Frase is no exception. It's an AI-powered content writing software that helps you dominate on SERP.
Like some of the previous tools it helps analyze competitors and uncover different SERP metrics (such as DR, headings, etc.)
After making research, Frase will benefit your content by making an SEO-worthy outline. The AI tool will also generate headings that you can easily drag and drop to the canvas. The next step is creating content that ensures you rank high on SERP.
You can test this out for $1 for five days and cancel if you don't like what you get. The price is $14.99 monthly after the trial period.
7. HubSpot AI
Hubspot is a world-famous CMS for marketing, sales, and operations. It was already a huge thing in terms of streamlining various processes and saving time.
But the company has made a step further by introducing Hubspot AI. Now content marketers can also enjoy OpenAI-powered content assistant.
Thanks to it you can easily generate text for blogs, social media posts, emails, etc. Of course, you can take your creativity and effectiveness to the next level as you get help with CTAs and blog ideas.
This software is in a public beta access and you can try it for free!
8. RAD AI
Influencer marketing is an inseparable part of marketing. And artificial intelligence also comes in handy if you need to spread the word about your brand.
Now you can make ROI-based decisions when choosing the right influencers for your next campaign. RAD uses a variety of data connections to find fitting thought leaders.
But on top of that, AI-powered mechanism will help you build better influencer marketing campaigns. Besides, you can build personas to understand what your audience needs. That all allows you to make informed decisions and drive impressive results.
We couldn't find the price. Yet, you can contact the team to get a product demo and discuss details.
9. Canva
Content can't be full without visual marketing. That's why graphic design tools like Canva come in handy.
Though it's not completely AI-based, Canva has been implementing this technology actively for the past two years.
The latest AI additions include turning text into images, creating AI-generated music, and talking heads you can add to your videos. Anyways, you can enjoy lots of integrations (from Hubspot to Instagram or Giphy) to curate your design fastly and creatively.
Canva offers a free subscription - so, it's really easy to get started.
10. Ai-Wordsmith
Ai-Wordsmith is an AI-based writing service that allows users to master creative content for blogs, sites, and more.
This way, this tool can help you with all things writing. You can generate ideas faster, make content briefs, and write content faster. On top of that, Ai-Wordsmith lets you repurpose content and even create texts in 30 languages.
This service has an intuitive interface where you can easily choose templates, choose language, make prompts, and more. Then enjoy personalized content for your landings, social media posts, emails, etc.
You can start for free, as the service promises. Yet, it's unclear for how long. The basic plan starts at $9.99 per month.
11. OptinMonster
Content marketing is about showing your content to the right people and making them engaged. OptinMonster is exactly the tool that will help you with lead generation and conversion growth.
OptinMoster is an extensive toolset to help you attract more clients, retain them, and increase your sales. You will get access to an intuitive builder where you can build pop-ups, floating bars, etc. to convert users.
Smart "OnSite Retargeting" will ensure to personalize the messages and them to the right people at the right time.
You can start at $9 per month.
12. Uberflip
Uberflip is an AI-powered content experience platform that helps marketers master digital experiences with content for every stage of the customer journey. As a result, you can close more deals from every channel.
You can use Uberflip for various departments, yet the marketing one offers lots of suggestions. This way, it's possible to succeed in content management, give better personalization for your content, receive AI content recommendations, and more.
Speaking of recommendations - Uberflip AI ensures you create content that resonates with your audience and moves it through the buyer's journey.
There are no prices stated. You need to request a demo to contact the team and learn the details.
13. Scoop.it
Scoop.it is an AI-driven content curation tool. It scans the web for relevant content based on your keywords and helps you curate and share engaging content.
This tool can help individuals and companies boost credibility among readers, make brands more recognizable, and build thought leadership. You can curate content pages that are relevant to your audience and instantly share them.
This tool can also help you streamline the publishing process to reach bigger audiences.
There is a free plan for everyone who wants to join and test the platform out.
14. Outbrain
Outbrain is another service that will help you with content distribution. It's an AI-powered content discovery platform. Its main goal is to recommend your content to relevant audiences across various sites and drive more traffic and engagement.
This way, Outbrain will show your content to fitting audiences to grow conversions for you.
Top online publications like CNN, The Washington Post, and others use this approach to reach potential viewers and readers.
Outbrain uses a CPC pricing model. It will charge you for the number of clicks each campaign gets based on the CPC you choose.
15. Mailchimp
Mailchimp is a very famous email marketing platform. But it also helps with marketing and automation.
This AI-powered platform utilizes data insights to help you personalize email content, optimize send times, and increase email engagement.
The AI tool - Content Optimizer - will compare your emails with millions of top-performing campaigns and will give you suggestions based on data. You will get useful tips while working on your emails.
There is a totally free plan for up to 500 contacts. Yet, the majority of helpful features won't be included.
Conclusion
As you can see, AI applications are growing. More and more departments benefit from using the technology. Content marketing is no exception.
We gathered various tools to help you with different marketing tasks. Now you can plan, curate, and distribute your content faster and more effectively.
We shouldn't be afraid of AI - we need to know how to use it correctly. That will open the full potential of creativity and productivity.
What AI-powered tools have you already used? Have you found helpful tools in our list? Share your thoughts in the comments.

More Like This