Created on
March 16, 2022
| Updated on
September 20, 2023
A Clear Beginner's Guide to Creating a Buyer Persona
Content Marketing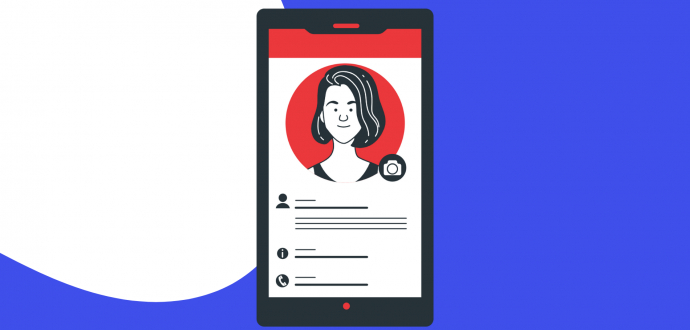 There are 4.66 billion active internet users worldwide. How do you know who is your target audience and how to attract customers to your site?
That's when a buyer persona comes into play.
It has long been an essential tool for sales departments. Yet, it is of no lesser importance for marketing as well.
Creating a persona gives you much higher chances of building a bigger and more loyal customer base. You can make stronger sales pitches and more personalized content if you know and understand your customers better.
Altogether, it will lead to higher conversion rates and sales.
Today, we will share a guide on how to create an effective buyer persona to bring your business to new heights.
Contents
What is a buyer persona?
First of all, let's figure out a buyer persona definition.
A buyer persona is a collective image of your ideal customer based on research and data.
Personas help you focus on priority prospects who can later turn into leads and buyers. Also, they help you develop your interactions with existing customers and provide a better experience.
Besides, they allow you to synchronize your work across all departments - not only sales and marketing ones.
As buyer persona tells more about users' habits, budgets, and pains, you can plan your activities more effectively.
In fact, you can have one or more personas. Everything depends on how many goods and services your company offers and how diverse they are. It's really important not to be lazy here. If you require to make five templates for your perfect buyer - do it.
This is because we are living in the personalization era. According to Startupbonsai,
80% of users more willingly buy from a business that provides a personalized experience,
66% of customers expect companies to understand their individual needs,
70% of buyers claim that the level of understanding of their individual needs by a brand influences their loyalty.
These data perfectly show that a buyer persona is a must-have element of a successful company. Nowadays, you can't reach your goals in full volume without your target audience in mind.
Why do you need a buyer persona?
So, why is it considered essential to focus on the buyer persona?
In the previous abstracts, we've shared a couple of reasons why you should create a persona. Generally, the idea lies in understanding your customers better. This way, it makes the first interactions via content more effective.
Of course, it will help you with further movement via the marketing funnel and retention.
For instance, knowing that your consumers are marketing agencies is not enough. You need to know what exactly they do, what instruments or solutions they need, what their pain points are, and so on.
Once again, you can develop one buyer persona at the beginning. Yet, if you see that you need more precise information for better marketing solutions - create more profiles.
Thus, a buyer persona presence can help you fine-tune three main directions.
Tailored marketing experience
Thanks to detailed profiles, you can target a specific audience. As a result, you don't have to spend time and budgets trying to cover a large number of Internet users.
Now you can create tailored content - via blog, videos, newsletters, social media, paid ads - to attract the right traffic. That will optimize all processes and allow your company to find more qualitative prospects that have more chances to convert into buyers.
Products or services development
Your goods and services can experience significant improvements thanks to customers' profiles. When you know exactly what your target audience needs and what its pains are, you can create perfect products for it.
Also, you can prioritize your activities. You will know either you are ready to make an upgrade, or you should gather more feedback and information.
Customer and post-sale support
Selling goods and services is excellent. But it is no less important to retain customers and make them loyal clients. When you know your audience's requests, you can build better communication.
This way, sales, and customer service departments can provide a top-notch experience for your consumers. Besides, your employees will be able to solve users' problems faster and more efficiently.
How to create a buyer persona
Creating customers' profiles makes a unified view of your buying client. Yet, it shouldn't be too general and based on some common assumptions.
Anyway, what information do you require for a buyer persona development?
Well, to make a first working scatch, you can refer to the major information you have.
Appeal to your clients base. Investigate the customer journey. How do they know about your company? From what channels do they come?
Expand your submission form or forms on landing pages. Add questions about company size, occupation, expertise, etc., to get more specific information about your prospects.
Ask your sales or support teams to give their feedback on your customers.
Prepare some questionnaires to have further information about your prospects and potential buyers.
This will help you receive some raw data about your clients. Use it to start building a buyer persona profile.
Start forming your buyer persona profile. You can showcase the following information there:
Background. That might include family, occupation, hobbies, education, etc.
Demographics. In this block, add age, gender, and location.
Technology. Find out the fitting ways of communication and delivering information. It might be devices your TA uses, social channels, emails, etc.
Challenges. What are your clients' biggest struggles and pain points?
Goals/Motivations. What results do your clients want to achieve? What motivates them?
These are the main blocks you can add to the profile. Of course, you can broaden it based on the products or services you sell.
Yet, to form the list, you need to know what questions you should ask. In the next section, we will tell you more about this.
What questions should you ask?
To feel in the sections in your profile, you need to come up with the right questions. So, let's see what you can ask your prospects about.
Background
Where and what have you studied?
What is your occupation?
What is your seniority level (e.g., entry-level, professional with managerial functions, manager, etc.)?
What do you typically do during your business day?
What hard and soft skills do you need to perform your job?
What tools do you use to do your job?
What is the size of your company?
In what industry do you work?
Demography
How old are you?
What gender are you?
Where do you live?
You can also ask about marital status and children if applicable.
Technology
What social networks do you use?
How do you prefer to learn about new products or services (via blogs, videos, etc.)?
How do you like to receive information (via email, social networks, etc.)?
How do you prefer to do shopping (via Internet, brick-and-mortar stores, etc.)?
What does persuade you to make a purchase?
Challenges
What do you find the most challenging about your job?
Why is it hard for you to make a shopping decision?
What are your main challenges?
Goals/Motivation
What are your goals (it can relate to job, shopping, etc.)?
What can help you reach your goals?
What makes you successful?
What does motivation mean to you?
What motivates you the most?
What are you responsible for?
These are some questions you can include in your questionnaire. Of course, you need to understand their combination will vary depending on what your company sells.
Sure thing, you can add more questions to get the fullest information about your prospects. That will ensure you conduct actionable buyer persona research.
How do you gather needed information?
And last but not least, how do you get all the information? Well, there are a couple of options you can use to get the job done.
Ask your current customers
At the very beginning, we've mentioned that you can get some preliminary information by contacting your buying clients. That's a really clever decision.
Firstly, you usually do not need to use extra incentives like bonuses, gift cards, etc., to get their opinions. Often, your customers are glad to share their thoughts and experiences with you.
Consumers can tell you how they feel about your products, what they like about them, and what they'd like to change or improve. In fact, people like to be heard and to be a part of the process. So, you can not only get some helpful information but also make your customers more loyal.
Ask your prospects
Prospects are users who haven't bought from you yet, but you plan to convert them. In this case, you can use the incentives to ask them to fill in questionnaires.
This way, you can get more information about them like age, occupation, location, etc. Moreover, you can learn about their challenges and what they expect from your products.
Ask your contacts
But what if you are entering a new market or have no buyers yet? Then you need to employ the network of your contacts.
Find potential customers through your co-workers, social media accounts, etc. You can also use LinkedIn for this goal as all contacts there normally state their occupation, seniority role, location, and education.
This way, you can make certain assumptions and send messages to the group of fitting contacts.
We suggest you use all opportunities to get the complete information. That will help you make a really precise buyer persona.
Undoubtedly, you need to prepare for future interviews.
For this, make some briefings with the responsible team. It needs to show the interviewees that it's not a sales call. Prepare questions the team members will ask and possible incentives they can offer.
Also, ensure that the interview time and date are comfortable for your interviewee. After all, your goal is to ask the questions and get the data you need to create a working buyer persona for your company.
Conclusion
A buyer persona creation is highly recommended no matter what size or industry your company is.
Taking into consideration the growing demand for personalization, knowing your customers is essential. A buyer persona is exactly the tool that will ensure you market your products to the right audience.
Feel free to use the buyer persona example that we offered to create a profile that will help you attract and convert more customers.
Also, personas will guarantee that you create content that reaches the right prospects and turns them into buying clients.
Do you use buyer personas in your company? How have they helped you improve your business? Share your thoughts in the comments.

More Like This