Created on
February 8, 2023
| Updated on
September 12, 2023
Top 7 AI Writing Tools to Try in 2023
Content Marketing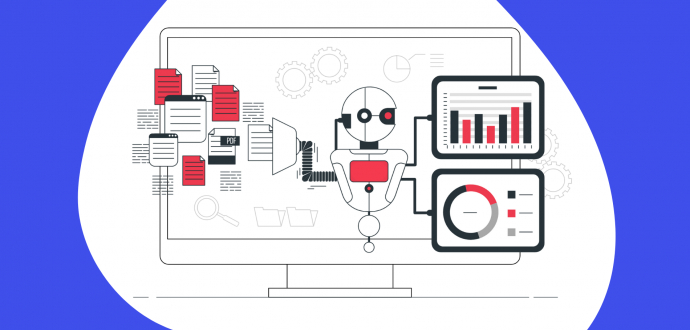 The global AI market can reach $1,581.70 billion by 2030. Technology develops fast offering new opportunities in various fields. For some time now we use AI-powered tools like voice search or chatbots. And that has become an everyday normal.
Yet, in the latest years, another AI direction gains momentum. And we are talking about AI writing.
Though many content writers might be afraid of the rise of machines, we don't think it will happen soon. At this point in time, AI writing tools can help with text creation. Yet, they are still unable to substitute real writers.
In this article, we gathered the top seven AI-powered tools to make your writing easier.
Contents
1. Writesonic
Writesonic is a multi-purpose tool that will help you create SEO texts. You can compose content for product descriptions, tweets, captions, ads, and even blog posts. Of course, all content comes plagiarism-free.
You only need to insert your topic to get started. Writesonic will help you optimize your title by offering more suggestions. After this, it will generate a couple of intros so that you can choose the best option. Next, you can check an article's outline. You also come with a couple of variants. Pick the one that correlates with your idea more closely. In the end, you receive a fully-written article generated by artificial intelligence.
As we mentioned earlier, Writesonic can help with various tasks. This way business owners, marketers, and bloggers are welcome to use it to optimize their work.
Yet, we are specifically interested in article writing. As you understand, the whole process looks clear. Yet, let's specify what you need to do once again.
State your topic (with a minimum of five words).
Specify the keyword (optional) you wish to rank for on Google.
Select your language from 25+ options.
Press the "Generate" button to get started.
Also, Writesonic allows integrations, so you can easily post your texts directly to Wi, WordPress, or Shopify. Besides, as this tool provides search engine-optimized texts, you can connect Semrush or Surfer to get an idea of what keywords to focus on.
There are three plans this service offers.
Free. In this case, you get 6,250 per month.
Long-form. Starts at $12.67 per month. The word count ranges from 47,500 to 5,000,000 per month. Yet, the number of words also depends on the text quality you choose.
Custom plan. This plan fits teams and businesses. You need to contact Writesonic to negotiate the price.
Not sure if you can let AI write content for you? Then hire professional writers from Adsy!
2. Rytr
Rytr is another AI-writing tool to get a spin on. Like the previous tool, it helps to generate content for blogs, ads, Youtube descriptions, titles and headlines, and so on. Rytr promises to give you quality texts at the outcome.
The whole process starts with choosing the right language and the goal of your text (educate, convince, etc.). You also need to pick a use case for the content. Then briefly describe what topic you'd like to cover. After this, Rytr will generate a text for you. Right after this, you will be able to edit the given content. You can rephrase and improve sentences (also, thanks to special Rytr tools).
Thanks to its versatility, this tool perfectly suits individual writers as well as teams or business owners.
Rytr will help you create content 10x easier and faster. As the service claims, you will need only 15 minutes to create 1,000-word text. Step-by-step it looks like this.
Choose the desired language from 30+ options and use case (blog text, Youtube description, etc.).
State your topic (with a minimum of five words).
Press the "Ryte more" button to get started.
Rytr will spoil you with scientific copywriting formulas like AIDA or PAS to offer top-tier output that requires minimal to no editing. Still, if you need to make some corrections the service will provide you with a rich-text editor.
There are three plans this service offers.
Free plan. Users can generate up to 10,000 characters per month.
Saver plan. There are up to 100,000 characters per month available. Customers can also form custom use cases. Costs $9 monthly.
Unlimited plan. Users can create an unlimited number of words per month. Plus they receive a dedicated account manager. This option goes at $29 per month.
3. SEO.ai
This tool helps writers create SEO-enhanced content. Like other services, it can perform various tasks - from writing complex and long-form content to writing outlines for landing pages, or product descriptions.
To produce content users start by typing an article's title. It's also essential to choose the tone of voice, target audience, and type of content. This tool differs from others as it provides SEO keyword suggestions straight away (from a special window on your right). Writers can also choose from multiple headline variants. To generate the text click the menu at the bottom of the page.
This tool is a creation of SEO geeks. This way, they took all peculiarities into account to help you create search-optimized texts. And many SEO professionals, business owners, and content marketers confirm this.
SEO.ai promises to make your SEO writing 10x more effective. As the service claims, you will need only 15 minutes to create 1,000-word text. Step-by-step it looks like this. All writers will enjoy an advanced AI SEO score. To get started with writing:
Write the scratch of your title and choose the most fitting AI-generating headline.
Select your preferred language from the 50+ available.
Begin by hitting "Write an introduction," continue with "Suggest subheadings," and press the "Just write more" button to generate text for each heading.
As you choose the target audience and tone of voice, the tool can create better texts with an understanding of what your audience wants. Additionally, you will be able to track your real-time SEO score.
So far, users can choose from three different plans.
7-day Free trial. Users can enjoy up to 10,000 AI-generated words. Free of charge for one week.
Standard. Users get access to 40,000 AI-generated words. Costs at $49 per month.
Enterprise. Perfect for users who require a huge amount of content on monthly basis. The price range is individual.
4. Peppertype.ai
Here is another example of an awesome AI-powered writing tool you can use. It is multipurpose like its competitors. This way, you can use it to write blog posts, landing pages, emails, as well as ad copies.
Choose the content type you need to get started with this tool. Our goal is to receive a high-quality blog post. Start by giving a brief about your future text. Give headline suggestions from the Peppertype. You will also get content for the introduction as well as section suggestions.
The service promises to help you create content 10x times faster. You can also provide your target keyword to instruct the tool about what keywords you need in the text. That ensures you receive search engine-optimized text. So, here's what you need to do step-by-step:
Choose the content type you need. Start your interaction by writing a sample title for your future text.
Get the introduction, outline, and bottom line.
Enjoy your AI-generated text. Press "Edit" to make any corrections you need.
This service helps to save time drastically as it has dozens of ready templates to help you with content creation. You only need to choose the fitting format and give brief requirements.
Peppertype provides three different plans.
Personal. It starts at $35 per month with 50,000 words included. The price may vary depending on the user number.
Team. The price begins at $199 per month for a minimum of five users. 50,000 words included. The more team members you need the higher the price.
Enterprise. Contact the service team to negotiate the price.
5. Anyword
That's another versatile AI content-writing tool. Anyword lets marketers and bloggers create ad copies, emails, landing, and product pages as well as blog posts. On top of that, the service helps to write highly engaging SMS.
The service is easy to use. Writers need to create an account to get started. You need to choose from use cases to pick the fitting format. Then, like in other tools, you need to share some information about what you are writing (topic) and tell AI what and how to write. Then Anyword will generate a text for you. Of course, to make your text more peculiar you can state your preferred style and tone of voice.
Anyword has good responses from marketers, writers, and business owners. Also, professionals see a 30% growth in conversion rate after using this tool.
This service also has a custom mode. It lets users train the AI writing assistant. This way, you get a copy in your brand voice, similar to your competitors, or similar to your top-performing live ads. Once again, getting started is super easy:
Choose the use case (ad copy, landing page, blog post, etc.).
Provide a tagline and tell AI what to write about and how to write.
Get your text composed based on your writing formulas preferences and fitting tone of voice.
This tool is great for creating new content as it counts the audience's peculiarities and lets you use formulas (AIDA, PAS, etc.). But you can easily re-write or refresh your existing content. And that's also very essential for your blog's health and position growth.
If you want to employ this service, choose from these plans:
Plans for everyone - Starter. Begins at $29 per month for 20,000 words. The more words you choose the higher the price.
Plans for everyone - Data-Driven. Costs $99 per month per 30,000 words. The more words you choose the higher the price.
Plans for Business. Book a demo and chat with the team to negotiate the price.
6. ChatGPT
Another tool that breaks all records is ChatGPT. It seems like everybody is talking about it. It's an advanced AI chatbot trained by OpenAI which interacts in a conversational way. The tool uses the powerful GPT-3.5 technology.
Marketers, business owners, and content creators can definitely benefit from this tool. It saves time, helps with writer's block, and helps to find the right words.
To start, you need to go to the Open AI - ChatGPT and sign up or create an account. This tool works as an all-in-one bot. This way, users can create SEO-rich content for better customer engagement. That's how everything works:
Create an account and start a conversation with a bot.
Write a keyword or topic in the window at the bottom of the page, and the chatbot will generate a list of related themes that you can write about.
You can use special variables to make your text more precise (check the video).
ChatGPT can really take your writing to the next level and help you create versatile content. This AI can assist you in finding the right keywords, making your language more advanced, or creating more engaging content.
The point is to give clear commands to receive amazing results. Another perk of ChatGPT is that you can use it for creative writing (and even test-fit famous writer styles on your content).
So, how much will it cost you?
Free. This powerful multi-purpose AI tool is primarily free.
ChatGPT Plus. The cost is $20 per month. The paid version allows general access to ChatGPT, even during peak times, faster response times, and give priority access to new features and improvements
7. Jasper
Meet another smart assistant that can help you with your writing. This tool also provides a wide range of content-related services. Accordingly, you can compose texts for social media, advertisements, articles, website pages, and emails.
You don't need much to start. Simply insert your topic and ask Jasper to give you some headline ideas. Choose the one you like and ask the tool to create an outline. Then you can start with the article's introduction. You can continue to interact with Jasper to create a text or go to the Paragraph Generator mode and copy and paste one of the outlines to get a fully written section.
Like other AI copywriting services, Jasper will be an awesome servant for marketers, content writers, and business owners. The service creators promise that the tool will help you in an easy and seamless way. Here's your quick guide to getting started.
Create an account and start by typing command + enter or control + enter. Type your desired topic.
Choose one from 25 languages.
Receive suggestions and pick the most fitting title. Create an outline for your future article. Continue with creating content for each heading or use the "Paragraph Generator" feature.
Jasper lets you write content 10x times faster. Besides, you can integrate Surfer to receive SEO suggestions straight ahead. Moreover, Jasper can compose long-form content with over 1,000 characters in a single shot.
But what about the price?
Free trial. A free five days trial is available for the Boss Mode.
Boss Mode. This plan costs $59+ per month. The price varies based on the number of words you choose (the minimum is 50,000 words).
Business. The initial price starts at $499 per month. Yet the details and terms are to negotiate individually.
Conclusion

Last year the global artificial intelligence market size reached $136.6 billion. And this number will only grow. AI technology develops so fast that sometimes we cannot keep track of all innovations.
An evolution of AI writing tools seems to be logical to us. The huge amount of data people produce allows us to analyze it and teach smart technologies how to use them further.
The AI content writing tools we enlisted show jaw-dropping results. All texts look human-like and normally you will need minimal to no edits to polish the generated content. Of course, the next task for marketers and writers is to learn how to interact with AI services in the most effective way.
What do you think about AI writing services? Have you ever used them? Share your thoughts in the comments below.

More Like This