Created on
August 19, 2021
| Updated on
September 22, 2023
Disputes, New Roles, Sites' Upload Options, and Sites' Statuses
Adsy Tutorials & News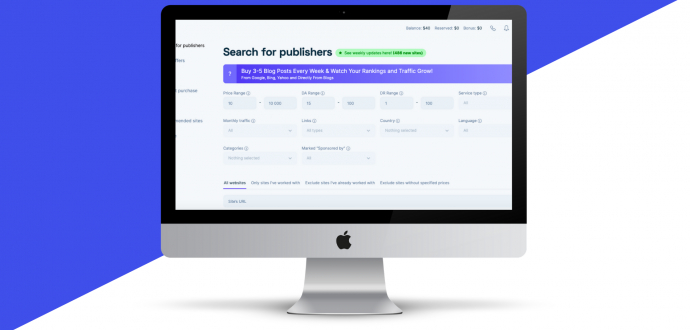 You might have noticed that we've updated most of the sections in the dashboard.
Yet, we've changed not only the design but also added some features to optimize your work. In this blog post, we've gathered the major updates the client panel has experienced in July and August.
Contents
Buyers
We do our best to increase the number of publishers you can work with. To the current date, you can choose from 34,500+ available sites.
The number might be overwhelming. Yet, you still have helpful filters like "Only sites I've worked with," "Exclude sites I've already worked with," block- and allowlists to sort everything.
Weekly updated sites
Anyway, lately, we've introduced a new feature with the weekly updated sites.
You can check the freshest sites added to Adsy. We update the list each Monday for "All publishers." You will also see the period when the new sites became available in the inventory. New sites for "Verified publishers" are added once per three month.

This feature allows you to see the newest sources straight away. So, if you want to connect with publishers you've never worked with before, this feature is for you.
N.B. Make sure to subscribe to all our updates as we send the letter with the top new sites weekly on Tuesdays.
Disputes
You can take even more control over the task creation process.
Now, it's possible to open a dispute when the task is In Progress, Your Approval, or Improvement status. You don't have to wait five days to do this like before a new release.
To start a dispute, pick any task from these three statuses and click the three dots button. You will see the drop-down window opened. Scroll down till you see the "Request Dispute" button. Press it to start a dispute.
This feature allows you to solve any contradictory questions much faster. Save your time and let us help you with any issue you have.
Publishers
We are always happy to see new publishers in our family! You can monetize your blog easily with Adsy.
We are improving the submission process to make everything easier for you.
More roles
Earlier, it was obligatory to prove the site's ownership to finalize the registration process. Nevertheless, now it is possible to pick from two available roles:
By default, you continue in the contributor role. It allows you to accept tasks and get paid. Yet, your functionality will be somewhat limited compared to the site owner's role.
If you want to confirm site ownership to proceed in the site owner's role, you need to take special action. You have to either download a file and add it to your website root directory. Or you can include our code in the source code anywhere on the main page of your website.
Of course, site owners have more trust from the buyers' point of view. So, if you own the site, it's better to prove this.
Attention! Read the updated version regarded the publisher's confirmation status here.

N.B. Do you have only a right to post on the site? No worries, you can still stand out among other contributors. You need to state your name in contact info so that buyers identify you easier.
Site upload options
You might have tried two site upload options via "One site" or a "List of websites." Thus, we've decided to go further.
Now, you can upload as many sites as you wish by uploading just one file. Basically, all you have to do is:
Create a CSV, xls, or xlsx file with URLs,
Set a price for at least one service type among four available ones for each site (content placement or content creation of mini-post + placement, content creation of article + placement, content creation of a long article + placement),
Upload a file.
And that's pretty much it. It makes everything so much easier and faster. You just have to wait until your sites are approved and get ready to accept tasks from buyers.
Sites' shift to new statuses
Also, you can earn more with your sites, thanks to the new procedure of the sites' shift.
This way, if you upload more than 100 sites, you can release the next 100 sites from the "On hold" status. How can you do this?
Well, simply complete your task successfully. After this, your next 100 sites will be released from the "On hold" status. This means you have more opportunities to earn money after more of your sites become approved and active.
You can try using these features straight away. Simply log into the buyer or publisher interface.
---
UPD: Check the new helpful feature - "Mixed Orders." It lets you order content placement from the desired publisher and content creation from professional Adsy writers.

More Like This