Created on
October 19, 2022
| Updated on
September 13, 2023
How to Write a Qualitative Article Faster with 7 Tips
Blogging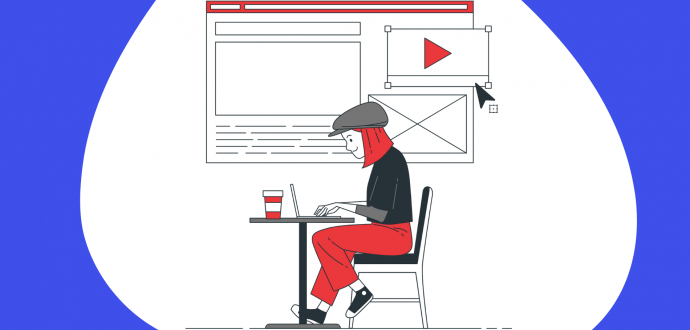 As a site or blog owner, you probably wonder how to write an article quickly and qualitatively. And that's the right thing to think about.
Content is here to stay when we talk about search optimization, customer acquisition, and business success. So, firstly, you need to publish engaging and top-tier articles on your site. Secondly, you need to learn how to make their creation not too long.
We'll be honest - it's hard to say how much time exactly you can spend on article writing. Some sources claim you can write an article of 1,000 words in three to four hours. Some, on the contrary, share that it can take around six to eight hours.
Anyway, there is a general approach to writing that makes your writing effective. Spend:
40% of your time planning,
25% of your time writing,
35% of your time revising.
That's worthy advice. But we'd like to expand it and share seven parts of efficient, quality, and fast writing.
Contents
1. Keep track of article writing topics
Sometimes, finding a worthy idea can take hours. That makes the whole process much longer.
So, we highly recommend you keep track of all your ideas. Do you have article writing topics that sound good to you? Add them to notes or docs. Or it'll be even better to create Google Sheets where you can hold or organize all ideas you have.
It does everything much easier, as you can write title variants, add links to helpful sources, and then link to the docs with the content itself.
How can you find great ideas? You can check what interest your readers/customers the most and write about current events/trends in your industry. Moreover, you can see your competitors' strategies and create deeper & better articles. Also, you can use Google Trends to understand what people are searching for.
2. Avoid distractions
Nothing can slow down the writing process more than distractions. And trust us, you can have loads of them nowadays.
Firstly, switch off the TV. Even if you say it works as background noise and doesn't disturb you, it actually does. In reality, for tasks that require cognitive effort, our brains can't do more than one thing at a time.
That refers to distractions like your smartphone with social media. And add constant notifications and a wish to check on what's going on on the Internet to this.
Good articles require concentration and dedication.
Here are seven apps you can use to cut distractions:
Freedom is an app for blocking distractions on all your devices at once;
Serene is your helper for planning and following through on deep focus sessions;
Cold Turkey Blocker is applicable for scheduled system-wide blocking;
LeechBlock NG is free browser-based website blocking;
RescueTime serves as a time tracking with built-in website blocking;
Forest is perfect for motivating you to put your phone down;
SelfControl is a hardcore distaction0cutting software for macOS.
3. Research smartly
As we mentioned at the very beginning of our article, planning takes most of the article creation time. This way, you should do it smartly.
First and foremost, you need to know your target audience. The best option is to create a buyer persona. This way, you'll learn about your customers' interests, potential preferences, and needs. Besides, you can ask your current customers what they want to hear about.
Have online publications that inspire you and provide helpful information at your elbow. You can use various RSS readers to locate all the valuable sources in one place.
Check what the most trusted publications and statistics portals have to say about the chosen topic.
Try to narrow down the topic to make it particular and relevant to your readers. If you are a copywriter, search for information according to the client's terms of reference.
Remember that researching can be tricky. Don't get into a trap when you go deeper and deeper in your research.
Simply think of the main things you need to look for.
4. Outline the main ideas
After you've found helpful sources and thought of your previous experiences, it's high time you outlined the main ideas.
Create bullet points with a plan that your future article will have. Ensure these points will help you fully cover the topic.
Start feeling each point with content. Mainly, if you did your research right, these bullet points are ready to be your article's headings. We recommend turning them into H2 headings.
If you see that some points need more coverage, you can search for more information. You can then add it by adding H3 to certain headings.
It's really important to break your article into logical sections and highlight them with headings. Most people scan content. So, they should have something that can drive their attention. Also, don't forget to use bullet and numbered lists to make your texts scannable.
5. Do not overthink
Your texts should sound professional, for sure. Does this mean you should fill your articles with complicated and too-sophisticated passages? Of course not!
So, make your content easy to read. That goes not only about editing (that we mentioned in the previous point). It also stands for clarity and readability. With an attention span that becomes lower and lower, you don't overwhelm readers with complicated content.
Besides, you generally do not want to overthink when it comes to writing. This way, stick to your main idea and the bullet points you've highlighted.
Do not try to go deeper and deeper with the original material. If you feel like you want to add something else to your point, it's better to write this down in Sheets as your new idea. Then you can write a whole new article out of it.
6. Take a step back
Have you written an article? Cool! Now it's time to take a step back.
You can say that we promised to teach you how to write faster. Yes, you are correct. But we also said that we'd help you write your content qualitatively. Exactly that's why you need to let your article rest.
During this time, you can do other tasks you have.
When some time passes (let's say one hour or more), read your article once again. Make sure it's clear, compelling, and meets the goals you set up.
7. Edit your article
After you read your article once again, you most probably notice some grammar and spelling errors, as well as semantic failures. Trust us, they will become visible and evident to you after you take a step back. Editing while writing is not the best idea.
It's especially important when it comes to semantic errors. Sometimes something that was 100% clear and logical when you were writing needs rephrasing or giving more content.
Of course, to speed up your editing process, we recommend you use article writing tools. There are lots of them - from ones that help with grammar to ones that show your texts' clarity. By the way, we've gathered the top 11 content writing tools for you.
Conclusion
So, here's your guide on how to write a top-tier article fast. If you don't want to spend like eight hours composing a 1,000-word text, simply follow these steps!
Remember that keeping certain things organized and planned will help you quickly make the first scratch turn into a full-scale article. (Don't forget that analyzing your content writing is also a part of your success.)
Of course, sometimes even precise planning doesn't help. If you don't feel like writing - it's also okay. Switch to other tasks. After some time, return to your ideas and start the research.
Still, if you struggle to create content for your site, you can always refer to article-writing services. This way, you will have a constant supply of quality content.
More Like This