Created on
March 23, 2022
| Updated on
September 15, 2023
11 Best Paid & Free Content Tools to Perfect Your Articles
Content Marketing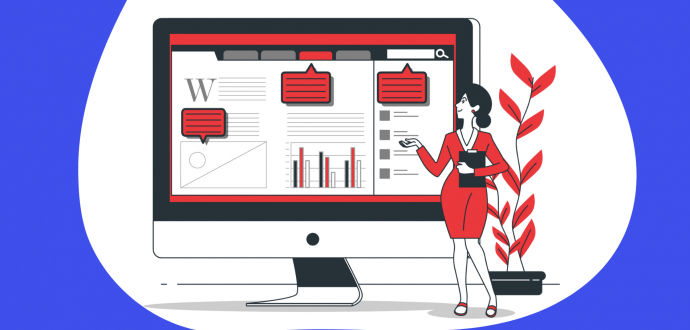 According to the latest research, a whopping 77% of online users read blogs. That's a great chance to get connected with them and introduce them to your business.
Yet, not all blog posts are equal. Daily writers publish millions of articles. So, you need to ensure that your post will get noticed.
But how can you do this?
Well, that's when free writing tools come into the spotlight.
They are amazing helpers when it comes to mastering your writing and making it flawless.
As both readers and search engines become more and more demanding for content quality, you have to produce only top-class content.
And the article writing tool can be your way out.
Content creation is challenging. We are here to ensure you have no trouble reaching your potential customers.
Keep on reading to learn more about the top 11 content writing tools you can use for free.
Contents
1. Google Docs
Don't think that the choice of Google Docs is too basic. It's a really great tool used by billions of writers all over the globe.
Firstly, let's agree that Docs help you execute the main thing we are here for - create content. This tool was introduced in 2006.
Since then, it's been a beloved tool by users of different occupations.
What does Google Docs let you do?
Its primary goal is content creation. You can write and edit texts of different lengths and take care of the word count.
What's really great is that you can share Docs with your team members. It's highly actual in the pandemic period.
This way, you create an article and allow your colleagues to check it, leave comments, and edit if needed.
On top of this, you can integrate Grammarly to ensure your text is grammatically correct.
2. Google Trends
Content writing is tough. Yet, finding a great topic can be even tougher.
To make your content plan diverse and actual, you can benefit from Google Trends. It's another great tool by Google you can use free of charge.
Head to Google Trends and press the "Explore" sign on the menu on your left.
Add the preferred search term.
Scroll down, and you will see the "Search queries" window on your right. Navigate between the "Rising" and "Top" menus to find the ideas you can then turn into an article.
Moreover, it allows you to compare two different search terms and understand what is more actual.
Use the most current and popular phrases to create a headline.
Besides this, you can use similar phrases as keywords for your future article. Nevertheless, if you use other tools for keywords, it's fine. Then leave Google Trends for fueling you with ideas.
3. Buzzsumo
Buzzsumo is really impressive software. Unfortunately, it's not among completely free writing tools. Yet, you can benefit from a 30-day trial period.
Unlike Google Trends, it will offer you a much deeper content analysis. And, sure thing, content ideas you can get are countless!
Thanks to this tool, you can learn what readers find interesting. Moreover, you can customize your feed to check what happens in your industry. You can set the trending score and predict what topics will be in demand.
As a sweet addition, you can see what is of interest in your preferred geography.
Then you can find the most fitting keywords. By entering your target keyword, you can generate lots of ideas for your future article. As a matter of fact, Buzzsumo will show you related phrases that help you think out of the box.
As we all remember, content should solve your users' problems and be helpful for them. Exactly that's why this tool will show you what questions and challenges your audience has.
4. Ubersuggest
Ubersuggest is a tool by marketing guru Neil Patel. It's another option to find great content suggestions.
With this software, you can "spy" on your competitors. In fact, you can check what content is the most popular in your niche. See what topics get the most shares and backlinks to them.
Please mind that the information about acquired backlinks is highly important. If you figure out to what content in your niche readers prefer to link, you can build a better content strategy. That guarantees you build links and grow your site's rank on SERP.
There is a seven-day trial version for this tool.
Make sure you use it wisely to form a list of topics and keywords to create better content for your readers.
5. Headline Analyzer
An outstanding headline is a huge part of your success. Did you know that 80% of people read headlines, and only 20% of them will continue to the article itself?
It may sound crazy, but it's a reality.
So, your goal is to ensure that a user will open your article. And Headline Analyzer is exactly one of the writing tools you can use online for free to reach this goal.
What exactly does this tool let you do?
Firstly, there is a special box you can use to insert your headline.
And then, you can check some essential features that will help you make your title noticeable and engaging. Headline Analyzer will ensure:
that you have the right word count,
that your headline is convincing,
that you utilize the optimal characters number to meet your SEO goals,
that your headline is easy to understand and read.
Moreover, you will get suggestions if there is a chance to improve your headline.
On top of that, there is an online extension you can use to check your previous headlines, add favorites, and get instant suggestions.
6. Google Keyword Planner
Of course, your content needs to include keywords. That's how search engines understand what your text is about. That ensures users can see exactly your article when they type a search request.
And the Keyword Planner will probably be among the primary free online writing tools you can use.
Often marketers use this tool for ad campaigns. Yet, it's a perfect source of keywords suggestions. You only need to type a phrase related to your product or service and get more options you can employ.
Besides, you will see how many searches each keyword gets and its competition.
This way, this tool can be a great helper of yours.
7. Ahrefs
Anyway, if you need a deeper understanding of keywords, choose Ahrefs.
It truly is an exquisite tool that will help you target your content for the right audience. You will get access to the database of millions of keywords. Moreover, you can find perfect words to expose your content not only on Google but also on other search engines.
Thanks to the keyword difficulty metric, you will be able to pick exactly the words you need. That ensures you can rank for them and show your site to millions of people.
Ahrefs will also provide you with deep analytics on every keyword. So, you will know what percentage of searches for a selected keyword result in clicks on the search results. Additionally, there is a metric that compares which keyword receives more repeat searches using a relative scale.
And, by the way, this tool will help you with content ideas just like Buzzsumo or Ubersuggest do.
8. Grammarly
Let's imagine that you've found a perfect topic and keywords, created a document in Google Docs and wrote an engaging headline.
Now it's time to assure you deliver grammatically correct text with the proper message and tone of voice. Perhaps one of the best free content writing tools for this aim is Grammarly.
As Grammarly says about itself, it's an "all-in-one writing assistant."
30 million daily users make this software an integral part of many teams across different industries. Thus, for sure, the biggest number of this app's users are exactly writers.
So, what features and benefits does this program offer you?
Grammarly works through various platforms by uploading an extension. That helps you get instant suggestions on word choice, punctuation, fluency, and also clarity.
Also, you can make any changes quickly by simply pressing the suggested improvement.
You can get a more detailed analysis by registering an account. Though Grammarly offers paid plans, its free version can palpably brighten your writing.
9. Hemingway Editor
The previous tool does help a lot. Yet, a little bit more help can never be odd.
If Grammarly mostly concentrates on spelling and grammar, Hemingway is all about your writing style. It will help you keep your text organized. After all, brevity is the soul of wit.
Nevertheless, many writers are using this app for its "Readability" score. The editor will analyze your texts by grades level. According to a study, most people read at the level of the 10th grade. So, you might take this as your orienting point.
Anyway, the score from fifth to eleventh grade will be just fine. Yet, the higher the grade, the more confusing your text might be.
Thus, the Hemingway app will help you keep your article clear and readable. You will see what sentences are too long and what phrases you need to improve.
You can write content within the editor's interface to receive instant suggestions.
10. Canva
According to statistics, 49% of content marketers primarily use visual content on blogs and sites. We highly recommend you to use it as well.
Images, gifs, or videos make your content fuller. You can illustrate some data you share, make quotes or citations, create infographics, and so on.
You can hire a designer to create visual content. Yet, there is another option if you cannot afford one. There's a great free content tool called Canva.
It will help you make great illustrations for your texts.
There you can find some ready designs you can use straight away. Or you can create any type of visual content by yourself. Gladly there's a huge knowledge base at your fingertips where Canva gives lots of helpful design tips.
Also, this program has integrated photo and video banks. So, you can easily insert images or videos into your designs.
11. Pexels/Unsplash
Yet, if you need more visuals, you can go directly to some great free stocks.
Unsplash specializes in high-quality photos. From our personal experience, we can admit there are pictures that can fit almost any industry. Just type in what you need and get hundreds of free options.
Nonetheless, if you didn't find what you need, you can refer to another photobank called Pexels. That's another source we eagerly use. The procedure is the same - simply type in the keyword and get various results.
Moreover, Pexels can cover your need in royalty-free videos. They are mostly short - usually up to one minute.
You can download photos and videos from these services and support your articles with them. Or you can add them to Canva and make something creative.
Conclusion
Content creation is an inseparable part of your business nowadays. If you want to be successful, you have to take good care of it.
Both paid and free writing tools can ease this complicated process for you.
You can make your texts better by improving readability. You can attract more readers by using the right wording and tone of voice. You can make your blog more engaging by adding stunning visuals to it.
And this guide will help you pick some amazing tools to reach your goals!
Nevertheless, if you need content but don't have a content team, we are here to help. Learn more about our article writing service.
Do you use special content writing tools? Which are your favorite ones? Share your thoughts and experience in the comments.
More Like This