Created on
September 6, 2023
| Updated on
September 6, 2023
Top 5 Content Audit Tools to Try in 2023
Content Marketing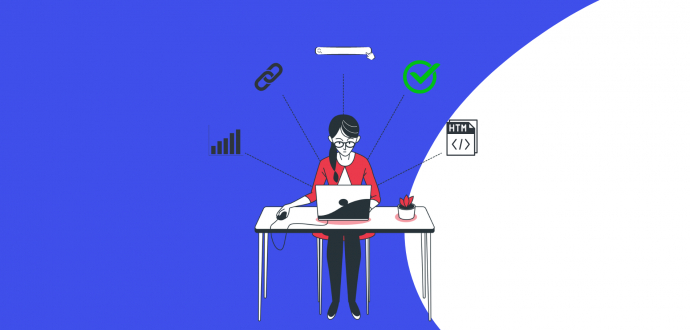 44% of marketers reported that content quality and value improvement had led to success. Specifically, content advancement provided higher rankings on SERP.
And appearing in top search results is your goal as a site or online business owner. (Or an SEO or content marketing specialist working for a company.) So, how do you do this?
We multiply covered topics on content writing and creating awesome blog posts.
Yet, you need to be focused not only during content creation. You also need to check its performance afterward. That means you have to analyze your content.
That's why we want to share five content audit tools you can use to evaluate your content.
Contents
1. Google Analytics
Recently, Google has introduced what it calls "the next generation of analytics." The name of the new tool is Google Analytics 4, and it is ready to make and offer deeper insights into your site.
As usual, Google offers a precise guide on how to run the GA4.
As Analytics collects data from your site, you can receive various reports about your traffic, users, and data. The overall menu looks like an older version, so it won't be hard for you to use it.
To understand if your content was good enough, we recommend paying attention to bounce rate and average session duration. If you have high bounce rates and short duration, that means you didn't match your users', let's say, "vibe."
Also, if you write content for eCommerce and your blog is a part of the sales cycle, and there's a low Page/Session rate, you are doing something wrong. In this case, users don't engage more closely with your site. Respectively, you don't lead them to purchases with your content.
Gladly, GA4 allows you to learn your visitors better.
Go to Reports - Users to discover your clients' age, demographics, interests, devices they use, etc., to understand them better.
2. Semrush
Semrush is a popular SEO tool. Yet, like many other tools, it has some features that will help you with content.
Firstly, you can pick the right keywords to cater to search engine needs. What's great is that you can analyze their choice later. Go to Keywords Research - Organic Traffic and paste the desired URL.
The tool will analyze your traffic at the keyword level. This way, you'll learn how your keyword effort influences your positions and traffic.
Then move to the On Page & Tech SEO - On Page SEO Checker. Run it to get more information about the designated page. Pay attention to:
SERP Features Ideas to understand how to rank higher on the result page,
User Experience Ideas as Google values people-first content,
Content Ideas to implement the best Google-approved content creation practices.
For instance, you can get helpful ideas on how to use keywords throughout your content (title tags, headings, etc.) to make articles more readable and so on.
Anyway, prior to text creation, publishing, and evaluation, Semrush will offer other handy features. Go to Content Marketing - SEO Content Template and enter desired keywords.
This feature will help you create SEO-friendly content. Of course, you'll get insights if your article is optimized for people.
3. Ahrefs
Ahrefs is another well-known and all-purpose SEO tool. Though mostly used by professionals to track backlinks, it can help you improve your content.
Before jumping straight to content creation, you can use the Content Explorer feature to get more SEO metrics. You can enter any word or phrase to see what competitors are doing. This way, you'll know what content already exists and work on your article creation strategy.
Then, you can use the Site Explorer tab and enter your site's URL. That will allow you to receive in-depth information about it. You can check the Top Pages of your site to see what's performing the best way.
Accordingly, you can apply the tactics you've used for the top performers to the new articles. (With slight changes, if needed.)
Additionally, you can check The Best Pages by Incoming Links. This report will show what pages have received the most backlinks. That will give you an idea of what content performs better for you and sparks more interest among the audience.
4. ContentKing
Meet another all-in SEO tool that will help you see what's going on with your content. It allows you to track how your site is doing 24/7 and also get helpful alerts.
This tool can be a fit if you have a small marketing or SEO team. It will keep you up-to-date with your site's recent traffic state thanks to a powerful auditing suite.
So, how does ContentKing help with your content?
You can use the SEO Audit Suit to get deep insights about your content state. After all, even awesomely written articles are worthless if search engines do not see them. And ContentKing will show you what's wrong.
As search engines monitor your site all the time, this tool will also check it round-clock and report if something is wrong. Accordingly, you'll know what's happening to your titles, H1, etc.
You can easily gather all data in the form of diagrams to see the whole picture.
This tool lets its clients customize Issue parameters to get the most precise and detailed audit reports. Plus, ContentKing makes the reporting system easy not to overwhelm you with data.
5. Siteimprove
If you are searching for another simple tool for analyzing your content, you can check Siteimprove. All you have to do is enter your page URL, state your email address, and pick an industry.
After, you receive an overall page score and overview.
Then, scroll down to get the full info about your page. The tool will notify you about technical, mobile, content, and experience issues. You will get a close look at the issues (if any) and understand what you should fix.
For instance, by using Siteimprove, you can see if you need to improve the desktop speed, mobile speed, etc. But all these are technical issues.
Let's see what goes on with your content. Learn if your H1 and meta titles are doing right, if you have dead-end pages, and if you are linking to safe domains.
Also, pay attention to user experience issues. It will help keep elements like images neat.
That will sum up a quick free page audit. If you need a detailed and customized report on your site, you can reach out to Siteimprove's team.
Conclusion
As you can see, there are various tools that can help you understand your content better.
Turns out, the majority of content audit tools aren't purely made for content evaluation. In most cases, you can analyze your articles using some features of multi-purpose SEO or content marketing tools.
Anyway, those features can help you see what you are doing wrong and what you should change.
Many services offer trial periods, so you can test their features and choose the fitting option. We do not urge you to buy any of the mentioned tools - that's only our opinion. We just want to show the versatility of instrument content marketers have nowadays.
Do you use content audit tools to evaluate your content? How helpful are they? Leave your thoughts in the comments below.

More Like This