Created on
July 5, 2023
| Updated on
July 5, 2023
How to Make Your Content Link-Worthy with These 5 Tips
SEO Articles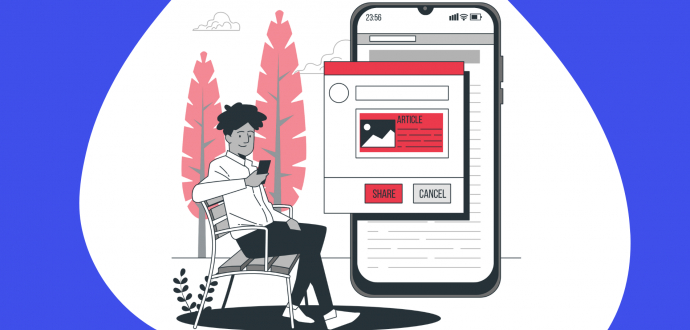 71% of Internet users prefer to discover brands themselves which also includes online searches. And content is what bridges user queries and your site.
Moreover, the content you create holds another important benefit. If you make it unique, quality, and interesting enough, people will link to it. And we all know how backlinks are essential for a site's ranking on SERP.
But what is that perfect blend that makes users links to your articles?
Continue reading to learn more about the five elements your texts should have to attract readers. We'll share practical tips that will help your content get more links. It's high time you used your content writing to its full potential!
Contents
1. Understand your target audience
We often tell about how important it is to know your audience. It benefits SEO, helps with building a marketing funnel, and so on. Turns out, getting links to your content is another positive side effect of being aware of who your readers are.
The connection is obvious - if you know the customers, you can create content that fits their needs or solves their problems.
Imagine, you run an online shop about plants. You can write about specific sorts of flowers, how to take care of them, or how to combine flowers. If your article is helpful enough, we bet your readers won't mind sharing it with fellow plant enthusiasts.
Yet, how to find out more about your target audience?
Gladly, there are numerous tools that help you identify your best clients. Your first step can be jumping to Google Analytics to know the geography, age, traffic sources, and other essential metrics. Of course, your site should be connected to this tool.
Anyways, your analytics tools do not end up on good old Google. Semrush, Audiense, and more tools come in handy. You can find 15 services that will help you form your TA here.
2. Provide valuable and unique content
You've heard of content quality and its importance thousands of times. Firstly, it assists your SEO which leads to a higher ranking. And this, in turn, ensures more people see your content.
We mentioned how to optimize your content for search engines. Well, Google itself gives lots of clues about what kind of content it wants to see on sites.
Yet, what is the quintessence of shareable content?
We can offer you three approaches to article creation that will help you share-worthy content.
A. Offer information, insights, or data that fit users' search intent
We sink in the world of data and digital noise. Make that all that structured and present it in a readable form.
As you know who your audience is, you understand what they might look for. Your goal is to work with respected sources that offer data, insights, and statistics. Gather information that your users seek but don't have time to research on their own.
Present this information in the form of a compelling article with a fitting and engaging page title - so that readers click on the links they see on SERP.
Tip. We like finding data on sites like Statista, Pew Research, Deloitte, Hootsuite, etc.
B. Present perspectives, research, or case studies
People like reading insights and unique information. If you have an opportunity to share truly first-hand information based on your research - do it!
If you run a SaaS company or sell products, you can craft helpful and in-depth case studies. These materials can be valuable for marketing research. Respectively, they can link to your content.
Sure thing, well-thought researches are normally long-form, let's say 2,500+ words. As many trusted experts say (Neil Patel, Brian Dean), people share long reads more willingly.
C. Add a unique angle or creative approach
We understand that not every company can share inner cases with readers. Or your writing team is simply not data enthusiasts.
In this case, you can turn your creativity to its max. You can compel articles that present a non-ordinary point of view or approach.
Your content can spark conversation, and discussion, and engage users to share their opinion.
Tip. Look at your content the way readers would do. For example, use Answer The Public to see what people are searching for. Brian Dean uses this approach. He writes data-reach articles - as a result, many sites and journalists link to them. We also suggest writing lists and mentioning services, companies, etc. The outcome is as follows they also can link to you.
3. Incorporate visual elements
Did you know that people share infographics 3x more compared to other visual content? What conclusions can we make?
Firstly - people share content with visuals (especially on social media as experts say).
Secondly - infographics are really effective if you'd like to get more links to your site.
Incorporating visuals has multiple benefits and purposes. It's a great way to ensure people stay longer on your page and remember more information. Also, images, videos, and GIFs help to structure your content and make it more readable and entertaining.
As a result, you can expect people more satisfied with your content and ready to share it more willingly.
Besides, if you create unique and recognizable visuals there are more chances to get links to your content. Make images (or any other content) fun, viral, trendy, data-reach - whatever works for you and your industry better.
4. Promote social sharing and engagement
Without a doubt, users can copy your content's URL and share it with their friends or followers. But there are options that make sharing process much easier.
That said, you need to integrate social media sharing buttons into your content. Once readers click the button, they can share your article on their preferred social media. Usually, the post to share will include the article's name and a link to it.
This way, you can acquire a backlink after two users' clicks only!
Of course, you should use CTAs to encourage readers to share your content. Call to action should be an integral element of your posts. It's important to direct people and lead to certain actions.
Sure thing, if you have built a community around your blog, it will be easier for you to persuade people to link back to you. So, foster people to leave comments under your posts, actively answer them, and spark conversations.
5. Collaborate and build relationships
The point is that you should build relations not only with your readers but with a professional community.
Reach out to influencers, find ways to collaborate to grow your brand awareness, and get more brand searches. Also, use guest posting to build backlinks and rank higher on SERP.
You can say "But the goal is to get links thanks to your content." That's true. Yet, your domain should be strong enough to be on top of the result page. And that sends us to the stage, where you need to take care of your SEO.
Once you get enough visibility online and master your writing skills, you can amaze people with your content. And, sure thing, get links back to it.
That is to say, don't forget to cooperate with industry experts and engage in guest posting.
Conclusion
Creating quality and link-worthy content can be an additional driver of your online success. Think of it as passive income.
Your goal is to write articles that comply with Google's E-E-A-T, consider your TA needs and requests, and have CTA that sparks activity.
If your content fits these criteria, there's a high possibility that people will share it.
Try using these tips, don't forget to distribute your content via your social media accounts, and see how new backlinks are coming.
More Like This