A question to you: what are the five challenges content marketers faced in 2016? Any ideas? According to CMI this top looked like this: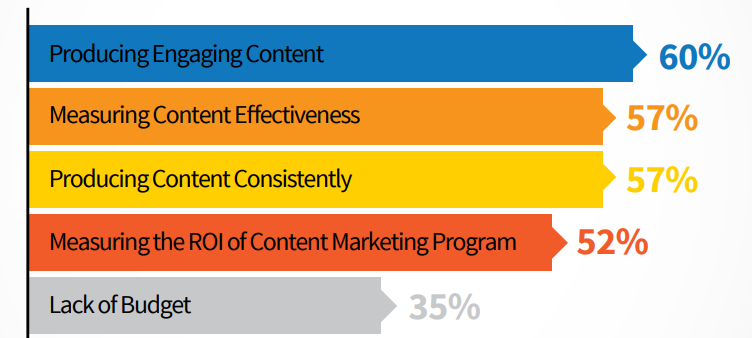 And, as you may have already guessed from this post's title, we'll pay special attention to the measuring this time.
Yes, content marketing measurement will always play a significant role in your work, as it alone can solve a range of your troubles. For instance, let's have a look at the list above one more time.
The biggest challenge for marketers in 2016 was to produce engaging content. But wait a second, how do you define "engaging"? How do you understand what your readers like or don't like about your content? How do you find out if they like it at all?
Or budget shortage, what do you do about that? How do you distribute the money in the most efficient way? What to invest in first of all?
Believe it or not, content marketing measurement gives you answers to these and other tough questions.
We've prepared an infographic for you to have all the necessary metrics within your reach. So, what to look at when assessing your content marketing?
There are several approaches to organizing your content marketing analytics. This time we'll divide the metrics according to the data they present. However, another useful way is to measure the effectiveness following each step of the marketing funnel, and we'll actually talk about it quite soon. For now here are data-structured metrics to assess your content marketing.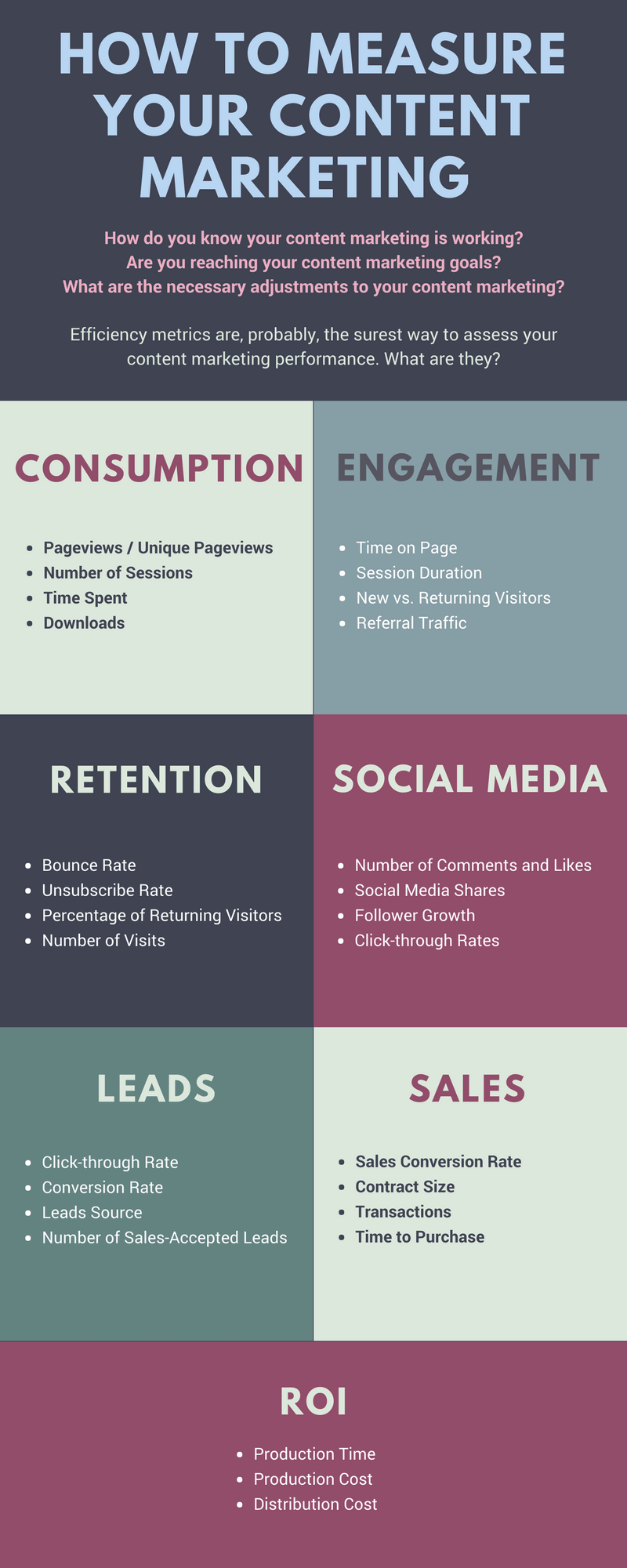 Consumption metrics
They are also called basic metrics as these are the first ones you want to see to have a general understanding of your content marketing achievements. If you're just at the beginning of your way in content marketing, it's a good place to start. Consumption metrics allow you to understand how the audience treats the content you produce.
Engagement metrics
These demonstrate the level of...engagement, huh? Quite predictable, isn't it? Well, shortly, everything that you can describe using this term can be measured here. When you run into a piece of content that grabs your attention, what do you do? You spend more time reading it, you come back to it later to read once again or send it to your friends, right? This is exactly what you evaluate at this step about your content and audience.
Retention metrics
It can be rather hard to set a definite border between these first three metrics. They all show the level of the readers' initial interaction with the content and brand itself. When you look at them altogether, you get a clearer picture of the way your target audience perceives your content marketing efforts. Retention metrics in particular help you see if users like your content and if they are ready to get it on a regular basis.
Social media
Sometimes social media metrics are seen as a part of engagement metrics. But we prefer to make them a separate set as not every business is presented in social networks and relies on them. When you feel the need, you can turn to these metrics and observe the performance of your content in social media.
Leads
Let's move on from rather passive to more active interaction. What does it take to make users click the link? To take the action you want them to take? To become a lead? For many marketers lead generation is the most important goal, and it's vital to content marketing performance.
Sales
Another significant metric that gives you an insight of the practical results you're achieving. These usually matter a lot when you're trying to see the monetary value of your work and efforts.
ROI
The King of our list and of any marketing (not only content marketing). The final destination of any content marketing analysis. The metrics which prove that your work wasn't done in vain and show the profit made. Of course, the ROI metrics mentioned in the infographic don't say much by themselves. But when you look at the correlation of the expenses and the revenue, you are able to make unbiased judgments about your content marketing.