Created on
August 30, 2017
| Updated on
April 15, 2022
How to Measure Your Content Marketing Effectiveness
Content Marketing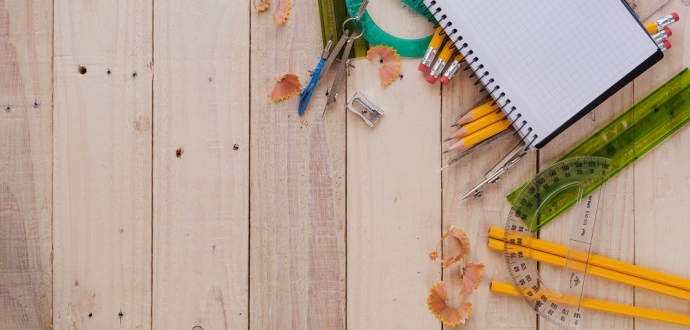 It doesn't matter what your marketing strategy is. You may be the one creating a magnificent content strategy. You may attract the best influencers possible. You may actively use all the tricks up in your sleeve. But, if you can't accurately measure the effectiveness of your campaign, all that doesn't really have a point. Because all your work is in vain.

Why do you need to measure your content marketing effectiveness? Because that's how you find out if you have achieved your goal, or, at least, if you are moving in the right direction. Life of a marketer is not a bed of roses, so the mistakes are unavoidable. And to fix the things up, you have to know what is broken.
Measuring content marketing effectiveness is the second most important task of a marketing department today. And it goes right after producing engaging content. Yet, people still do not understand what metrics should be evaluated in the first place, and what can be delayed. There are too many opinions when it comes to this matter.
And, to our surprise, there are not so many comprehensive guides on measuring content marketing effectiveness on the Internet. Either they are controversial or hard to understand. Nevertheless, the measurement can not just make your campaign more effective, but on various occasions, it may save your budget or help to decrease it.
That's why we've decided to provide you with the list of the most relevant metrics that are your absolute must to measure. With this data you will be able to see a global picture and accurately evaluate whether your campaign is doing well, or some fine-tuning is needed. Keep in mind that your content marketing strategy might require additional data.
There are seven basic metrics that you should evaluate when running your content marketing campaign.
They are:
Consumption rate;
Engagement rate;
Retention rate;
Social media effectiveness;
The leads – amount and quality;
Sales rate;
ROI.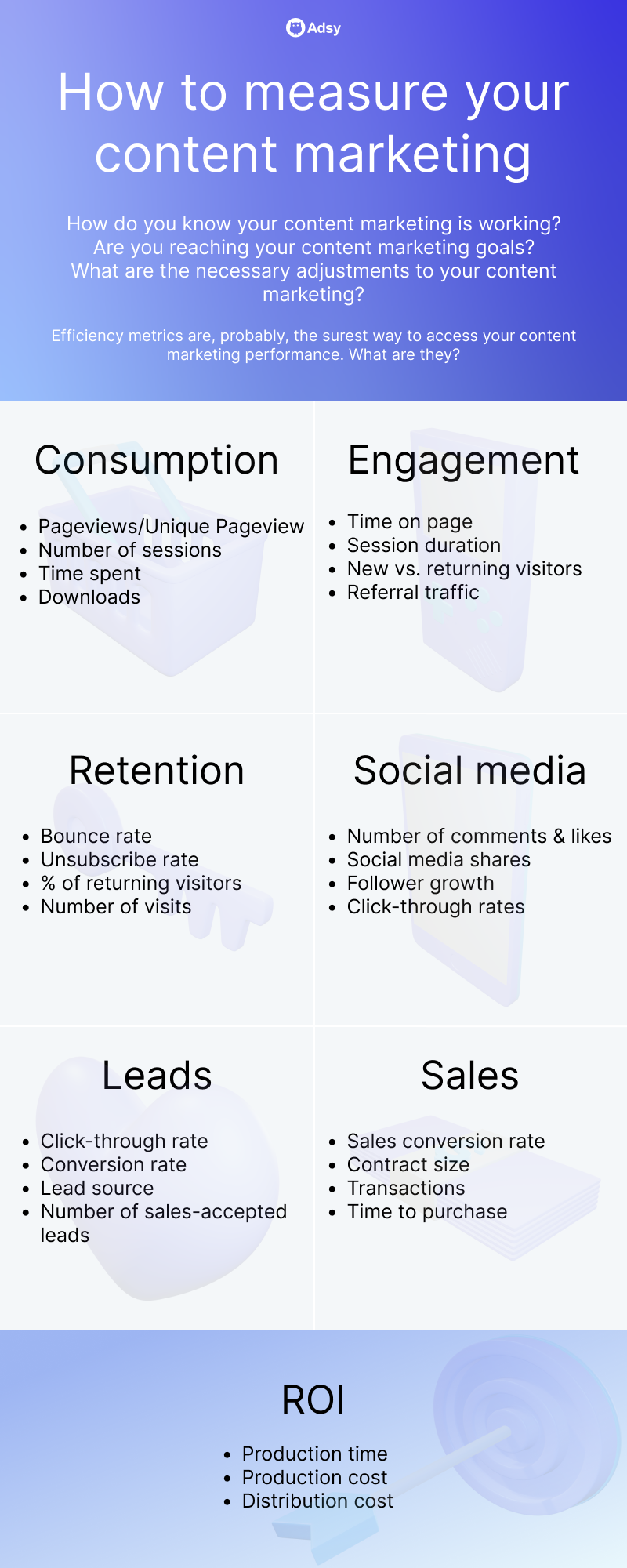 Make use of these metrics to look at your content marketing strategy from different angles. Keep in mind, that while some of the metrics can show you the effective increase, others can stay unaffected or even decrease. It usually means that you are moving in the right direction but some parts of your strategy should be adjusted. Now, let's analyze them in a more detailed way.
Consumption metrics
These ones usually show the effect of your marketing activity almost immediately. When launching a marketing campaign, you can expect an increase in the number of page views, unique page views, number of sessions, downloads, etc.
All these will help you understand whether the content you show to users attracts them or not. Of course, if people ignore your website after the first pieces of content are shown, you have to change something ASAP. These are the most basic metrics that will show you how your audience treats your content.
Engagement metrics
While being a bit close to the previous one, these metrics will show you if people like your content. Here you have to evaluate the time spent on your page, a user's session duration, the amount of new and returning visitors, and overall referral traffic.
All that will hint if people like what they see or your content doesn't engage users. So, without this rate, there is no marketing campaign at all. If customers see your content and they don't want to spend some time reading it, you are doing something wrong.
Retention metrics
This one shows how people react to your content. It demonstrates whether they are eager to read or watch all the things you offer and what they do next. Here you have to measure the bounce rate, the number of unsubscribes, the percentage of returning visitors, and the number of visitors at all.
All that means that people either like your content and your brand, dislike it, or even get annoyed with it. This is one of the most important metrics. It helps you understand if people like your content at all or not. That will signal if your team needs to create more content. If you check all three first rates, you can already sort things out and plan some adjustments to your strategy.
Social media effectiveness
If you prefer to spread your content through social media, this is one of the most important metrics for you. It can be considered as a part of the engagement rate but it will provide you with more platform-specific information. Here you should evaluate the number of new comments and likes, the number of shares, the level of followers, and click-through rates.
If social media is a valuable part of your strategy, you should keep an eye on those data. Otherwise, you might not even need it, if, in virtue of your business's specific, you prefer to work with other sorts of media. Nevertheless, social media presence is quite important for everyone, so you should consider this metric.
The leads
This is the so-called active interaction rate. Processing this data will help you figure out how to influence the people consuming your content. What should you do to make users click your links? How to make them do the actions you need? How many people react to your message and how to increase this number?
While measuring the leads metric, a marketer should consider these rates: click-through rate, conversion, lead source, and the number of sales-accepted leads. It doesn't matter how many people have read your letter. If none of them has become your lead something is broken. Evaluating people's actions and adjusting your strategy accordingly will do you a lot of good.
Sales rate
Your job is to grow sales. So, no wonder you should evaluate if the sales are increasing. This metric will show you any practical results. This is, in fact, a pinnacle of your performance, and everything you do must lead to as high numbers as possible.
Usually, a good marketer evaluates the sales conversion rate, contracts' size, the number of transactions, and time to purchase. The last one is very useful for your performance. If you have to work a hard entire year to persuade someone to buy your product, something has to be changed in your strategy. You should do all you can to shorten this time as much as possible.
ROI
Last but not least, the return on investment rate is something that proves whether you are a good specialist or not. This is something that shows that money spent on you and your team wasn't spent in vain. The most important indicators here are production time and cost, and distribution cost.
In the perfect world, they are thousands of times lower than the number of sales, meaning that you have succeeded in returning a thousand for every dollar spent on you. ROI is usually the rate that shows the profit made, so the higher it is, the better your campaign was. Checking this rate will help you to balance your budget and will make you think twice before trying to increase it once again.
Conclusion
There are at least three more metrics that can be measured while evaluating the efficiency of your marketing strategy. There are numerous tips and hint on how to estimate whether your strategy is good or bad. But all the mentioned metrics are absolute must whatever your product is. Measuring it will help any marketer to see the effectiveness of all the actions and stay updated.
Got any other metrics to measure your content marketing effectiveness? Feel free to share your thoughts with everyone in the most convenient way. Good luck!
More Like This