Created on
January 13, 2021
| Updated on
June 8, 2023
7 Different Types of Content to Use in 2023
Content Marketing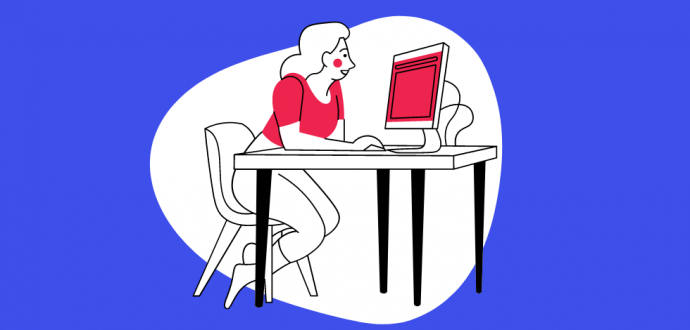 Every year different types of content make the top lists. Some come, and some go; yet, your business cannot succeed without producing content.
2020 has changed the game. No one can deny that the way companies do business and communicate with customers has changed. And as content marketing serves as a means of reaching goals, its use evolves. This way, some types of digital content disappear; others only strengthen their positions.
In 2023, there will be three main goals of content marketing:
generation of more quality leads,
attracting more traffic to company websites,
improving brand reputation.
However, the past year has changed the way people interact with brands and make their shopping decisions.
Regardless of content type, marketers should understand that their strategies must be customer-oriented. The online journey of their clients should be as seamless as possible. Moreover, flexibility will also play a huge role in modern-day content marketing.
Let's be fair - the task for content marketing specialists in 2023 won't be the easiest one. Yet, Adsy is here to help. We've gathered the seven most promising content types for 2023.
Contents
1. Blog posts
Let's begin with the old but gold content type. Studies say 53% of marketers will still prioritize blog content creation.
Unlike other types of marketing content, blogging holds a variety of benefits. First of all, it's an amazing way to communicate with your audience. Blog posts help you educate your customers, tell news & updates, share a brand story, give useful information, etc.
Moreover, customers tend to read one to three blog posts before making a purchase. So, each blog is your chance to convince someone to buy in an entertaining and not too pushy manner. Besides, you can create content to cater to the user's needs on every marketing funnel stage.
Also, blogging helps to build a loyal audience. In such a way, your site will have constant traffic. Your users may share your posts with others and that will naturally grow your audience.
Secondly, regular blog posting improves your SEO. Companies that run blogs receive 97% more inbound links. Besides, you can expect more indexed pages. That, in turn, ensures Google knows your site better. So, it will receive more trust from Google and may aspire to better positions on SERP.
Once, again it doesn't matter how good your content is. If it doesn't serve your customers' needs, it'll fail in 2023. So, ensure your content strategy follows your clients' demands and journey.
2. Long reads
We cannot skip long reads when talking about types of web content for 2023. Content marketing mogul Neil Patel advises creating more long-form content. According to him, 3,000 to 10,000-word articles get the most shares.
Of course, not every article of yours should be that lengthy. Yet, if some theme requires in-depth coverage, go for this type of content. It allows giving an expert or near-expert look at some theme.
Besides, you may expect a better ranking. That's highly possible thanks to several reasons.
your long read will have more industry-specific keywords you can rank for,
you have better chances to get more backlinks to your article, which also positively influences your ranks.
Additionally, long-form types of blog content leave more impact. A well-structured 3,500-word article has more chances to amuse a reader compared to a 500-word post. As a result, users feel they've read something groundbreaking and influential.
That works in your favor. People tend to share long-form content more willingly. That's because they can feel the amount of job you've done. And they definitely appreciate it. So, ensure your blog has social media share buttons.
Yet, remember that quality prevails quantity. This way, if you do have not enough data for long reads, find other types of content you can employ.
3. Interactive infographics & ebooks
We'd like to continue the list of content types with infographics and ebooks. Both of these types of content have long been popular.
In general, 41.5% of marketers report infographics to be highly engaging. Also, this type of content is 300% more shared on social media. As such, you can consider infographics as a worthy means of delivering content to your audience.
Yet, 2021 gave a twist to the traditional use of infographics. So, it's better to make them interactive in 2023. That is likely to increase the engagement rate.
Your interactive infographic may exist as a separate page to which you can drive traffic. It also may serve as a part of your brand story (for example, timeline). As a matter of fact, you can include infographics in your articles.
The thing is, let people control how they interact with the infographic. Make it clickable, eye-catching, dynamic, and user-friendly.
The same logic applies to ebooks. Ebooks give your company broad opportunities to share a deeper insight on an issue. But before customers get the information you want to share with them, they should open and read it.
And the ebook's interactivity ensures users can easily navigate through the book. As time is the top asset nowadays, let the readers easily switch between paragraphs. This way, they'll get the info they need and appreciate the efforts you've put into the ebook.
4. Quizzes
Types of online content that gained popularity in 2021 were quizzes and polls. We bet you've come across some quizzes relieving what pizza or movie character you are. In 2023 quizzes will stay widely used.
Though many quizzes seem to be silly and for fun only, let not this opinion trick you. You can implement this type of content into your content marketing strategy. That's because quizzes and polls are highly engaging.
Create digital content related to your niche or products and post it on your social media. Ensure the poll's or quiz's description raises curiosity.
It's better to embed a quiz into one of your articles. This way, you'll drive customers to your site. Hopefully, they'll read more content of yours if they enjoy your quiz.
Use another hack with the poll. Let users pick some answers or make suggestions. Don't forget to add a link to your original article on the blog. Offer readers to follow this link to find out the right answer.
5. AR & VR
75% of the world's most renowned brands have integrated VR into their marketing strategy. What's that if not proof of this technology's popularity?
These two technologies put interactive content to the next level. VR and AR were on the rise in the past few years. Yet, we believe they'll get even more usage in 2023.
We cannot deny that their rapid growth was because of COVID-19. If earlier, augmented and virtual reality was widespread in real estate and gaming industries, they started to gain popularity in some others.
Are you running a blog about traveling? Embed maps or virtual museum tours to provide a better experience and visualization to your readers. Do you cover art themes? Provide 360° videos of galleries, 3D models of sculptures, etc.
These types of interactive content make your site or blog less boring and more engaging. Let people see what they'd like to explore or buy. Moreover, it's highly important due to pandemic restrictions right now. Besides, the habit of shopping only online may change the way people will continue to purchase things.
We believe that it will only strengthen in the next few years. So, it'd be great if you prepare your site for providing a top-notch online experience.
6. Videos
Videos stay among the most in-demand types of content. They won't lose momentum in 2023 also. Just look at this data Lemonlight shares:
85% of marketers state that video is an efficient way to gain attention online,
95% of video marketers share videos that have helped increase customers' understanding of their goods or services.
It's a worthy reason to spend time and budget on creating video content in the following year. By the way, we've written about how to compel great selling videos. So, check the article to catch some tips and tricks.
You have plenty of space here. Let your creative juices flow. You may use video content for informative, entertaining, or other purposes. Also, videos should not necessarily be too long. Often three to five minutes will do.
A helpful tip. Videos as occurrence also evolve and transform. In 2023 pay more attention to live streaming and live videos. Their engagement rates (in the form of comments) may be up to 3x times higher.
But what if you are not ready to produce videos on your own?
Then partner with Youtube influencers. Thought leaders are the types of content creators who can mention your brand in their videos. The point is to choose industry-related influencers.
This way, their audience is already aware of the theme and likely to check your products or services.
7. Podcasts
We cannot skip podcasts when talking about different types of content marketing that will continue to rock in 2023. According to CMI, this year will start the era of active listening.
So, if you are not already making podcasts, you'd better start. As we now make lots of things on the run, this content type will be much appreciated. You let people get familiar with a variety of themes easily and via multiple devices.
Do you have enough time, budget, and expertise to host a podcast? That's awesome! Choose themes to cover, make a content plan, and air your podcast. You can use:
Apple Podcast,
Google Podcast,
Podbean,
Spotify,
as means of podcast distribution.
Also, you can record a podcast primarily for YouTube and then upload it to a podcast platform. All in all, this content type will help you scale and shape your audience.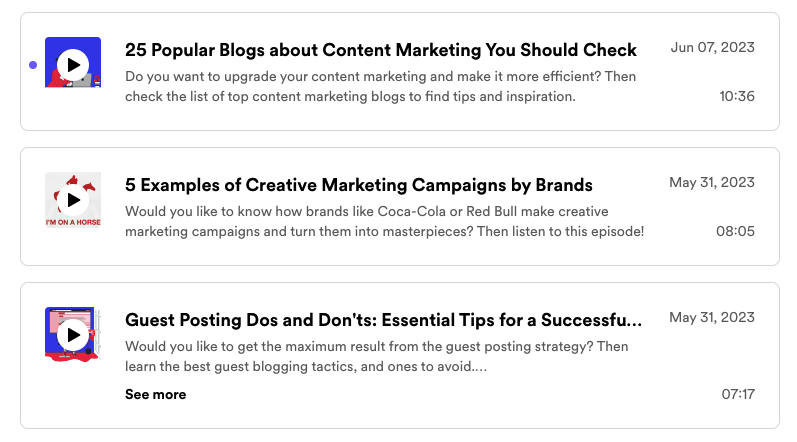 Conclusion
There are so many different types of content to use! Yet, some of them will be in more demand in 2022. So, it's high time you implemented one of them into your content marketing strategy.
Nevertheless, remember that your users are your guiding star. Despite the content type, you should put their interest and aspirations first. The types of content you produce have to serve them in the best way possible.
Based on your industry and goals, you can combine the content types we've offered. Are you already using some? Then add other promising types to fulfill clients' and your needs.
All in all, the pandemic has drastically changed the way people do business and market goods and services. So, it's time to be creative, try out new strategies and content.
Are you using some of these types of content? Are you planning to add anything else? Share your thoughts in the comments!

More Like This