Created on
September 14, 2022
| Updated on
May 12, 2023
Why Small Businesses Should Use Guest Posting
Guest Posting Tips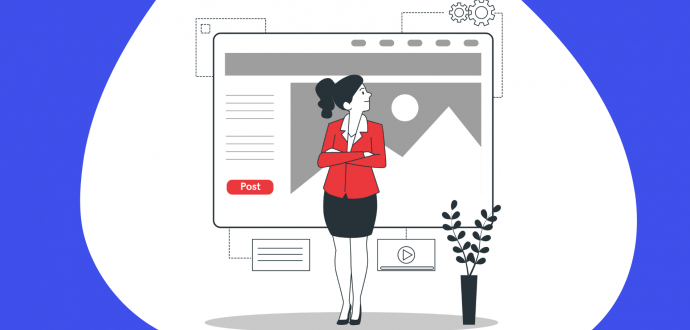 There are 32.5 million small businesses in the USA. And now imagine how many of them are globally. But the world deserves to know about your business.
You can use various approaches to spread the word about your company. Still, guest posting stays on the top of the list.
In fact, 60% of businesses write one to five guest posts per month. And with this approach, they reach some great results, trust us.
In this article, we'll tell you about seven main guest posting benefits. So, buckle up and get ready to skyrocket your small business's achievements.
Contents
What is guest posting?
First things first, let's understand what guest posting is. Its definition won't be Greek to you.
Guest posting is publishing your content on external (third-party) sites.
Yes, an explanation is as simple as this. Yet, when used correctly, the effect guest blogging has to offer is really impressive!
Of course, you need to know how to work with this strategy. To learn everything about it, read this in-depth article about guest blogging use.
1. Better positions on SERP
Often, the main goal of guest blogging is backlink acquisition. And that's most probably what you come for when it comes to this activity.
Yet, let's talk about what meaning backlinks actually have. These types of links show search engines that your site is trustworthy and is a useful source of information.
To get the maximum results from the backlinks, you need to choose guest post sites by certain criteria. These sites should:
Be from your industry,
Have good metrics (Domain Authority, Domain Rating, etc.),
Have real online traffic,
Be authoritative in your niche or industry.
If you gather links from sites like this, search engines will understand you provide relevant and helpful information. That means Google, Bing, etc., will rank your site for specific users' queries.
Of course, there are a variety of ranking factors. Yet, the stronger your backlink profile is, the better.
Guest posting allows you to get links from the most fitting sites fastly and easily. This way, you will have positive dynamics in your SERP positions with a bigger probability.
2. Spreading the word about your business
Catch some fascinating stats. A whopping 77% of Internet users read blog posts. That makes guest posting a perfect opportunity to tell more about your company.
By reaching out to external blogs, you can expose your small business in front of a big audience. Moreover, it should better be not a 1,000-word article about how cool your firm is and a straight advertisement.
Well, of course, you need to talk about your company's benefits. But we suggest you do everything smarter.
Write stories about your brand. They make your company look more human and relatable. Also, get to know how the blogger you've chosen writes. Altogether that will make your content published on the third-party site more natural - just as if a blogger has recommended your company to their readers.
Also, you can write educational articles and show how your business can help. This way, you will provide value and show your expertise.
3. Website traffic growth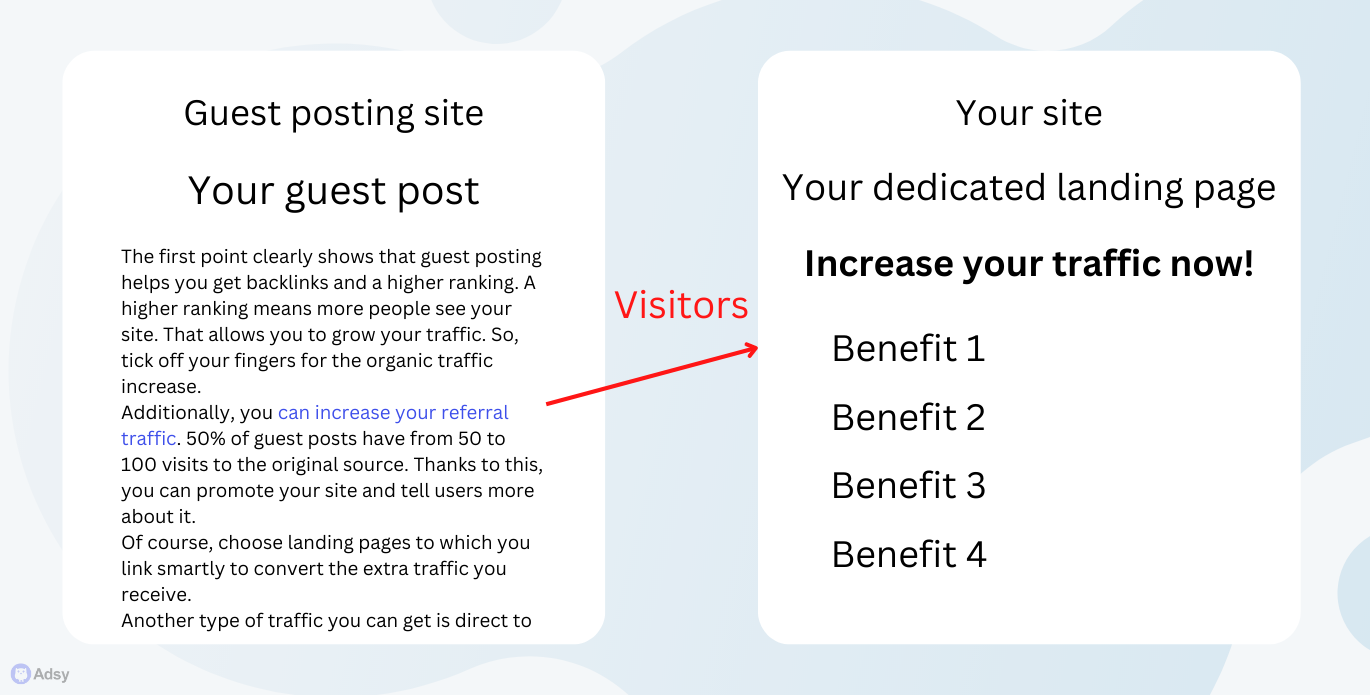 The first point clearly shows that guest posting helps you get backlinks and a higher ranking. A higher ranking means more people see your site. That allows you to grow your traffic. So, tick off your fingers for the organic traffic increase.
Additionally, you can increase your referral traffic. 50% of guest posts have from 50 to 100 visits to the original source. Thanks to this, you can promote your site and tell users more about it.
Of course, choose landing pages to which you link smartly to convert the extra traffic you receive.
Another type of traffic you can get is direct traffic. The point is that some online publications will not allow putting backlinks in the guest content. But you can still benefit from these posts. Readers can google your business if your content is professional and useful enough.
So, these were different types of online traffic you can get or increase thanks to guest posts.
4. Building authority in your niche
We've briefly mentioned that guest posting allows you to show your expertise. And that's an awesome opportunity, to be fair. Showcase your professionality and tell everyone what your small business is good at.
That will help you establish your company as an authority in your industry. As a result, you will notice more people reaching out to your site to find solutions.
To strengthen your expertness, thoroughly pick sites when you publish guest articles. Choose respected blogs or publications in your industry. If you can't afford to partner with big players, narrow down your search to niche blogs within your industry.
5. Reaching out to the right people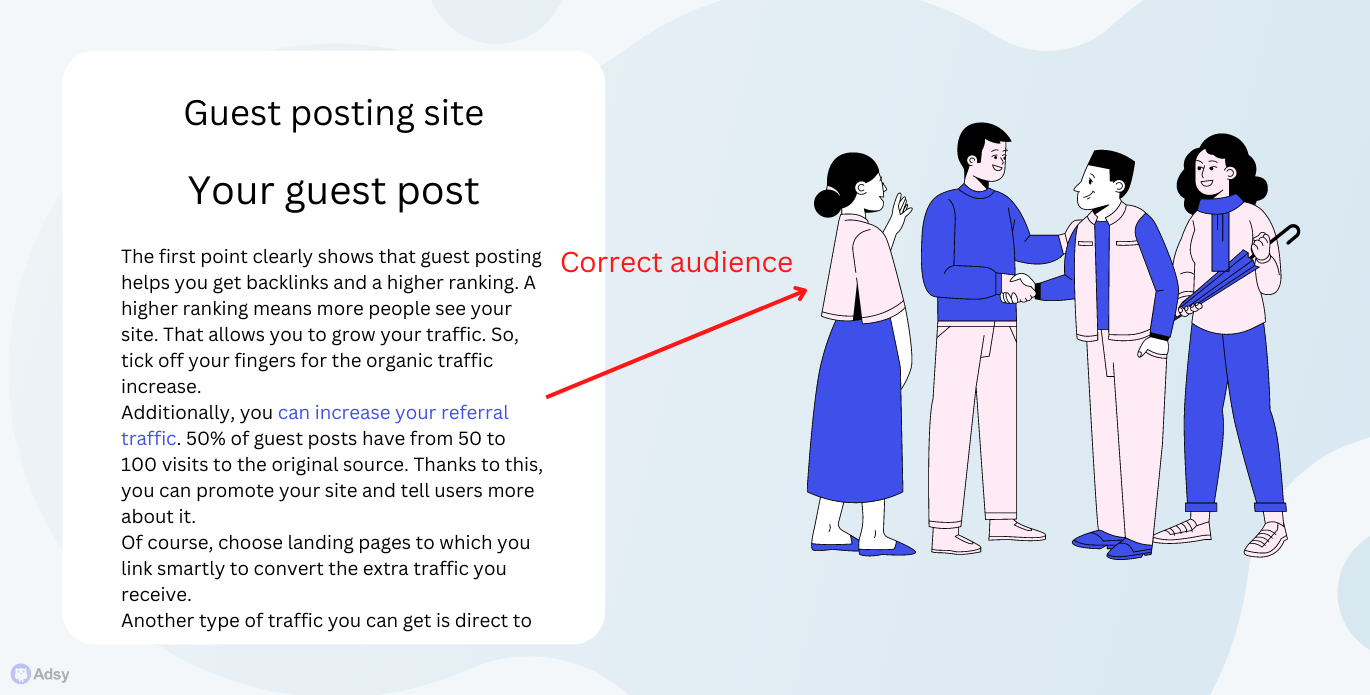 One of the successful guest posting pillars is partnering with blogs or sites from the same or very close niches. Picking sites from the same niche is essential not only from the SEO point of view.
It helps with the human side of the deal.
You attract the right audience to your site. That means guest posting brings you users that are already in this niche and are interested in your products or services.
So, even new visitors won't be complete strangers. Thanks to this, engaging with them and converting them will be much easier.
6. More social media reach
Another perk you can get without extra effort is growing your social media presence. 4.70 billion people use social media. Thus, it'll be superb to reach a part of them.
Our tip is as follows - when choosing guest posting sites, see if they have social share buttons and run social media. Then check what social media accounts exactly they have, and how active they and their audiences are.
Firstly, if the guest site's audience likes your article, it can share it on their social accounts. Secondly, if the site shares articles to its social media accounts, users can do reposts straight from the networks like Instagram, Twitter, LinkedIn, etc.
7. Cost optimization
On top of that, guest posting saves you money. Yes, you've heard it right!
But you can conclude this by taking a look at the advantages you get. Guest posting is so powerful thanks to its variety.
You can get your tasks connected with link building, brand awareness growth, and lead generation done simultaneously. That means you can skip other tactics if you are on a tight budget. And that's especially important for small businesses like yours.
Moreover, as you interact with the already knowledgeable and engaged audience, you can jump some steps in the sales funnel. With that said, you can get a buying customer with lesser spending.
Conclusion
Guest blogging is beneficial for SEO, customer relations, brand awareness, and overall brand establishment.
But what's more important it has a lot of perks for your small business!
Just with one strategy, you can reach a wide range of goals. To use this tactic with the full force, work with reliable guest posting service only. That ensures you reach top-quality sites easily and find the fitting prices just for your budget.
And now it's your turn. Share your opinion about guest posting. Have you used this tactic to promote your small business? Do you want to try it? Share your thoughts in the comments!
More Like This