Created on
May 5, 2021
| Updated on
September 22, 2023
35 Guest Posting Stats Every Marketer Has to Know
Guest Posting Tips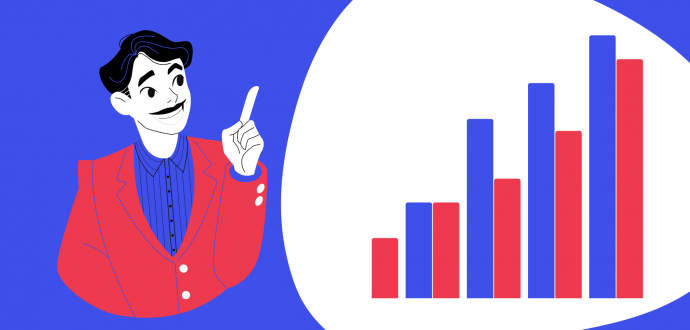 Guest posting is beneficial for your business. Point.
Nevertheless, you may wonder why.
Are you struggling to build quality backlinks? Do you want to grow brand awareness? Would you like to attract new customers?
The solution to these (and some other questions) is guest posting. It's like a magic wand of yours. Make the right spell with it and get your company some points.
We've helped hundreds of marketers and SEO specialists over the years. We've witnessed how they grow their ranks on search engines and develop their companies. So, we know for sure that guest blogging is working.
Anyway, we know that some people may trust numbers more. Therefore, we've gathered statistics to show you more information about guest posting.
Continue reading to learn how guest blogging influences lead generation, rankings, and other marketing aspects.
Contents
35 guest blogging stats every marketer has to know
How much content goes to guest posting
60% of companies write one to five guest posts per month. (Optinmonster)
3% of companies create more than 100 guest posts monthly. (Optinmonster)
6% of creators publish the majority of their original articles as guest posts. (Optinmonster)
7% of writers pitch to 100 or more blogs per month. (ReferralRock)
50% of bloggers pitch their guest articles over email to ten or fewer contacts monthly. (ReferralRock)
56% of bloggers place posts on multiple websites. (ReferralRock)
How trustworthy guest posts are
62.96% of readers think that blogs with multiple authors are more credible. (Optinmonster)
79% of editors point out guest content to be too promotional. (Optinmonster)
When is the best time to submit a guest article?
Guest posts are in higher demand during the summer months. (Optinmonster)
How guest blogging correlates with lead generation
Guest posting strategies can help to attract 36,733 email subscribers. (Neil Patel)
Jon Cooper attracted around 400 readers from a single guest post on Moz. (Neil Patel)
Bryan Harris created a full-time business that generates $15,000+ per month with a single guest post at Okdork. (Neil Patel)
Ryan Stewart of Webris attracted about 90% of his customers via guest posting. (BloggerJet)
Josh Steimle generates 25 leads a month from a single guest article that accounts for $50,000+ of his monthly revenue. (BloggerJet)
Leo Widrich of Buffer acquired over 100,000 clients for BufferApp through guest posting. (SearchEngineWatch)
Guest blogging provides 3x more leads close to conversion. (Adsy)
Guest posting allows a 75% increase in direct sales thanks to the hot leads. (Adsy)
Guest posts with in-content backlinks generate 387% more referral traffic compared to articles that only have links in the "author bio" section. (BloggerJet)
How guest bloggers interact with the content
52% of those who involve in guest posting personally write a post. (ReferralRock)
87% of those who involve in guest posting personally come up with the post ideas. (ReferralRock)
84% of those who involve in guest posting personally reach out to publishers. (ReferralRock)
85% of guest bloggers do the prospecting. (ReferralRock)
Who writes guest posts
37% of guest bloggers are the company's staff members. (ReferralRock)
8% of guest bloggers are freelance writers. (ReferralRock)
How guest blogging services can help
A guest posting service makes a guest blogging process 85% faster. (Adsy)
How guest posting influences SEO
Guest blogging boosts rankings thanks to 5x more weighty backlinks. (Adsy)
Guest blogging ensures an 80% growth in organic and referral traffic. (Adsy)
Guest blogging provides a 174% audience extension and brand awareness growth. (Adsy)
How content marketers evaluate guest blogging success
93% of content marketers tend to use page views as a success metric. (Red)
75% of content marketers say they use time on site as a success metric. (Red)
69% of content marketers share that they use social shares as a success metric. (Red)
How much referral traffic guest posts bring
15% of guest publications have over 100 visits. (BloggerJet)
35% of guest articles have 10 visits or fewer. (BloggerJet)
50% of guest posts have from 50 to 100 visits. (BloggerJet)
How much time copywriter spends on the blog article
A typical blog article takes 3.5 hours to write. (Adam Enfroy)
Conclusion
As you can see, guest posting is still an effective way to build links and attract new visitors.
Of course, every company engages with this activity differently. Some outstaff article writing, some use the inner resources to write guest articles. Some compose more posts, some create lesser content.
Nevertheless, guest posting as a growth strategy stays in demand.
The main point is to utilize this strategy smartly. That means you should consider several moments to ensure the guest posting success.
choose sites for guest posting that are from your niche,
use different anchors for your backlinks,
prefer high-DA sites for link building (but some DA15-35 sites may be good as well),
mind the site's monthly traffic.
There are quite a few things to take into account. But don't be scared as you don't have to do it manually. Luckily, nowadays you can use guest posting service's assistance.
That means you can set all the metrics you need to pick the best-fitting blog or site for publication. Then you can enjoy quality links, brand awareness growth, and ranking increase.
Do you use guest posting as a part of your content marketing strategy? Or, maybe, you plan on using it? Share your thoughts in the comments section, we'd like to hear from you!

More Like This