Created on
August 10, 2022
| Updated on
September 13, 2023
Why Storytelling Is Important for eCommerce
Content Marketing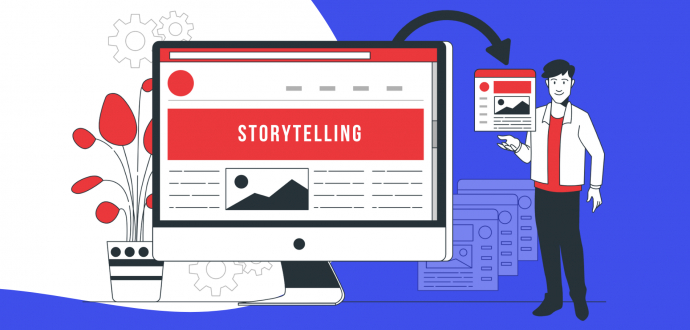 Can you guess why storytelling is so important for your eCommerce business? Don't stories work for books or movies only? After all, you are not a writer, so why should you even use them?
But what if we say that 63% of people remember the stories, not statistics? Or that 55% of customers more willingly buy the product if they enjoy the brand story?
The truth is that people don't want to see arrogant companies that translate only how great they are. There is no need to stay distant from your customers or be faceless. There are so many brands on the market that you need to stand out. You have to communicate some message, some idea to feel relatable.
In one of our previous articles, we shared what brand storytelling is. So, we recommend revising it to understand the basics.
Today we will talk about storytelling importance and what benefits it can offer to your eCommerce company. So, keep on reading to make your business shine and flourish.
Contents
Adds authenticity
There are over 26 million eCommerce websites out there. Sure thing, you already find your own niche and have clients. But is it possible to improve the results you have now?
Sure thing! And storytelling is here to help.
But firstly, think for yourself - would you engage with a company that only tries to sell? Why should you choose it over other brands? That brings us back to the image company manages to build.
Stories make companies more relatable. Businesses turn from generic stores to brands with a vision, history, ethics, and goals.
Put authenticity at the top of your mind. Share content that is relevant and interesting for your audience. Yet, don't try to exploit the same story over and over again.
In fact, you have lots of directions to make your company authentic.
Firstly, share your brand's history. Don't be afraid to share failures and pitfalls. That only makes it more human, not weak. Nevertheless, don't forget to show how you handle any possible issues and keep your brand thriving and developing.
Show who works for your company. When customers know who handles the business, it looks more transparent and trustworthy.
Share your values. Don't forget to say to your audience what your company stands for. Do you support a charity? Do you do anything for your community? Tell clients about it!
These little tips will help your company stand out from the crowd.
For instance, sports clothing giant Under Armour goes far beyond selling technology-led apparel and footwear.
On its site, it shares stories about how it makes young athletes' lives better by collaborating with sportspeople like Stephen Curry, Aliyah Boston, and so on.
Builds stronger relationships with customers
Customers are an essential part of your eCommerce business success. After all, it's them who decide to choose you over your competitors or not. So, how can you build stronger relationships with your current customers?
Trust us, every customer has a story that will be relatable to your other clients. So, make sure you share those experiences with your audience. But how do you collect them?
Use your social media and ask your buyers to share what they like about your brand and what problems your product or service helped to solve. You can use various incentives to encourage your consumers to share their stories.
Also, simply ask for feedback. Then let your copywriters create stories about what value your company can offer.
It would also be a great idea to link users' profiles who have told their stories. This way, current and new customers will see that your products really work.
One of the most renowned dermatology brands La Roche Posay shares stories of its customers and how its products help people overcome skin problems. The main storytelling format in this case is videos.
Attracts more attention
Now it's unbelievably hard to grab people's attention. We are so used to the fast food content that companies need to make an effort to make themselves noticeable.
Storytelling helps you keep your audience longer on your site. Moreover, it can help you build a lasting memory of your business.
Just imagine you hear a wonderful story that is emotional and coherent to your experience. You will probably want to know who created it. And even if you don't ready to interact with this brand right at that moment, the story will remain in your memory.
Don't be scared to try different content types. Use text formats, film short (or not short) videos, or employ podcasting.
Find what suits your company better and build a strong bond with your audience.
Dove takes its own spin on emotions and education. The company's main motto is "Every body is beautiful." They share this message through numerous articles and videos. This way, people build a strong connection with Dove as a brand that values any shape and form.
Increases your value
Often brand's value doesn't come to the actual price. It's rather a non-tangible part of your goods and services.
Of course, it's hard to create the perfect story from the first shot. As we said before, try and test different content formats to show how your products can enrich people's lives.
The one right strategy is demonstrating that you understand your audience's problems and pains. So, create a story showing how your goods can solve them. Share how people can reach their goals or fulfill dreams after using your products.
Another worthy approach is to appeal to emotions. Do you bake pies? Tell how baking was always a link for your family and how recipes were given from grandparents to parents and so on. Or, maybe, you have a heart-warming story from your buyer? Then, you can also use it to show your product's value.
John Deere is a world-famous manufacturer of agricultural machinery and heavy equipment. It has long history and traditions. And the company gladly shares the main pinpoints of its development. People can visit a museum and see John Deere's shop and even a family home.
Motivates to purchase
Write stories with an aim. As you've already understood, storytelling helps to build stronger relationships with your audience. Thanks to it, you show that you share a special bond with your customers as if they are a part of your family.
At the same time, you can create an incredible story that will gently lead your consumers to purchase.
Intuitive interface, fine-tuned payment processing, usable shopping cart, etc., are undisputable parts of your sales. Yet, building an emotional connection and convincing customers to buy through stories can build you a more constant flow of sales.
A great example here is Figs - a seller of professional wear for healthcare workers. They run an initiative called Threads for Threads. Its goal is to provide healthcare professionals with proper uniforms in resource-poor countries. This way, every time people buy from they buy from Figs they engage in a very essential cause.
Conclusion
There are a lot of eCommerce companies out there. It might be so hard not to get lots. And storytelling can be the way out for you.
Yet, to exploit it effectively, you need to understand that it's not a magic pill.
You need to work on your content strategy. Write stories, make them in different formats, and test what's working better for your audience.
Don't forget about visual erudition. Look at top brands to get instant inspiration. Appeal to your clients and workers to create lively and emotional stories.
And now tell us more about your experience. Have you tried to insert storytelling into your content marketing strategy? Would you like to try doing this? Leave your comment below.

More Like This