Created on
August 3, 2022
| Updated on
March 24, 2023
8 Affordable Social Media Tools for Small Businesses
Content Marketing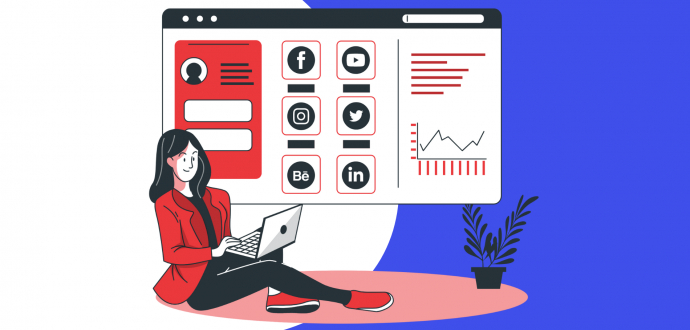 Believe it or not, 106.1% of some countries' population employs social media. The overall world's usage of social media is 58.4%. And that's a huge number too, trust us.
So, your goal as a small business owner is to benefit from this channel by building connections and growing sales. That's where social media tools come in handy.
It's really important to understand that you can use additional help to fine-tune all the processes. That's a lot of things you should take care of. Thus, it's always great to have digital assistants that save time and optimize content creation.
Today we are going to share seven social media tools for small businesses that we've tried and tested. Sure thing, there are lots more on the market. Yet, in some way or another, there are a lot of substitutes.
With that said, we've made a compilation of the most affordable tools, many of which you can run for free! Plus, read till the end to get an unexpected yet very useful bonus tool.
Oh, and don't worry about what content to post. Check 15 Content Ideas for Social Media to Use in 2022 to approach content scheduling fully prepared.
Contents
Visual social media management tools
According to Hubspot, 49% of marketers consider visual marketing significant to their marketing strategy. Nevertheless, the source also reports that 23.7% of content marketers find visual content creation challenging.
That's why we share two social media management tools that will 100% help you stay creative and consistent in visual content composing.
1. Canva
Many of you have heard of Canva. In our opinion, it's one of the best free social media management tools. Of course, you can say that there are paid plans here too. Thus, the free toolset is so various that you might stick to the cost-free option.
Canva allows working with all types of visuals - from images to infographics or videos. Perhaps, the option here is to stick to the features that help you work with pictures and gifs for social media networks. (After all, videos nowadays require a more peculiar approach).
What we find extremely useful is that this tool has lots of pre-made designs and also a blog with tons of useful design tips. Given that you run a small company, it's totally normal not to have an in-house designer. Yet, with a tool like Canva, you can still keep your social media posts looking professional.
The interface is intuitive, and it won't take too long to get an idea of how to use it.
We consider free features truly fulfilling. Except for pre-made designs, you can use already integrated Pexels for royalty-free pictures, Giphy for short videos, or you can also connect to other services like Google Maps, Iconduck, etc.
The service will suggest you fitting formats for different social media platforms. So, all you need is to click the fitting theme and start designing. If you feel creative or confident enough - you can create your own design from scratch.
If you still want to have more features, you can enroll in a paid plan. You can Canva Pro for $12.99 per month or $119.99 per year. We see this plan as an acceptable one.
By transferring to Pro, you will open more photos, videos, and icons. It will also be possible to remove background and reshape designs for various social networks.
Another perk is getting access to post scheduling. This way, you can share your content to seven major social networks straight from Canva.
2. Adobe Express
Adobe Express is another tool very close to Canva. That means we recommend using it for the creation of pictures, infographics, logos, etc. Adobe offers a free version of this program with a vast number of tools and features.
Every user is welcome to jump on Express's blog to learn more about the content creation process. Just choose the "Design" section to get inspiration and get some tips and tricks. Also, if you publish a lot of holiday content, be it Mother's Day or St. Patrick's day, Adobe has saved lots of suggestions for you.
Adobe has some cool features even in the free version. For instance, you can animate your design to make them more entertaining. Also, our team finds "Design assets" and "Background" tabs are pretty helpful if you want your images to stand out.
Also, you can start quickly by choosing from many different templates to fit your needs. Adobe allows you to create your own designs for Instagram and Facebook stories and posts, YouTube thumbnails, and so on. Pick any ready-made templates to customize them for your needs. Adobe has grouped the templates by topics like Business, Sales, etc., so it'd be easy to find a match.
Many online publications talk about the free background remover feature in Express. Well, we also find it worth mentioning, while many other services provide it for paid plans only. Nevertheless, when you use this option, you will notice the message that it comes free for a limited time only.
Anyway, there is still an option for you to buy one of the available paid plans. It will cost you only $9.99 per month, or you can pick yearly billing that is $99.99.
The paid plan gives you access to all premium templates, pictures, videos, and more. You will also benefit from 20,000 licensed Adode fonts.
Like Canva, Adobe Express's paid plan unlocks post publishing on various social media networks. You can schedule content for Facebook, Instagram, LinkedIn, etc.
Video social media management tools
According to HubSpot research, 54% of users prefer video content. No wonder video-centric platforms like Youtube or TikTok are thriving. Moreover, Instagram is making an algorithm giving preferences to videos. Moreover, all newly uploaded videos will be reels.
So, the video content you post should be pure joy for your customers. That's why we share the two best social media management tools for all things video editing.
3. Wave Video
As we understand from the name, this tool has a full set of features to make videos for your social media better. And that's highly important given the statistics we shared earlier.
No worries if you don't have previous experience working with video editing. Wave Video provides lots of video tutorials on how to work with the service. There are some essential tips like adding a voiceover or captions.
Anyway, the service keeps everything simple and intuitive. You have various pre-made designs at your elbow. With that said, you can use video templates for Instagram, Facebook, Pinterest, Twitter, and YouTube.
Another cool addition from Wave Video is a calendar with a variety of holidays in it. So, you can celebrate International Cat Day with an awesome video or celebrate dads during Father's Day.
To start creating, you can choose from any available designs or start from scratch. The templates are fully editable, so you can add your videos or images, change colors to the corporate ones, and so on. Moreover, you'll get access to plenty of royalty-free music pieces.
You can use this tool for free. This option will allow you to create up to 15 minutes of videos. Yet, all ready videos will include Wave Video watermark.
Nevertheless, you can choose from three paid plans. The Creator pack is the most beneficial, in our opinion. With it, you'll get up to 15 minutes of videos without a watermark. Moreover, it's possible to create captions and subtitles and remove the background if needed.
4. InShot
Here is another social media tool with a focus on videos. Unlike Wave Video, InShot is an app available for iOS and Android. Anyway, it doesn't make it any less powerful.
Once again, if you don't have previous video editing experience, the service got you covered. Simply visit InShot's TikTok channel. It has a huge collection of video tutorials and examples of what you can do.
Anyway, if you prefer YouTube or Instagram - the same collection of video tutorials is available there.
One really vital feature the InShot provides is an opportunity to make captions for videos. Trust us, you are losing lots of clients if you post videos without captions. NextTv reports that 92% of users view videos with the sound off on mobile.
So, if you upload any tutorials, funny videos, etc., where someone is speaking, closed captions are a must.
You can add them (and other stuff like music, stickers, and so on) by going to your app and uploading a video. Then you need to press the "Text" sign to start working on your captions.
Yet, after watching tutorials from InShot, we believe you get lots of inspiration to create your own stunning videos.
This service offers a three-day free trial. Anyway, the price is more than affordable. You can pay $3.99 monthly, $12.99 yearly, or pay $41,99 as a one-time purchase to use the app forever.
Automation social media management tools
Of course, we cannot leave you without social media scheduling tools. They are a must-have if you want to optimize your work.
Automation tools help you schedule content for all your social media accounts and keep them in one place. Thanks to this, you can stay organized and post consistently.
5. Buffer
Perhaps, Buffer will be the top social media scheduling option for small business owners. It's totally free for managing up to three accounts.
Thanks to this, you can get the most out of your social media. Plan your content a month ahead and choose the best-fitting publishing time. Even in the free version, you can pick multiple channels to post your content.
Also, Buffer runs one of the best blogs in the marketing industry. We totally recommend checking it to get lots of helpful pieces of advice on social media, engagement, lead nurturing, and more.
The scheduler is intuitive, and we find it really easy to use. Anyway, there is a Help Center if you need a little assistance. You can find it in the publishing interface.
Without a doubt, services like this save companies lots of time. But we still recommend enhancing your plan to get access to Analytics and Engagement. These are two beneficial features that can improve your performance.
With analytics, you will be able to engagement metrics for any of your social accounts, measure stories and posts performance, etc. An Engagement option, at the same time, will help you communicate with your audience faster and more effectively.
Paid plans start at $5 monthly per channel. So, it can cost up $20 per month if you run four accounts. Yet, you will get access to useful insights and statistics.
6. CoSchedule
This service has just announced a forever-free marketing calendar. So, that's the news you want to hear as a small business owner. But let's see what this tool actually offers.
CoSchedule is very similar to Buffer in terms of functionality. That said, you can connect up to two accounts for a free plan and schedule your content. Anyway, paid Marketing Pro plan is still affordable to take everything to new heights.
By paying $29 per month, you access extended features CoSchedule has. You can make use of the Analytics feature that provides reports for your accounts. Social media analytics tools like this one will give insights into your performance, engagement, growth, and what works better for your audience.
Another terrific option is ReQueue. Basically, it enables continuous publishing of your best posts to your social accounts and automates your recurring social promotions.
You can also create predefined sharing plans that are reusable. Also, it is possible to make a bulk upload of up to 365 social messages. All of these features help you automate your work and spend less time on planning and posting.
Another perk of CoSchedule is that you can use it not only for social media planning. In fact, you can put everything on the board and keep the data in one place. Blogs, current events, ideas from colleagues - let it be in the calendar, plus switch the dates if your plans change.
7. SocialBee
Here comes another affordable social media scheduling tool. SocialBee provides very similar features to Hubspot and CoSchedule. Yet, we can name its social media monitoring tools a bit more extensive.
But let's start from the beginning. To help its customers to sort everything out, SocialBee created "Resources," which is a knowledge base. Thanks to it, everyone learns more about how the service works, download helpful guides, or uses ready templates for better social media results.
The service offers a free 14-day trial; then, you need to enroll in one of the three paid plans. Two of them are really affordable - one is $19 and the other $39 per month.
SocialBee allows you to connect to all major social media networks. What's also cool is that you can integrate Canva to design your posts right within this tool. Yet, that's not the only thing you can integrate as Bitly, Unsplash; other programs are available.
Of course, the primary goal of this tool is scheduling. Yet, as we mentioned in the beginning, you receive an extensive analyzing and monitoring toolset.
With them, you can know your audience better. It's also possible to track your posts and page success over time. Learn what posts and content formats perform the best and stick to success cases. See when the most interactions happen to define the best posting time.
In virtue of all these features, you can create stronger social media campaigns and improve your metrics.
8. Snov.io
Known as an all-in-one platform for cold outreach automation, Snov.io is also a great social media tool in particular, for LinkedIn automation and sales prospecting on Twitter.
With Snov.io Li Prospect Finder, you can quickly find leads from LinkedIn personal pages, company profiles, or search pages, gathering their email addresses right to your workspace and preparing your further outreach. All you need to do is to download the extension and enable it when you are on a respective Linkedin page.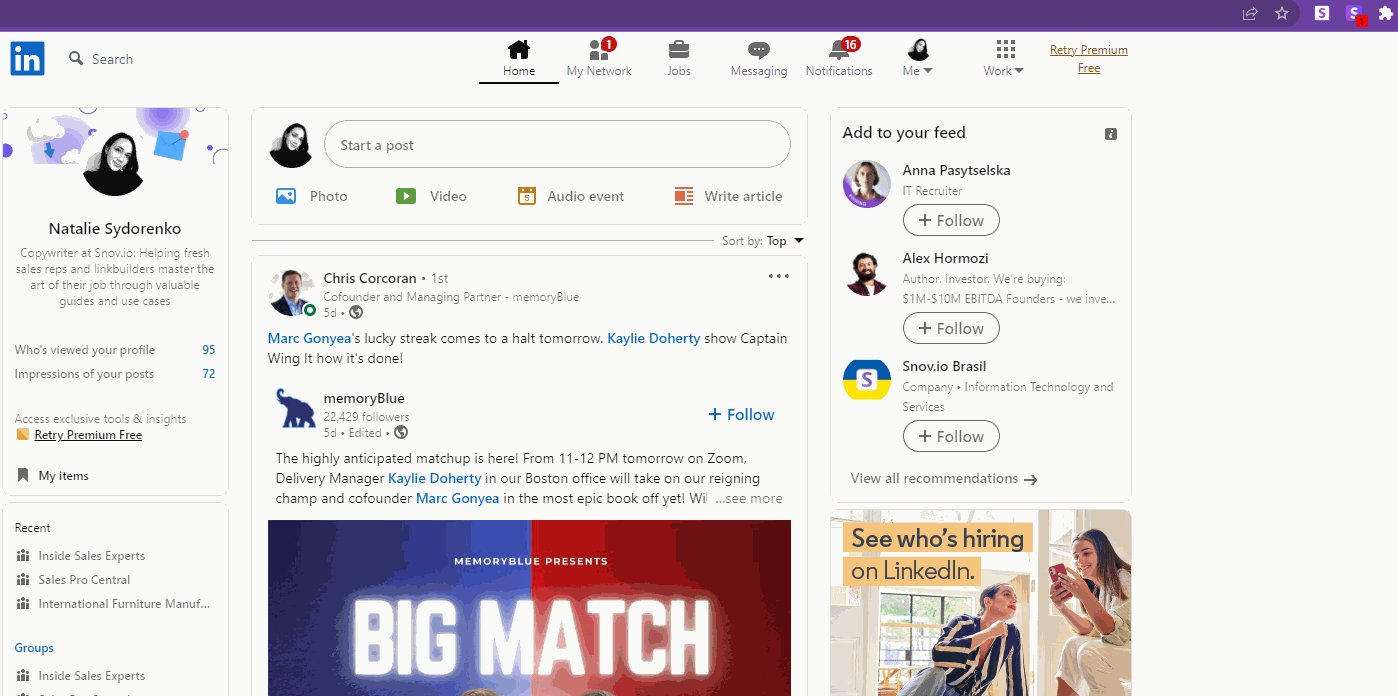 When needed, you can integrate Snov.io with LinkedIn Sales Navigator for more advanced prospecting opportunities or sync it to Phantombuster and Linked Helper to automate other social selling activities such as sending LinkedIn connections or messages, joining and performing in LinkedIn groups, posting your valuable content, etc.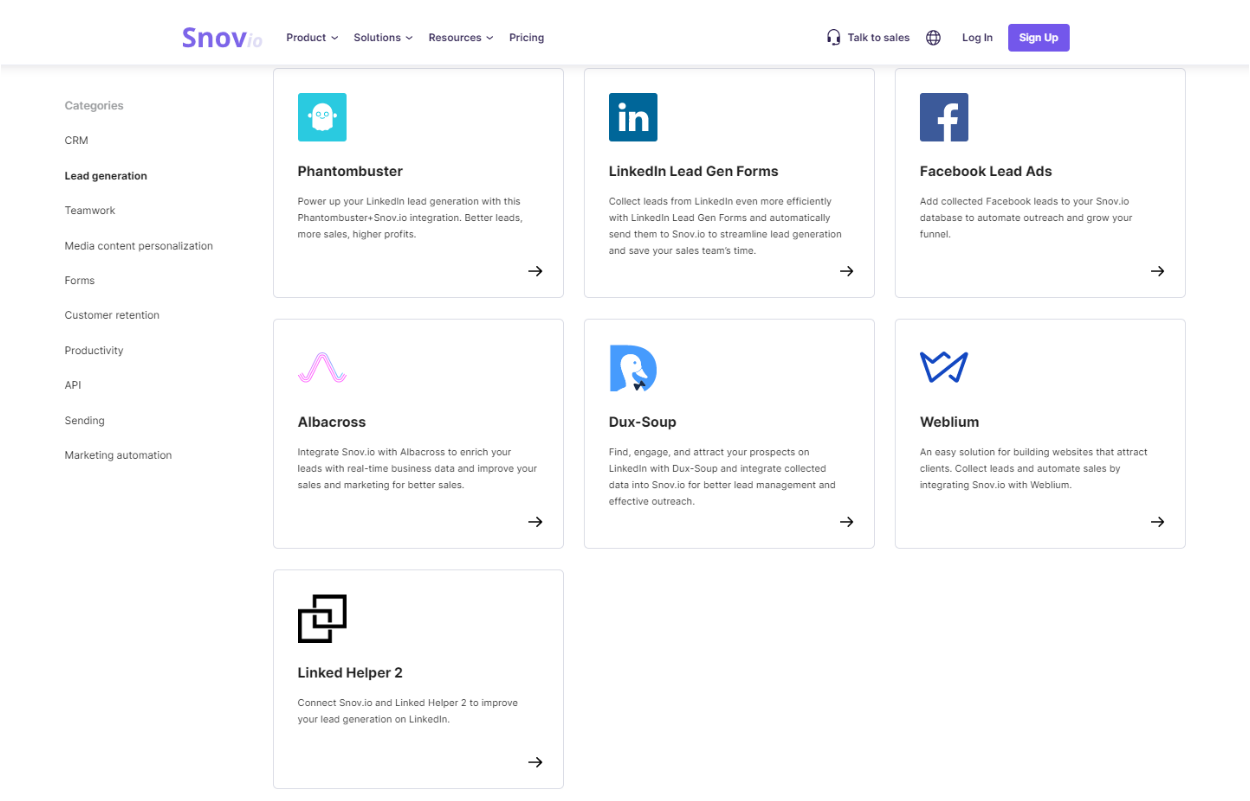 And if you want to find potential leads on Twitter, you just need to download another Snov.io extension – Email Finder– and gather leads in bulk within a minute of time.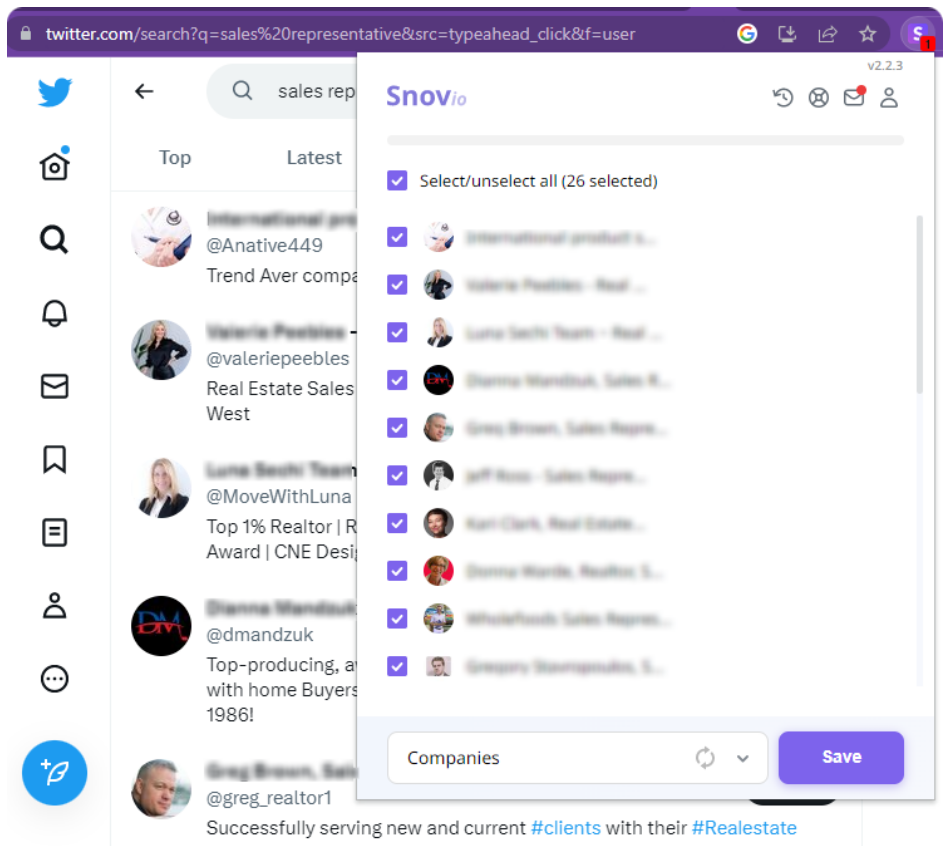 Snov.io offers you a forever free Trial plan, which allows you to find 100 unique email contacts. Paid plans start at $39/month and presuppose you get a package of tools – an email finder, an email verification service, an email outreach automation tool, an email warm-up, and a sales CRM all in one.

Bonus tool
And last but not least - our bonus tool. And it's actually an email marketing software. You may wonder why we put it among the best free social media management tools. Keep reading to get your answers.
MailChimp
Without a doubt, social media are one of the most powerful tools to connect with users. Anyway, you should be prepared for force majeure. Sure thing, we hope no pitfalls happen to you. Yet, it's always worth having a backup plan.
Sometimes social media accounts can get hacked. Or your account can get suspended.
Instagram growth expert Brock Johnson shares a story of when his company account was suspended for a week for no reason. Losing contact with 60,000+ followers could have gone bad for the firm. Gladly, the company still had 125,000+ email subscribers. So, the team avoided the situation that could harm a business.
So, it's when MailChimp comes to the rescue. It's an email marketing tool that is totally free if your send under 2,000 emails per day. We believe that's the right fit for many small companies.
You can create campaigns to reach your audience and tell them about updates, news, promotions, etc. MailChimp lets you create newsletters without a fuss by intuitive design and drag and drop option.
Yet, if you need more capacity, the next-step paid plan is also affordable. $11 per month, and you can send 10x more emails, do A/B tests, and so much more. It will allow you to use email marketing to benefit your business.
Conclusion
So, these are our go-for social media tools for small businesses. We decided not to go with 30 or 50 tools as some other blogs do.
Consider our recommendations as precisely checked ones in terms of functionality and price. We do understand that it's hard to fit everything into the budget.
Yet, there are some programs you have to use to improve your performance. Thus, it's vital not to go overboard with the price.
Pick the best-fitting options from editing, posting, and content creation tools to make your social marketing campaigns shine!
We want to hear from you. Tell us about what social media management tools you use and if they are on the list. Leave your comments in the comment section below.

More Like This