Created on
October 13, 2021
| Updated on
February 16, 2022
7 Holiday Content Marketing Strategy Tips (+ 5 Ideas)
Content Marketing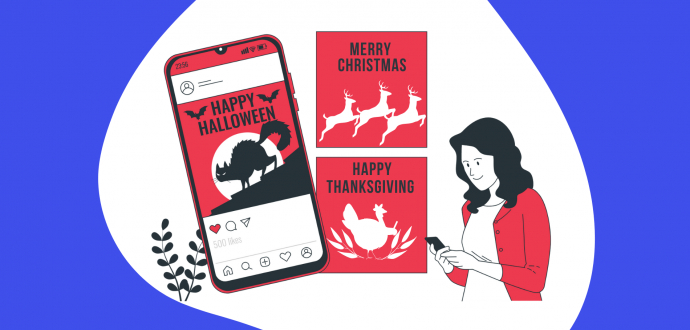 Holiday content marketing strategy is a must-have part of your overall marketing activities.
The closer the holiday season is, the more bright and catchy campaigns appear on the Internet. And it's obvious that yours should be among them.
Last year, users increased their spending by 13.1%, so people continue to shop despite the pandemic. Yet, the shift from brick-and-mortar shopping to the Internet one becomes more and more evident. And with 59% of people making purchases online, you shouldn't miss an opportunity to increase your income during the holiday period.
Before mastering your holiday content plan and strategy, don't forget about these elements:
Know your audience - define it and learn what it expects,
Check how your last year campaign performed,
Set goals for this year,
Set KPIs and measure ROI.
All in all, this will help you correctly evaluate your effort and achieve great results through the seasons.
And now, let's check what strategy to employ to make your holiday season successful.
Contents
1. Keep an eye on current trends
Well, it's pretty clear what holidays we celebrate. Yet, trends come and go each year. So, it's a smart thing to keep an eye on what's going on the Internet.
Firstly, let's talk about one trend that has all chances to become a new normal. And it's mobile shopping. It so happens that the mobile-first approach has taken the industry by storm. Now, Google ranks and checks everything based on the mobile in the first place.
And taking into account that nowadays, most of the population owns a smartphone and has access to the Internet, mobile shopping has become a common thing. Also, keep in mind that 64% of users appeal to mobile search before heading to the store.
On top of that, many studies say mobile and mobile app shopping rises during the holiday period. This way, your seasonal promotions must be optimized for mobile users.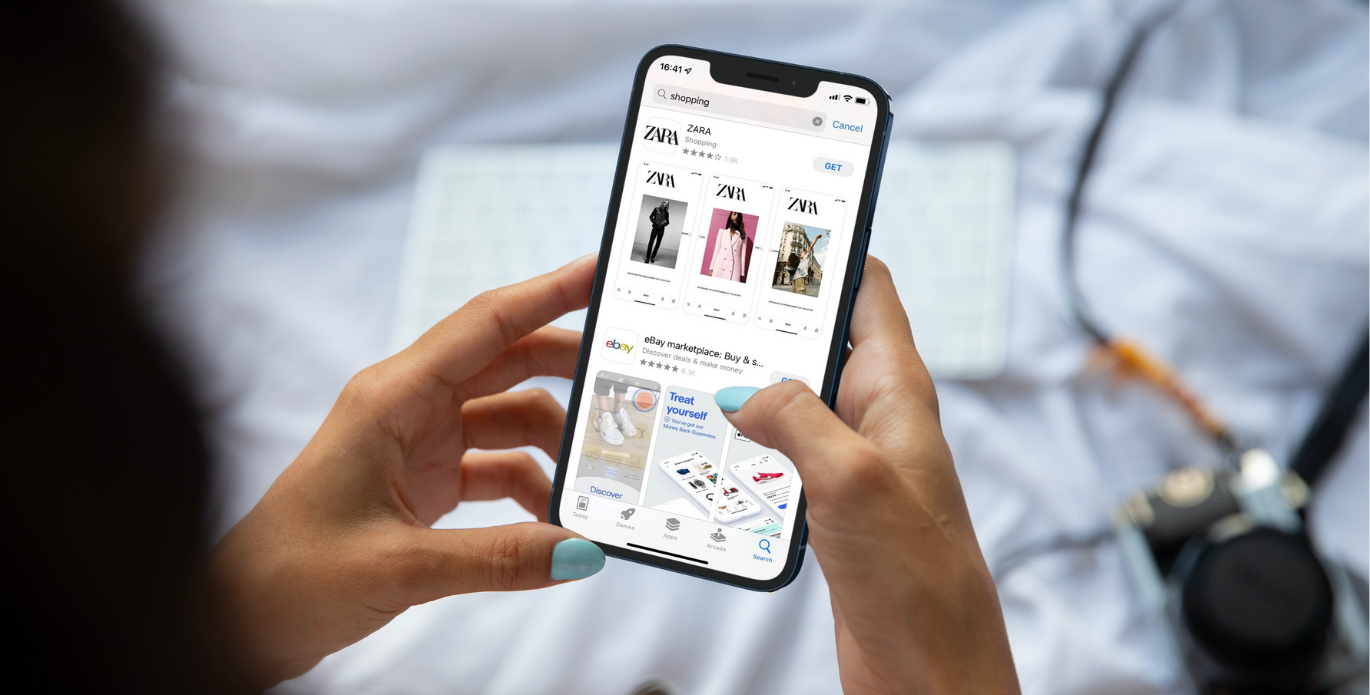 Besides, monitor what's going on in the Internet society.
Check Google Trends to have some ideas. Also, it will offer some keyword suggestions for your landing pages.
Are people discussing some holiday-related topics? Play on their interests and use them in your promos.
Don't forget about the booming network called TikTok. See what's going on there and try to trend there.
With that being said, try to ensure your holiday campaign matches all the users' inquiries.
2. Start early
It's vital to start your campaign weeks before the actual holiday date. There are a couple of reasons to do so.
People start shopping much earlier. In fact, CNBC reports that 27% of buyers plan to start purchasing Christmas gifts before the end of September.
Also, the pandemic has caused more purchases online, which makes it harder for your company to stand out. So, you have to ensure people can notice your brand, among others.
You also need time to re-design your landing pages to meet your holiday promotion ideas. A holiday-specific design leads to more engagement and, accordingly, conversion.
This way, you need to think out festive CTAs, design, an appealing message, and holiday offers. Also, do not forget to create pop-ups that will convince people to participate in a festive deal.
Your landing pages or articles also require an early start. That's because it may take up to three weeks for Google to index a new page.
Yet, there are ways to speed up the indexing process. Anyway, you should keep this step in mind to ensure people see your promotions in time.
Trust us, an early start will pay off. Of course, keep the launch of your promotions in the logical time frames. So, Christmas campaigns in June feel quite odd, while mid-October may sound perfect.
3. Revise your past holiday marketing strategy
In the very beginning, we've mentioned that you need to check your previous campaigns. And there are two major reasons to do this:
Avoid failure strategies,
Use and develop what was working.
This way, take a look at your past year's statistics. Include all channels you've used to reach your current and potential customers. See how they reacted to the campaigns you've had.
Moreover, thanks to past campaigns, you might have a stack of keywords that fit your goal. Revise them and add new ones that will trend this season.
Also, your past activities may inspire you and turn into new ideas to use this year.
Generally speaking, checking your previous promotions saves your time. Also, when you have a solid base of working approaches, you take your new holiday campaigns to a qualitatively higher level.
4. Create special holiday promotions
To run a successful holiday marketing campaign, you have to thoroughly think out your promotions. Perhaps, they'll take one of the biggest parts of your planning process.
There is a truly wide range of holiday deals you can use:
Discounts. That is probably the most popular type of holiday promotion. You can provide an instant rebate or the one active after a coupon code application.
Free gifts. Often companies offer freebies at the checkout when people buy a certain amount or a category of goods. Or it might be simply a free product the customer receives.
Buy 2 Get 1 Free. This promotion usually has strict rules on what goods and in what quantities a buyer must purchase to receive a free item.
Early access. Often companies open free access to VIP members or email subscribers. This way, such kind of promotion can enlarge your email base.
Free bonuses or rewards. Many brands offer multiplied bonuses for purchases during the festive period.
Free shipping. If you sell any physical goods, you can also provide totally free shipping for your goods during holiday time.
Giveaways. The holiday period is a perfect time to run a giveaway. Pick the products you will gift your consumers with in return for certain activities (likes, comments, reshares, etc.).
You can choose any of the available promotion types to pamper your customers. Regardless of your serviceable area, we are sure you can find a perfect match.
Lemax Santa's wonderland village

Remember that such promotions not only attract new clients but also make the current ones more loyal.
5. Engage all available distribution channels
Now it's time to think about how to create a content plan for holidays. Keep in mind that it should include all available distribution channels you have. In one of our previous articles, we've described how to build an effective distribution strategy.
Today, we'll give a holiday season touch to it.
Blog. Create holiday-themed content to drive users' attention to promotions you run. Gather keywords applicable to the upcoming holiday and create a post. Mention that you run a deal during the festive season.
Social media. Employ all social networks you have to tell customers about your offers. Use appealing pictures or videos to engage people.
Podcast. If you run a podcast, plan a topic that will unite your main direction with the promotions you plan. Leave a description with a link to a landing page if possible.
Email marketing. This is one of the most used ways of distributing your promotions to your audience. Create an engaging CTA and clearly tell what your offer is about.
Also, don't forget to use earned media to promote your holiday specialties. Such way, you can:
Partner with influencers. It's a great opportunity to cover a wider audience. We've described how to start your influencer marketing strategy effectively.
Guest posting. Don't forget that guest posting also allows you to enrich your audience by posting your content on third-party sites. Easily find relevant sites to post your article on and tell about promotions you have.
Of course, after picking the channels, don't forget to pick the right content type to fit the goal and engage your audience.
6. Advertise your campaigns
You can achieve stunning results when promoting your festive campaigns via own and earned media. Yet, we shouldn't forget about the paid media too. It can fix the result and give you more coverage.
You have a variety of options here.
You can start with good old Google Ads and expose your site on the top of the search. This tool allows you to show your site on SERP when users are looking for related products.
Also, we recommend advertising your videos telling about promotions you have. That's because 66% of users claim they favor watching a short video to learn about a product or service.
Use platforms like Youtube, Instagram, Facebook, and TikTok to promote your content. Remember that videos are the most persuasive when it comes to selling your products.
7. Revise your results
To get the most out of your holiday marketing activities:
Don't forget to monitor your progress.
As your campaigns are running, check how they perform.
Compare the current results with what you've expected to get.
Decide on if your campaigns need slight changes.
Also, be ready to answer customers' questions or fix mistakes, if any.
Then gather all the data after the campaigns finish. Finally, analyze the results you've received.
Have you set the correct KPIs? Does the ROI satisfy you? And notice that the analysis you've had can help you with the vision for the next holiday content marketing strategy.
Holiday marketing ideas
As promised, we are going to give you some stunning holiday marketing ideas to fuel your creativity. Use some festive tips used by some big brands to create something unique for your company.
New Look
We could post an email with a coupon code inside. But look how unusually New Look makes customers click on the button.
Microsoft
Microsoft shows a great example of how to create a well-worth Black Friday landing page. Everything is here - the date of the event, the countdown, and the featured deals.
Lenovo
Lenovo does an extraordinary job with its Christmas campaign. It not only showcases a product but also appeals to what is important during holiday seasons - kindness, compassion, and unity.
Hotwheels
User-generated content works perfectly for campaigns. Especially, when it's Thanksgiving and you treat your customers as a part of your family. Sharing creative pictures of your followers is a great tip, so keep it among your holiday promotional ideas.

The Folio Society
Super simple yet working approach by The Folio Society can be your inspiration. Create a festive tweet, telling about the discount people can get and leave the link to direct users to the landing page.
Conclusion
The holiday season gives an amazing opportunity to attract new clients, build loyal relationships with the current ones, and earn more.
But to do this, you need to follow some instructions. That's why we've created this guide to help you get the most out of your holiday marketing strategy.
Use the tips from this festive guide to getting better results during the holiday season. Remember, major holidays like Halloween, Thanksgiving, Black Friday and Cyber Monday, Christmas, and New Year are coming very soon. So, you'd better be prepared.
Tell us, what ideas have you liked the most? What tips would you like to use in your holiday campaigns? Leave your comments, and let's discuss!

More Like This