Created on
March 30, 2022
| Updated on
September 15, 2023
15 Content Ideas for Social Media to Use in 2023
Content Marketing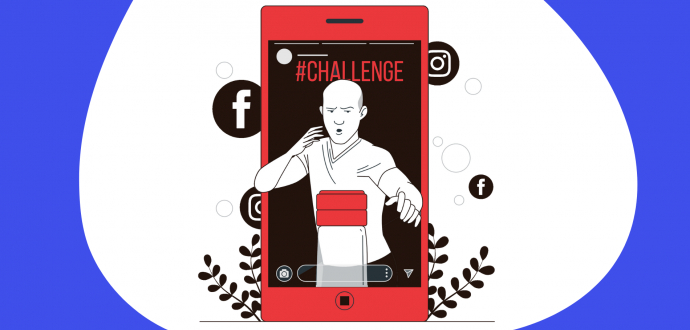 58,4% of people use social media. That's 4.62 billion people, for a minute.
We all got so used to scrolling through social media that it has become our routine. Yet, it is an everyday normal not only for us users but also for companies.
But why is social networking so essential for brands? According to Marketing Insider Group, we can highlight four main reasons:
Receive more attention and grow brand awareness,
Communicate authority,
Share the brand's personality,
Encourage interaction and start an instant conversation.
And taking into account a huge quantity of social population, it's highly possible that brand can grow their presence online.
It is possible to highlight the eight most widely used social networks. Look at the statistics, SmartInsights provides.
As you can see, you can actively use Instagram, Facebook, Youtube, X (ex-Twitter), and other channels to promote your business.
Yet, after all, what posts should you share to attract customers? Today, we are sharing 15 content ideas for social media that can help your company glow.
Contents
1. Your blog posts
A blog is an important part of a successful business. You should take it as an axiom.
In fact, companies that run a blog get 67% more leads per month compared to companies without a blog. So, if you don't have a blog, we advise you to consider starting it.
After all, your company's blog is a perfect content source for social media.
You can simply promote your article via social media channels. That said, you can describe your article and give a sneak preview of what's inside. This way, you get a double profit - you will cleverly distribute your blog content and have a ready post on social media.
Or you can share some statistics you've mentioned in your article or create some cool quotes. To be fair, opportunities here are almost endless.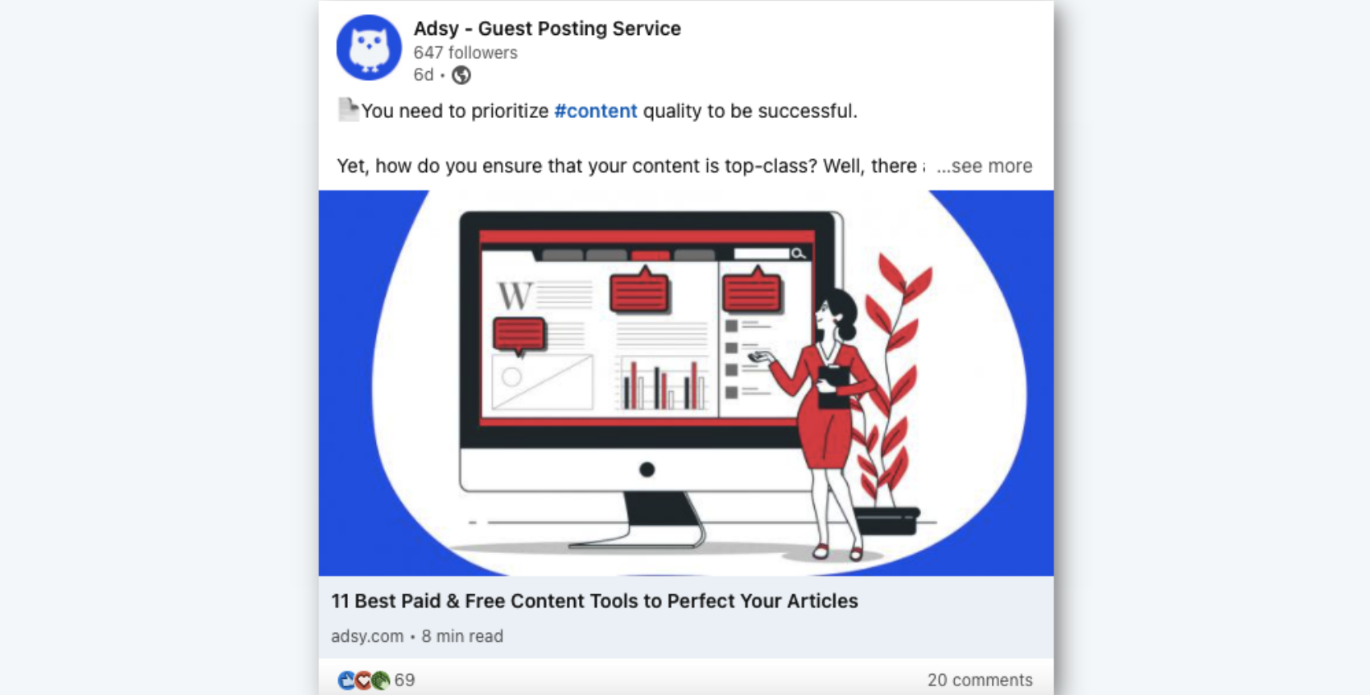 2. Industry news
People are overflooded with content. That's the sad truth.
Why sad? Well, because it makes it harder for you to reach your audience with your posts. Is there a way out? Of course, it is!
If you know your audience well enough, you can share something that really matters to them. Exactly if you have developed a buyer persona, you can win people's hearts. Creating content for social media, in this case, becomes clearer for your team.
Feel free to share top industry news and statistics. Find some great insights that will wow your followers.
Has your company done something amazing or just dropped a report?
Turn this content type into a compelling and informative post.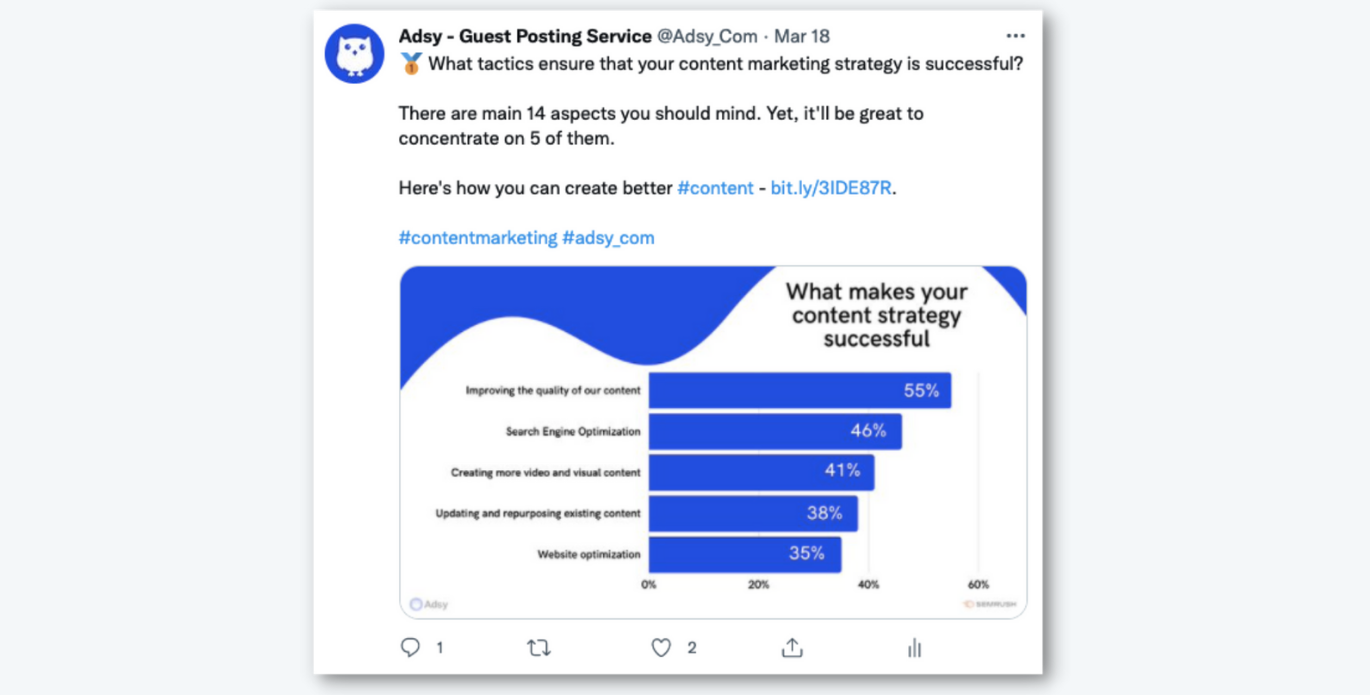 3. User-generated content
One of the reasons that stay behind running social accounts for companies is brand awareness growth.
Content creation for social media can be surprisingly easy for you in this situation. And all thanks to the user-generated content or, in short, UGC.
Your goal here is to find content your users share and repost them to your feed. Sure thing, these photos or videos should match your style.
To ensure you have something you can repost, do some simple steps:
Ask your audience to tag your account in their posts,
Create a special hashtag to detect and find the posts easily,
Ask to write a short review or testimonial, if applicable.
Such content can increase customer engagement and loyalty, besides brand awareness. Moreover, it can benefit your sales, as nowadays people tend to trust buyers just like they are.
By the way, you can check how to work with UGC by scrolling through Daniel Wellington and Forever 21 accounts.
4. Social causes
For instance, millennials and Gen Z are up to social causes and making a positive impact. So, it's highly likely they will support brands with similar visions.
Are you helping to make the sealine cleaner? Do you support animal shelters? Do you engage in eco-friendly initiatives?
Then tell your audience about it! The types of content for social media posts like these can be diverse - from feed posts to stories or even live streams.
Such kind of content can really be beneficial for you.
Let's agree there are lots of goods and services that can substitute each other. That said, you can buy a t-shirt from one brand or an identical one from another. But you can drive shoppers' attention to your company thanks to engagement in social causes.
Appealing to people's emotions is an effective way to stand out and attract attention.
5. Polls and questions
88% of marketers report that interactive content stands them out from their competitors.
What is it, if not a sign to use content like this?
And exactly polls or quizzes or questions can help you increase engagement on your social media profiles. Nowadays, it's super easy to create such a type of interactive content.
Perhaps, the best place to use this tactic is Instagram. You can involve your followers in various activities, tell them more about your company, and get instant feedback.
You can build this content around your brand. Or you can go beyond and integrate some hot and trending topics to involve a new audience.
6. Less salesy content
If you represent a product company, your final goal is to sell a good or service. But this doesn't mean all your posts should be selling.
Refer to the golden 80/20 rule. That said, 80% of your posts should be entertaining, educational, useful, etc., and only 20% promotional or selling.
That will help you balance your account perfectly.
Help your followers understand your products better without urging them to buy everything. Tell stories related to your industry. Celebrate some milestones.
We mean, there are a lot of topics you can cover. Make sure they are interesting for your audience, anyway.
And leave some space for your promotional posts. Prepare high-quality visual content, tell why your products are so good and worth buying.
7. Company videos
54% of users prefer to see more video content from the brands or businesses they support.
Moreover, video content shows more engagement. So any kind of video is highly appreciated!
You can share videos in posts if you are using Instagram, Facebook, X (ex-Twitter), LinkedIn, etc.
You can create videos for stories - on Instagram or Facebook.
Host live videos - also on Instagram, TikTok, or Facebook.
Somehow, different social media networks can offer something different. But the strategy stays the same - create a high-quality video that will tell more about your business.
That's how you can let your buyers "inside." You can show some of your company's processes. You can create detailed guides on how to use your products. Generally, you can tell people more about your brand's history.
8. Special offers
Do you host any promotions? Are you ready to give out some freebies? Then it's a perfect time to share this information with your customers via social accounts.
Create engaging and qualitative visual content to support this event. It can be a photo or a video.
In the post, tell what deal is live now and how your audience can get a discount or a free product. Make sure the rules of your offer are clear. Don't forget to state the time frames to avoid any misunderstandings.
This can be the most engaging content for social media. You can not only pamper your loyal customers but also attract new ones.
9. Memes and GIFs
Don't think memes and GIFs are childish and have nothing to do with serious business. Vice versa, you can break your typical content and offer something entertaining.
Moreover, there are always the right memes for different generations, trust us. The point is to do research.
Besides, short videos (gifs) and memes are real "living organisms" as they react fastly to the most current events.
So, you can look through some trending memes and re-work them to match your goals or tone of voice.
10. Customers' reviews
As Inc. puts it, 84% of users trust online reviews as much as friends. Wow, that's a hint! But you can use this fact in your favor.
We are sure you provide quality services, and your products are stunning. So, you should have a dozen of good reviews. Let's use some of them as a part of your social media content plan.
Ask your designers to make a cool visual using the testimonial or create an image yourself by utilizing a special online tool.
Another option is to make this review user-generated content. Basically, you can re-tweet positive mentions on Twitter or re-share on LinkedIn.
All in all, it's another helpful content idea you can employ.
11. Tutorials
Nowadays, customers appreciate any kind of educational content. It is the best way to know how to use your services, how to work with new features, and so on.
Content ideas for social media are truly limitless. That's why you can use any convenient way to create tutorials for your customers.
It can be videos - long and short or even live. Also, you can create stories by translating the step-by-step guides. Everything depends on your creativity and budget, to be honest.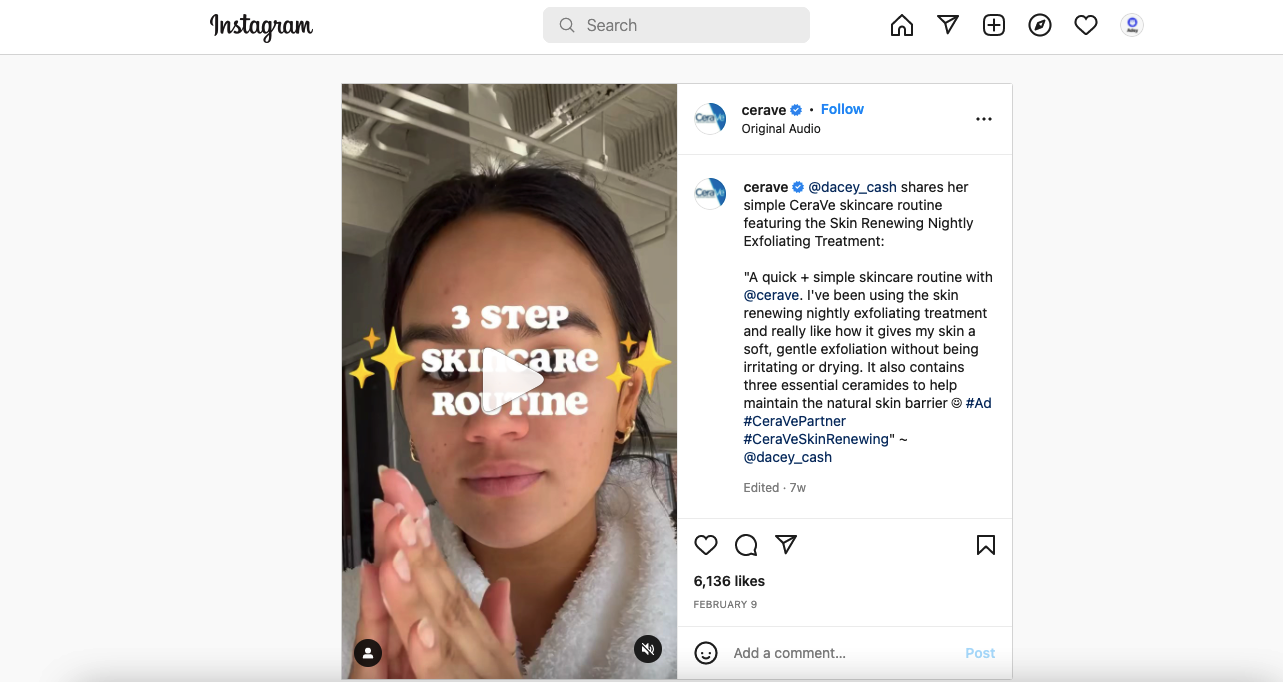 12. Holidays
There's no need to ask how to create content for social media if there are some upcoming holidays. All the festive events can be a perfect source of content.
Mainly, you have two tactics. You can build your strategy based on major holidays like Christmas, New Year, Easter, etc. Or you can integrate some cool holidays into your content strategy.
For instance, there are lots of unusual holidays that can match your business and make sense. If you sell animal supplies, you can make posts for National Puppy Day or Take Your Cat to Work Day.
Posts can vary as well. It can be a promotional post offering special holiday discounts. Or you can create something special to grow brand awareness and tell some heartwarming stories.
13. Your company's life
Consumers want to see that real people stand behind their products.
So, as we've mentioned earlier, giving a sneak peek into your company's life is an awesome idea! Of course, there should be a balance. Don't show your routine life as it won't probably get too much engagement and can turn followers away.
Instead, you can show what processes stand behind your audience's most loved products. Have you just hosted a mind-blowing corporate event? Then show how your employees can have fun!
Humanizing your brand can help you build a stronger bond with your audience.
14. Infographics
84% of Internet users who have checked infographics consider them to be helpful. Thus, you can confidently use this tactic.
Users remember visual-based information much better. Moreover, they make purchases more eagerly when persuaded by visual content.
Besides, infographics are multi-purpose. You can offer industry statistics, your company timeline, or educational material through this content form.
Perhaps, the best social network where you can use infographics is Pinterest.
15. Events
Do you host or take part in events? If yes, we highly recommend sharing this information with your subscribers.
There are a couple of reasons for this. Firstly, you share that you have a proactive position, are eager to network with colleagues, and increase your professional level. Secondly, that can be a chance to meet with your buyers face-to-face.
The best social media sources to share your event participation are LinkedIn and Facebook. There is special buttons "Event" for Facebook and "... > Create an event" for LinkedIn.
Conclusion
Social media networks are a powerful tool when it comes to customer acquisition, building brand awareness, and growing customer loyalty.
We hope these 15 content ideas for social media will help you fill up your content plan. Thanks to repurposing content for social media, you can use articles, infographics, ebooks you already have to create new content pieces.
Think of what social networks will work better for you. Set goals and tasks for each network. Use our content suggestions to create helpful, engaging, and fun posts for your audience.
Do you run social media accounts for your company? Do they bring the results you've expected? Share your thoughts in the comments.

More Like This