Created on
July 13, 2022
| Updated on
November 10, 2022
5 Steps to Social Media for Small Businesses + Monetization Tips
Content Marketing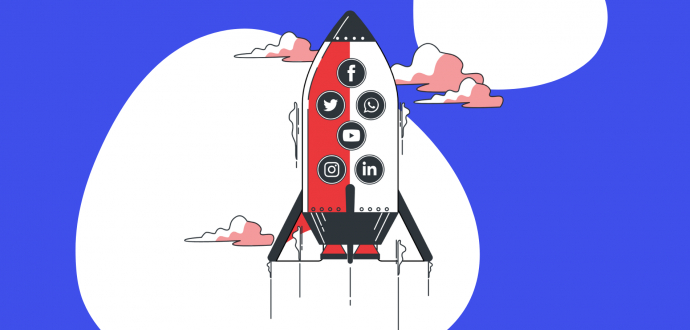 Social media gain 13.5 new users every second. And now try to scale this to a number of users per minute, hour, day, and so on. That brings us to 4.62 billion global social media customers (and that equals 60% of the world's population).
What do these numbers mean for small businesses? Well, some part of social media users can be your followers and, possibly, buyers.
That's because social media has become a part of the sales funnel, and you cannot handle a successful online business without running social media account.
In this article, we will share how to start your social media journey. Plus, you'll learn more about the monetization of social media.
Contents
Why does your small business need to run social media?
There's some valuable information that gives a solid reason to run social media for your company.
78% of Gen Z discover brands via social media,
61% of Millennials learn about firms via social media,
56% of Gen X find companies via social media,
35% of Baby Boomers learn about companies via social media.
We think that leads us to a pretty logical conclusion. Your brand misses lots of potential without social media accounts.
Moreover, the average time spent on social media is around 2,45 hours per day, according to Statista. Users from the USA and major European countries spend approximately two hours per day on social media. This way, you have enough time to reach your potential customers.
By using media platforms, you can satisfy users' needs. Hootsuite provides the following reasons why people use social media.
Based on the data, you can target 26.3% of consumers who want to make purchases. Yet, we recommend diversifying your content and being creative. See what users want to find and provide them with this content.
In fact, we've gathered 11 main reasons businesses should run social media accounts earlier. So, read the article to learn more about the benefits you can get.
And now, let's move on to the strategy you should follow to build social media coverage for your small business.
1. Choose social media platforms
Your first step is to define the social media platforms you are going to use. Facebook, Youtube, Instagram, TikTok, Snapchat, and Twitter remain among the most popular social media platforms.
Does it mean you need to use all of them? Well, most probably not.
To understand what platforms are the most valuable for you, you need to know your target audience. Based on this, you can create accounts. But, first, let us share some helpful statistics with you.
This is very detailed information regarding sex, age, level of income, and education. This way, you can get an idea of where your potential customers spend their time.
Here is another piece of data, yet about global users.
This table offers you a broad understanding of what platforms male and female users of different ages prefer.
Anyway, the good news is that 76.1% of Instagram users employ social media to search for brands.
Thus, it's also essential to understand the essence of each social network. For instance, Instagram is famous for its aesthetical content. Yet, in the current time, more users expect to see funny content. In turn, TikTok is renowned for dancing and lip-sync videos with the majority of young female users.
So, the point is to know your audience perfectly. Precisely this will be your starting point when choosing a fitting social media network.
2. See what your rivals are doing & do it better
You can start your way into social media marketing from scratch. Or you can spy a little bit and check what your competitors are doing.
After you've made up your mind about the fitting platforms:
Jump on your competitors' pages.
Check if they employ the same networks as you.
See what social media platforms work better for them.
You can get a general idea by scrolling through your competitors' profiles. Define:
what hashtags they use,
what type of content they post,
what tone of voice they use,
how they interact with customers,
how often they make posts.
Or you can use special tools like Semrush to see how similar brands are doing on social media.
Let's imagine you run a small clothing brand. You can simply create an account with Semrush, go to the Social Media tab, and start analyzing!
Add your competitors' social accounts to learn more about their activity, following, engagement, used hashtags, and so on.
All-in-all, upload various competitors' accounts to get the entire information. Use the Social Media Tracker option to get an overview of your rivals and detailed info about each social profile.
3. Create a content plan and content
After you get a sneak peek of what your competitors are doing, start working on your own content strategy. Create a content calendar to be consistent with your posts and keep everything structured.
You can use the good old Google Sheets to build up your plan. It's really comfortable as it allows you to keep everything in one place and also collaborate with your colleagues.
After this, you can use automation tools like Buffer, Semrush, Later, etc., to post your content on social networks. This will save you a lot of time. All you need is to transfer your posts there and plan at what time the system should post your content.
An important notice for the small business owner is that some automation tools offer free trials on plans. After a trial period, you can use some of the services for a fair price. So, no need to spend a fortune on some helpful tools if you want to optimize your processes.
Now, let's move to the content. After looking through the competitors' accounts, you get an idea of what you should do. Yet, do not limit your creativity to only what you've seen.
Try new approaches, elaborate on our tone of voice, and see what content types are more engaging. For instance, according to Hootsuite:
Instagram posts get a 1.18% engagement rate,
Instagram videos get a 1.5% engagement rate,
Instagram carousel posts get a 3.15% engagement rate.
See how everything will be working for you. Come up with different post combinations. Based on the response, fill up your content plan.
Moreover, we've saved some awesome content ideas for your social networks. Check 15 content types you can employ to reach your audience and be interesting to them.
Pro-tip. Follow huge brands from your industry. They can be a constant source of inspiration for you.
4. Engage with your audience
One of the tremendous benefits of social media is the opportunity to communicate with the audience. Your brand can do this timely and in a friendly manner as if your followers are talking to their friends.
Forbes reports that 70% of businesses surveyed rely on social media for customer engagement.
You can learn more about your clients by asking them questions and creating polls and quizzes. Besides, you can receive their feedback by offering them to share their thoughts thanks to various features many social networks have.
Yet, maybe the main point here is that customers can reach you easily and do everything in real time. That's why it's very important to be present on some of the most used social media.
Also, this media lets you solve conflicts (if any) in a speedy fashion.
5. Work with influencers
Would you like to hear the freshest social media trends? Brands can connect with new audiences, earn their trust, and gain cultural capital when partnered wisely with creators.
As we multiply wrote in our previous articles, people (especially Millennials and Gen Z) tend to trust influencers more.
Hootsuite reports that 51% of Gen Zers confirm that they are more likely to purchase a product because a celebrity recommended it. And taking into account that this generation is demographically the largest one right now, you cannot ignore this message.
In fact, influencer marketing is such a huge thing that it reaches:
2.3 billion dollars of the market size for Instagram,
6.6 billion dollars of the market size for Youtube.
The global value of the influencer marketing market size reached 13.8 billion dollars last year. And the numbers will grow, trust us. And remember - influencer marketing can be a bridge between you and your customers.
Anyway, huge numbers like these shouldn't scare you off. Social media do not only consist of bloggers with more than a million followers. You can still create a strategy that fits your budget.
That said, we recommend you build relationships with micro-influencers (1,000-100,000 followers). Here you can get more beneficial conditions and reach a more engaged audience.
Besides, we already have a guide on how small businesses should build an influencer marketing strategy. So, make sure to check it.
How to monetize your social media
Of course, social media can provide your small business with lots of benefits. One of the primary goals can be brand awareness growth. Yet, there is a great communication channel too.
Nevertheless, social media helps to reach one vital goal - and that's the company's income growth. The simplified version of it looks like this - you get followers, they become a part of your loyal audience, and they make a purchase from your brand.
Yet, it's never odd to use additional social media monetization options. With Adsy, you can be a thought leader yourself!
With the particular option called "My social media," you can monetize your accounts. If you wonder how to get monetized, we say that it's easy as one-two-three.
All you need to do is create an account and go to "My social media,"
Add your business's social media account(s),
Receive requests from site or blog owners to place sponsored content on your account.
We believe you find this feature helpful, as getting additional income wouldn't go amiss.
Conclusion
Social media is now one of the primary channels for brand research. To attract customers and win their attention, small businesses should:
run social media profiles,
know their audience,
run a well-thought strategy.
With 4.62 billion users who spend around 2.27 hours per day on social media, it's a perfect chance to reach your potential customers.
Take into account each step we've described above to get the most out of your social media. Remember that now it's not about the company's size and budget. Right now, you should be a creative thinker with quality content that takes into account users' interests and needs.
Tell us more about your small business! Do you run social media, and what platforms do you use? Are you getting the results you've expected? Leave your comments down below, and let's chat.
More Like This