Created on
November 2, 2022
| Updated on
September 13, 2023
Why Your Site Should Be Mobile-Friendly + How to Test It
Content Marketing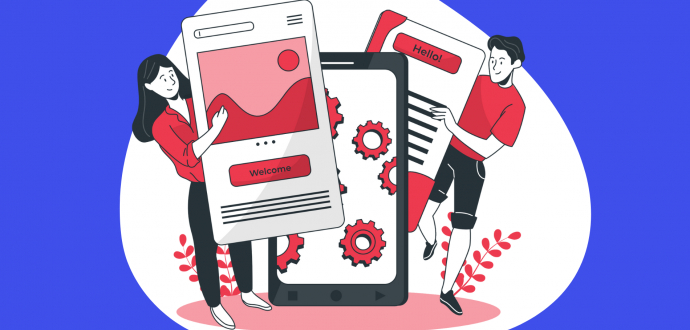 Many companies wonder how to make a website mobile-friendly. And that's the right thing to do. As of July 1st, 2019, Google has introduced mobile-first indexing.
What does this mean?
The search engine uses the mobile version of the content to index, evaluate, and rank the site. The shift is understandable. According to Statista, mobile accounts made up 58.33% of web searches in the first quarter of 2023.
Moreover, the number of unique mobile internet users is 4.32 billion. That means that 90% of the global internet population uses a mobile device to go online.
That makes the switch to mobile-first indexing highly logical. Search engines always strive to provide their users with a top-notch experience. And this should be your primary goal as well.
So, let's see why your site should be mobile-friendly and how you can test its friendliness.
Contents
What it takes to be mobile-friendly
To put it simply, mobile-friendliness means your site looks and performs well on smartphones (and also tablets).
Of course, the main goal is to provide users with a qualitative and smooth experience.
Sure thing, there are lots of factors that contribute to a site's mobile friendliness. Yet, the main elements that can mark your success are speed, simplicity, and ease of use.
Google gives more in-depth information about how to make a mobile-friendly website. You should concentrate on the six main elements.
Content should be equal on the desktop and mobile versions. You should provide the same amount of content on your mobile and desktop sites. Though the design might be slightly different to serve UI/UX, the content shouldn't differ drastically. Plus, keep the same clear and descriptive headings.
Check your structured data. If you use structured data, it should be the same on your desktop and mobile website. That said, you should update mobile URLs to fit the mobile version. Plus, frequently check the Data Highlighter dashboard (if you use it) to stay in line with updates and avoid errors.
The metadata on both versions of your site should be the same. Ensure your descriptive title and meta description are equal across both versions of your site.
Verify the placement of your ads. Ads' placement shouldn't harm the user experience. Google suggests following Better Ads Standard to keep everything clear and user-friendly.
Revise visual content. Take care of the images, videos, and gifs. The visual content that you provide should be qualitative and have a fitting format. All-in-all, the content's quality on mobile should be the same as on the desktop. Don't use URLs that change every time the page loads for your visuals.
Use best practices for separate URLs. Make the error page status the same on both versions. Check your mobile version for fragmented URLs - you shouldn't have them. Verify both versions of your website in the Search Console. Don't forget to control the hreflang links on separate URLs.
These are the main approaches to use if you want to make a mobile-friendly website. Nevertheless, one of the main things you should keep in mind is providing a top-tier experience to users.
Always accessible
55% of total web traffic is exactly mobile traffic. Moreover, there are mobile-first markets such as Asia and Africa.
This way, to always stay in touch with your clients and provide them with a seamless experience, your site must be mobile-friendly.
It's no wonder that customers are becoming more and more demanding right now. A poorly-put mobile version of the site will push them away. And you don't want to risk losing connection with your audience.
Check that all site elements look properly. All links and buttons should be easy to click and shouldn't shift.
An average user spends up to four hours on their smartphone, as Statista reports. So, ensure your site is the one that attracts users' attention and lets them access it easily.
Benefits SEO
The second most valuable benefit of mobile version fine-tuning is SEO. In the very beginning, we talked that Google uses mobile-first indexing. So, it's impossible to rank on the top of SERP without having a mobile-friendly website.
Also, we shouldn't forget that SEO is not only link building. This notion is much wider. Search engines' spiders or bots gather information about the site and its content, as well as internal and external links.
Content your mobile site offers and sources you link to and that link to you should be in the same context. Thanks to this, engines know that you are the right site to show for the user's query.
Once again, don't forget to follow Google's guidelines on mobile friendliness.
Positively influences relationships with customers
Google also reported that 77% of mobile searches occur at home or at work. And this is very interesting as these places usually have desktops or notebooks.
Yet this should signal one thing to you - ensure that the mobile experience is smooth. If you provide your customers with comfortable and clear navigation through your mobile site version, you can establish closer relationships.
Your customers should be sure they can access your mobile site anytime. It should work fast, load all elements properly, be easy to navigate, and offer the same information that the desktop version of the site.
Moreover, if clients like your mobile site, they stick to using it. That means they can access and buy from it at any time or in any place! This way, you can palpably increase your sales.
What mobile-friendly test can you make?
But how do you know that your site is mobile-friendly? Is using a responsive design enough to be successful?
Well, you still need to do some extra job. But no worries. There are special tools that will help you ensure your mobile site is working properly.
Google Mobile-Friendly Test
The Mobile-Friendly Test is the first option you can think of. Simply add your site's URL in the special stroke. It will tell you if your site is usable on mobile or not. All-in-all, this tool is pretty simple.
You can complement it with another Google tool - the PageSpeed Insights test. Do the same thing - insert your URL and see the results. This tool will give you much more information about your mobile site's state.
Thanks to it, you'll learn about the LCP, FID, CLS, and more essential site metrics.
Website Grader
If you want more information about your site's mobile friendliness straight away, you can use Website Grader. It will tell how well your site is optimized for mobile and rate its performance.
MobiReady
MobiREady is another option you have to test how mobile-friendly your site is. Type in your site's URL to get more information about its performance.
Then you receive a detailed report about how your site is doing. Moreover, if you click on test points, you can get more insights and tips.
Conclusion
Users spend 54.7% of their online time, specifically on mobile. Moreover, there are 4.67 billion mobile internet users globally. Additionally, Statista reports that more and more countries are adopting 5G, meaning accessing the internet via mobile devices will be even easier and faster.
So, you definitely need to think about how to make a mobile-friendly website.
In this article, we mentioned the main elements your site should have to provide a seamless user experience and fit search engines' requirements.
Also, keep in mind why your site should be mobile-friendly. It allows staying in touch with your customers, being optimized for search engines, and building strong relationships with clients.
Is your site mobile-friendly? What do you do to ensure your site stays accessible? Leave your answers in the comments section.
More Like This