Created on
April 21, 2021
| Updated on
September 22, 2023
7 Best Blogging Platforms for Beginners & Pros
Blogging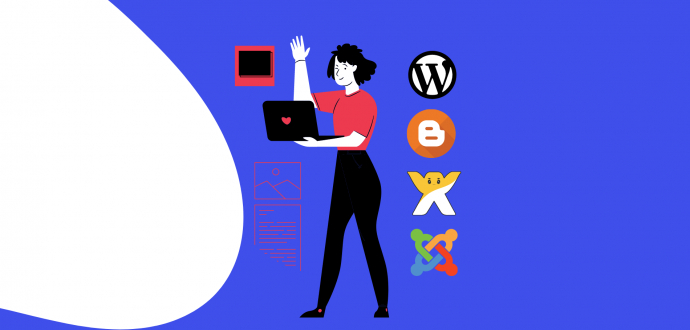 Your wish to pick the best blogging platform is understandable. There are over 600 million blogs in the world.
You need to ensure yours is the top one.
That said, it should be pleasant-looking, fast in loading, with modern design, and have a great structure. In such a way, you need a guarantee your blog attracts customers.
On the other hand, the platform you choose should have enough features and tools to help you maintain it easily.
The blogging platform choice may determine how successful you will be. So, you shouldn't underestimate its importance. Pick the right platform, and you'll be able to choose the fitting template, create a logically built menu, or embed visuals from third-party sites.
With the right platform, you will also be flexible enough to fit the current trends and readers' needs.
Of course, there are a lot of available platforms nowadays. Yet, today we'll share the seven best blogging platforms with you to empower your endeavors.
Contents
1. WordPress
Perhaps anyone, who uses Internet, has heard of WordPress. It's so popular that 40% of sites are built on it.
WP lets users create any kind of site. Yet, we can state that it's the best free blogging platform.
To empower bloggers, WordPress provides a separate manual dedicated to their needs. So, hover your mouse over "Product" on the top left and pick "Blogs." Then you'll see an in-depth guide on how to create your first blog!
This platform offers hundreds of ready-made designs. Accordingly, you can pick one that fits your needs. Moreover, these templates are free.
Yet, if you need something extraordinary, you can pay to pick from Premium themes or use WordPress site builder.
WordPress allows high customization opportunities. You can pick from various styles, fonts, block shapes, and positions, etc.
What's essential is that WP features lots of plugins. Therefore, you can make your blog instantly better. For example, you can install a grammar and proofreading plugin to develop your writing.
Or, you can use plugins like Yoast SEO to upgrade your content for search engines.
Famous customers:
Bloomberg
TechCrunch
BBC America
Summary:
Free
Easy to use
Highly customizable
Both for beginners and experienced users
2. Wix
What's about another best blogging platform for 2022? We cannot pass up Wix which counts 200 million users worldwide.
Unlike WordPress, Wix didn't put its primary focus on blogs. From the very beginning, the platform did its best to serve the needs of various businesses and creators.
Nevertheless, Wix pays close attention to blogs. Consequently, you can press "Creation" on the top left corner and then pick the "Blog Website." Here you can find all the peculiarities of blog creation.
The blogging platform shares six steps to creating an engaging blog. Also, creators get hundreds of free themes in hand.
As a really sweet bonus, Wix adds a guide to blog monetization. (By the way, we also have a working blog monetization guide to help you earn more.)
Also, Wix provides advanced SEO and analytics tools.
Famous customers:
Lin-Manuel Miranda (actor, Hamilton)
Jennifer Lopez
Awaken Studio
Summary:
Free
Easy to use
Highly customizable
Extensive editing tools
3. Blogger
Blogger is an old-timer among the platforms. Its history began in 1999, and now it has 672,560 active blogs on it.
Well, it truly is the best blogging platform for writers. It has no other directions like some other site builders. So, it concentrates solely on blogs.
This platform is much simpler compared to others. Yet, it provides a choice of designed templates with an opportunity to pick layouts and background pictures.
Most users run their blogs on a free domain using blogspotdotcom. Yet, anyone can get a custom name by paying an extra fee.
The in-built monetization option Blogger offers is adding Google AdSense. Bloggers can choose from set-in analytics or connect with Google Analytics to know their audience better.
Summary:
Free
Easy to use (yet, might be somewhat too simple)
Provides analytics
---
Fuel your blog with captivating content! Hire Adsy to get qualitative blog posts.
---
4. Ghost
Ghost is a blogging platform that uplifts online publishing to a qualitatively new level. Up to date, there were over 2,500,000 Ghost installs.
As said before, this blogging platform concentrates on professional publishing. Respectively, it targets customers who are experienced creators, journalists, and writers. Yet, beginner bloggers are also welcome to use this platform.
Unlike other competitors, Ghost is a paid platform. Users can enjoy only a 14-day free trial.
Nevertheless, prices are relatively affordable and start from the $9 per Starter plan. Anyway, creators can choose from various free themes and get integrations with major content, SEO, and other tools.
Ghost is really proud of its advanced dashboard. It has numerous features to help bloggers execute their workflow better.
Also, this platform perfectly fits publications that work with a paywall, allowing effectively build subscriptions or memberships.
Famous customers:
Summary:
Paid (from $9 per month)
Relatively easy to use
Provides in-depth analytics
Has a toolset for online publication growth
5. Medium
Well, Medium may become your best platform for blogging. Why? Because this platform concentrates exclusively on all things writing. Nowadays, it has over 60 million users.
To use this platform, you simply need to create an account. It will be hosted on Medium. You will be able to customize your primary page. Yet, you won't receive a separate site with your custom domain name.
But that's not the case. The main point here is that Medium has 170 million active readers. So, it's an excellent opportunity for bloggers and companies to reach a wider audience.
Medium provides a clean and easy text editor to concentrate on writing. Yet, as we've mentioned, writers can customize their profiles, picking logos, background colors, etc.
Also, the Medium blogging platform owns in-build analytics to help creators understand their readers better. Additionally, it's possible to earn money thanks to the platform's Partner Program.
Famous customers:
The New York Times
Gen
The Startup
Summary:
Free
Easy to use
Allows creating personal and business pages
Provides analytics
6. Squarespace
So, what is the best blogging platform? Here's another option for you - Squarespace. This platform hosts over 2,5 million active sites.
Squarespace allows building different types of websites. And blogs are on the lists as well. To get detailed information on them, you can press "Products" on the top middle and go to "Blogging."
The platform disposes of various designer templates. Yet, every template is customizable to fit your or your company's needs.
Like others, Squarespace helps writers keep track of their readers. So, there is a dashboard with a number of fantastic tools. Scheduling, traffic, promotional tools - creators have everything to manage their blogs easily.
Also, there are some extensions that help users to enrich their experience. Additionally, there are more marketing, payments, and other tools.
Famous customers:
Bandsintown
Welcome to Winona (by Winona Ryder)
Lyft
Summary:
Paid (starts at $12 per month)
Easy to use
Free domain for the first year
7. Joomla
Joomla is another free blogging platform, or better say CMS, you can use. Over 6% of businesses and bloggers employ it to build sites.
To learn more about this platform's particularities, you can click on "Benefits & Features" under the Joomla sign.
This platform lets you build a full-scale blog. Besides, Joomla is a fit if you want to grow it big. If you scroll down and go to the "Content editing" point, you get more information about how to work with text.
Additionally, Joomla provides hundreds of templates to choose from. Yet, users can create their own designs from scratch.
Joomla also provides packs of extensions and constant updates on the CMS.
Famous customers:
Michael Phelps
Ikea
Holiday Inn
Summary:
Free
Fits newbies and experts
Highly customizable
Fits for big blogs or publications
Conclusion
Are you searching for the best blogging platform to make money or create your first blog? Then check the list we've prepared for you.
We've made sure you can choose from a variety of options. Each platform has its own peculiarities. Some will fit beginner bloggers, and some for more experienced ones. Some may be totally free, and some are paid.
Nevertheless, you have so many options to start your successful blog!
Tell us what platforms you find the most appropriate for your goals? Or maybe you are using one? Share your thoughts in the comments.

More Like This