Created on
August 9, 2023
| Updated on
August 9, 2023
The Future of AI in Digital Marketing: Transforming Customer Experiences
Content Marketing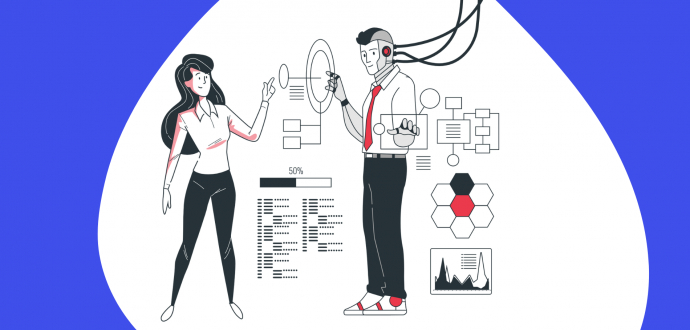 37% of companies already use AI, and nine out of ten organizations invest in AI technologies. On top of that, 63% of professionals expect their firms to put more money into AI in the next few years.
As you can understand, interest in artificial intelligence continues to grow. And while some organizations still question its usage, others benefit from AI tools employment.
It's true that AI software helps thousands of professionals around the world. One of the most palpable AI implications happens in digital marketing. Moreover, AI has all chances to revolutionize the industry by transforming customer experiences.
In this article, we will show how AI can qualitatively improve customer journeys and interactions with your brand.
Contents
AI-powered customer profiling and personalization
We always remind you how vital it is to have a buyer persona and understand your customer needs. Yet, the amount of data nowadays is endless. So, how do you make the perfect customer profile that allows you to communicate with your clients better and sell more?
Well, that's when you can leverage AI algorithms to understand your clients better. AI-driven personalization employs advanced algorithms as well as machine learning (ML) to analyze tons of customer data. That gives you more insights and allows you to make better decisions.
So, how will AI help you personalize user experiences? The tools will collect, analyze, and structure information based on:
User browsing data,
User purchase history,
User interactions with social media,
User demographic data.
Though AI analysis and personalization tools will save you time, you still need some work to do. If you want to run the personalization initiative smoothly, you need to:
Outline your goals and objectives,
Base on top-tier user data,
Constantly test the results and make improvements,
Stay transparent and notify clients that you collect data,
Personalize throughout all your channels (site, blog, social media, etc.)
The joint forces of your marketing and sales departments and AI tools will help you to prepare a solid basis for your future success.
Marketing purposes for which professionals are using generative artificial intelligence (AI) in the United States as of March 2023

Giving customers what they want and solving their problems effectively will be marked as your first efficient interaction.
Tools that you can find interesting are Salesforce Einstein, Peak.ai, Clearbit, Glance, etc.
AI-driven customer engagement and interaction
After you know your customers better, it's time to take their engagement to a new level. But what kind of tools will help you do this?
Chatbots and virtual assistance turned out to be really impactful in the past couple of years. The fact that they can be based on AI technology makes them even more effective and powerful.
This way, chatbots and assistants can deal with a full scale of routine customer queries. You can create a helpful way of answering users' questions and serving them 24/7. Your human support team, in turn, can handle more complicated requests allowing you to cater to clients' needs better.
Via Digital Marketing Community

For instance, Bank of America uses its AI assistant Erica to help customers. And there's a tech company Air AI that develops voice assistance ready to lead 10 to 40 minutes conversations.
Sure thing, AI-driven recommendations and predictions play contributing roles in customer engagement growth.
Just imagine that you can guess the customer's next step. It's like mind-reading but mathematically and statistically based. And that's what AI predictive tools can offer you.
That said, you can make better suggestions when your shoppers look for something, optimize your inventory in more practical ways, or even decide what marketing campaigns are better to run.
Tools like Xineoh, Black Swan Data, or Dynamic Yield can help you with this.
AI analytics and insights for informed decision-making
The latest McKinsey report shares that the rapid rise of generative AI will heavily impact:
Customer experience,
Marketing/Sales growth,
Productivity.
As generative AI uses a wide stack of data and outperforms traditional AI-based now, you can improve processes on all customer journey steps.
That means you can:
create content, personalized to its core, in terms of CX,
give the sales department better customer insights and analytics,
free sales team from routine processes and let focus on current customers and prospects.
As a matter of fact, gen AI can work on a whole scope of sales activities. That includes all-hand support during the sales cycle from proposal to closing the deal. As AI analyzes various factors (preferences, demographics, and behavior), your follow-up emails and assistance can be on the next level.
Based on the vast customer data, you will be able to provide your clients with better and more accurate recommendations, feedback, guides, reminders, etc.
Yet, as we mentioned earlier, the decision-making process includes literally every step of the customer journey.
That means you can provide better onboarding, a worthy warm welcome, personalized recommendations, etc. Chatbots, accordingly, will offer prompt answers, give enhanced explanations, hold more complicated conversations, and so on.
As you can see, your business can offer better real-time recommendations as well as make more depicted predictions. Your decision-making process and the whole communication with customers, thanks to AI, can become more effective.
Ethical considerations and future challenges
According to the latest AI Marketing Benchmark Report, 61.4% of marketers have used AI in their marketing activities. Nevertheless, the fact that AI has gained wide usage and popularity, you can forget about its limitations.
That said, we urge you to keep in mind the possible risks AI can carry.
A vital part of AI employment is understanding that this technology is still developing and has some pain points. That's why using AI blindly can push you away from the ethical part of the deal.
This way, you can flood your social media accounts with AI-generated content. Though its quality keeps growing, it can't replace human opinions, experience, and the ability to tell stories.
Also, as AI still learning, it can make mistakes or false judgments. That's why sometimes you need to re-check facts. But overall, we recommend revising all content you create with AI. Human touch can never be odd.
Via Asis Online (dot) org

Of course, another big concern is data privacy and its protection. That includes copyright and, hugely, - user data. For example, Entrepreneur refers to user data concerns in terms of data collection and processing for AI-generated content.
According to this respected publication, such type of data employment will make the company "obtain user consent in accordance with data protection laws and regulations." Moreover, keeping the data safe might lead to additional technical measures implementations.
Anyways, that's only the tip of the iceberg.
You can read more information about AI concerns on the Entrepreneur. We can only add that you should use this technology consciously. AI-based tools are awesome helpers, but being cautious will never hurt.
Conclusion
Though we still experience AI bias, this technology will continue to evolve. Just look at the numbers - AI in marketing revenue was $15.84 billion dollars in 2021 and will grow to approximately $107.5 billion by 2028.
The AI potential for digital marketing is undoubtful.
Right now, we can witness how AI changes the landscape in various marketing directions. Marketing campaigns, content creation and strategy, user behavior prediction, and assistance only depict a few things AI can help with.
No doubt, AI tools are valuable for creating a top-tier customer experience. So, we definitely recommend doing your own research and choosing what tools you can use to optimize your digital marketing.
Have you already tried using AI tools? Share your favorite ones in the comment section below!
More Like This