Created on
May 4, 2023
| Updated on
May 31, 2023
How Marketing Uses AI: Top Data & Insights to Know
Content Marketing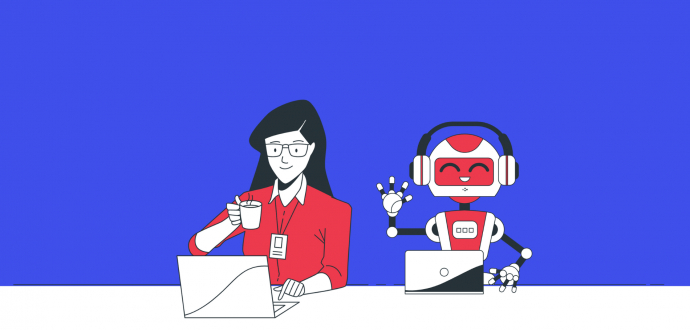 Artificial intelligence and its derivatives are now not something existing in books or sci-fi movies. We see their implications in various fields from machine building to nothing else than marketing.
But how deep is AI usage in marketing nowadays? How often do marketers and company owners resort to AI help?
As Deccan Herald reports the global artificial intelligence market can reach about 6 trillion by 2026. And by 2030, this number can grow up to $15.7 trillion.
AI funding and spending are growing. More and more companies are finding ways to employ AI to automate certain business processes. But what exactly is going on in marketing? What should professionals look for?
Keep reading to learn more about AI use in marketing.
Contents
Artificial Intelligence (AI) market size and funding
According to Statista global AI market size will only grow. While the market size was 95,602 million dollars in 2021, it's going to reach a jaw-dropping 1,847,495 million dollars in 2030.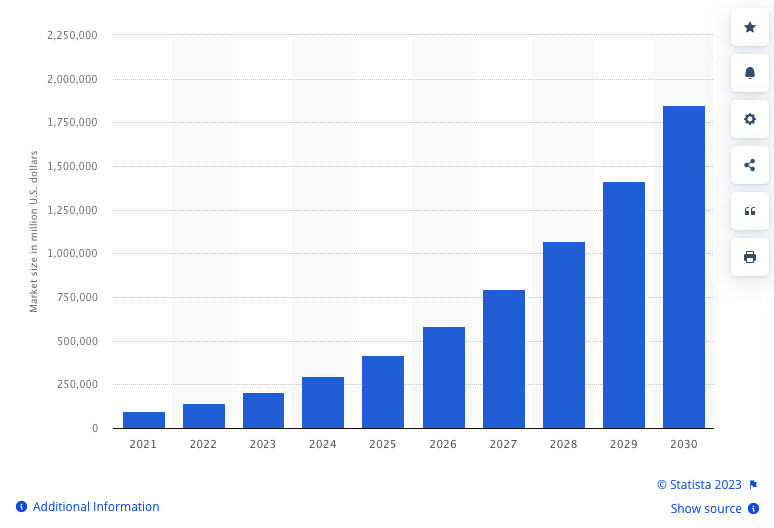 AI market size worldwide in 2021 with forecast until 2030 in million US dollars

There is no wonder why this field only keeps growing. It is now a part of multiple industries and their business process. Marketing meets AI when using chatbots, generative AI, artificial intelligence-enabled visual tools, and so on.
Various sources like IBM, Globe Newswire, Tractica, and others also confirm the increase in this market. Also, a worthy sign of AI growth is the AI-powered startups' rise. And many of them are marketing-driven. For instance, those working on chatbots or AI-enabled writing tools.
Yet, let's talk numbers and see the top three most funded AI-driven marketing startups:
Jasper - an AI platform enabling content strategies scaling for companies and teams - $131 million dollars.
Synthesia - an AI video platform allowing to generate content in different languages - almost $67 million dollars.
Anyword - an AI copywriting software - around $30 million dollars.
As you can see, marketing startups involving artificial intelligence receive impressive investments. That only proves the demand for smart tools by companies.
Statista adds that over 80% of industry professionals integrate some form of AI technology into their online marketing activities. So, no wonder AI in marketing revenue was $15.84 billion dollars in 2021 and will grow to approximately $107.5 billion by 2028.
AI adoption in organizations worldwide
Thousands of companies use AI tools to optimize their business flows. IT processes, financial planning and many more operations use AI help to work more efficiently. Marketing is no exception with 26% of organizations using smart tools for marketing and sales optimization.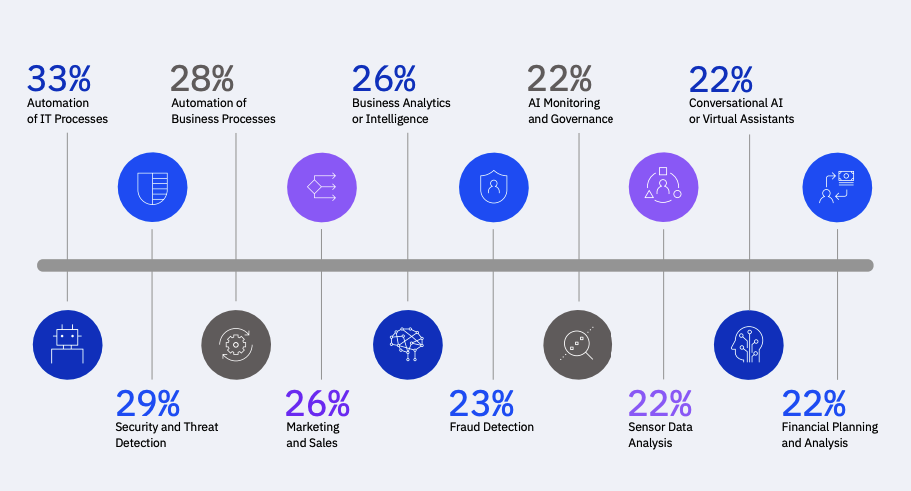 How organizations are using AI today

Businesses tend to pay precise attention to AI techniques like NLP (natural language processing) when it comes to marketing applications. Also, 21% of US companies are interested in AI-powered automation tools as digital workers.
Given the level of interest in AI from the different industries' representatives, this field seeks investments. Statista shares that global total corporate investment in AI picked at almost $94 billion dollars in 2021.
Our Word in Data provides similar insights and proves that private investments in AI only continue to grow.
Annual global corporate investment in AI, by type

Another side of marketing AI takes by force is ads. AI-enabled media spending continues to grow. As such, AI-powered advertising spending amounted to around $370 billion dollars in 2022. Further projections see AI-enabled ad spending reach $1.3 trillion dollars a decade later.
AI use cases in marketing
AI seems to be the indivisible part of modern marketing. Smart tools influence heavily on various optimization and automation processes.
For instance, 26% of marketers claimed marketing technology innovations, most impactful for their advertising, were measurement enhancements centered on non-cookie methods.
Leading marketing technology innovations believed to be most impactful for advertising by marketers worldwide as of April 2022

Yet, media planning and targeting are not the only applications of AI. 16% of marketers included improved ad opportunities in emerging channels (e.g., immersive games or TikTok) to the list.
Forbes reports on the next AI-powered marketing tech trends:
higher level of personalization in advertising for potential customers,
growth of natural language processing,
chatbots sophistication,
analysis of the big amount of user data,
data-driven storytelling.
AI in marketing gives deeper insights into customer data and behavior. Overall interaction with users can be more efficient thanks to artificial intelligence usage.
90% of marketers employed AI tools to automate customer interactions,
88% of marketing professionals used AI to help them personalize customer journey across channels.
As AI awareness continues to increase, more marketing professionals use AI tools for some actions. Statista shares that:
47% of marketers claimed they trusted artificial intelligence to target ads,
42% of respondents trusted AI to personalize content and offers in real time,
39% of respondents said they trusted AI to optimize email send time.
The more we learn about AI and the more advanced AI-based tools are, the more we are ready to delegate some tasks to them. Yet, we don't think AI can fully substitute content writers, for instance.
Top advantages of AI use in marketing
Though some people might question AI and its usage, marketers already see the benefits it can provide.
One of the main perks of AI-based tools according to 33% of marketers is time saving. The same percentage marks enhanced user experience, while 31% of professionals talk about better insights into the audience's behavior and preferences.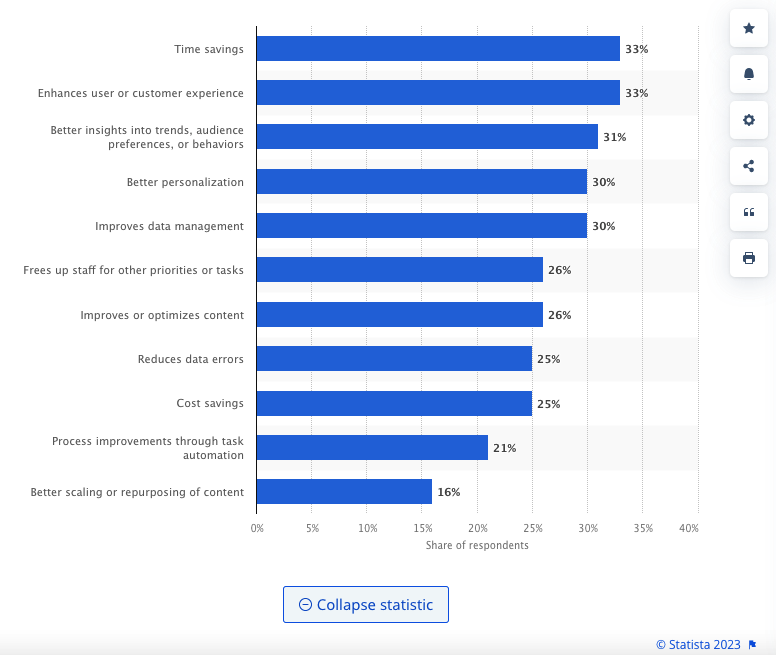 Leading benefits of AI and ML tools according to marketing professionals in the US in July 2022

IBM's report also proves that time optimization for organizations is possible thanks to AI. Thus, 65% of companies share that AI-powered tools help to reduce time spent on manual and repetitive tasks.
Also, we should remember that during the last few years, marketers pay very close attention to personalization. So, no wonder that the most popular reasons to use artificial intelligence tools spin around customization.
60% of marketers stated that the most popular reason for employing AI to improve customer experience is to predict customer behavior and needs,
47% of professionals shared that they use AI in their marketing company to uncover frequent customer journeys,
23% of respondents said that they use AI to improve MQLs (e.g. chatbots).
And based on the data from the previous graph we see that AI tools' benefits are fully compatible with the reasons for their use.
So, the main thing here is not to be scared of AI. Instead, try finding the best-fitting tools that will help you optimize marketing work and bring better results.
Top challenges using AI in marketing
Though AI-based tools and software are rather powerful they still have certain limitations. So, let's check some respectful sources and see what data they share.
In its recent AI state report, McKinsey shared that 57% of respondents from developing economies and 47% from emerging markets worry about cybersecurity. Besides, other main concerns are regulatory compliance and explainability.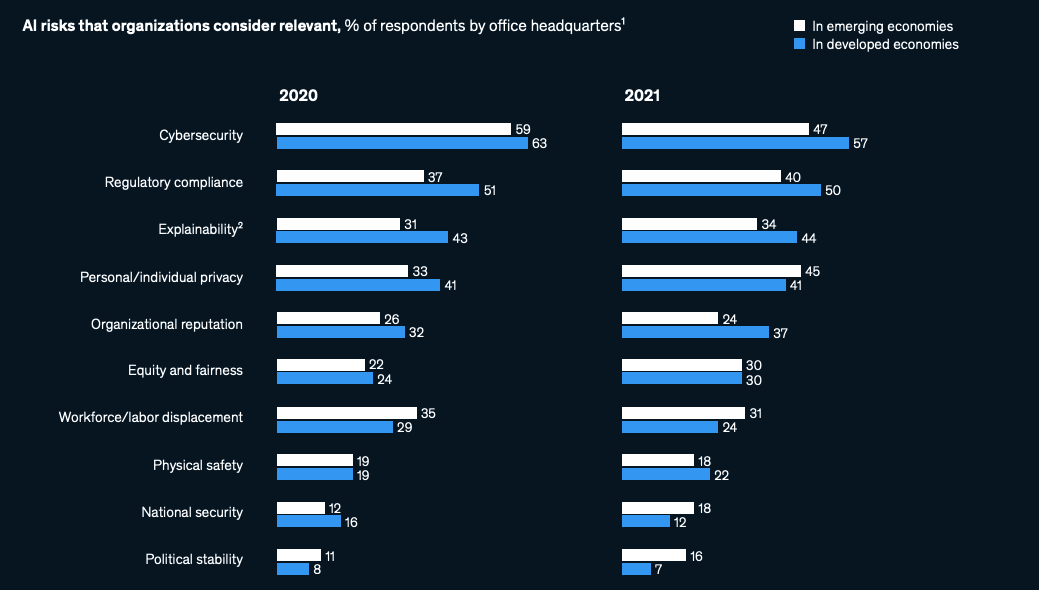 Management of AI risks in emergin and developing markets
The freshest data from Statista outlines similar fears among marketing professionals:
35% of respondents using AI and ML tools in their marketing programs shared that their main challenges were risk and governance issues,
31% of those working with AI and ML claimed that the AI and ML technologies were too difficult to utilize or deploy,
30% of marketing professionals said that AI and ML's costs were a challenge as well.
Yet, one of the biggest concerns is the misuse of artificial intelligence. Let's not forget that this technology is already powerful enough to bring strong confusion or misleading information.
AIAAIC Repository shares dozens of examples of how AI can trick users - from fake brand announcements to questionable social media network algorithms.
IEEE Spectrum built a graph showing the number of AI incidents based on the Repository data.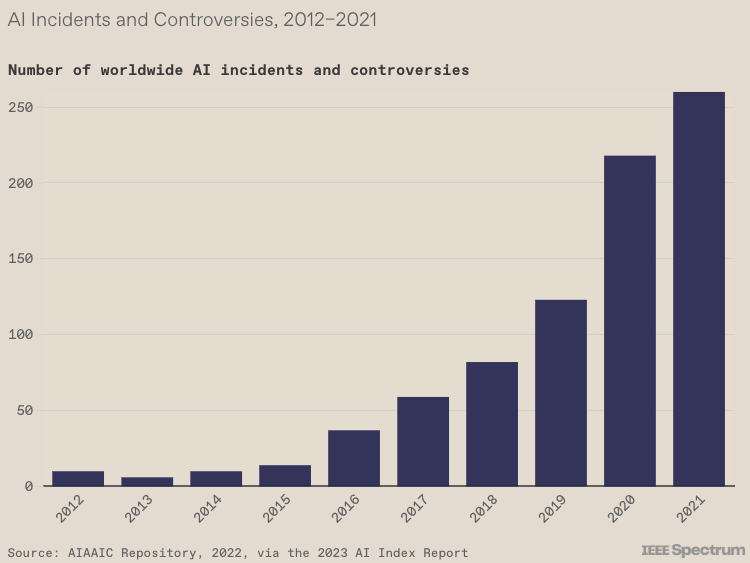 AI incidents and controversies

As you can see the number of controversies is only growing. That brings us to one essential conclusion. You need to be very attentive when using any of the AI tools. You still need to double-check some information and learn how to use these tools correctly.
Conclusion
The AI market grows rapidly. New startups and tools emerge bringing both lots of help but also confusion. Yet, we need to understand that artificial intelligence is and will be a part of our lives and job.
This way, AI studies will be part of the deal if you want to use this technology for good.
Marketers stay at the forefront of many professionals using AI-enabled tools. Data from different sources confirm that artificial intelligence helps them optimize a variety of processes.
Have you ever used AI-powered marketing tools? What is your opinion on them? Share your thoughts in the comments!
*Data without sourced links belongs to the Statista AI study.
More Like This