Created on
April 5, 2023
| Updated on
June 28, 2023
53 Mind-Blowing AI Statistics for 2023 & Future
Content Marketing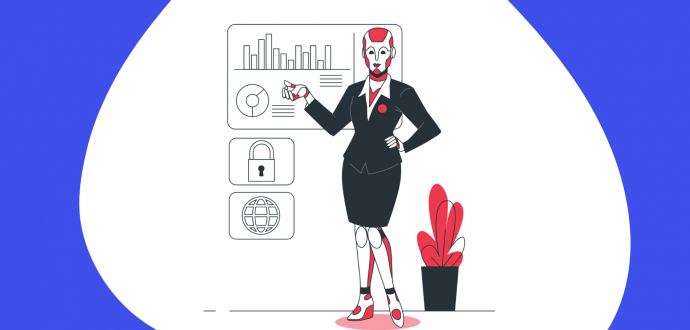 Something that we used to see only in sci-fi movies quickly becomes a reality. Not only famous avenger Tony Stark can use assistance from smart computers. This option is now available to every one of us.
But what is really happening in the world of artificial intelligence? How has it been evolving and are we ready to accept it?
Let's dive into some mind-blowing AI statistics to see what's going on.
Contents
AI from the historical point of view
1. The very first mention of artificial intelligence (AI) was made by John McCarthy in 1956. (University of Washington)
2. There is a special AI reward called Loebner Prize. It numbered a $100,000 dollars incentive for a model that needed to be indistinguishable from a human. (University of Washington)
3. In 2006, Oren Etzioni, Michele Banko, and Michael Cafarella coined the term "machine reading" a process capable of "autonomous understanding of the text." (Forbes)
4. In 2011 a convolutional neural network showed 99.46% accuracy compared to humans at 99.22% and won the German Traffic Sign Recognition competition. (Forbes)
5. In 2018 a Chinese language-processing AI, created by Alibaba, outperformed human intellect during a Stanford reading and comprehension test. (Forbes)
---
Also, check: 15 AI-Based Tools for Effective Content Marketing
---
6. In 2020, OpenAi presented a beta version of ChatGPT (based on GPT-3) - a smart model capable of creating human-level tasks from creating qualitative content to writing code. (OpenAI)
7. In 2021, OpenAI launched DALL-E (and later DALL-E 2) - a model that can process and understand images. That moved AI much closer to comprehension of visual content. (OpenAI)
8. In February 2023, Microsoft announced the release of AI-powered Bing search as well as Edge browser. The search will be more precise and answers more complete. (Microsoft)
9. In March 2023, OpenAI launched GPT-4, one of the most powerful AI models so far, capable of producing safer and more useful responses and solving more complex problems. (OpenAI)
10. The last few years have shown a very rapid and powerful AI development. So powerful that Elon Musk, Evan Sharp, Steve Wozniak, and other AI researchers signed an open letter to pause AI development for the next six months. (Future of Life Institute)
Familiarity with AI, opinion on it, and its adoption
11. 53% of Americans with a postgraduate degree were able to identify the AI uses across six multiple-choice questions. (Pew Research)
12. 52% of higher-income American show more awareness of AI compared to those with lower income. (Pew Research)
13. 75% of young US adults (aged 18-29) are more familiar with artificial intelligence and its use compared to those 45% aged 65 and up. (Pew Research)
14. 38% of the US adults who utilize the Internet frequently are more aware of AI applications.
15. Approximately 45% of US adults are both excited and concerned about AI use in daily life. (Pew Research)
16. 31% of those excited by AI use expect it to "make life and society better." (Pew Research)
17. 13% of those excited by AI use think it can help to save time and make work more efficient. (Pew Research)
18. 19% of respondents concerned about AI growth worry about human job losses. (Pew Research)
19. 57% of respondents share they would be very or somewhat excited if AI could perform household duties. (Pew Research)
20. 56% of respondents from India, 36% from China, and 33% from Germany think that it's likely a rogue AI will wreak havoc globally in 2023. (Statista)
21. 75% of respondents from India most willingly trust AI, followed by China (67%) and South Africa (57%). (Statista)
22. AI adoption is now 2.5x higher than in 2017. (McKinsey)
23. 39% of companies use AI for robotic process automation. (McKinsey)
24. 34% of businesses employ AI for computer vision improvement. (McKinsey)
25. The most popular AI use case is service operations optimization (by 24% of respondents). (McKinsey)
26. Almost a third of businesses have either implemented or started to implement AI-driven solutions in their companies. (Statista)
AI spending, growth budgets, and development
27. 63% of respondents expect their firms' investment in AI to grow over the next three years. (McKinsey)
28. $142.3 billion is the value of the global AI market in 2023 according to Statista.
29. The AI market will grow by 39.4% annually at a CAGR by 2028. (Bloomberg)
30. The global AI market will increase to $422.37+ billion dollars in value by 2028. (Bloomberg)
31. Investments in AI-driven startups grew by $5 million dollars from 2020 to 2023. (Statista)
32. Tencent holds the biggest AI patent in the world. (Statista)
33. Explainable artificial intelligence (XAI) is projected to reach $21 billion dollars by 2030. That is x4.8 more compared to 2020. (Statista)
34. The global AI market will reach a size of over half a trillion U.S. dollars by 2024. (Statista)
35. The chatbot market is believed to reach approximately $1.25 billion dollars in 2025. (Statista)
36. The global AI software market will have around $118.6 billion dollars market size in 2025. (Statista)
AI use in marketing, content marketing, and SMM
37. 37% of marketing and advertising companies use generative AI. (Statista)
38. Generative AI content from artists and musicians on social media was most appealing to US citizens. (Statista)
39. 61.4% of marketers have utilized artificial intelligence in their marketing activities. (Influencer Marketing Hub)
40. 44.4% of content marketers have used AI to produce content. (Influencer Marketing Hub)
41. 54.5% of marketing specialists are optimistic about AI providing a greater enhancement to their marketing efforts. (Influencer Marketing Hub)
42. Over 60% of marketers are planning to employ AI or ML in their influencer campaigns. (Influencer Marketing Hub)
43. 41.9% of marketers do not use AI due to a lack of understanding and 23.7% due to the high cost of implementation. (Influencer Marketing Hub)
44. The projected value of AI in marketing will be $27.37 billion dollars in 2023. (Statista)
45. The market value of artificial intelligence will grow up to a jaw-dropping $107.54 billion dollars in 2028. (Statista)
46. 90% of marketing specialists in 35 countries employed AI tools to automate user interactions. (Statista)
47. 88% of marketing professionals claimed that AI helped them personalize the customer journey across channels. (Statista)
48. 47% of respondents from the United States, United Kingdom, India, and Canada shared they trusted artificial intelligence to target ads. (Statista)
49. 60% of marketers use AI wishing to predict customer behavior and needs. (Statista)
50. 33% of marketing specialists shared that AI and ML technologies helped them to save time. (Statista)
51. 31% of the respondents said AI and ML tools benefited their trend insights, audience preference, or behaviors. (Statista)
52. 31% of marketers from the US shared that the AI and ML innovations were too complex to utilize or deploy. (Statista)
53. 30% of marketers from the US said that AI and ML costs were too high as well. (Statista)
Conclusion
As you can see, AI keeps increasing its capacities with simultaneous market value growth. Will we see machines instead of humans? Well, that's highly questionable.
Yet, we cannot deny AI and ML will heavily influence many industries. That leads us to one logical conclusion - we need to understand what AI is.
Keep an eye on new tendencies, learn about AI-based tools to improve your routine work, and educate your workers. That's how your business can be flexible and meet modern challenges.
What data has surprised you the most? Share your thoughts in the comments below!
More Like This