Created on
October 26, 2022
| Updated on
September 13, 2023
45 Instagram Growth Tips for Business Owners
Content Marketing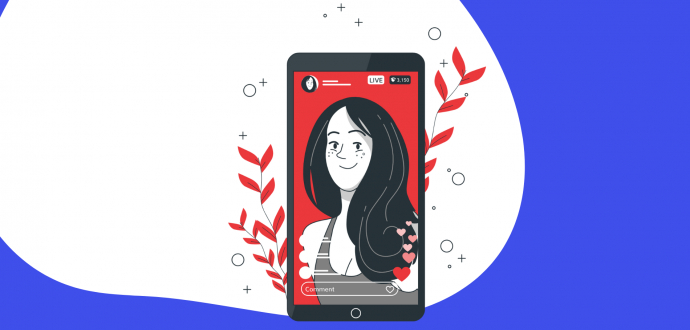 Instagram is the seventh most visited site in the world. Taking into account that 5.07 billion people use the Internet, you can imagine that Instagram users are enormous.
And this leads us to one vital conclusion. Your potential (and current) customers are most probably on Instagram.
We wrote that businesses should be present on socials. But today, we'd like to talk specifically about Instagram.
We share some essential statistics, where Instagram is going, and most importantly, 45 Instagram growth tips presented by the Instagram growth coach Brock Johnson.
Contents
So, what's Instagram about right now?
If you think that Instagram is a social media network that is about sharing square-shaped pictures, you have probably stuck in 2010.
Back in July, Meta (Instagram's parental company) said that it "... has been pushing the social media app further into video content in order to compete with TikTok."
Though not all users were happy with this decision, the network shares that 91% of recently surveyed active Instagram users say they watch videos on Instagram weekly.
So, video content will be dominant in this social media. As a business owner, you have options to choose from. You can record videos, make stories, create reels, or host live videos.
For instance, Hootsuite reports that:
58% of users say they're more interested in a brand after seeing it in a story,
brand stories have an 86% completion rate,
90% of Instagram users follow at least one business,
1 in 2 people has used Instagram to discover new brands.
That said, we see businesses' presence on Instagram as a vital part of their success. (Especially if you target Gen Z).
Of course, creating and growing your page on social media requires time and dedication. Yet, everything is possible if you do everything consistently and consider some tips from Instagram growth gurus.
In the next blocks, we will share some guidelines on Instagram development from Brock Johnson. He is an expert who grew his accounts with over 1,000 new followers per day! Well, we consider he is the one who can give some worthy tips. So, without further ado, let's see how you can grow your Instagram account.
Instagram name
Instagram name is searchable. That is why it's essential to fill it in smartly. Instagram SEO really matters. Moreover, Instagram increased the number of characters you can use. It grew from 30 to 64 characters.
So, here is how you can fill in your company's name:
think of this line as a title for business,
ask yourself, "what would I want someone to look up in order to find my company?"
include keywords that are niche specific,
do not use insider language or jargon,
spell check before you press "Save," or else you can be stuck with a wrongly written title.
Once again, that's not a username. It is the name that appears right underneath your profile picture.
See how Brock does this - he is super straightforward. So, he states in his Instagram name that he is an Instagram Growth Coach.
Let's say you sell houseplants. For instance, you can go with what you do + your business's name - House plants in Delaware, MO - GoodPlants.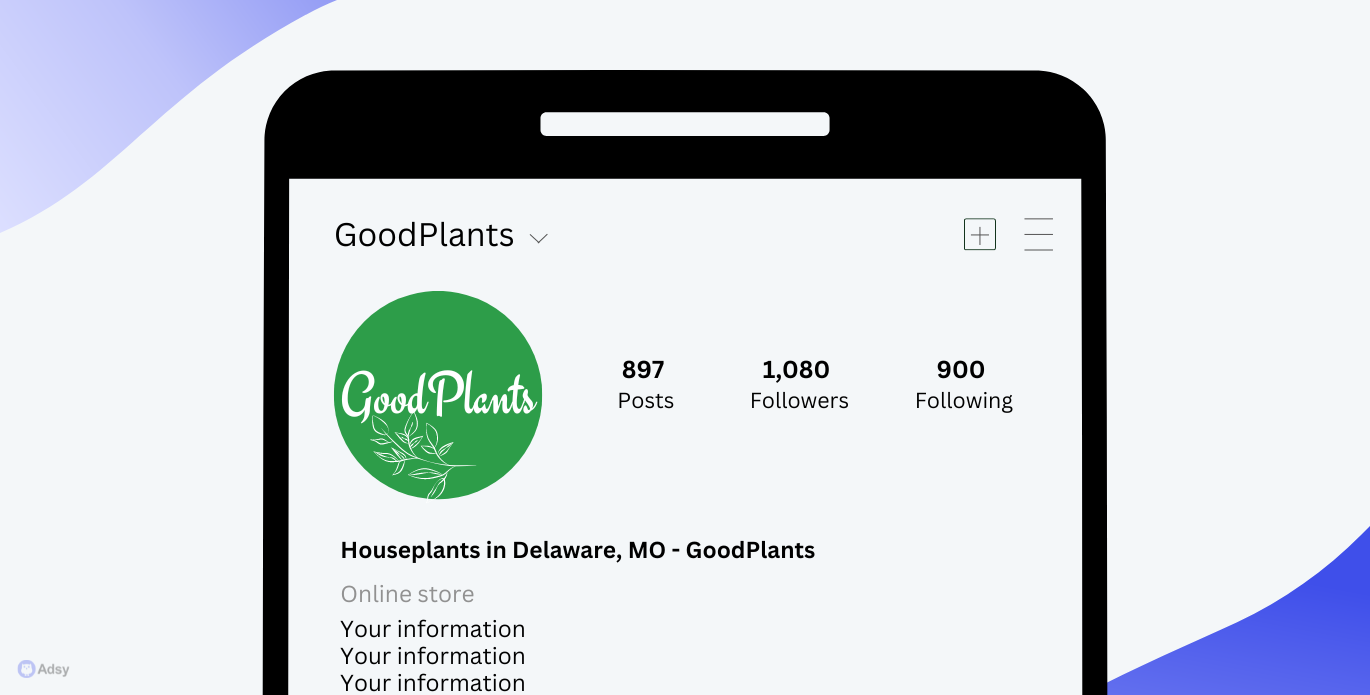 Instagram bio
The next essential step is filling in your Instagram bio. All in all, you have 150 characters to give further information about your business. So, be clever when introducing yourself to the audience.
In this case, Brock shares what things you should avoid:
your bio shouldn't be a list of fun facts,
do not just post random emojis or symbols,
don't use cliches,
forget about anything that doesn't add value.
The main idea is that your bio must be niche-related. This is your opportunity to stand out from competitors and attract users.
Let's move with our made-up plant store GoodPlants. What bio can it have?
50+ types of house plants,
tips on care & growth,
all instruments & plant foods with free usage guides,
10% new customer discount
goodplants(.)com
Here's how you can tell more about your business and what you can offer to your customers. After you've filled in the main info, you wonder, "How do I engage with the first clients and create a community?" Well, Brock has some answers!
Building Instagram community
You won't have a high level of engagement (and conversions) without a strong community. Though many brands use Instagram to sell their products, this platform is still more about communication with your audience.
So, building a strong connection to your company is an amazing perk Instagram can offer to you. Here are eight tips on how to build an Instagram community:
Create dialogue, not a monologue. (Our explanation: Multiple research show that people want brands to hear them. That's why it's essential to communicate with your audience. Instagram has lots of tools for this - from DM to quizzes.)
Follow and engage with some of your followers. (Our explanation: Once again, it's all about the connection. People use socials to stay in touch with family & friends. You can give that friendship vibe by following someone back and engaging with their accounts.)
Praise, thank, and reward your followers. (Our explanation: Who doesn't like hearing some compliments or nice words? Tell followers how they help your company become better or create more amazing products.)
Have clear beliefs, opinions, and values - and share them. (Our explanation: Nowadays, people value brands that support social causes, help communities, etc. Translate your beliefs via Instagram and show how you make this world a better place.)
Get personal on IG lives & stories. (Our explanation: Even if you run a company account, you still can feel personal by showing some behind-the-scenes of your working process.)
Go live. (Our explanation: IG Live helps you become closer to your audience, show some insights, and answer the questions here and now.)
Be vulnerable & imperfect by sharing struggles. (Our explanation: You shouldn't look perfect. Don't be afraid to show your ups and downs. Share how you overcome struggles to provide better services or goods to your users.)
Post relatable content and spark conversation. (Our explanation: Of course, 90% of what you post on your account should be related to your company or niche you work in. When creating content, don't forget to add a phrase or question that will make users want to share their opinion or give feedback.)
These tips will help you make your audience more engaged and loyal.
Growing your Instagram account
According to EarthWeb, there are 1.44 billion monthly active Instagram users. We believe you have attracted some tiny part of them to your account. But you seek growth if you are reading this article.
No worries, we've found six elements of Instagram's growth strategy:
Choose a focus for your account.
Optimize your bio with what you do and who you do it for.
Post nine feed posts without caring abt engagement.
At least one post should be an "About me" post.
Post (at least) one feed post per day.
Make an announcement on your "old account" that any interested follower should follow your account (repeat every three to four days).
Repost all of your best-performing content from your old account onto your new one.
The next element you need to take nice care of is your content. For now, let's remember one vital thing - post original content. That's not only what Brock recommends to do but also the Head of Instagram, Adam Mosseri.
So, here are eight ideas of original content from Brock:
Tell a story related to your niche.
Share quick tips or "hacks."
Teach a lesson for your ideal follower.
Show off a "win" or "highlight" that's niche-related.
Create a voiceover explaining a niche topic.
Collab with another account in your industry.
Talk about why you love what you do.
Tell a relatable or funny story from your niche.
These content directions can be a solid basis for your future posts, stories, and reels. But your activities shouldn't stop there. You can level up by creating content with hooks.
Creating more engaging content (aka Content with hooks)
The amount of content nowadays is overwhelming. Moreover, users have become more and more demanding. Instagram loves original content, and most probably, you get a wider reach. But does this mean users will stay on your account?
Well, you can use special hooks that will attract people and make them engage with your stories, posts, or reels.
Here are 14 content hook ideas:
Keep watching if…
Have you ever…?
This is for you if…
Attention!
Reminder:
True or False…
Stop scrolling!
Let me tell you the story of…
You're not going to like this…
Surprise!
Did you know…
I bet you..:
Listen up!
Myth/Fact
And those hooks are pretty universal. That means no matter what industry you are in; your can use and adapt them.
Remember our fictional houseplants store, GoodPlants? For example, you can add captions to your reel and begin it with, "This is for you if you are tired of finding dark spots on your Zanzibar Gem." Or you can give a myth/fact video on how to take care of fiddle-leaf fig.
Conclusion
The average Instagram business account grows its followers by 1.69% per month. So this is the number to look for. Yet, wouldn't it be awesome if you could reach and engage more people?
Use the tips from the Instagram expert Brock Johnson to stably grow your business account. Remember, there can be ups and downs. Yet, if you are consistent and concentrated on your goal, everything works out.
Moreover, here are some helpful articles from us:
We hope all these pieces of advice will help you make your Instagram a great marketing tool. Communicate with your audience, get loyal customers, and convert more users!
Tell us more about your social media experience. Do you have an account on Instagram? How well does it work for you? Do you face any struggles? Leave your thoughts in the comment section down below.
More Like This