Created on
December 8, 2021
| Updated on
September 20, 2023
How to Apply Content Marketing Strategies for Different Generations
Content Marketing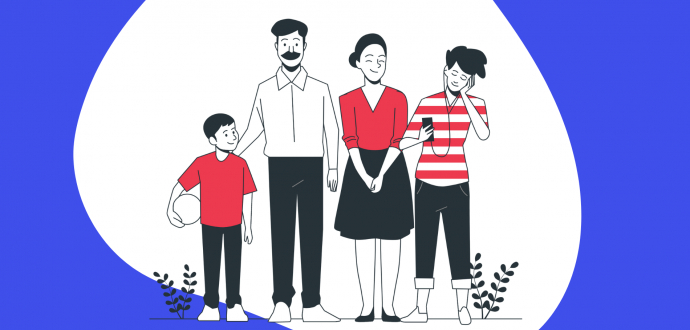 Let's imagine you have a great product or service. Yet, the number of sales or engagement level stays unsatisfying. So, what might you be doing wrong?
Well, an essential thing you have to remember is that different generations require different content marketing strategies.
The truth is that you need to market different generations differently. Often, there is no one-size-fits-all approach. You have to take into account generations' particularities. And lots of studies have proven this.
But think of your personal experience. Do you, your kids, or your parents search for the same goods or services? Do you search for them identically? What do you take into account to make a purchase decision?
We bet, in most cases, your approaches will be different.
This way, it's obvious you need to mind generations' diversity to create the best content marketing strategies possible.
Today, we will figure out what tactics to use to fit generations' needs the most. You'll get a detailed analysis of four main generations and learn how to market them correctly.
Contents.
Content marketing strategies for different generations. What do we know about them?
It's always great to start with some numbers. In the latest content marketing research, Statista published the following data:
up to 62% of companies seek more effective content marketing planning,
49% of companies look for better ideas,
up to 77% of companies pursue content marketing for customers' acquisition.
And using generational content marketing is a great way to achieve these goals.
Yet, those numbers show the common state of content marketing. It will be more beneficial for you to see how everything is working from the generations' point of view.
Firstly, let's check how generations engage with the technologies.
Sure thing, it's no surprise that Gen Z (and Gen Y, for sure) use more technologies. But that's not everything we have to say. Templafy shares that:
Millennials and Gen Z prefer online services,
46% of younger Gen Y's watch Netflix,
30% of 16–24s spend their free time watching TV or video
Anyway, almost all four generations have stated to have Internet access. That leads us to the following conclusion - you, as an online company owner, can communicate with almost all generations.
Also, there is great Hubspot's research on the most preferred content types.
This graph shows pretty impressive differences between generations. You now may be sure that various ages are attracted to different types of content.
And now, let's take a really close look at generations to help you build effective content marketing strategies.
How to create a content marketing strategy for Baby Boomers
Defining generations sometimes might be complicated. That's because different sources operate different numbers. For instance, some say that baby boomers refer to the age group born between the mid-40s to the mid-50th.
Nevertheless, most sources we've studied define this generation as a group of people born between 1946 and 1964. So, we'll agree on this time period.
What content marketing data should we consider?
up to 64% use social media,
up to 61% use Facebook,
13% use Instagram,
18% use Twitter,
43% read in-depth content.
What is unique about baby boomers?
If you think about how to create a content marketing strategy for boomers, take into account some particularities. We would like to define the following point:
Brand loyalty. Baby boomers value their memories. In most cases, boomers have long-present habits that they like to follow. Your goal is to prove that your product is outstanding and is a part of their value system. Show that you provide stability, traditions, and continuity.
Hint. This generation trusts companies they already know. It's highly possible that you can win boomers' attention if such a company recommends your brand. Partner with a certain business and tell about your brand with its help. It's all possible with a tactic known as a guest posting.
For instance. You sell toys, food, and care things for animals. How can you convince baby boomers to buy your stuff? Reach out to publications about pets your target audience might read. Place an article telling about your goods. Here's how your audience can have trust in your products from stage one. Services like Adsy help you easily reach such publications and publish your content there.
How do you deliver content?
Considering the data we have, it will be logical to use the following channels to promote your content.
Facebook - use it to target boomers. Make sure your ads are reliable and give valuable information.
Blog - ensure to deliver high-quality content that provides in-depth information.
Videos - produce videos that offer essential information and are not too fast or harsh.
Emails - don't forget about running a well-built eMarketing campaign.
How to create a content marketing strategy for Gen X
Gen X consists of people born between 1965-s and 1980-s. So, what approaches will be the most applicable for this generation?
What content marketing data should we consider?
64% use social media,
61% use Facebook,
13% use Instagram,
18% use Twitter,
43% read in-depth content.
What is unique about Gen X?
Considering the birth dates of this generation, it's quite obvious that it is not technology-first. Yet, everyone got wide access to the Internet and various gadgets in the late 20s and 21 centuries. So, in the case of this Gen X, we suggest the next tactic.
Be transparent. Previously we've mentioned the technology explosion. And that's quite significant. Gen X saw lots of ads on television in their childhood and teen ages. Now ads continue to pop in on the Internet. So, forget about aggressive advertising if you would like to attract this generation. Better get to the point straight away and tell what benefits your company can offer.
Hint. Gen X is keen on saving. People of this age lived through student debts, raising kids, helping parents, and so on. Accordingly, your go-for tactic is offering value-for-price and providing special promotions and discounts.
For instance. Don't forget to make sales on special occasions (Black Friday, Christmas, etc.). Yet, think about special offers you can provide even without huge occasions. Send emails with your promotions. Also, you can tell about your discounts sales on the coupon code sites (like Retailmenot, Savings, etc.).
How do you deliver content?
In virtue of the data we've shared, you can take advantage of the next tactics.
Facebook - most of Gen X actively use Facebook. So, ads with the right message or sale deals are very likely to work.
Blog - as we've suggested, write appealing content that describes the advantages of your products. In fact, exactly this generation can make provision of the biggest ROI for the blog.
Videos - as 40 to 55 years old become more and more tech-savvy, this is also a worthy digital channel to use.
Emails - email marketing efforts may bring the best results if used for Gen X. So, ensure to schedule enough time to create a killer strategy.
Twitter - yes, you heard it right. On this very step, you can reach Gen X using this social network. Once again - use transparency and clarity to provide top results.
How to create a content marketing strategy for Millennials
Usually, sources describe Gen Y or millennials as people born from 1981 to the late 1990s. In the next few years, this generation will make up the most part of the payable population.
What content marketing data should we consider?
over 80% use social media,
over 79% use Facebook,
over 39% use Instagram,
over 22% use Twitter,
one out of three reads in-depth content.
What is unique about millennials?
Social cause is what stands millennials out from other generations. Also, this generation is concerned about making a change. Now you need not only to show your brand, its qualities, and uniqueness but also what it stands for.
Online channels. As you create a content marketing strategy for Gen Y, use online channels with full force. This generation was the one to actively anticipate all the technological changes. So, you can implement the perks technologies and the Internet have to offer. Use social channels to reach your audience. Remember that blogs, research studies are still popular. Make sure everything is optimized for mobile.
Hint. Employ best practices of brand storytelling. Show that you share the same values with your audience or support the same cause. In addition, use guest posting to grow brand awareness. Adsy helps you reach 174% audience extension and increase brand awareness.
For instance. Get inspired by great storytelling examples from Patagonia or The North Face. These brands showcase the best sides of their goods with the help of content. Yet, on top of this, they show that real people - both amateurs and professionals - enjoy using their products.
How do you deliver content?
Undoubtedly, millennials belong to the most tech-savvy generation. That said, deliver your content via digital channels. Gen Y is highly unlikely to engage with traditional media actively.
Social media - in this case, we take into account social networks in general. Instagram, Facebook, Twitter - there are a lot of options to reach your audience based on what your TA uses the most.
Mobile marketing - We will not deny the fact that smartphones are millennials' best friends. So, why not benefit from the extra channel in the form of SMS marketing.
Videos - from Youtube to video streaming platforms, you can integrate the narrative about your brand. Youtube, probably is the next-gen channel that will drive more and more clients to your site. Of course, if you use cleverly written content.
User-generated content - it's any type of content created by fellow users. It might be social media posts about the products, articles telling about one's experience, and so on. Gen Y trusts the review of the same buyers as they are.
How to create a content marketing strategy for Gen Z
This is a generation of youth and young adults born between 1998 and 2012. We can define Gen Z (or iGens, centennials, zoomers) as a technology-first and 100% digital generation.
What content marketing data should we consider?
86% use social media,
88% use Facebook,
59% use Instagram,
36% use Twitter,
one out of four reads the in-depth content.
What is unique about Gen Z?
Well, now it's time to remember about the attention span. Or better to say consideration span. Gen Z has the shortest one. But you don't need to miss this with inattentiveness.
Content that grabs attention from the first sentence. Vice versa, zoomers are digital natives; they always have high-speed Internet, so youth can process lots of information quickly. And they understand what grabs their attention and what's not.
So, make sure that your content is relevant and engaging enough to attract Gen Z. Of course, optimize your data for mobile devices. And the load speed has to be really fast.
Hint. Remember that Gen Z trusts influencers and can make their choices based on influencers' recommendations. Yet, many zoomers are influencers themselves. So, you can influence not only their shopping behavior but also the shopping habits of their audiences.
For instance. Adsy can help you reach influencers from various industries. Place content telling more about your brand on their blogs or contact famous publications. That's how you can ease your communication with Gen Z.
How do you deliver content?
We clearly understand that zoomers are the most tech-savvy generation out there. We recommend using an omni-digital approach to reach Gen Z. The truth is that this generation, like Gen Y, is highly unlikely to use traditional media.
Social media - perhaps, this will be the main driver. Make sure to create content that stands out from the crowd. Curate posts specifically for every network, be it Instagram, Twitter, or TikTok.
Short videos - regardless of what platform you use, don't make your videos lengthy. Look about 1,5–2 minutes to deliver your main idea about the brand or product. Viral videos are still working great.
Memes - yes, we are not joking. Trust us; it's not easy to turn something into a meme or build an association with it. As it is another form of "fast content" that may attract Gen Z, be as creative (and sometimes mad) as possible.
Imagery - visuals of different types surround the younger generation. They see plenty of pictures, ad banners, artworks on a daily basis. Ensure you complement your texts with stunning visuals. Also, remember that your imagery should be eye-catching and jaw-dropping.
Conclusion
What are the key takeaways you can make after this research? First and foremost, content marketing strategies for generations will vary.
Many of the decisions you'll make will base on how baby boomers, gen X, Y, and Z percept and interact with technology. That's because its influence hits everyone differently.
It's really great that we have so many types of content. You can use some of them or their combinations to appeal to your target audience.
For instance, we know for sure that the older generations favor long-reads, emails, or news articles. They also feel nostalgic about certain things. So, you can implement these elements into your strategy.
On the contrary, we can agree that younger generations are technology-driven. So, videos, online courses, social networks will serve them better. Nevertheless, youngsters are still eager to read blog articles, check infographics and research reports.
So, try to know your audience better. Learn what generation(s) makes the most of your clients. Based on this study and the results you already have, build a digital content marketing strategy that will attract your target audience.
Tell us, do you segment your audience by generational characteristics? Will the suggestions we've offered in this article be helpful for you? Leave your comments down below!

More Like This