Created on
October 19, 2023
| Updated on
October 19, 2023
15 Accounts about Content Marketing to Follow on Instagram
Content Marketing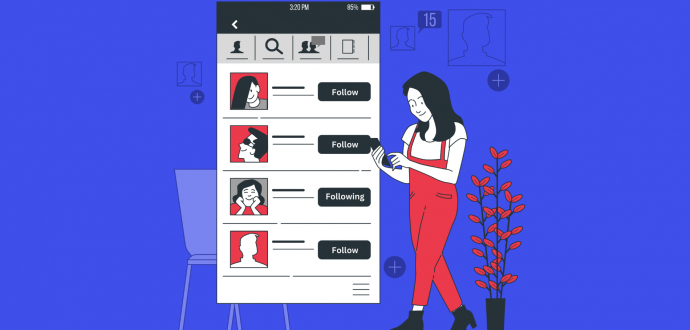 Doing content marketing is not always easy. 29% of marketers say it's hard to create SEO content. 28% of professionals share that generating content that resonates with their target audience is a challenge.
Of course, there are lots of sources to help you out.
But what if you don't have too much spare time to find and read all those blogs? Well, there are options you can check on the go! Earlier, we shared LinkedIn profiles you can check to keep up with the latest content marketing trends and news.
Yet, we understand that you might use other social media and find them more accessible and clear. No worries!
Here's a new list of 15 accounts covering content marketing matters you can follow on Instagram. Continue reading to learn about helpful accounts about content marketing, content writing, SEO, and more to fuel you with ideas and working tips.
Contents
Social media marketing
Social Runway is an Instagram account by Tara Hewson, a social media strategist. First of all, her account is a cool example of how you can keep a recognizable look of your page.
Secondly, she has great Highlights where you can find dozens of helpful tips as well as content ideas.
Her pieces of advice are ready-to-use, unboring, lively, and effective. Follow her to boost your company's account on IG or your personal blog.
Marketing Harry is an Instagram account by Hrabren Bankov, a social media marketer. That's the thought leader our team follows and finds his tips helpful.
This account will be especially useful if you seek to grow your audience. To assist you in this, Hraben shares content creation and growth hacks, shows how the IG algorithm works, and what tools to use.
His strategies are based on his personal experience and journey. So, the advice you get is real-life based.
Holly_withlove is an IG profile by Holly Newman, who speaks about social media management. She runs an easily detectable account that can be recognized thanks to color choice and post style.
Holly's tips will help you be consistent in your social media strategy. Her account will fuel you with working posts' and reels' ideas you can use for your business.
Is your content not performing not good enough? Most probably, Holly has an explanation for this and actionable tips on how you can improve your results.
Hootsuite is a social media management platform, and no wonder it runs an IG account. If you want to stay aware of the latest statistics and get ironic posts about social media managers' work, that's the right place.
Yet, as Hootsuite is a tool used by thousands of professionals, it possesses lots of actual data and insights. So, it'll be helpful for all professionals working in marketing.
But, honestly, we love this account as it showcases the day-to-day SMM life. And memes are on point.
Smexaminer is an Instagram account by Social Media Examiner. It's a popular blog that shows the best use of SMM to connect with customers, generate awareness, and increase sales.
Respectively, its IG has the same goal. Generally, it concentrates on Meta Suite. So, if your main accounts are Instagram or Facebook, it's a match.
Get ready to learn more about making videos, using captions, working with reels, filling in bio, current updates, and so on.
Content marketing
Semrush is a famous multipurpose content marketing tool. The platform's IG also covers a wide direction of topics - from content writing to email marketing or digital marketing.
So, if you want to see content in your feed that helps you with multiple content marketing aspects, Semrush is the right choice.
Besides tons of helpful insights, this account is an awesome source of hilarious and on-point memes about content marketers and their daily lives.
CoSchedule is an Instagram account of a popular content scheduling software company. We love how its IG looks - it's just a great pleasure to see the visual side of it. Yet, the content itself is super helpful and educative!
You get a full pack of useful, up-to-date, and effective marketing materials as soon as you follow CoSchedule.
Learn how to build a winning content marketing strategy, how to use AI in your daily work, catch influencers marketing ideas, and lots more.
Buffer is one of the most popular social media planning tools. Its account is a great fit for those seeking ideas for their social media strategy. Yet, you can scale these pieces of advice to your general marketing strategy.
This way, you can catch actionable tips for creators, content ideas, audience growth hacks, and lots more.
Also, if you are on a search for quality guides and expert insights and opinions, Buffer's IG is a perfect place.
Neil Patel is a renowned SEO and content marketing expert and New York Times Bestselling author.
His Instagram blog is a great replacement for his famous blog if you don't have enough time for the long-reads. He will teach how to do content marketing for B2B and B2C effectively. You will learn working SEO tips and marketing growth hacks.
The majority of Neil's posts are short videos. So, if you prefer this content type, make sure to give him a follow.
Hellostorytale is an IG account of Amanda, who will tell you more about storytelling marketing. We've multiply mentioned that storytelling is an essential part of modern marketing. So, we highly recommend following this profile.
Amanda shares lots of user cases and examples of how storytelling and ideas behind the content can change the whole perception of the brand.
Yet, we also believe that this account is not only a source for learning. It is definitely a source of inspiration. So, we recommend following this expert.
SEO
Yoast is a famous SEO tool and educational hub. As there's no content marketing without SEO, we cannot skip an account like this one.
Well, it's not hard to get that you will receive all-purpose SEO tips. That includes technical, on-page, off-site search engine optimization and beyond.
Moreover, Yoast shares practical tips from SEO experts and its own search optimization remarks.
Content writing
As you might have guessed, this is an IG profile by the highly-anticipated content editing tool Grammarly. This account will share its own take on content marketing from the content point of view.
Of course, when you follow Grammarly, you'll see lots of tips on how to write better - be it a blog copy, letter, corporate communication, etc.
Nevertheless, it's also a source of funny content marketing-related videos and posts, inspirational quotes, and the latest Grammarly updates.
Visual marketing
Modern content marketing requires stunning visuals. So, following a respected design tool like Canva is highly recommended.
Its account is a destination for marketers who search for visual creation tips and inspiration.
Without a doubt, this account will be an amazing helper for anyone who uses Canva. You can find suggestions on using fonts, applying new elements, making videos or posts, finding inspiration, and so much more.
Email marketing
An inseparable part of your marketing activity is email marketing. And what can be the best source of knowledge, if not Mailchimp's IG account?
Follow this Instagram profile to learn more about building customer loyalty and brand recognition through email marketing.
Also, get effective suggestions regarding your corporate 9 to 6 and your personal 6 to 9.
Convertkit is a marketing hub for creators. That's why get ready to receive plenty of helpful tips and hacks.
Mostly, the account covers email marketing matters. This way, you can learn how to increase open rates, how to write effective subject lines, and more.
Besides, you can read stories from creators from various industries. Of course, you will also get practical email newsletter monetization tips.
Conclusion
Keeping an ear to the ground is much easier, thanks to following relevant Instagram accounts about content marketing.
We've gathered a diverse choice of profiles to choose from. That said, you can get valuable tips about content creation, editing, marketing trends, and more stuff on the go.
Do you use Instagram to follow accounts related to your professional activities? Share your examples in the comments.
More Like This