Created on
October 6, 2021
| Updated on
October 19, 2023
35 Best SEO Audit & Monitoring Tools for Your Website
SEO Articles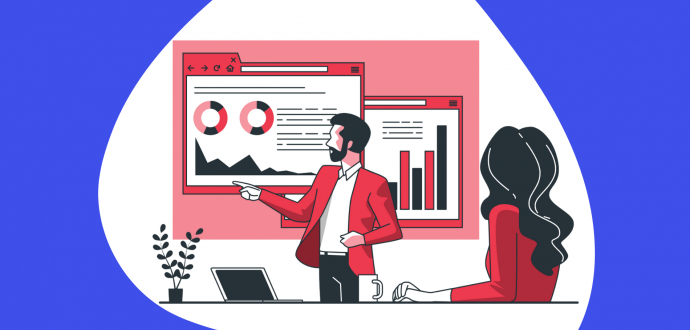 SEO audit tools can stand behind your success on search engines. But why is it exactly so?
Well, Google changes its algorithms quite often to provide a better experience to users. And while users can be really excited about the results they get, site owners may have quite the opposite feelings.
Due to algorithm changes or even an update, a site can downgrade its position on SERP. That, in turn, negatively influences sites traffic, CTR, conversions, and so on.
And the website audit tools can track your activity on a daily basis. Moreover, you can get a search engine point of view insight on your site. This way, you can better understand what Google expects from your site.
Sure thing, there are lots of SEO monitoring tools out there. We've gathered 35 top tools to help you know your site better and rank higher.
Contents
1. Ahrefs
Ahrefs might be among the best SEO audit tools, without a doubt. It's an all-in-one toolset that can help you study your site as thoroughly as possible.
Thanks to this service's solutions, you can learn how your website ranks and how much traffic it gets. You can discover how keywords you target are acting. It won't be odd to spy on the best-performing content in your industry to get more ideas for your site.
You will also get access to elaborate reporting. It covers indexability, links, redirects, duplicate content, social tags, and so much more.
Service type: free seven-day trial, after - only paid plans.
2. AnswerThePublic
Content is a vital part of search engine optimization. And you can take your content to the next level with the help of the AnswerThePublic.
This service will help you create better content for your audience. It's possible thanks to keywords monitoring, showing unexpected insights, and offering content ideas. Moreover, everything is automated, so you don't need to spend hours writing a single title.
By tracking and giving consumers insights, AnswerThePublic shows exactly what people are searching for. Accordingly, you compose better content that ranks higher and attracts more traffic.
Service type: a free version and paid plans.
3. Bing Webmaster
Webmaster by Bing is another powerful SEO monitoring tool. It will help you get insights into your site work and understand what drives users to you.
It provides an intuitive and well-developed dashboard that helps you easily monitor your site. This way, you can check on your site's backlinks, perform keyword research, and make a site scan.
Of course, you will be able to make an SEO report to see if there are any errors or flaws.
Service type: free.
4. Serpstat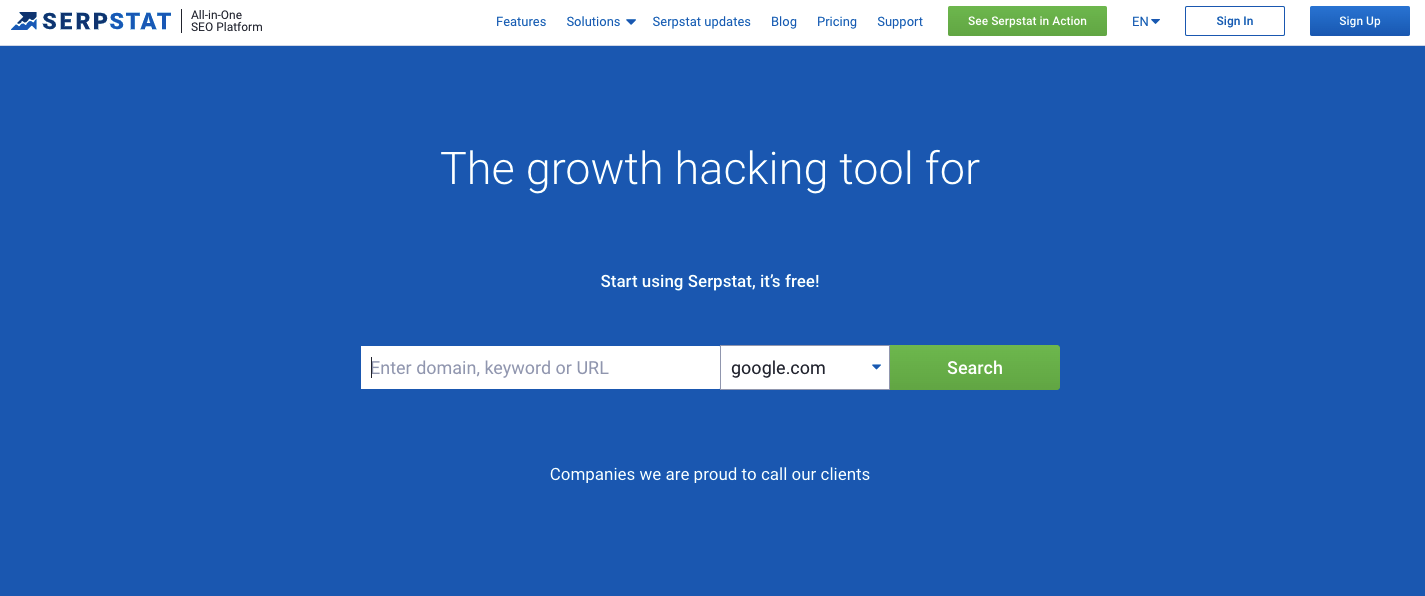 Serpstat is an all-in-one SEO platform for professionals. Whether you are a business owner, SEO professional, or an agency, Serpstat has all the tools you need to improve your SEO, which will increase the amount of organic traffic coming to your website.
The great thing about Serpstat is that it helps you to automate your entire search engine optimization process, saving you hours of time each month.
Service is growing at an incredible rate, with more than 200,000 active users to date, and is loved and trusted by big brands such as Shopify, Yves Rocher, and Lenovo.
Within Serpstat, there are 5 different modules for you to work on:
Rank Tracking metrics
Backlink Analysis (great for building backlink data for link-building campaigns)
Keyword Research
Site Audit tool
Competitor Research and Competitor Analysis
So you can keep track of everything you need, all in one place. You can view history and search analytics reports for each module, so you can see how your SEO is improving, and keep track of your progress so that you can see how efficient your marketing is.
You can also use Serpstat's tools to research and find out more about your competitors, so you can see what's working for them, and where the opportunities are for you to get ahead of them.
Service type: free trial and paid plans available.

5. BuzzStream
SEO doesn't equal a backlink only. It qualifies for your whole efforts to ranking better on Google. So, an outreach that you do to build links counts as well.
Buzzstream helps you fine-tune your link building endeavors. The service will take care of prospects' research and link monitoring, letting you compose great emails. To help you know how your campaigns are doing, Buzzstream offers a wide variety of metrics to measure your success.
The service provides a tour of its toolset to show what perks customers can get.
Service type: free 14-day trial, after - only paid plans.
6. Check My Links
Here comes a bit different form of SEO audit tool. Check My Links is a Chrome extension that helps you check your links.
Unlike other tools created for SEO specialists or marketers, this one is more for content creators or web designers. This extension is not that sophisticated yet helps fastly check all the links.
Check My Links will highlight the links present on the page. Invalid or broken links will be in red. So that you know straight away what links on your page you need to delete or change.
Service type: free.
7. ContentKing
Are you looking for a powerful SEO toolset to analyze and track your site's success? Then check ContentKing.
This service's distinctive feature is the ability to monitor your domain 24/7. Everything is changing fast, and you need to have a chance to change mistakes. So, ContentKing will send you alerts if something is wrong.
Thanks to SEO Change Tracking, you can monitor newly added or removed pages, changes inside pages, and more parameters.
Service type: free trial and paid plans available.
8. Copyscape
SEO success also depends on the content quality. And of the content's class elements is its uniqueness.
Copyscape is exactly the service that will help you check your pages for plagiarism. Avoiding duplicate content allows you to become more visible on search engines.
An advantage of this service is that it lets you check not only texts in various formats but also your site's pages.
Service type: free and paid versions available.
9. Deepcrawl
Meet a technical SEO platform that will help you develop your SEO effort. Deepcrawl's software fits any kind of business from different industries.
This service will work in three main directions. The first one is detecting growth opportunities for your domain. The second one is defending your positions. And the third one is improving your reporting.
Also, you can protect your site from any SEO errors thanks to special testing code automation.
Service type: paid plans.
10. Free SEO Report Card by UpCity
When choosing site audit tools, think of the Report Card as well. As you land on the tool's main webpage, you will notice that you have to fill in some data.
After doing this, you will be able to get a report on your website and a comparison with the competition source you've mentioned. You will receive an overall score and more details in each of the six sections.
So, you discover more and can improve your ranking, on-site SEO, links, accessibility, and so on.
Service type: free.
11. Google Analytics
Here's another site audit tool by Google. Perhaps, every site owner has heard of it. And we believe most of them actively use it.
That's a great site monitoring tool to employ to know how your channels are performing. For instance, you can learn what traffic is working better for you - organic or non-organic. You can create and download in-depth reports for your site.
What's more important, thanks to Analytics, you can discover which from your channels converts better and gives you more income.
Service type: free.
12. Google Search Console
Next comes a tool by himself, Google. It's a great tool for SEO specialists and marketers who want to track and increase their site's performance.
Exactly this tool will help you see your site through Google's eyes. To start working with it, you only need to type your URL in the special field.
Then you'll learn how to optimize your mobile-friendliness, AMP, rich results, and so on. On top of that, Search Console offers educational video training on your site's development and growth.
Service type: free.
13. GrowthBar
GrowthBar promises its customers to help create content that Google enjoys. It is possible thanks to smart tools that let you monitor content, keywords, and links.
The service allows you to get information about backlinks easily and shows what really matters. The same applies to keyword analysis. You can easily access information about keyword difficulty, get suggestions, and so on.
Also, GrowthBar offers a Chrome extension. It is free for the service's account holders.
Service type: paid plans.
14. GTMetrix
Page load speed plays an essential role in a site's SEO. This way, you need a fitting tool to audit this metric.
GTMetrix will show your site's results based on some major indicators. They include LCP, CLS, and TBT. Also, your domain will be analyzed with Google Lighthouse. It's possible to run daily, weekly, or monthly tests to know more about your site's state.
Feel free to visualize your site's performance, thanks to the four graphs available.
Service type: free and paid plans available.
15. Internet Marketing Ninjas
It is a company that is wholly SEO-oriented. This means that industry professionals can access tools that will help them investigate their sites better.
To start using Marketing Ninjas, go to the menu "Tool". Scroll down the page a little bit, and you'll notice the sign "Free SEO Tools." You can pick any of the 13 available ones.
All you have to do is pick the tool of your choice and paste your site's URL. After this, you will receive detailed information about the element you've chosen. Thanks to a pretty wast amount of data the service provides, you will be able to say what you need to improve in your site.
Service type: free.
16. Keyword Hero
Would you like to receive even more information about keywords? Then Keyword Hero is the answer.
It will extend your Google Analytics opportunities by adding more valuable information. After gathering keywords in Google Analytics and Search Console, Keyword Hero will analyze them and add them to your new Analytics account. Also, you will see all sessions metrics to make better decisions.
On top of this, the service will help you find brand keywords to generate more organic traffic. Also, Keyword Hero will identify a query type for you.
Service type: free 90-day trial, after - paid plans.
17. Linkody
Would you like to know about your site's link state? Then choose Linkody as it specializes specially in them.
You will be able to get an extensive backlink analysis, including essential metrics. For instance, for general links analysis, you will see the Alexa and Moz ranks, social shares, Trust and Citation Flow, and others.
Also, the service gives you data on link building opportunities so that you never miss getting great links.
Service type: free 30-day trial, after - only paid plans.
18. Moz Pro Tools
Would you like to take a more thorough look at how your website is doing? Then a wide toolset by Moz is the right choice for you.
It helps you learn about all the main SEO metrics and even more! For instance, you can perform keyword research, explore links, see how your competitors are doing, and analyze your domain. On top of that, you can learn about "weather patterns" of the Google algorithm and see how your site looks on the local search.
Moz will also provide you with lots of helpful and educational data to help you analyze your site's state better.
Service type: free 30-day trial, after - only paid plans.
19. Oncrawl
Enterprises also need solutions for better search engine optimization. And Oncrawler can provide exactly what large-scale business owners need.
Once registered, you will access a dashboard with a wast choice of features. For example, you can use the Logs Monitoring feature or Crawl over Crawl feature. You can also create SEO, ranking, and social reports.
Oncrawl offers two suites to help enterprises rank better on SERP.
Service type: free 14-day trial, after - paid plans.
20. PageSpeed Insights
Page speed plays an essential role when it comes to SEO. This metric is also reflected in the Core Web Vitals, so you need to keep it in mind.
What service can tell about your site's load speed better than Google itself? PageSpeed Insights is the search engine's development that lets you learn how fastly your pages load. Enter your URL to discover how it works.
You will see your site's score and Core Web Vitals markers. Also, there will be pieces of advice on how to optimize your site.
Service type: free.
21. Remove'em
Some services not only help to monitor your site's backlinks but also take care of its health. With Remove'em, you can easily get rid of bad links.
This company will provide you with a full-scale service. This way, it will not only help you find and remove bad links but also give you access to a huge database of contacts. So, you can find link removal email addresses.
With the help of this service, you will also be able to track your campaigns with an extensive toolset.
Service type: paid plans.
22. Screaming Frog SEO Spider
Are you looking for services to develop your on-site SEO? In this case, Screaming From is exactly for you.
This service will crawl your website to give you information about it. What's great this company will effectively crawl both light- and heavy-weight sites. Get full analysis of title and meta text as well as broken links or audit redirects.
Screaming Frog also enables integration with Google Analytics, Search Console, and PageSpeed Insights APIs.
Service type: free and paid versions available.
23. SE Ranking
Are you looking for worthy SEO software? SE Ranking is a well-established company that can offer you an all-in SEO suite.
This company provides a variety of SEO tools from keyword rank tracker to backlinks checker or page changes monitoring. On top of this, you can get a marketing plan and SEO strategy to outperform your competitors.
SE Ranking is a fit for companies of all sizes as well as digital agencies.
Service type: paid plans.
24. SEO Site Checkup
Do you want to have another SEO audit tool at your hands? Take time to learn more about SEO Site Checkup.
The company's toolbox will cover all your needs in qualitative SEO analysis. It will detect all issues, keep track of weekly changes, make a side-by-side comparison with your competitors, and so much more.
SEO Site Checkup did its best to gather every tool you might need in one place.
Service type: a free 14-day trial, after - paid plans.
25. Semrush
Meet another SEO audit and monitoring giant - Semrush. It will help you not only check your current state but also grow your traffic.
All you have to do is log in or sign up and enter your URL. After this, you will receive access to the dashboard with numerous powerful tools. For instance, you can perform competitive research and learn more about keyword gap, traffic, link-state, and so on.
Of course, you can get in-depth information about your backlinks. Moreover, SEO specialists will be happy to know that Semrush provides extensive tech SEO analytics.
Service type: free seven-day trial, after - only paid plans.
26. SEO Audit by HigherVisibility
HigherVisibility provides a wide range of SEO services. Yet, we are especially interested in its SEO audit toolkit.
When partnering with this company, you will receive a thorough on-page analysis checking your URL structure, meta data, and so on. No less important is off-page SEO research, which you will also get!
The company holds the SEO Agency of the Year in the US, so true professionals will make your domain audit.
Service type: paid plans.
27. Seobility
This company provides all-in-one SEO software and tools. Basically, with Seobility help, you can check your site's backlinks, track ranks, and perform the on-site audit.
To give its customers a particular and full analysis, Seobility will crawl all linked pages. After collecting all data, you will see a report on pages with errors. Also, the service will notify you if there are any problems with on-page optimization.
After performing an audit and showing the errors, the service will suggest tips on how to optimize your website's work.
Service type: free with paid plans available.
28. Seolyzer
Seolyzer uses software that enables real-time site analysis. Once again, this service will show you how search engines see your site.
To fulfill this goal, Seolyzer will audit metrics like crawl volume, active and new pages, average performance, HTTPS status codes, and so on.
You will also get more detailed info on each page of your site. This way, you can understand what pages are crawled the most and which ones generate more profit.
Service type: free with paid plans available.
29. Seomator
Check this monitoring tool that is perfect for SEO specialists or agencies. It will show a site from a search engine's point of view.
Seomator works as something between a full-scale crawler and SEO grader. As a result, you can make an in-depth SEO audit with info about links, tags, page speed, etc. Also, you can track on-site changes in real-time.
Seomator gives a pretty impressive full detectable issues list too.
Service type: free seven-day trial, after - paid plans.
30. SEOquake
SEOquake is an SEO toolbox that provides a variety of parameters to evaluate your site's work. Let's check what this SEO monitoring tool has to offer you.
For sure, you'll be able to perform an in-depth SEO audit. The service promises to do it fast and without a fuss. On top of that, it'll be easy for you to check your internal links and backlinks. Do you want to compare your performance with the competitor's one? SEOquakes lets you do this as well.
Moreover, this company provides an extension for the browser that helps you get valuable data by simply adding it to your toolbar.
Service type: free.
31. SpyFu
That is another all-in SEO audit service. There is no need to guess what steps to take next; SpyFu will give you instant access to backlink strategies.
The service lets you do the full competitor analysis, learn more about your backlinks, research keywords, track your ranks, and compare domains.
You also have an opportunity to create SEO reports to learn more about your domain's strengths and weaknesses.
Service type: paid plans.
32. Ubersuggest
This service by SEO guru Neil Patel will help you spy on your competitors. Thanks to this, you will see which practices work amazing and which ones fail.
For instance, you can create an SEO pages report. It will show what pages are working perfectly for your rivals and rank high. This way, you can have insights on what strategies to use to have higher positions.
Moreover, you can have effective keyword ideas when typing your competitor's domain.
Service type: free 7-day trial, after - paid subscription.
33. Website Grader by HubSpot

Website Grader is an SEO audit tool by the famous HubSpot.
At the opening, you will see two fields that you need to feel with your site's URL and email address. After you click the "Get your score button," you will get quite detailed data with the state of your website.
To be more specific, you'll learn more about your performance, SEO, mobile-friendliness, and security. Also, the tool will offer you helpful pieces of advice on how to develop your performance.
Service type: free.
34. Woorank
Would you like to grow your site? Then Woorank can help you do this. It's possible thanks to the toolset it has.
To get quick and general information, you can use a website review feature. To take a more in-depth look, you can perform a competitive analysis, keyword research, and tracking or make a technical website audit.
Everyone is eligible for a free site check. You only need to paste or write your URL in the special field on the main page.
Service type: free trial, after - only paid plans.
35. WordCounter
Better content is the reason why sites rank higher. Yet, delivering top-class content might be tough. So, this tool will help you audit your writing in an easy way.
Use WordCounter to check your text. It does much more than counting symbols. In fact, it will show the reading level and reading time. You can set up the goal to see if your text meets it.
On top of this, WordCounter will show you your target keyword density and the most used keywords.
Service type: free.
Conclusion
So, that was an ultimate SEO audit tools review.
There is a huge variety of them, that's for sure. Yet, we did our best to pick the ones that would fit your needs. So, you can choose from the all-in-one software or pick services that focus on one SEO element.
Also, there is a bunch of free tools, so it won't cost a fortune to develop your site and make it rank higher.
Tell us what SEO monitoring services you are using. Did you find new helpful tools on our list? Leave your thoughts in the comments below.

More Like This