Created on
June 7, 2023
| Updated on
June 7, 2023
25 Popular Blogs about Content Marketing You Should Check
Content Marketing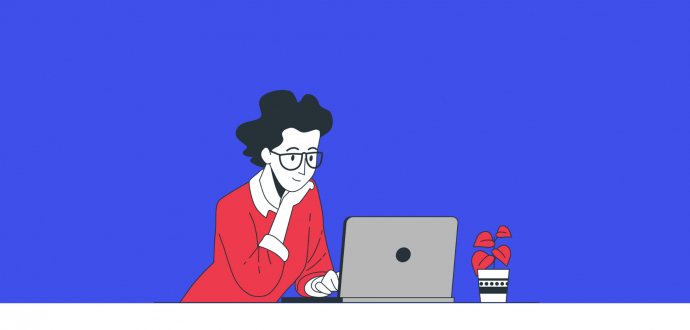 Content marketing stays an inseparable part of marketing activities for firms. In fact, 47% of B2C and 43% of B2B companies increase their budgets last year. This proves, that content marketing is a powerful and effective tool when it comes to improving communication with customers, growing brand awareness, and promoting content.
Yet, creating a content marketing strategy, working on new approaches, and testing new tactics is not always easy.
We get this. That's why we decided to through top blogs about content marketing. We've checked dozens of them and come up with 25 top resources you should read to be a better content marketer.
1. Content Marketing Institute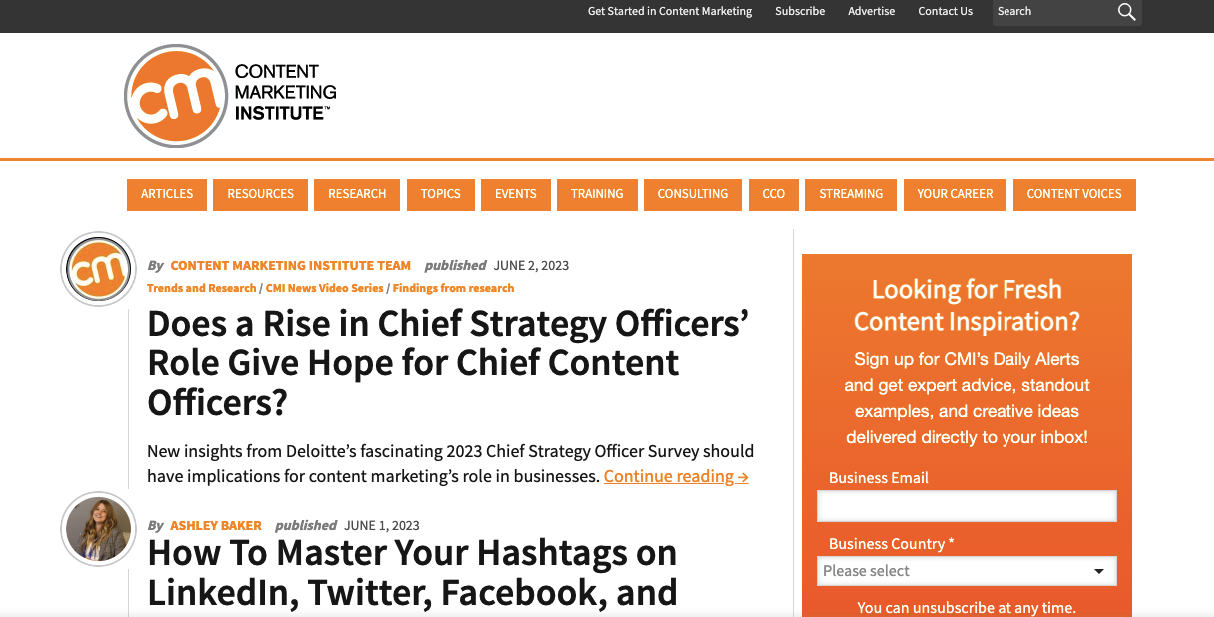 Content Marketing Institute is one of the most respected online publications in the industry. Its primary goal is the education of professionals and digital events. The main topics it covers are content distribution, content optimization, SEO, news and trends, social media marketing, and so on.
2. HubSpot Blog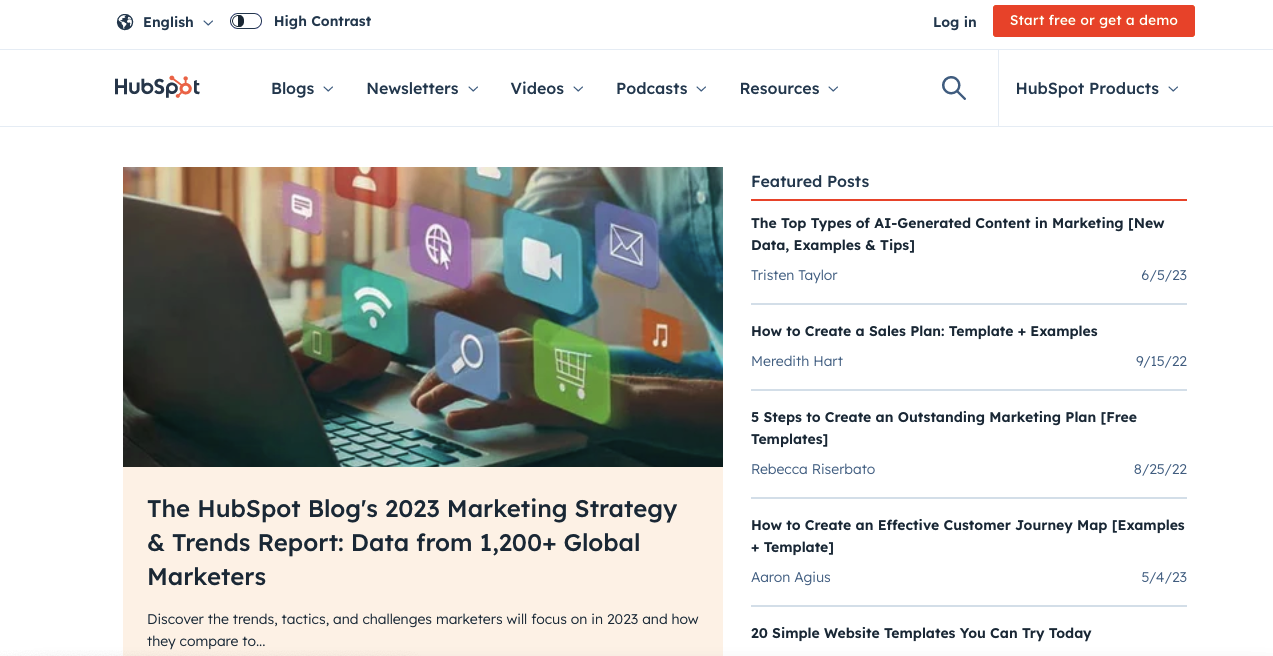 Hubspot is a blog from a popular CRM platform that provides solutions for content marketers. The company has enormous practical knowledge and insights so readers get access to working and highly effective content. Topics included are marketing strategy, sales, innovations, and so on.
3. Adsy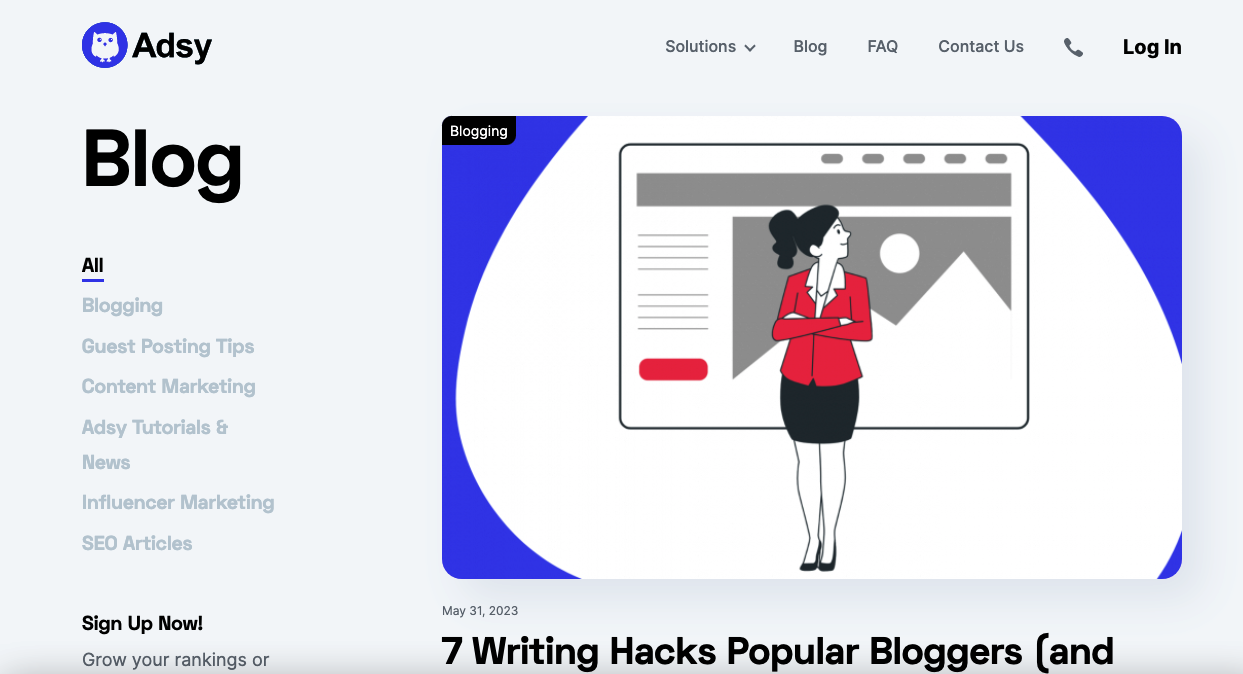 Adsy is a reliable guest blogging service. Its goal is to help site and blog owners rank higher and provide wider visibility to sites. That's why its blog concentrates on the latest news, tips, and statistics within content marketing, guest posting, influencer marketing, and search engine optimization.
4. Copyblogger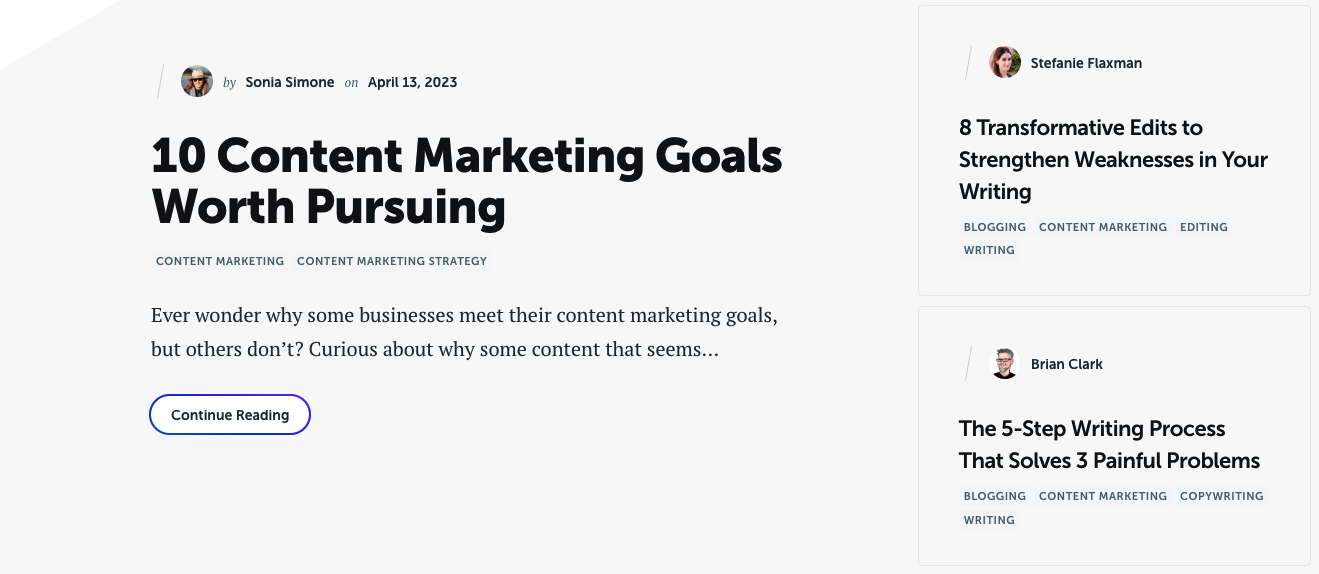 Copyblogger via its flagship service DigitalCommerce helps clients run and grow their businesses with the help of content marketing. With years of practical experience, this resource shares hands-on tips on major topics like email and internet marketing, search engine optimization, conversion rate optimization, and so on.
5. Neil Patel's Content Marketing Blog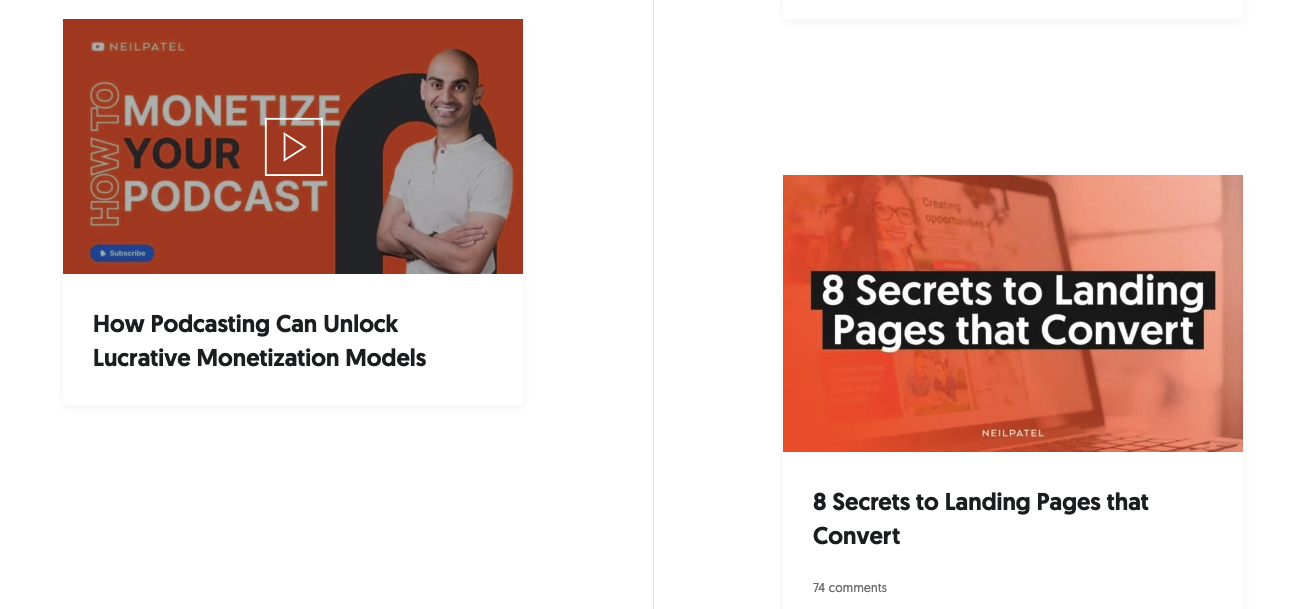 Neil Patel is one of the world's most renowned names in digital marketing. He is the man behind Crazy Egg and is a New York Times best-selling author. His blog is a treasure trove for those searching for working strategies and approaches. The blog is dedicated to digital marketing, search engine optimization, email marketing, etc.
6. Moz Blog
Moz is a company that creates tools for SEO and content marketing professionals. So, they are fully aware of what is happening in the industry and what specialists need. Given the years of 'in-filed' experience, its blog is full of helpful tips about SEO especially link building, as well as content marketing.
7. Buffer Blog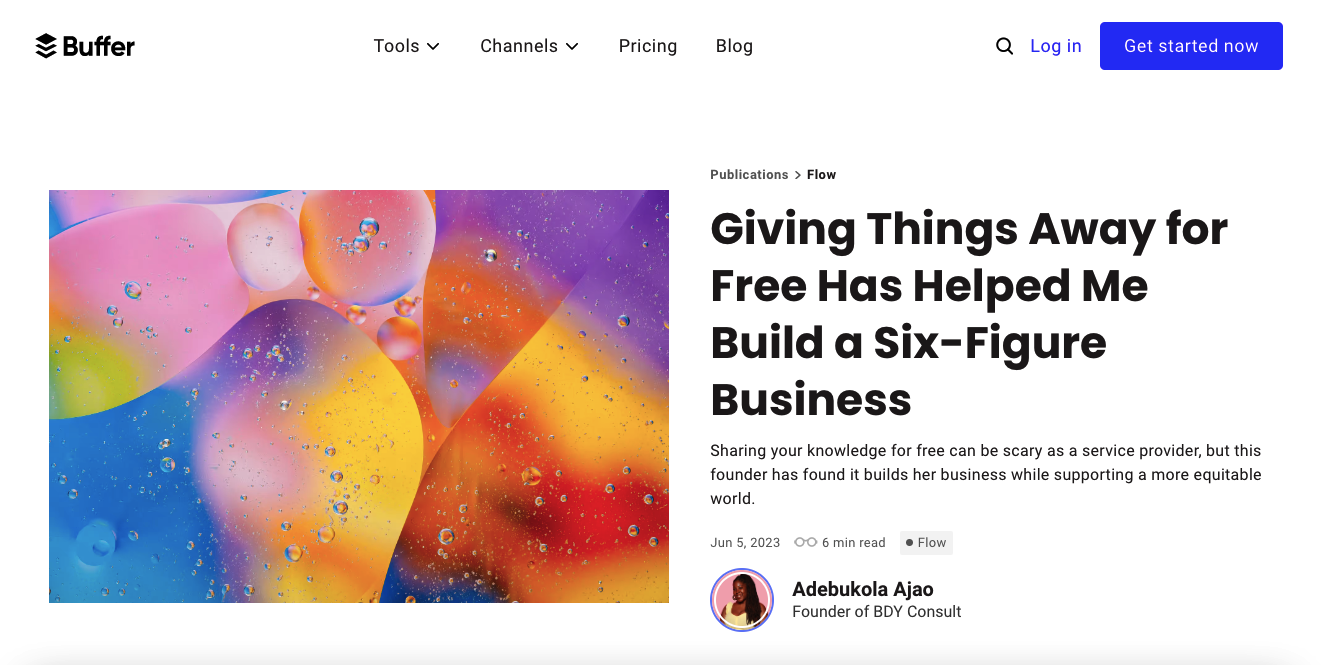 Buffer is one of the most famous tools for planning and analyzing social media content. Thousands of marketers trust Buffer with its content and we advise you to read its blog to anyone wanting to boost their social media channels. All-round tips and insights are in Buffer's "Flow" - a marketing blog.
8. Crazy Egg Blog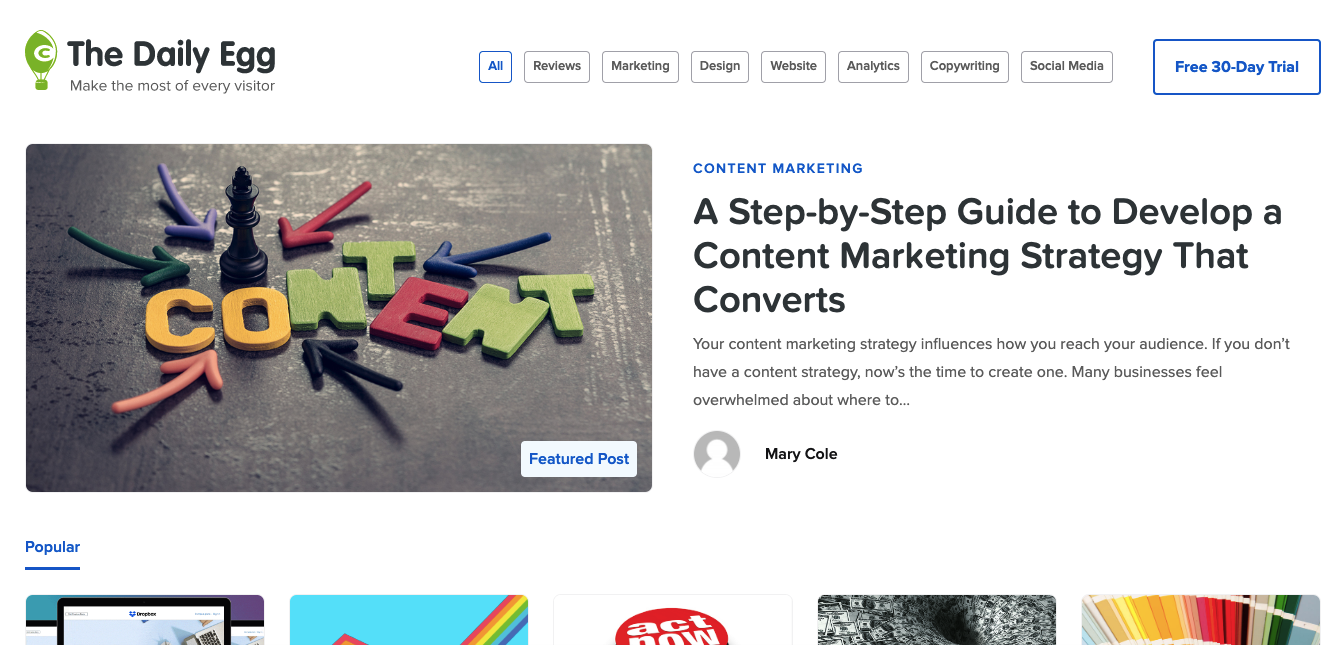 Crazy Egg is a site optimization tool aimed at helping small businesses (yes, that's the tool created by Neil Patel). The blog covers a variety of topics with practical and tested approaches to them. Readers can learn more about marketing, analytics, copywriting, social media, design, and more.
9. CoSchedule Blog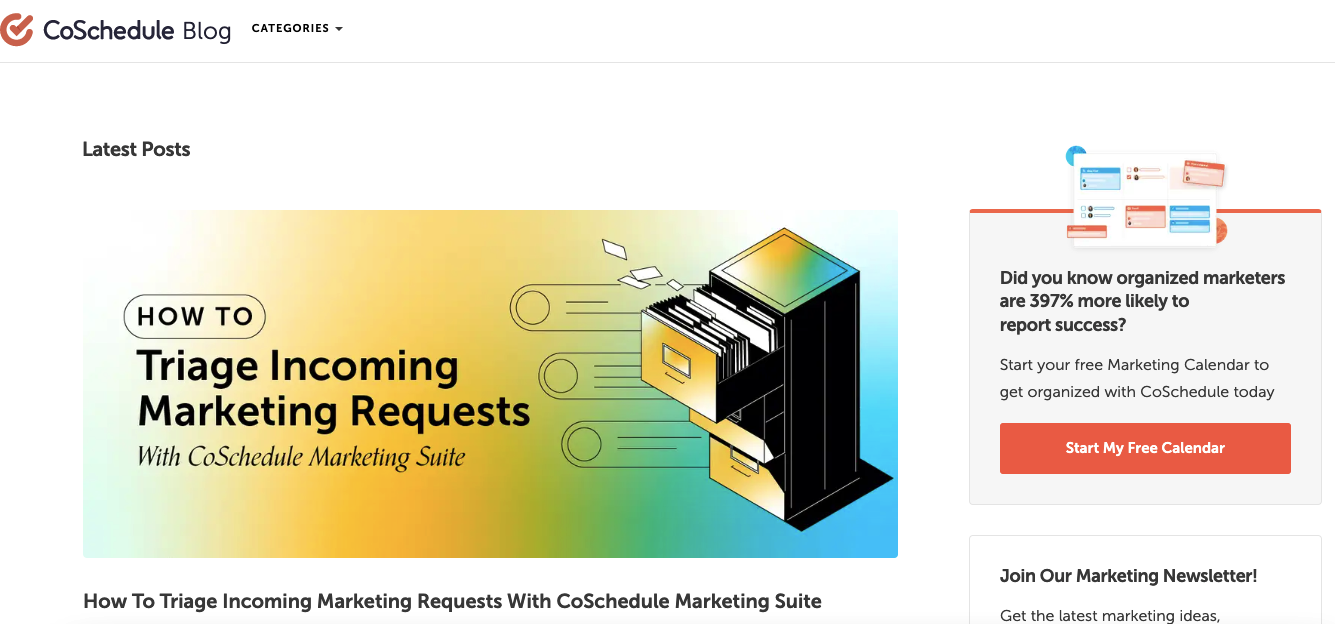 CoSchedule is a well-known marketing management tool. Its main products are content planning and analytics, yet the marketing educational materials are also stunning. The CoSchedule blog covers a wide range of marketing topics including content marketing, social media, email marketing, product training, and more.
10. Contently Blog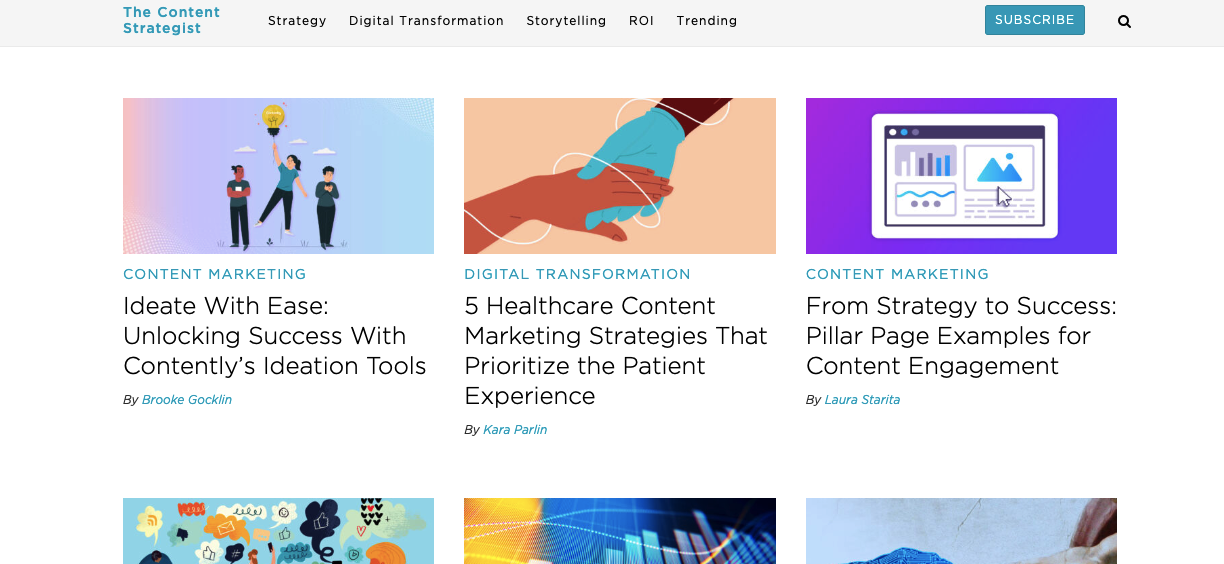 Contently is one of the industry-leading content marketing platforms. Created by content marketing professionals it spoils fellow colleagues with efficient marketing strategies and approaches. It's an amazing source to know about marketing strategies and trends, storytelling, digital transformation, and so on.
11. Convince & Convert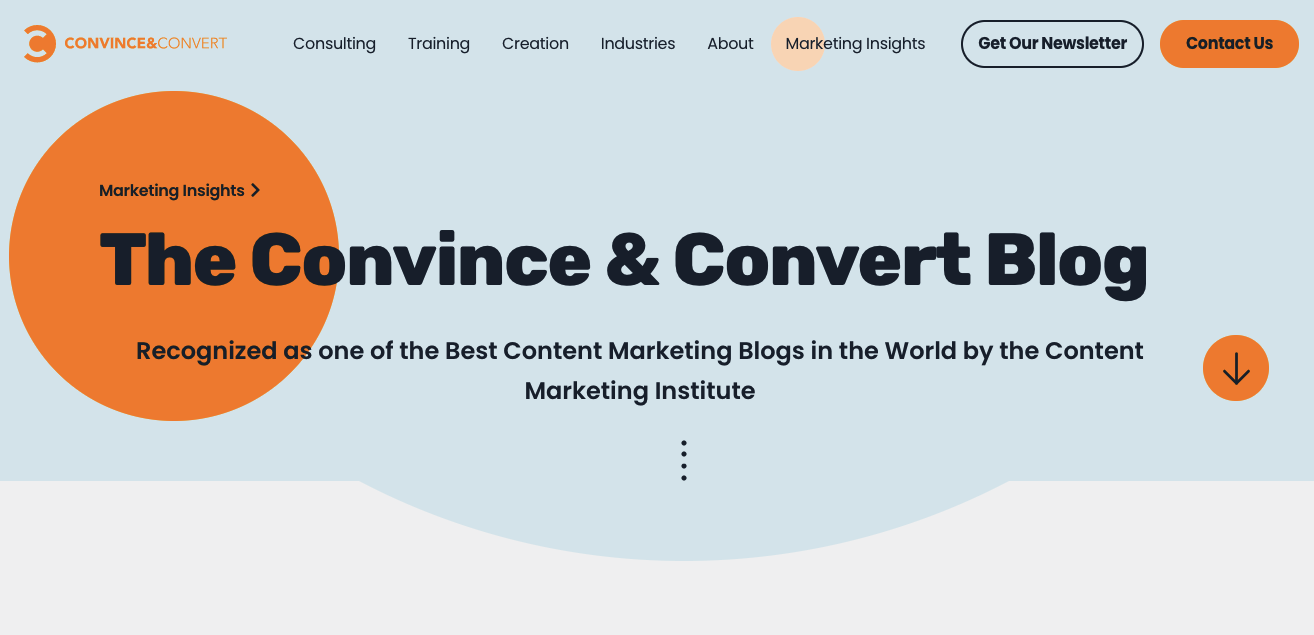 Convince & Convert provide marketing consulting services. So, what blog is better to read rather the one from hands-on marketing specialists? Content Marketing Institute has acknowledged this blog as the world's finest. You can learn more about content marketing, social media, influencer marketing, and more with its help.
12. Copyhackers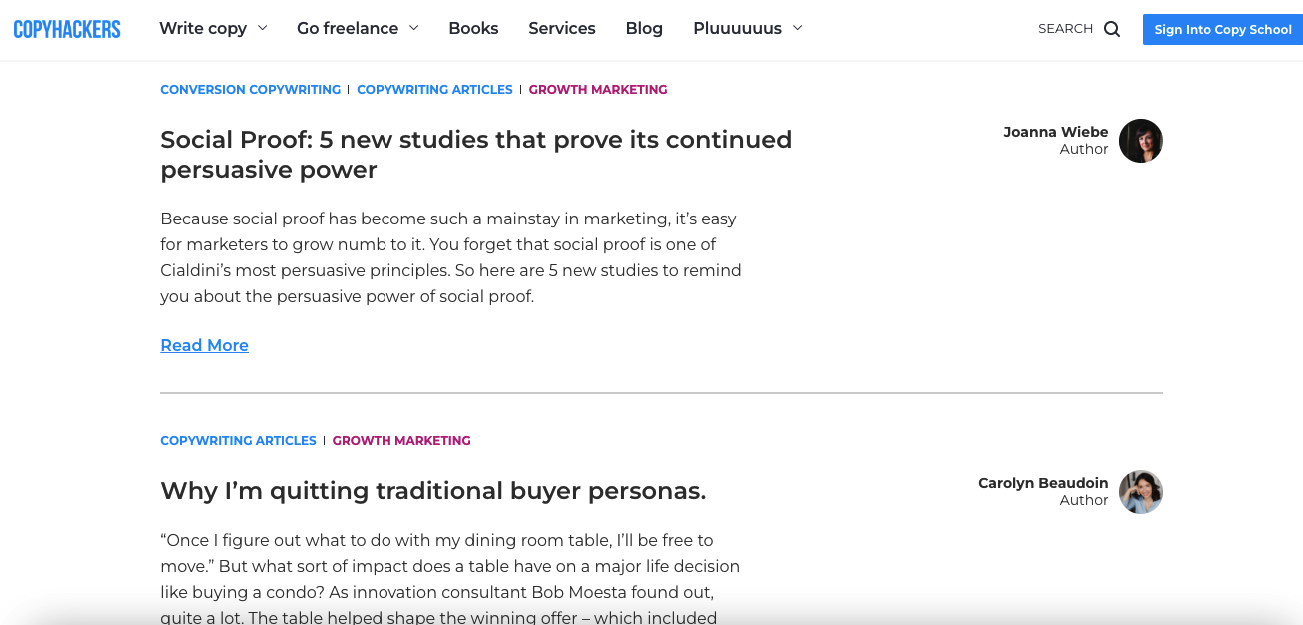 Copywriting is a huge part of content marketing. The quality of your copy influences your success be it the number of readers or even positions on SERP. Copyhackers is a perfect hub for content writers who'd like to have a boost of practical pieces of advice on copywriting, and growth marketing, and get valuable tips.
13. Orbit Media Studios Blog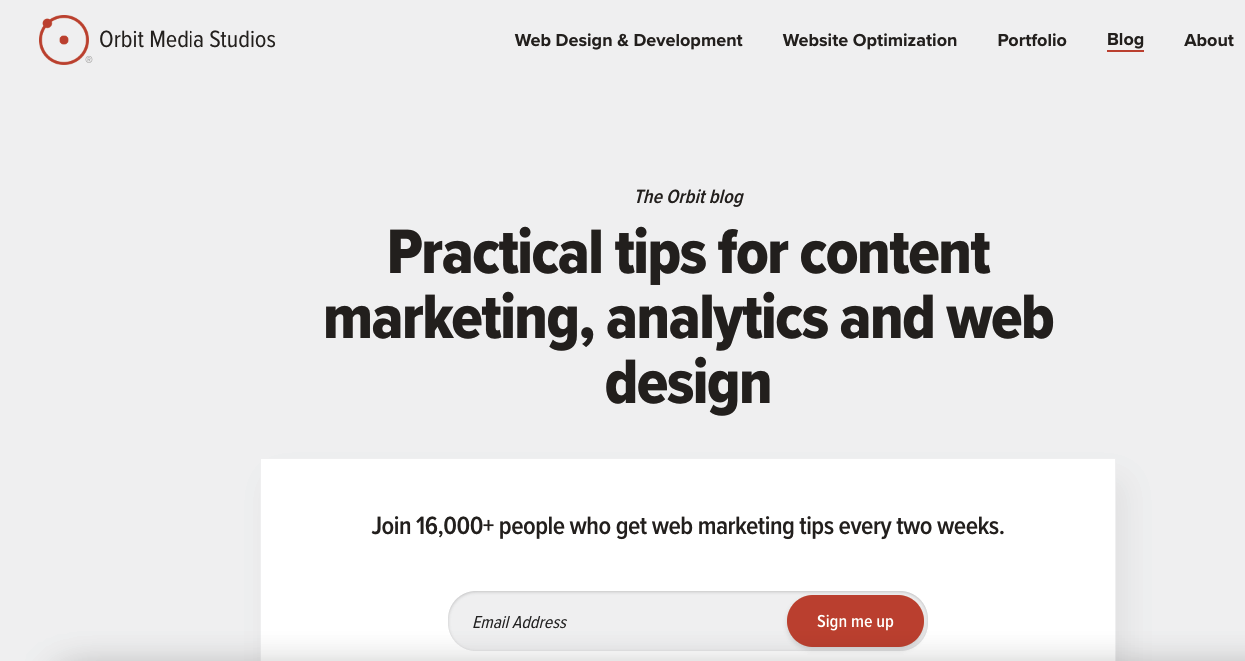 Orbit Media is an award-winning design and development company. Its goal is to help business owners to create sites for better conversions and SEO. The company's site is an additional tool to help business people create a stronger online presence. Read more about content marketing, digital strategies, analytics, and more.
14. Content Marketing World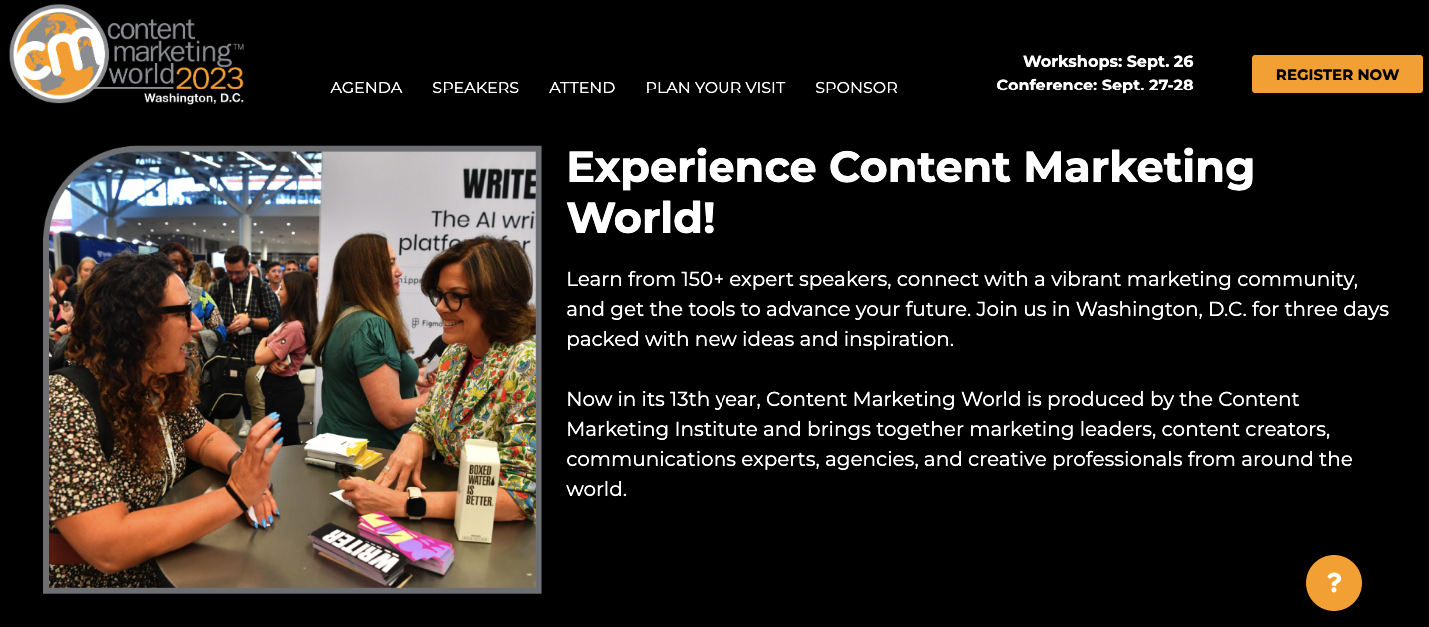 Content Marketing World is a "digital child" of Content Marketing Institute. It's your option to learn content marketing from the best and most respected professionals in the industry. CMW lets you connect face-to-face with marketing leaders, content creators, communications experts, etc., and get the freshest insights.
15. Social Media Examiner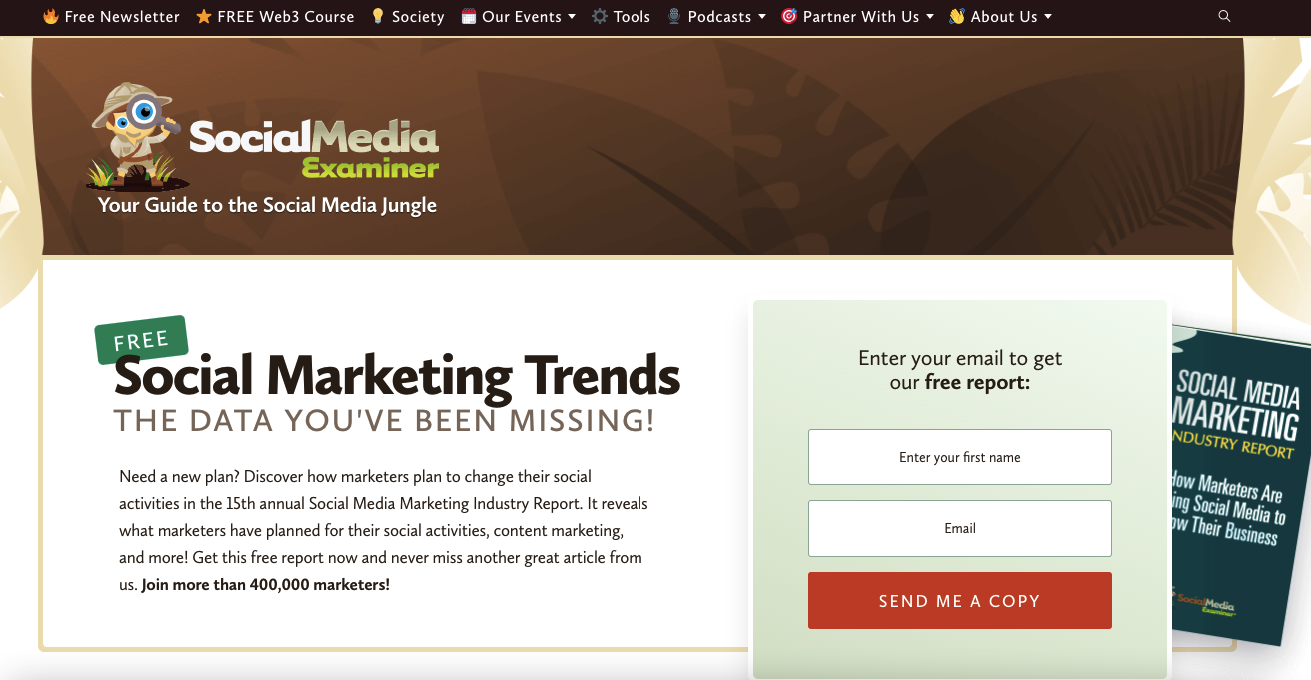 Social Media Examiner is a learning hub that targets marketers and small business owners. Its goal is to help them navigate the ever-changing content marketing field. So, if you are looking for strategic and tactical insights into the industry, this site is the right place to be. Read more about social media marketing, web3, and selected social media platforms.
16. TopRank Marketing Blog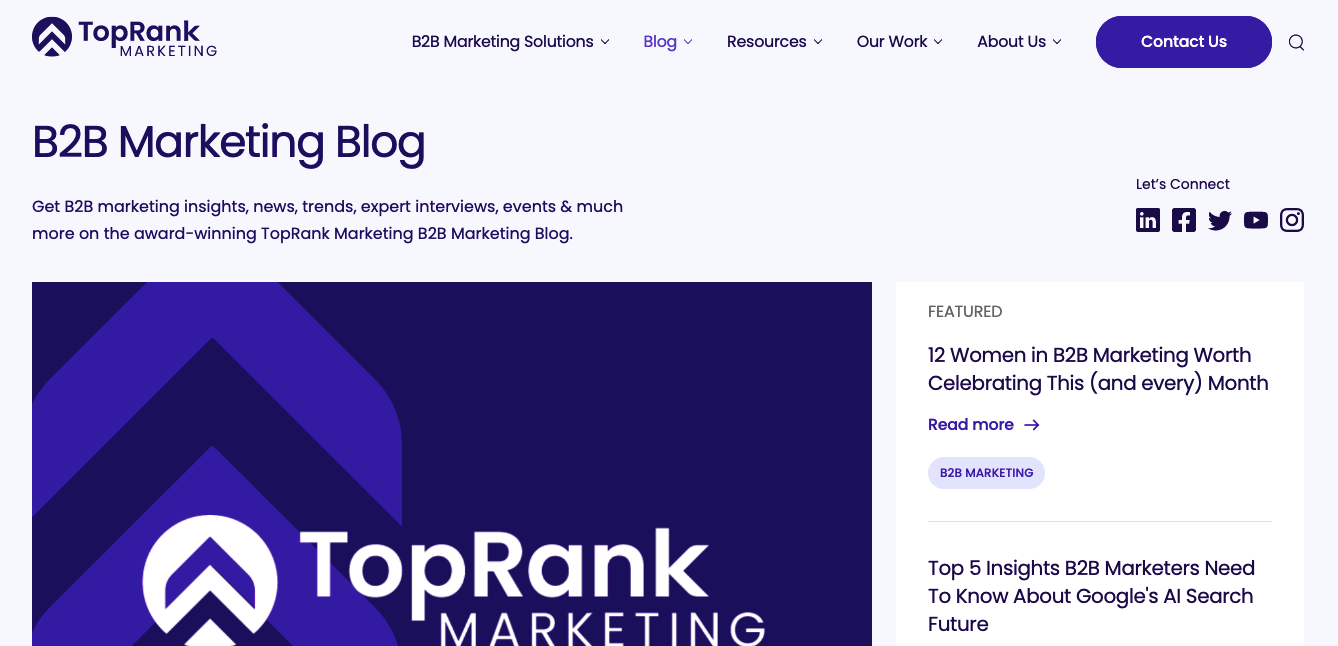 TopRank Marketing provides full-scale B2B blog consulting and marketing services for firms. That's why if you work exclusively in the B2B sector, it's the best blog to check. The point is that you'll dive deeper into content that fits your goals and needs. Learn more about influencer marketing, B2B and content marketing, measurements, and more.
17. Outbrain Blog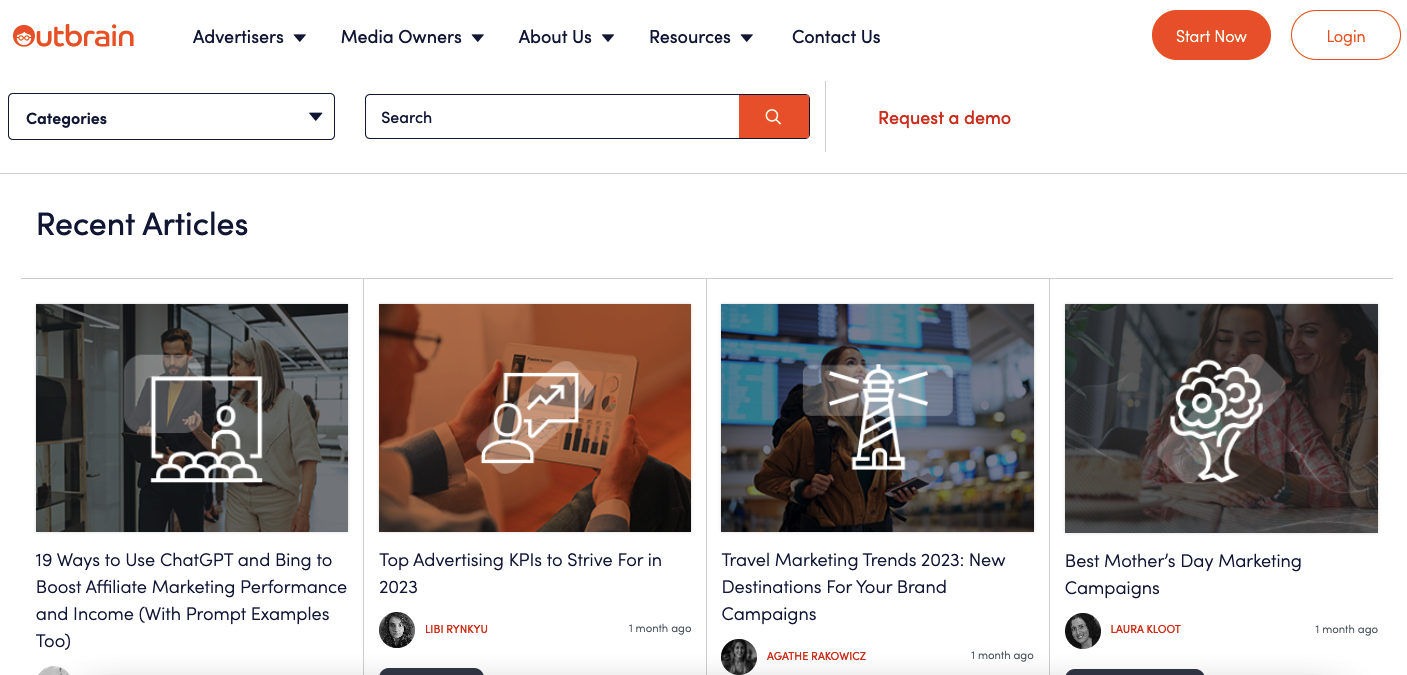 Outbrain is a service that helps bloggers earn by placing ads on their sites. After years of working with bloggers and marketers, this service has a colossal experience in the marketing field. You will be spoiled with insights and thoughts from industry leaders. Mobile marketing, branding, holiday marketing, and lots more topics are covered.
18. MarketingProfs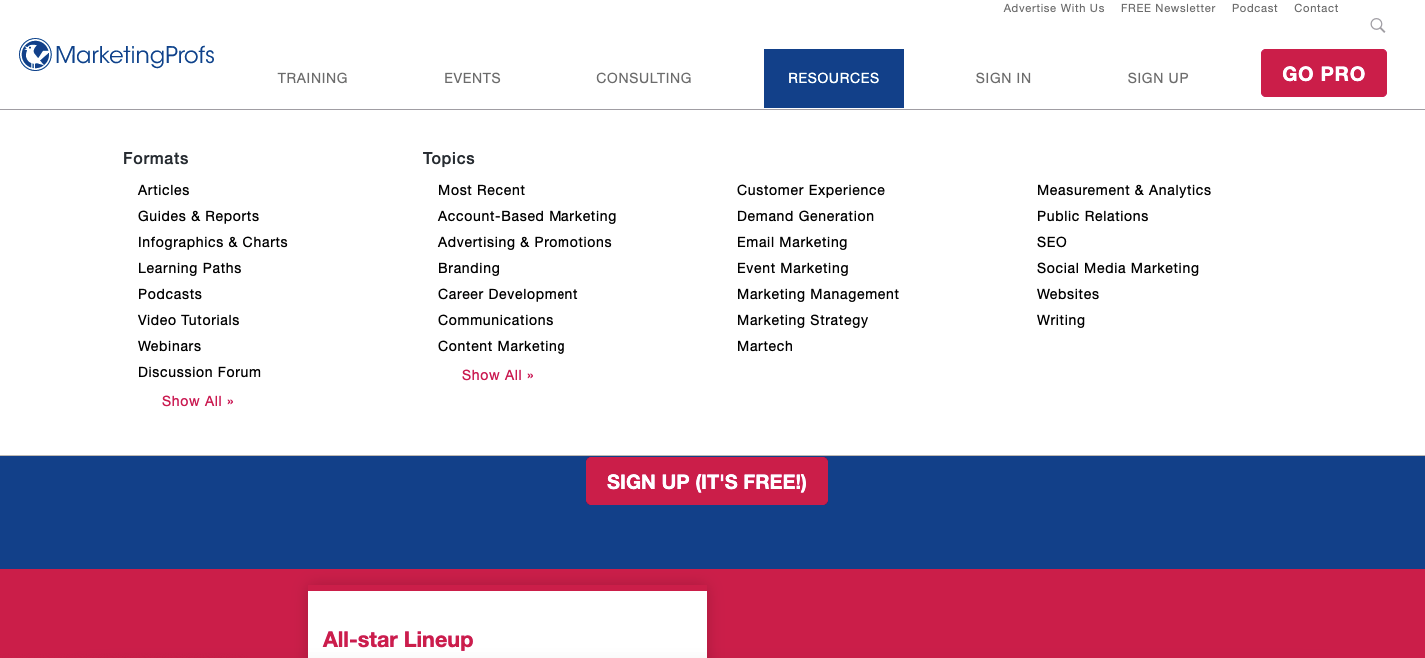 MakretingProfs provides training for individuals and small teams and does consulting. Thus, professionals can get free access to dozens of valuable articles to upgrade their knowledge. The number of topics you can choose from is truly impressive: branding to communications or email marketing to martech and more.
19. Kissmetrics Blog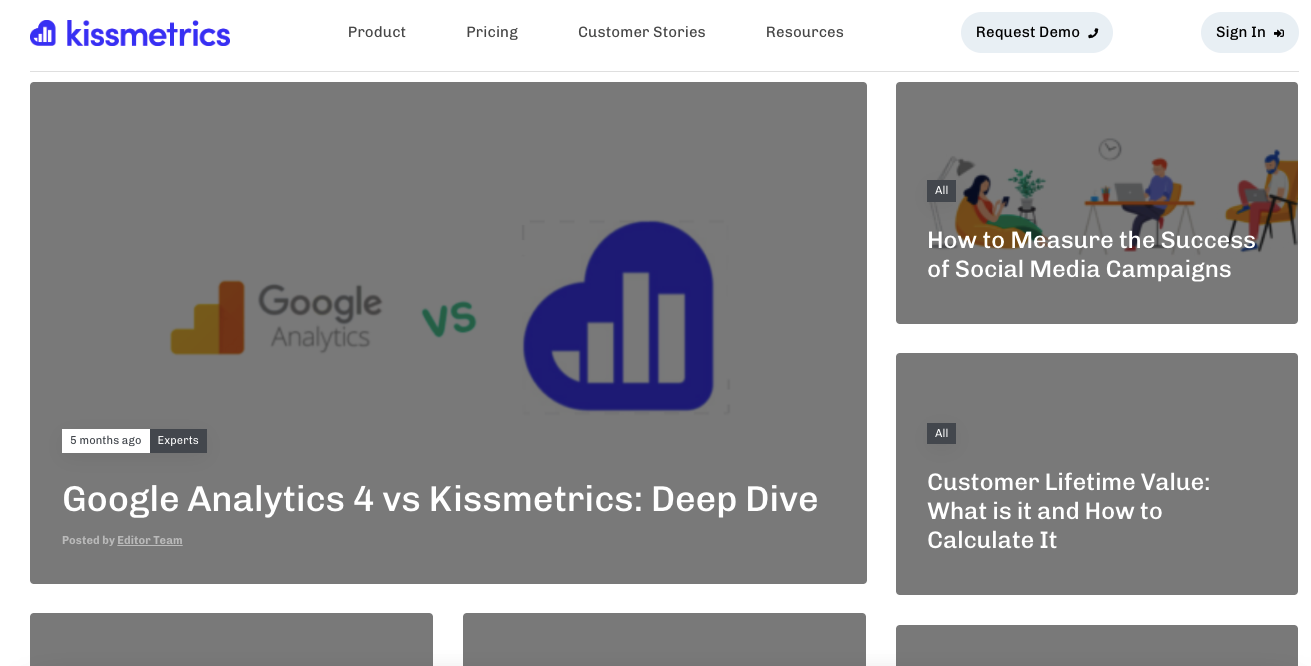 Kissmetrics is a web analytics tool that helps to track and analyze individual users' behavior and provides advanced features, like cohort analysis. This way, the services blog goes more around the customers. So, you can learn more about customer lifetime value, analytics, account management, and so on.
20. Search Engine Journal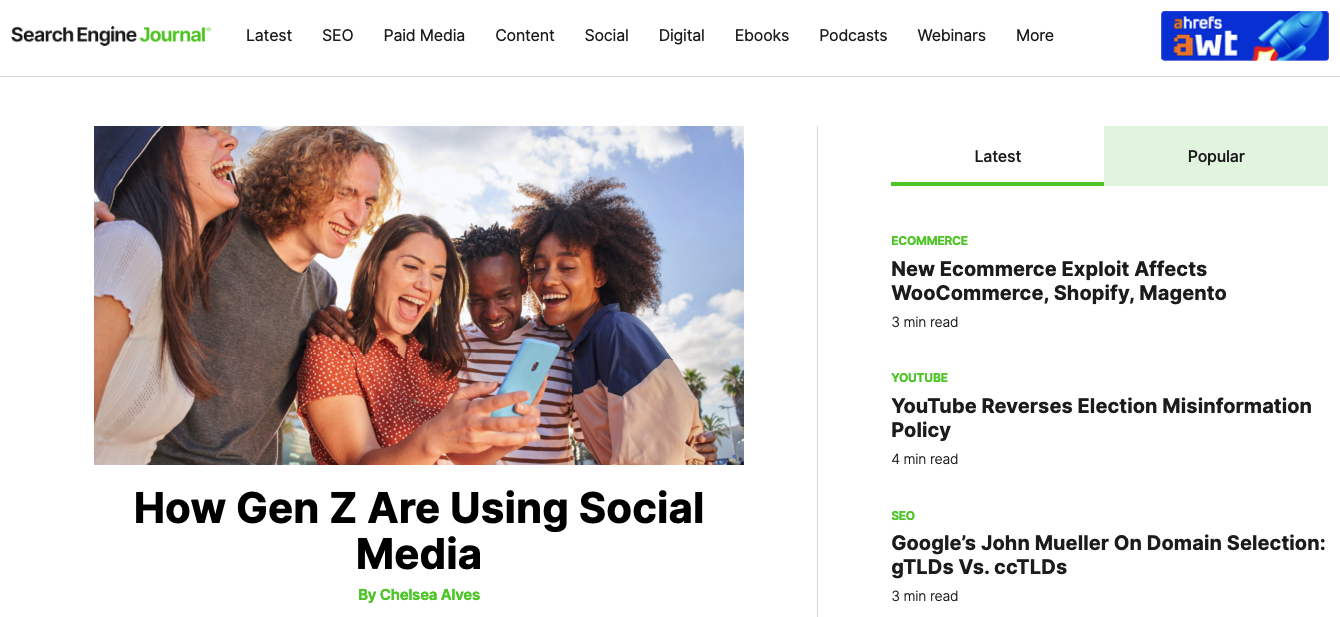 Without a doubt, Search Engine Journal is one of the most trusted and respected online publications in the world. It's a perfect source of guides and how-tos on marketing and SEO matters. Yet, you can also learn about content, digital, paid advertising, and more.
21. Ahrefs Blog
Ahrefs is a renowned service that provides deeper insights into your site and content. The services team has vast experience in all-thing marketing and SEO. Its content is highly expert and filled with lots of helpful data. If you need to read top articles and studies about marketing, content or paid marketing, etc. - Ahrefs' blog is a place to go.
22. SEMrush Blog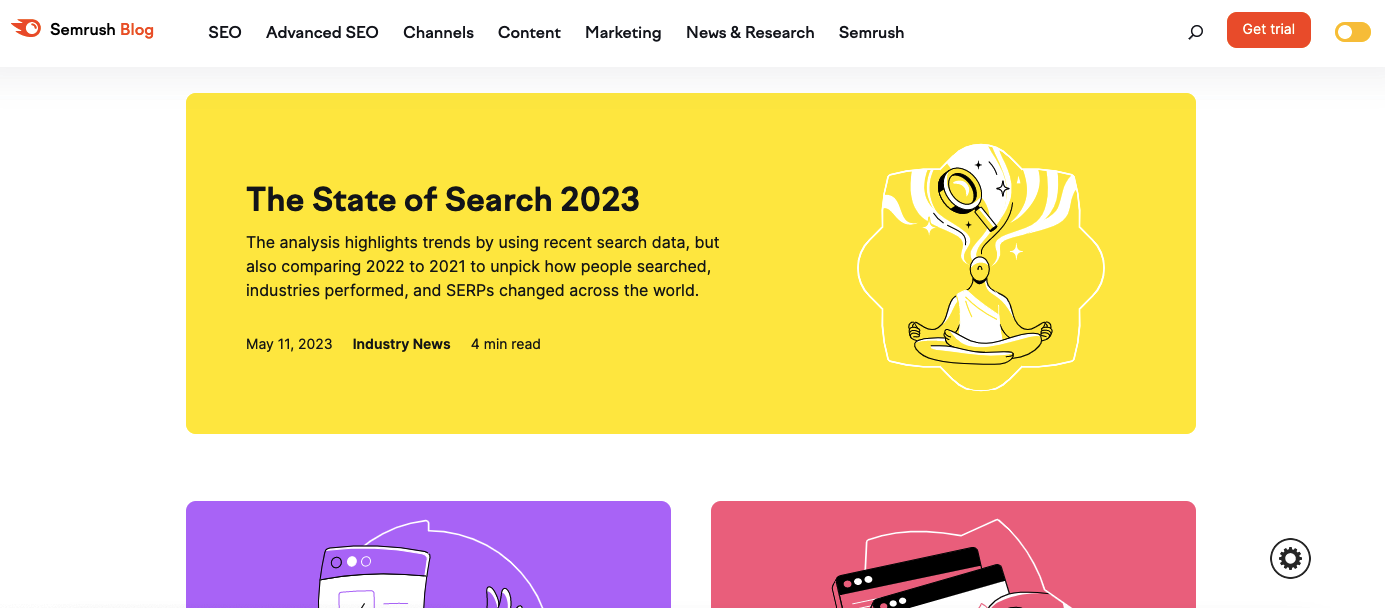 Semrush is a SaaS platform that offers keyword research and online ranking data. Its blog is a match made in heaven if you look for in-depth articles from industry experts. Moreover, the choice of topics covered is jaw-dropping. Ramp up on your skills in mobile SEO, technical SEO, PR, competitor research, and more.
23. QuickSprout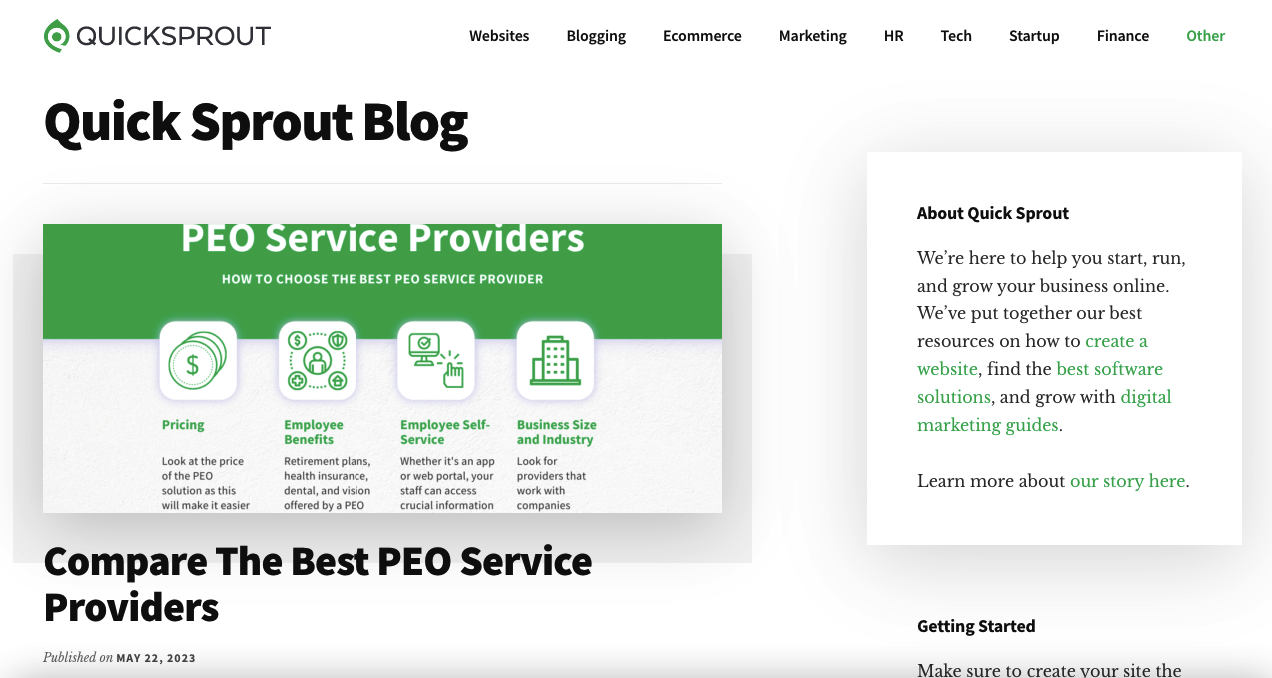 QuickSprout is a blog that specializes in increasing traffic for your blog. It's a perfect destination to learn any sort of things related to business growth. The marketing division suggests numerous topics to cover your needs in content marketing, email marketing, and SEO for your company.
24. Content Marketing Up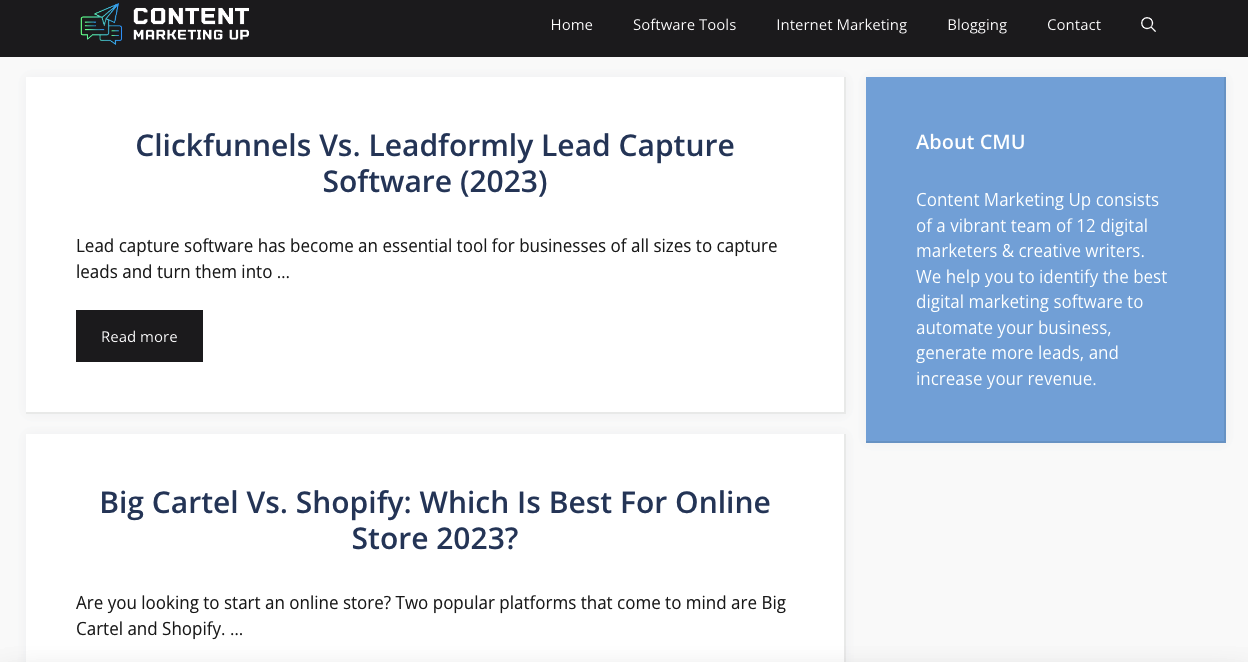 The team of Content Marketing Up helps in finding the right digital marketing solutions for your business. This way, you can read more about the content marketing software you need, its use, and its benefits, and check lots of working examples.
25. Sprout Social Blog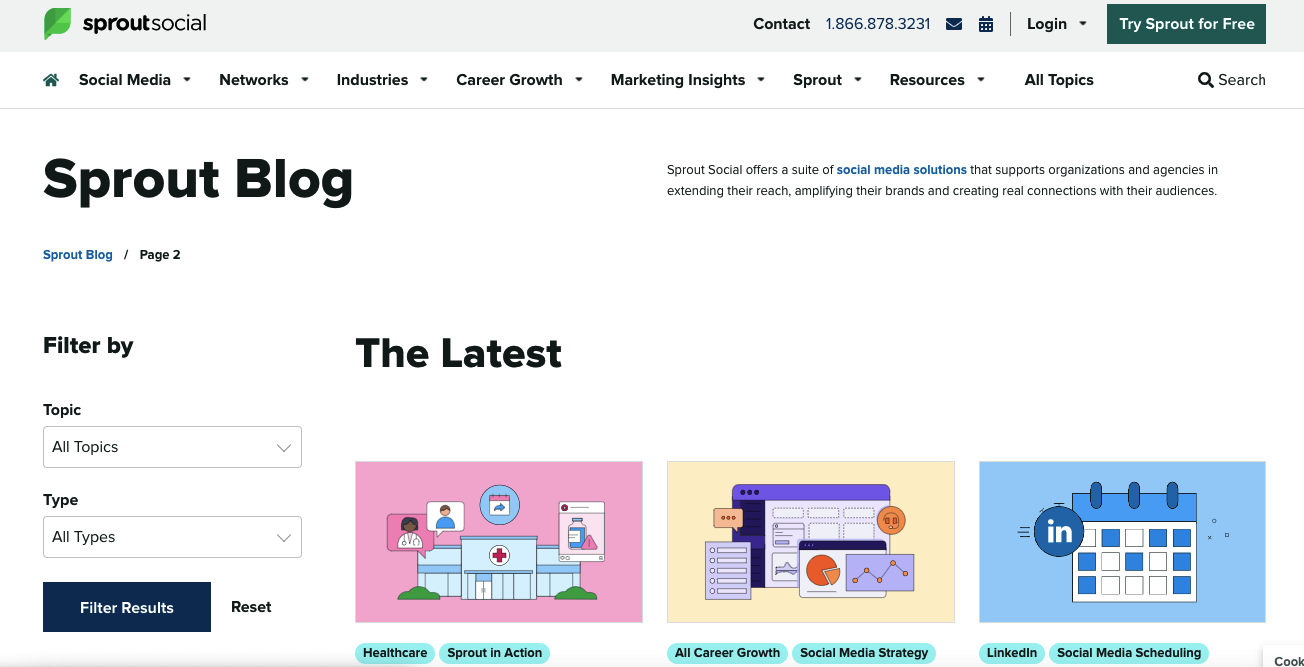 Sprout Social is a social media management and analytics software. It helps lots of businesses to grow on social media. The blog's take on social media and its use in various industries is eye-opening. You can learn more about social listening, brand & creativity, analytics, and lots lots more.
Conclusion
As you can see you have a vast choice of resources if you want to learn more about content marketing. We were determined to pick the most reliable and respected blogs in the industry to submit to you with helpful insights, data, and studies.
Our team reads lots of them and always finds inspiration and useful knowledge.
Anyway, you are always welcome at
Adsy Blog
to get further updates on guest posting, content marketing, influencer marketing, and SEO.
More Like This